GMO Domino Effect
Four states to go, and a cascade of food labeling laws will take effect.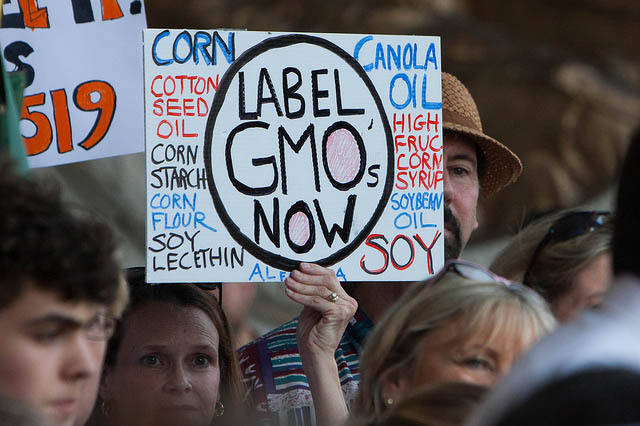 In June, leg­is­la­tors in Con­necti­cut took a bite out of the secre­cy sur­round­ing genet­i­cal­ly mod­i­fied foods.
Con­necti­cut is the first state to pass leg­is­la­tion that requires food man­u­fac­tur­ers to label prod­ucts con­tain­ing genet­i­cal­ly mod­i­fied ingre­di­ents. But the his­toric leg­is­la­tion, pushed for­ward by con­sumer and envi­ron­men­tal advo­ca­cy groups such as GMO Free CT, comes with a caveat. Before the new law can take effect, four oth­er states, includ­ing at least one that bor­ders Con­necti­cut, must pass a sim­i­lar bill, and a com­bi­na­tion of north­east­ern states with a total pop­u­la­tion of 20 mil­lion must also approve GMO label­ing legislation.
This ​"safe­ty-in num­bers" approach is an attempt to min­i­mize the poten­tial for law­suits from food man­u­fac­tur­ers. Until now, indus­try has suc­cess­ful­ly thwart­ed most attempts by the ​"right to know" move­ment, which empha­sizes that the health risks
 of GMOs are still unclear and that con­sumers have the right to choose safe food, to pass label­ing laws. In Ver­mont, the threat of a law­suit from Mon­san­to halt­ed pas­sage of a sim­i­lar law in spring 2012. And dur­ing the Novem­ber 2012 elec­tions, Cal­i­for­nia vot­ers reject­ed Propo­si­tion 37, a bal­lot ini­tia­tive that would have required GMO label­ing, after Mon­san­to and oth­er biotech com­pa­nies spent approx­i­mate­ly $50 mil­lion on adver­tis­ing against the initiative.
This time around, the push for label­ing laws could bear more fruit: Maine has already fol­lowed in Connecticut's wake and approved its own label­ing law (as in Con­necti­cut, the Maine law is con­tin­gent on oth­er near­by states pass­ing their own bills), and 25 oth­er states — includ­ing all of the north­east­ern states — have intro­duced leg­is­la­tion to require label­ing or pro­hib­it the pro­duc­tion of genet­i­cal­ly engi­neered foods, accord­ing to the Cen­ter for Food Safety.
Connecticut's new law is part of a glob­al effort to label or lim­it genet­i­cal­ly engi­neered foods. In 2004, the Euro­pean union intro­duced a uni­ver­sal label­ing law for GMOs. More than 60 coun­tries around the world have GMO label­ing laws, and many have offi­cial bans on GMO cultivation.
Tara Cook-Littman of GMO Free CT told the Huff­in­g­ton Post that though the GMO label­ing move­ment was at first dis­missed as ​"a bunch of crazy moms and envi­ron­men­tal­ists," things changed ​"when advo­cates were able to show them­selves to be a seri­ous move­ment with polit­i­cal power."
Jes­si­ca Cor­bett
, a for­mer In These Times intern, is a Maine-based staff writer at Com­mon Dreams. Fol­low her on Twit­ter at @corbett_jessica.