In a Major Victory for Academic Labor, NYU Grad Students Win Contract, Narrowly Avert Strike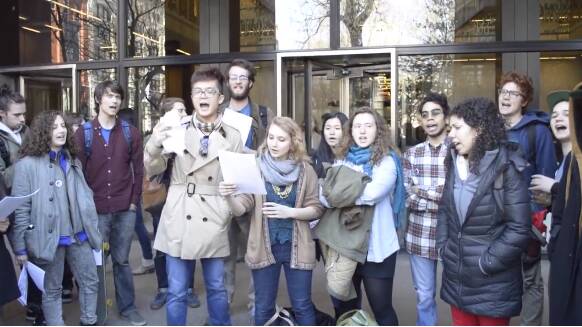 In the early morning hours yesterday, New York University (NYU) administration and graduate students, represented by the Graduating Student Organizing Committee-United Auto Workers (GSOC-UAW) Local 2110, reached a last-minute agreement to avert a strike by graduate student instructors. Negotiations had been ongoing for over a year and GSOC had been vocal about its willingness to strike if a fair contract could not be reached. March 10 had been set as the start for a ​"limited strike" that would last through Friday, coinciding with the university's midterm exams.
GSOC was looking for pay increases, tuition remission and healthcare coverage for its members. Details of the contract will be released later today, but negotiators were able to come close enough to make a tentative agreement and ward off the strike.
"We feel that it's a major victory to get things from the university that they were saying weren't possible a year ago," Claudia Carrera, a Ph.D. student at NYU, told NYULocal.
Graduate students have occupied a gray area in academia: Are they students or employees? Often they inhabit both worlds, attending classes and working — usually teaching undergraduates and/​or conducting research — part-time. While university administrators often argue that they are principally students, grad students have been fighting for recognition as employees, as well as all the benefits and protections that come with that status.
GSOC has been on the frontlines of the academic labor movement for nearly two decades. After forming in 1999, they won a case in 2000 in front of the National Labor Relations Board (NLRB) that set a precedent for allowing graduate students to organize as workers. Although the case was overturned in 2004 thanks to an NLRB appointed by President George W. Bush, GSOC continued to fight for recognition: in 2005, when NYU refused to negotiate another contract, GSOC went on strike.
That strike was beaten back by NYU administrators, but GSOC continued to fight for recognition. In December 2013, NYU agreed to recognize the union, despite not being legally required to do so, in part because it appeared certain the school would lose the UAW's pending NLRB appeal in front of an Obama appointed board. For the last year, GSOC and NYU have been in negotiations for a contract, the first since 2005.
In Fall 2014, the GSOC branch of the Academic Workers for a Democratic Union (AWDU) won a landslide victory to the leadership of NYU's grad student union. AWDU, which began in the University of California system, does not separate workplace from social justice issues in their bargaining, arguing for increased compensation and stronger rights for undocumented, LGBTQ, single mother and other students all at the same time. AWDU members say this, and their commitment to transparency in negotiations, allowed them to win GSOC's elections and control negotiations with the university.
The grad student unionists say they were strongly backed by the larger NYU community, with over 100 faculty signing petitions in support of GSOC, and undergrads — who the administration had tried to influence in an email on Friday, saying they would bear the brunt of an increase in grad student wages through tuition hikes — demonstrating at several points around campus. ​"Our undergrad allies pushed us over the finish line" with their show of solidarity, NYU-AWDU said in a statement.
Did you know?
Many nonprofits have seen a big dip in support in the first part of 2021, and here at In These Times, donation income has fallen by more than 20% compared to last year. For a lean publication like ours, a drop in support like that is a big deal.

After everything that happened in 2020, we don't blame anyone for wanting to take a break from the news. But the underlying causes of the overlapping crises that occurred last year remain, and we are not out of the woods yet. The good news is that progressive media is now more influential and important than ever—but we have a very small window to make change.

At a moment when so much is at stake, having access to independent, informed political journalism is critical. To help get In These Times back on track, we've set a goal to bring in 500 new donors by July 31. Will you be one of them?
Kevin is an educator and freelance writer in Chicago. Follow him on Twitter at @kevinsolari_.
Here's how you can help
In These Times is funded entirely by readers like you, but through the first half of 2021, reader donations are down 20% compared to last year. If that continues, it could spell real trouble for In These Times. We're running a short fundraising drive (from now until July 31) to get things back on track. Will you chip in?