Occupy Gotham City
What the Dark Night Rises says about violence, morality and people's power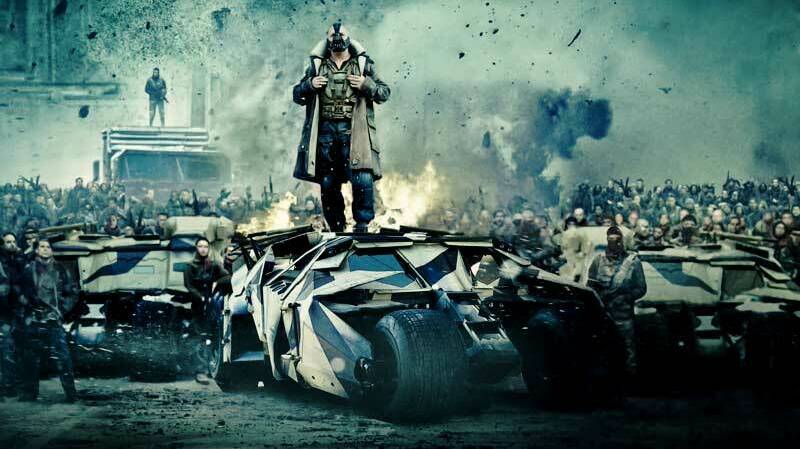 The Dark Knight Ris­es
attests yet again to how Hol­ly­wood block­busters are pre­cise indi­ca­tors of the ide­o­log­i­cal predica­ment of our soci­ety. Though Rush Lim­baugh and oth­er right-wing com­men­ta­tors have
crit­i­cized the film
for nam­ing its vil­lain Bane — as in
Bain Cap­i­tal
—most pro­gres­sive crit­ics have read the film as a denun­ci­a­tion of Occu­py Wall Street. But the film war­rants a clos­er read­ing, with an eye to what is absent as well as to what is present. For those of you who have not seen the movie, here is a (sim­pli­fied) storyline:
[Ed.: Plot spoil­ers fol­low.] Eight years after the events of The Dark Knight—the pre­vi­ous install­ment of the Bat­man saga — law and order pre­vail in Gotham City. Under the extra­or­di­nary pow­ers grant­ed by the Dent Act, Com­mis­sion­er Gor­don has near­ly erad­i­cat­ed vio­lent and orga­nized crime. He nonethe­less feels guilty about let­ting Bat­man take the fall for the late Har­vey Dent's crimes and plans to admit to the con­spir­a­cy at a pub­lic memo­r­i­al for Dent — but then decides at the last minute that the city is not ready to hear the truth.
The prospect of the OWS movement taking power and establishing people's democracy in Manhattan is so patently absurd, so utterly unrealistic, that one cannot but raise the question: Why then does a major Hollywood blockbuster dream about it?
No longer active as Bat­man, Bruce Wayne lives iso­lat­ed in his manor while his com­pa­ny crum­bles — in part because he invest­ed in a clean ener­gy project designed to har­ness fusion pow­er, then shut it down after learn­ing that the core could be mod­i­fied to become a nuclear weapon. The beau­ti­ful Miran­da Tate, a mem­ber of the Wayne Enter­pris­es exec­u­tive board, encour­ages Wayne to rejoin soci­ety and con­tin­ue his phil­an­thropic works.
Here enters the (first) vil­lain of the film: Bane, a ter­ror­ist leader who was a mem­ber of the League of Shad­ows. After Bane's finan­cial machi­na­tions bring Wayne's com­pa­ny close to bank­rupt­cy, Wayne entrusts Miran­da to con­trol his enter­prise and also engages in a brief love affair with her. (Her roman­tic com­pe­ti­tion is Seli­na Kyle — Cat­woman – who steals from the rich in order to redis­trib­ute wealth, but even­tu­al­ly rejoins Wayne and the forces of law and order.) Learn­ing that Bane has got­ten hold of his fusion core, Wayne returns as Bat­man and con­fronts the vil­lain, who admits that he took over the League of Shad­ows after Ra's al Ghul's death. Crip­pling Bat­man in close com­bat, Bane detains him in a prison from which escape is vir­tu­al­ly impos­si­ble: Inmates tell Wayne the sto­ry of the only per­son to ever suc­cess­ful­ly escape, a child dri­ven by neces­si­ty and the sheer force of will.
While the impris­oned Wayne recov­ers from his injuries and retrains him­self to be Bat­man, Bane suc­ceeds in turn­ing Gotham City into an iso­lat­ed city-state. He lures most of Gotham's police force under­ground and traps them there; then he sets off explo­sions which destroy most of the bridges con­nect­ing Gotham City to the main­land; final­ly he announces that any attempt to leave the city will result in the det­o­na­tion of Wayne's fusion core, which has been con­vert­ed into a bomb.
Here we reach the cru­cial moment of the film: Bane's takeover is accom­pa­nied by a vast politi­co-ide­o­log­i­cal offen­sive. Bane, who stole a copy of Com­mis­sion­er Gordon's intend­ed speech, pub­licly reveals the cov­er-up of Den­t's death and releas­es the pris­on­ers locked up under the Dent Act. Con­demn­ing the rich and pow­er­ful, he promis­es to restore the pow­er of the peo­ple, call­ing on the com­mon peo­ple to ​"take your city back."
The ulti­mate Occupier
Here is where crit­ics have been quick to pick up on the par­al­lel to Occu­py: As Tyler O'Neil writes in the Hills­dale Nat­ur­al Law Review, Bane reveals him­self to be ​"the ulti­mate Wall Street Occu­pi­er, call­ing on the 99% to band togeth­er and over­throw soci­etal elites."
What fol­lows is the film's idea of people's pow­er: show tri­als and exe­cu­tions of the rich; streets lit­tered with crime and villainy.
These scenes of a venge­ful pop­ulist upris­ing (a mob that thirsts for the blood of the rich who have neglect­ed and exploit­ed them) evoke Charles Dick­ens' descrip­tion of the Reign of Ter­ror in
A Tale of Two Cities
. Although the film has noth­ing to do with actu­al pol­i­tics, it fol­lows Dick­ens' nov­el in ​
"
hon­est­ly" por­tray­ing rev­o­lu­tion­ar­ies as pos­sessed fanat­ics. Thus the film pro­vides, as blog­ger Karthick RM [sic]
writes on his blog Unceas­ing Waves
, a ​
"
car­i­ca­ture of what in real life would be an ide­o­log­i­cal­ly com­mit­ted rev­o­lu­tion­ary fight­ing struc­tur­al injus­tice. Hol­ly­wood tells what the estab­lish­ments want you to know — rev­o­lu­tion­ar­ies are bru­tal crea­tures, with utter dis­re­gard for human life. Despite eman­ci­pa­to­ry rhetoric on lib­er­a­tion, they have sin­is­ter designs behind. Thus, what­ev­er might be their rea­sons, they need to be eliminated."
But on to the con­clu­sion of the film:
[Ed.: Addi­tion­al spoil­ers]. A cou­ple of months lat­er, while Gotham City con­tin­ues to suf­fer pop­u­lar ter­ror, Wayne suc­cess­ful­ly escapes prison, returns to Gotham as Bat­man, and enlists his friends to help lib­er­ate the city and dis­arm the fusion bomb. Bat­man con­fronts and sub­dues Bane, but Miran­da inter­venes, stab­bing Bat­man — and the soci­etal bene­fac­tor reveals her­self to be Talia al Ghul, daugh­ter of Ra's. It was she who escaped the prison as a child, and Bane was the one per­son who aid­ed her. After announc­ing her plan to com­plete her father's work by destroy­ing Gotham, Talia makes off with the bomb. In the ensu­ing may­hem, Seli­na (as Cat­woman) kills Bane, while Bat­man chas­es Talia to her death. Using a spe­cial heli­copter, Bat­man hauls the bomb beyond the city lim­its, where it det­o­nates over the ocean and pre­sum­ably kills him.
Bat­man is now cel­e­brat­ed as a hero whose sac­ri­fice saved Gotham City, while Wayne is believed to have died in the riots. But Alfred, Wayne's faith­ful but­ler, wit­ness­es Bruce and Seli­na togeth­er alive in a café in Flo­rence, while Blake, an hon­est young police­man who knew about Batman's iden­ti­ty, inher­its the Bat­cave. In short, as Karthick apt­ly sum­ma­rizes, "[Bat­man] saves the day, emerges unscathed and moves on with a nor­mal life, with some­one else to replace his role defend­ing the sys­tem." At Wayne's (would-be) bur­ial, Alfred reads the last lines from Dickens's Tale of Two Cities: ​"It is a far, far bet­ter thing that I do, than I have ever done; it is a far, far bet­ter rest that I go to than I have ever known."
Dick­ens is an inspired choice for a film in which the gap between the rich and the poor is present, but depoliti­cized. Ear­ly in the film, Seli­na Kyle (Cat­woman) whis­pers to Bruce Wayne (Bat­man), while they are danc­ing at an exclu­sive upper-class gala: ​"There's a storm com­ing, Mr. Wayne. You and your friends bet­ter bat­ten down the hatch­es, because when it hits you're all gonna won­der how you ever thought you could live so large and leave so lit­tle for the rest of us." Direc­tor Christo­pher Nolan, like every good lib­er­al, is ​"wor­ried" about this dis­par­i­ty and admits this wor­ry pen­e­trates the film. He told Enter­tain­ment Week­ly:
What I see in the film that relates to the real world is the idea of dis­hon­esty. The film is all about that com­ing to a head. … The notion of eco­nom­ic fair­ness creeps into the film, and the rea­son is twofold. One, Bruce Wayne is a bil­lion­aire. It has to be addressed. … But two, there are a lot of things in life, and eco­nom­ics is one of them, where we have to take a lot of what we're told on trust, because most of us feel like we don't have the ana­lyt­i­cal tools to know what's going on. … I don't feel there's a left or right per­spec­tive in the film. What is there is just an hon­est assess­ment or hon­est explo­ration of the world we live in — things that wor­ry us.
Although view­ers know Wayne is mega-rich, they tend to for­get where his wealth comes from: arms man­u­fac­tur­ing and stock-mar­ket spec­u­la­tions. Arms deal­er and spec­u­la­tor: This is the true secret beneath the Bat­man mask. And yet the film estab­lish­es Wayne as the gen­er­ous gen­tle­man-phil­an­thropist, pit­ting him against the self­ish and deca­dent rich who lack the Wayne family's sense of noblesse oblige.
And CNN's Tom Char­i­ty right­ly not­ed that the movie defends ​"the estab­lish­ment" by pre­sent­ing a soci­ety of ​"phil­an­thropic bil­lion­aires and an incor­rupt­ible police" and by exhibit­ing a dis­trust of the peo­ple tak­ing things into their own hands. Thus, in the words of Slate's For­rest Wick­man, the film ​"demon­strates both a desire for social jus­tice and a fear of what that can actu­al­ly look like in the hands of a mob."
Blood and revolutions
Nolan's broth­er Jonathan (who co-wrote the screen­play) put it blunt­ly: ​
"
Tale of Two Cities
to me was the most sort of har­row­ing por­trait of a relat­able rec­og­niz­able civ­i­liza­tion that had com­plete­ly fall­en to pieces. The ter­rors in Paris, in France in that peri­od, it's not hard to imag­ine that things could go that bad and wrong."
How­ev­er, the actu­al OWS move­ment has not been vio­lent; its goal is def­i­nite­ly not a new reign of ter­ror. Inso­far as Bane's revolt is sup­posed to extrap­o­late the imma­nent ten­den­cy of the OWS move­ment, the film thus ridicu­lous­ly mis­rep­re­sents its aims and strate­gies. Bane stands for the mir­ror image of state ter­ror — a mur­der­ous fun­da­men­tal­ist sect tak­ing over and rul­ing by ter­ror. He does not embody the over­com­ing of the rene­gade state through pop­u­lar self-orga­ni­za­tion. The ongo­ing anti-glob­al­ist protests are the very oppo­site of Bane's bru­tal terror.
Of course, there
were
mon­strous mass killings and vio­lence in actu­al rev­o­lu­tions, from Stal­in­ism to the Khmer Rouge, so the film is clear­ly not just engag­ing in reac­tionary imag­i­na­tion. But we must reject sim­plis­tic claims that
20
th
-cen­tu­ry Com­mu­nism used exces­sive mur­der­ous vio­lence, and that we should be care­ful not to fall into this trap again. As a fact, this is, of course, ter­ri­fy­ing­ly true. But such a direct focus on vio­lence obfus­cates the under­ly­ing ques­tion: What was wrong in the
20
th
-cen­tu­ry Com­mu­nist project as such? What imma­nent weak­ness of this project pushed Com­mu­nists (and not only those in pow­er) to resort to unre­strained vio­lence? In oth­er words, it is not enough to say that Com­mu­nists ​
"
neglect­ed the prob­lem of vio­lence." A deep­er sociopo­lit­i­cal fail­ure pushed them to violence.
The same goes for the notion that Com­mu­nists ​
"
neglect­ed democ­ra­cy." Their over­all project of social trans­for­ma­tion enforced on them this ​
"
neglect." It is thus not only Nolan's film that is not able to imag­ine authen­tic people's pow­er. The ​
"
real" rad­i­cal-eman­ci­pa­to­ry move­ments them­selves were unable to do it. They remained caught in the coor­di­nates of the old soci­ety, which is why the actu­al ​
"
people's pow­er" often became a vio­lent horror.
We can­not sim­ply claim that there is no vio­lent poten­tial in OWS and sim­i­lar move­ments. There is vio­lence at work in every authen­tic eman­ci­pa­to­ry process. The prob­lem with The Dark Knight Ris­es is that it wrong­ly trans­lates this vio­lence into mur­der­ous terror.
The best answer to the movie's implic­it claim that the vio­lent mob reac­tion to oppres­sion is worse than the orig­i­nal oppres­sion itself, was the one pro­vid­ed by Mark Twain in
A Con­necti­cut Yan­kee in King Arthur's Court
: ​
"
There were two ​
'
Reigns of Ter­ror,' if we would but remem­ber it and con­sid­er it; the one wrought mur­der in hot pas­sion, the oth­er in heart­less cold blood … our shud­ders are all for the ​
'
hor­rors' of the minor Ter­ror, the momen­tary Ter­ror, so to speak; where­as, what is the hor­ror of swift death by the axe, com­pared with life­long death from hunger, cold, insult, cru­el­ty, and heart-break?"
On the state, vio­lence and morality
Let us make a detour through Jose Saramago's
See­ing
. In that nov­el, the Por­tuguese Nobel Lau­re­ate tells the sto­ry of the strange events in the unnamed cap­i­tal city of an uniden­ti­fied demo­c­ra­t­ic coun­try. When the morn­ing of elec­tion day is marred by tor­ren­tial rains, vot­er turnout is dis­turbing­ly low, but the weath­er breaks by mid-after­noon and the pop­u­la­tion heads en masse to their vot­ing sta­tions. The gov­ern­men­t's relief is short-lived, how­ev­er, when vote count­ing reveals that more than
70
per­cent of the bal­lots cast in the cap­i­tal have been left blank. Baf­fled by this appar­ent civic lapse, the gov­ern­ment gives the cit­i­zen­ry a chance to make amends just one week lat­er with anoth­er elec­tion day. The results are worse: now
83
per­cent of the bal­lots are blank. The two major polit­i­cal par­ties — the rul­ing par­ty of the right (p.o.t.r.) and their chief adver­sary, the par­ty of the mid­dle (p.o.t.m.) — are in a pan­ic, while the hap­less­ly mar­gin­al­ized par­ty of the left (p.o.t.l.) pro­duces an analy­sis claim­ing that the blank bal­lots are essen­tial­ly a vote for their pro­gres­sive agen­da. Unsure how to respond to a benign protest but cer­tain that an anti-demo­c­ra­t­ic con­spir­a­cy exists, the gov­ern­ment quick­ly labels the move­ment ​
"
ter­ror­ism, pure and unadul­ter­at­ed" and declares a state of emer­gency, sus­pend­ing all con­sti­tu­tion­al guar­an­tees and adopt­ing a series of increas­ing­ly dras­tic steps: Cit­i­zens are seized at ran­dom and dis­ap­pear into secret inter­ro­ga­tion sites, the police and seat of gov­ern­ment are with­drawn from the cap­i­tal, the city's entrances and exits are sealed, and final­ly, a ter­ror­ist ring­leader is man­u­fac­tured by the pow­ers that be. The city con­tin­ues to func­tion near-nor­mal­ly through­out, the peo­ple par­ry­ing each of the gov­ern­men­t's thrusts in inex­plic­a­ble uni­son and with a tru­ly Gand­hi­an lev­el of non­vi­o­lent resis­tance…
this
, the vot­ers' absten­tion, is a case of tru­ly rad­i­cal ​
"
divine vio­lence" which prompts bru­tal pan­ic reac­tions of those in power.
Back to Nolan. Viewed as a com­men­tary on the state, vio­lence and moral­i­ty, the tri­ad of Bat­man films thus fol­lows a cer­tain log­ic. In the first film, Bat­man Begins, the hero remains with­in the con­straints of a lib­er­al order. The sys­tem can be defend­ed with moral­ly accept­able meth­ods. By con­trast, the sequel, The Dark Knight, is effec­tive­ly a John Ford-style West­ern, deploy­ing the idea that in order to tame the Wild West one break the rules in order to defend civilization.
Or, to put it in anoth­er way, in Bat­man Begins, the hero is sim­ply a clas­sic urban vig­i­lante who pun­ish­es the crim­i­nals that the police can­not. The prob­lem here is that law enforce­ment relates ambigu­ous­ly to Batman's help: While admit­ting Bat­man's effi­cien­cy, the police appa­ra­tus nonethe­less per­ceives him as a threat to its monop­oly on vio­lence and an embar­rass­ing tes­ti­mo­ny to its own inef­fi­cien­cy. How­ev­er, Batman's trans­gres­sion here is pure­ly for­mal – act­ing on behalf of the law with­out being legit­imized to do so. In his actions, he nev­er vio­lates the law.
The Dark Knight changes these coor­di­nates: Batman's true rival is not Jok­er, his oppo­nent, but Har­vey Dent, his coun­ter­part, the ​"white knight." As the aggres­sive new dis­trict attor­ney, Dent is a kind of offi­cial vig­i­lante, whose fanat­i­cal bat­tle against crime leads him to kill inno­cent peo­ple and even­tu­al­ly destroy him­self. It is as if Dent is the legal order's response to Batman's threat: Against Batman's vig­i­lante strug­gle, the sys­tem gen­er­ates its own ille­gal excess. Its own vig­i­lante is much more vio­lent than Bat­man and direct­ly vio­lates the law. There is thus a poet­ic jus­tice in the fact that, when Bruce plans to pub­licly reveal his iden­ti­ty as Bat­man, Dent jumps in and false­ly iden­ti­fies him­self as the masked hero. In return, at the film's end, Bat­man takes upon him­self the crimes com­mit­ted by Dent to save the rep­u­ta­tion of the pop­u­lar hero who embod­ied hope for ordi­nary people.
Final­ly, The Dark Knight Ris­es push­es things even fur­ther: Is Bane not Dent brought to a log­i­cal extreme? Is Bane not a Dent who has drawn the con­clu­sion that the sys­tem itself is unjust — so that in order to effec­tive­ly fight injus­tice one has to destroy the sys­tem by employ­ing the most bru­tal of methods?
On the sub­ject of Bane, Karthick rais­es a per­spic­u­ous ques­tion: Why is Bane depict­ed so harsh­ly, while the Jok­er of the pre­vi­ous film is a more sym­pa­thet­ic vil­lain? (It is not just because Heath Ledger is a more accom­plished actor than Tom Hardy.) Karthick's answer is sim­ple and convincing:
The Jok­er, call­ing for anar­chy in its purest form… crit­i­cal­ly under­scores the hypocrisies of bour­geois civ­i­liza­tion as it exists, [but] his views are unable to trans­late into mass action. … Bane, on the oth­er hand pos­es an exis­ten­tial threat to the sys­tem of oppres­sion. …His strength is not just his physique but also his abil­i­ty to com­mand peo­ple and mobi­lize them to achieve a polit­i­cal goal. He rep­re­sents the van­guard, the orga­nized rep­re­sen­ta­tive of the oppressed that wages polit­i­cal strug­gle in their name to bring about struc­tur­al changes. Such a force, with the great­est sub­ver­sive poten­tial, the sys­tem can­not accom­mo­date. It needs to be eliminated.
Bane is dis­tin­guished from the Jok­er by one thing: his capac­i­ty for uncon­di­tion­al love, the very source of his hard­ness. In a short but touch­ing scene, Bane tells Wayne how, in an act of love in the midst of ter­ri­ble suf­fer­ing, he saved the child Talia — and paid a ter­ri­ble price for his lov­ing act (Bane was beat­en with­in an inch of his life while defend­ing her).
The uni­ty of love and sword
Karthick right­ly locates this event into the long tra­di­tion, from Christ to Che Gue­vara, that extols vio­lence as a ​"work of love." As the famous lines from Che Gue­vara's diary puts it: ​"Let me say, with the risk of appear­ing ridicu­lous, that the true rev­o­lu­tion­ary is guid­ed by strong feel­ings of love. It is impos­si­ble to think of an authen­tic rev­o­lu­tion­ary with­out this qual­i­ty." What we encounter here is not so much the ​"Chris­ti­fi­ca­tion of Che" but rather a ​"Cheiza­tion of Christ" — the Christ whose scan­dalous words from the Gospel of Matthew put it this way: ​"Do not think that I came to bring peace on Earth; I did not come to bring peace, but a sword. For I came to set a man against his father, and a daugh­ter against her moth­er." This grim pro­nounce­ment seems to be more in har­mo­ny with Guevara's more ​"prob­lem­at­ic" exal­ta­tion of rev­o­lu­tion­ar­ies as ​"killing machines":
Hatred is an ele­ment of strug­gle; relent­less hatred of the ene­my that impels us over and beyond the nat­ur­al lim­i­ta­tions of man and trans­forms us into effec­tive, vio­lent, selec­tive and cold killing machines. Our sol­diers must be thus; a peo­ple with­out hatred can­not van­quish a bru­tal enemy.
Gue­vara is here para­phras­ing Christ's dec­la­ra­tions on the uni­ty of love and sword — in both cas­es, the under­ly­ing para­dox is that what makes love angel­ic, what ele­vates it over mere unsta­ble and pathet­ic sen­ti­men­tal­i­ty, is its cru­el­ty. Vio­lence rais­es love over and beyond the nat­ur­al lim­i­ta­tions of man and thus trans­forms it into an uncon­di­tion­al dri­ve. This is why, back to The Dark Knight Ris­es, the only authen­tic love in the film is that of Bane, the ​"ter­ror­ist," in clear con­trast to Batman.
Along the same lines, the fig­ure of Ra's, Talia's father, deserves a clos­er look. Ra's is a mix­ture of Arab and Ori­en­tal fea­tures, an agent of vir­tu­ous ter­ror fight­ing to coun­ter­bal­ance the cor­rupt­ed West­ern civ­i­liza­tion. (Ra's is played by Liam Nee­son, an actor whose screen-per­sona usu­al­ly radi­ates dig­ni­fied good­ness and wis­dom — he por­trayed Zeus in The Clash of Titans and Qui-Gon Jinn in Star Wars: Episode I—The Phan­tom Men­ace).
In Nolan's Bat­man tril­o­gy, Ra's is also the teacher of the young Wayne. In Bat­man Begins, he finds the young Wayne in a Chi­nese prison; intro­duc­ing him­self as ​"Hen­ri Ducard," he offers the boy a ​"path." After Wayne is freed, he climbs to the home of the League of Shad­ows, where Ra's is wait­ing but pre­sent­ing him­self as a servant.
At the end of a long and painful train­ing, Ra's explains that Bruce must do what is nec­es­sary to fight evil, while reveal­ing that he has trained Bruce with the inten­tion of him lead­ing the League to destroy Gotham City, which Ra's and his fol­low­ers believe has become hope­less­ly cor­rupt. Ra's is thus not a sim­ple embod­i­ment of Evil: He stands for the com­bi­na­tion of virtue and ter­ror, for the dis­ci­plined egal­i­tar­i­an fight­ing a cor­rupt­ed empire, and thus belongs to the line that stretch­es (in recent fic­tion) from Paul Atrei­des in Dune to Leonidas in 300. And it is cru­cial that Wayne is his dis­ci­ple: Wayne was formed as Bat­man by him.
The imma­nent center
So … should the film just be flat­ly reject­ed by those of us who are engaged in rad­i­cal eman­ci­pa­to­ry strug­gles? No. One should read the film in the way one inter­prets a Chi­nese polit­i­cal poem: Absences and sur­pris­ing pres­ences count. Recall the old French sto­ry about a wife who accused her husband's best friend of mak­ing illic­it sex­u­al advances toward her. It takes some time until the sur­prised friend gets the point: In this twist­ed way, she is invit­ing him to seduce her. It is like the Freudi­an uncon­scious, in which to speak some­thing is always to affirm it: What mat­ters is not a neg­a­tive judg­ment on some­thing, but the mere fact that this thing is men­tioned. In
The Dark Knight Ris­es
, the specter of ​
"
people's pow­er" becomes a cen­tral concern.
This in itself pro­vides us a clue. The prospect of the OWS move­ment tak­ing pow­er and estab­lish­ing people's democ­ra­cy in Man­hat­tan is so patent­ly absurd, so utter­ly unre­al­is­tic, that one can­not but raise the ques­tion: Why then does a major Hol­ly­wood block­buster dream about it? Why fan­ta­size about OWS explod­ing into a vio­lent takeover? The obvi­ous answer — to smudge OWS with accu­sa­tions that it har­bors a ter­ror­ist-total­i­tar­i­an poten­tial — is not enough to account for the strange attrac­tion exert­ed by the prospect of people's pow­er. No won­der the prop­er func­tion­ing of this pow­er remains blank, absent: No details are giv­en about how this people's pow­er func­tions, what the mobi­lized peo­ple are doing. (Bane tells the peo­ple they can do what they want. He is not impos­ing on them his own order.)
It is there­fore all too sim­ple to crit­i­cize Nolan's film from the out­side, com­par­ing it to the real­i­ty of ant­i­cap­i­tal­ist protests and point­ing out how its depic­tion of the OWS reign is a ridicu­lous car­i­ca­ture. One should crit­i­cize the film from the inside, demon­strat­ing how the film is in ten­sion with itself. Con­sid­er that Bane is not just a bru­tal ter­ror­ist, but a per­son of deep love and sac­ri­fice. In this way, Bane's authen­tic love leaves a trace with­in the film's tex­ture. This is why the film deserves a close read­ing: The imag­ined Event — the specter of the ​
"
People's Repub­lic of Gotham City," dic­ta­tor­ship of the pro­le­tari­at on Man­hat­tan — is
imma­nent
to the film, it is its
absent cen­ter
.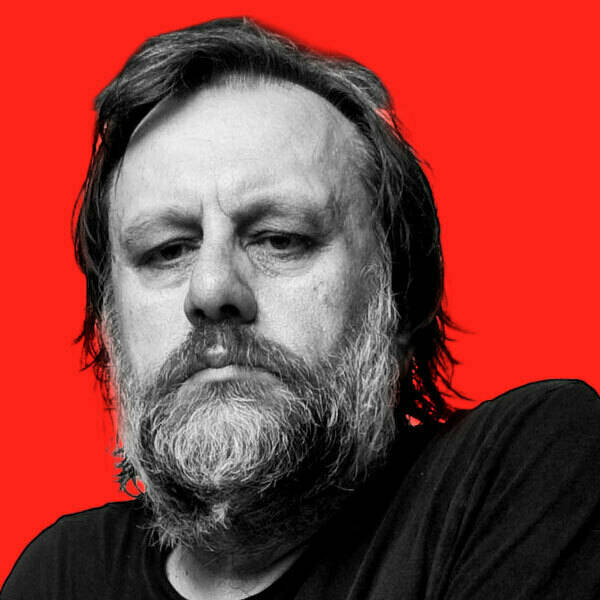 Slavoj Žižek
, a Sloven­ian philoso­pher and psy­cho­an­a­lyst, is a senior researcher at the the Insti­tute for Human­i­ties, Birk­beck Col­lege, Uni­ver­si­ty of Lon­don. He has also been a vis­it­ing pro­fes­sor at more than
10
uni­ver­si­ties around the world. Žižek is the author of many books, includ­ing Liv­ing in the End Times, First As Tragedy, Then As Farce, The Year of Dream­ing Dan­ger­ous­ly and Trou­ble in Paradise.