Now That Greece Has Defaulted, Tsipras and Syriza Can't Blink: It's Time To Push For a Grexit
If the Greek people don't vote "no" on their upcoming referendum, they face perpetual austerity and misery from unelected creditors.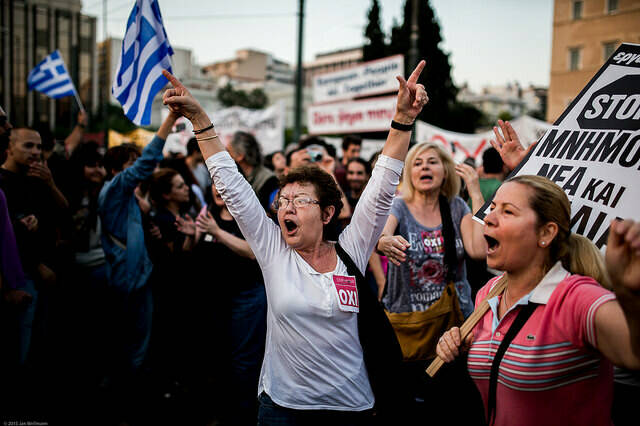 At 1 a.m. Athens time on Wednes­day, after five tumul­tuous years in which Greece's unem­ploy­ment rate bal­looned, home­less­ness grew and the sui­cide rate sky­rock­et­ed, the country's Syriza gov­ern­ment default­ed on a 1.7 bil­lion euro pay­ment due to the Inter­na­tion­al Mon­e­tary Fund (IMF). In doing so, it became the first coun­try in the so-called ​"devel­oped" world to short the IMF on a payment.
Syriza must not be immobilized by the fear of the unknown. The party must break with the notion that it can negotiate Greece out of austerity within the framework of the Eurozone and within the logic of paying an unsustainable debt. It must secure the livelihood of the people, not the coffers of the banks that would squeeze the very last drop of blood from an already drained populace.
As bil­lion dol­lar defaults go, this was actu­al­ly a rather mild one. It was not a full repu­di­a­tion of the debt, not an excla­ma­tion that Greece would nev­er pay, but rather that it won't because it sim­ply can't. Still, it is quite sig­nif­i­cant that this is the first time in the his­to­ry of the IMF that a devel­oped coun­try has fall­en into arrears on a payment.
Unable to secure debt relief in IMF nego­ti­a­tions, and faced only with pro­pos­als from the Troi­ka (Inter­na­tion­al Mon­e­tary Fund, Euro­pean Com­mis­sion, and Euro­pean Cen­tral Bank) that would con­tin­ue to slash pen­sions, pri­va­tize more of the pub­lic sec­tor and raise tax­es on prod­ucts that affect the poor­est like pack­aged foods, all while pre­serv­ing the oli­garchs that live in excess out­side the para­me­ters of tax­es and law, Prime Min­is­ter Alex­is Tsipras played the only hand he had left: he called for a ref­er­en­dum on the deal to take place on July 5.
On Wednes­day evening Athens time, with rumors swirling that Tsipras would can­cel the ref­er­en­dum and was pre­pared to deal, the prime min­is­ter deliv­ered an address to the Greek peo­ple. He dis­pelled the sug­ges­tion that his gov­ern­ment would blink and insist­ed that the ref­er­en­dum would go for­ward as planned and urged Greeks to vote ​"no." The ques­tion of whether or not to accept cur­rent pro­pos­als by the cred­i­tors, he said, should be posed to the people.
He lam­bast­ed the char­ac­ter­i­za­tion of the ref­er­en­dum by some as unde­mo­c­ra­t­ic, claim­ing that he was shocked that ​"a demo­c­ra­t­ic Europe [would] not to give space and time [for a ref­er­en­dum.] It is a dis­grace that we have these scenes of shame, because they closed the banks pre­cise­ly because we want­ed to give the peo­ple the vote." The pres­sure from the Euro­zone and the clos­ing of banks, Tsipras argued, are an attempt to ​"black­mail" the peo­ple to give in to the cred­i­tors' demands, which would only wors­en con­di­tions for an already immis­er­at­ed Greek people.
Try­ing to dis­pel fears that a vote against the cred­i­tors' pro­pos­als sig­nals an imme­di­ate exit from the Euro­zone, Tsipras main­tained that the ref­er­en­dum is a vote on the spe­cif­ic deal, not on Greece's place in the cur­ren­cy union, and rein­forced his posi­tion that Greece can nego­ti­ate for bet­ter terms and remain in in the Euro­zone. With banks closed for a third day, his speech also aimed to calm fears of a ​"bail-in" (in which depos­i­tors' accounts are heav­i­ly taxed) and to reas­sure pen­sion­ers that he would not sur­ren­der their pen­sions to the creditors.
The finan­cial media is prop­a­gat­ing irre­spon­si­ble com­par­isons between Greece and oth­er coun­tries to have gone down this path. In com­par­ing Greece's default to that of coun­tries like Sudan, Soma­lia, and Zim­bab­we, the fear mon­ger­ing is in full effect. The mes­sage is crude yet clear: stick with the plan or else you'll end up a third world coun­try. The racist impli­ca­tions shouldn't be ignored either; pun­dits could eas­i­ly bring up Argenti­na as well, as some have, but many seem to pre­fer to play on igno­rance to the specifics of these defaults and the stereo­types that por­tray African nations as dan­ger­ous, anar­chic failures.
In the case of Greece, the road to fail­ure has been far more Euro­pean. As soci­ol­o­gist Walden Bel­lo explained back in 2010, Greece's eco­nom­ic cri­sis is the prod­uct of fren­zied cap­i­tal­ism. Ger­man and French banks, eager to make a prof­it from lend­ing, poured mon­ey into a shaky Greek econ­o­my. The Amer­i­can invest­ment bank Gold­man Sachs helped Greek finan­cial author­i­ties uti­lize deriv­a­tives to make the immense debt seem­ing­ly dis­ap­pear, build­ing a house of cards that would top­ple when Gold­man would itself ​"bet on the pos­si­bil­i­ty that Greece would default," which helped lead to a cri­sis for Greece and mas­sive prof­its for the bank.
The res­cue plan fur­ther com­pound­ed Greece's prob­lems, Jerome Roos, a Ph.D. researcher in inter­na­tion­al polit­i­cal econ­o­my at the Euro­pean Uni­ver­si­ty Insti­tute, has long argued. The IMF has been com­plic­it in the ​"the dec­i­ma­tion of the Greek econ­o­my." In a recent piece, he points out that even IMF offi­cials, includ­ing for­mer chief Dominique Strauss-Kahn, have con­clud­ed that efforts to shield Ger­man and French banks from tak­ing con­sid­er­able hits took prece­dence over for­mu­lat­ing a sus­tain­able plan — in effect crip­pling Greece further.
As I've writ­ten before, Syriza's elec­toral man­date has always been twofold: first, to keep Greece in the cur­ren­cy union; sec­ond, to end the long suf­fer­ing caused by the imposed aus­ter­i­ty. This is why a ref­er­en­dum is Tsipras's only way for­ward. A ​"yes" vote by the Greek peo­ple will reg­is­ter as full capit­u­la­tion and shack­le Greece to the Troika's aus­ter­i­ty plan. A ​"no" vote will reject the deal and give his gov­ern­ment the pop­u­lar sup­port to resist and nego­ti­ate from a new per­spec­tive — even if the costs would be a flat­tened Greek econ­o­my that cat­a­pults the nation out of the cur­ren­cy union.
In call­ing for the vote, Tsipras remind­ed the peo­ple of the man­date they award­ed to his gov­ern­ment back in Jan­u­ary. But he also remind­ed the world that deci­sions of pro­found con­se­quence to the great major­i­ty of peo­ple belong in the hands of the peo­ple – not unelect­ed IMF technocrats.
The stakes are unde­ni­ably high, as the total amount of Greece's debt is in excess of 320 bil­lion euros. In addi­tion to its impact on the peo­ple of Greece, a loss of that mag­ni­tude would send shock­waves through the cred­i­tor nations of north­ern Europe.
If the Greek peo­ple vote ​"yes," as both the cen­ter-right politi­cians and the oli­garchs pre­fer, they will be vot­ing for the famil­iar — for the assur­ances of what they think they know, an aus­ter­i­ty pro­gram the likes of which will only deep­en the social suf­fer­ing. How­ev­er, if the peo­ple vote ​"no," as those on the Left and even Amer­i­can Nobel-Prize-win­ning econ­o­mist Paul Krug­man have argued for, they will have pushed Syriza into unchar­tered ter­rain, but will also grant the par­ty the oppor­tu­ni­ty to address the country's human­i­tar­i­an cat­a­stro­phe through a pro­gram of its own.
On July 5, the Greek peo­ple should vote ​"no." If they do, Syriza must not be immo­bi­lized by the fear of the unknown. The par­ty must break with the notion that it can nego­ti­ate Greece out of aus­ter­i­ty with­in the frame­work of the Euro­zone and with­in the log­ic of pay­ing an unsus­tain­able debt. It must secure the liveli­hood of the peo­ple, not the cof­fers of the banks that would squeeze the very last drop of blood from an already drained populace.
Tsipras has inti­mat­ed, as he's done in the past, that he would be will­ing to come to terms with cred­i­tors, name­ly the Euro­pean Com­mis­sion, if cer­tain amend­ments to the agree­ment would be made. Key to his agree­ment, he insists, is a frame­work that would pro­tect the Greek islands from tax increas­es and aim to pro­tect already dimin­ished Greek pen­sions. These steps are hon­or­able, but timid and insuf­fi­cient in the face of the social crisis.
In his Wednes­day speech, Tsipras artic­u­lat­ed that a ​"no" vote would give his gov­ern­ment the man­date to pun­ish cor­rup­tion and address the human­i­tar­i­an cri­sis while seek­ing a bet­ter deal. He also dis­pelled rumors of any secret plan to exit the Euro­zone. It's time for Tsipras and the rest of Syriza to admit that these posi­tions are incon­gru­ous. The party's biggest mis­take thus far has been in try­ing to rea­son with an unrea­son­able sys­tem, to change the heart of a heart­less machine.
Tsipras should stand firm by his call for a ref­er­en­dum; the peo­ple must remain mobi­lized and vote ​"no," oth­er­wise they face per­pet­u­al aus­ter­i­ty and mis­ery at the hands of unelect­ed cred­i­tors. Per­haps, once they are armed with a ​"no" vote and faced with the irra­tional demands of the Troi­ka, Syriza will have the courage and man­date to lead Greece out of the Eurozone.
Alexan­dros Orphanides
is a New York City-based free­lance jour­nal­ist, researcher and teacher of Greek-Cypri­ot and Hon­duran descent. He writes on polit­i­cal, social and cul­tur­al issues with an empha­sis on mar­gin­al­ized com­mu­ni­ties. Fol­low him on Twit­ter: @subsentences.