Syriza Has No Choice: Greece Must Prepare to Leave the Eurozone
To break from the program of brutal austerity that has been imposed on Greece, its leaders have no choice but to take radical action.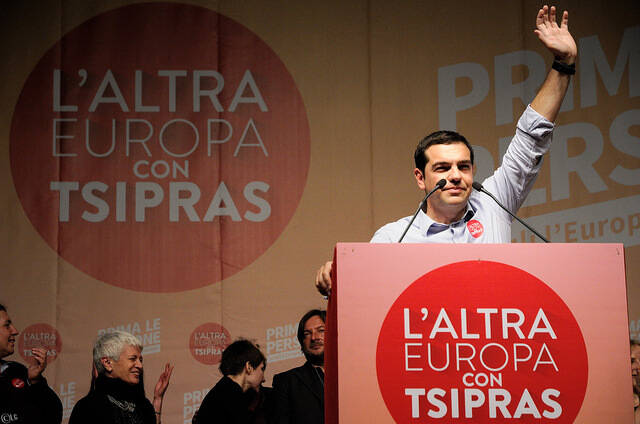 When Syriza won Greece's par­lia­men­tary elec­tions in Jan­u­ary of 2015, much ado was made in the inter­na­tion­al press about the rise of a new rad­i­cal Left in Greece — a devel­op­ment that had punc­tured Greece's long­stand­ing two-par­ty stale­mate and opened up the pos­si­bil­i­ty of rolling back the bru­tal aus­ter­i­ty mea­sures imposed upon it by ​"the troi­ka," the Euro­pean Com­mis­sion, the Inter­na­tion­al Mon­e­tary Fund and the Euro­pean Cen­tral Bank. The upstart Left­ists, born of anti-aus­ter­i­ty social move­ments, won by run­ning on a plat­form that high­light­ed two cen­tral posi­tions. First, they would end the aus­ter­i­ty that was dri­ving Greece deep­er into a human­i­tar­i­an cri­sis. Sec­ond, they would keep the coun­try in the Euro­pean Union.
While leaving the currency will most certainly be economically, politically and socially traumatic, the last five months of cyclical negotiations have proven to be ineffective in accomplishing the kind of change Syriza promised during its campaign. And the last five years have been disastrous for the people of Greece.
Almost five months lat­er, Syriza hasn't made a rad­i­cal break from the pro­gram of debt repay­ments and aus­ter­i­ty. Fears of being cat­a­pult­ed out of the cur­ren­cy union have par­a­lyzed attempts at equi­table nego­ti­a­tions. Instead, the Greek gov­ern­ment remains in an exhaust­ing carousel of brief exten­sions and fre­quent meet­ings with cred­i­tors, as they vir­tu­al­ly beg for more loans while simul­ta­ne­ous­ly post­pon­ing any oppor­tu­ni­ty to address Greece's press­ing social issues.
Mean­while, the real­i­ties on the streets of Greece remain grim. Unem­ploy­ment hov­ers at about 25 per­cent; cuts to health­care have exac­er­bat­ed pub­lic health con­cerns; and thou­sands of Afghan, Syr­i­an and Eritre­an refugees con­tin­ue to pour in, seek­ing safe shores along the Mediter­ranean. And there are no signs of improve­ment on the hori­zon. Just this week, the OECD (Orga­ni­za­tion for Eco­nom­ic Coop­er­a­tion and Devel­op­ment) fore­cast­ed wors­en­ing unem­ploy­ment and a grow­ing debt-to-GDP ratio in Greece in the com­ing months.
This past Wednes­day, Prime Min­is­ter Alex­is Tsipras met with his country's cred­i­tors in Brus­sels to dis­cuss the terms of Greece remain­ing in the cur­ren­cy union. Tak­ing an opti­mistic tone, Tsipras main­tains that Syriza's pro­pos­al to reduce the aus­ter­i­ty bur­den and allow his gov­ern­ment some breath­ing room to address the social costs of the ongo­ing cri­sis is the only rea­son­able path for­ward. But Jeroen Dijs­sel­bloem, pres­i­dent of the Eurogroup's finance min­is­ters, has been less opti­mistic that a deal will be struck on Greece's terms. It appears that any deal will require Syriza to capit­u­late fur­ther by increas­ing sales tax­es on pre­scrip­tion drugs, mak­ing cuts to already dra­mat­i­cal­ly-reduced pen­sions and run­ning an even larg­er bud­get sur­plus. Any steps in this direc­tion would con­sti­tute the con­tin­ued betray­al of Syriza's orig­i­nal promise: to end the austerity.
All this is impor­tant because, as of last Thurs­day evening, Greece has announced that it will not make the 305 mil­lion euro debt pay­ment they were sched­uled to make to the IMF this Fri­day. Instead, they will bun­dle this pay­ment with the next and fork over 1.5 bil­lion euros at the end of the month. This devel­op­ment push­es back the date of the pay­ment and buys some time on the nego­ti­a­tions of ​"cash-for-reform," where­by Syriza agrees to imple­ment reforms aimed at pro­duc­ing ​"growth" by cut­ting into social spend­ing in return for loans. By delay­ing the pay­ment, Greece and its cred­i­tors will con­tin­ue work­ing on the dif­fer­ences they main­tain over tax­es and pensions.
Tak­ing a char­ac­ter­is­ti­cal­ly defi­ant stance, Finance Min­is­ter Yanis Varo­ufakis, has implied that no more com­pro­mis­es can be made by Greece as the sol­ven­cy issues have been ​"polit­i­cal­ly engi­neered by our cred­i­tors to try to squeeze us into effec­tive­ly per­pet­u­at­ing this debt-defla­tion­ary crisis."
But we've heard that kind of rhetoric from Syriza's lead­ers in pre­vi­ous months, only to see Syriza back down from its positions.
These dire con­di­tions have led to the con­tin­u­a­tion of anti-aus­ter­i­ty protests and a fur­ther weak­en­ing of Greece's econ­o­my, as savers with­draw their funds and investors remain reluc­tant to expand busi­ness. To be fair, Syriza inher­it­ed this sit­u­a­tion. But the par­ty has done lit­tle to drag its way out; in fail­ing to be suf­fi­cient­ly rad­i­cal and break with the euro­zone, its lead­er­ship has been just short of disastrous.
While leav­ing the cur­ren­cy will most cer­tain­ly be eco­nom­i­cal­ly, polit­i­cal­ly and social­ly trau­mat­ic, the last five months of cycli­cal nego­ti­a­tions have proven to be inef­fec­tive in accom­plish­ing the kind of change Syriza promised dur­ing its cam­paign. And the last five years have been dis­as­trous for the peo­ple of Greece.
The first step in break­ing free will require engag­ing the pop­u­lar move­ments and labor con­tin­gents that made Syriza's elec­tion pos­si­ble. Pub­lic gen­er­al assem­blies can serve as a means of democ­ra­tiz­ing the con­ver­sa­tion and build­ing sol­i­dar­i­ty across the Greek land­scape. While pro­found hard­ships are inevitable — per­haps even worse than what the Greek peo­ple are cur­rent­ly fac­ing — one should note that they already exist. Instead of rely­ing on media con­jec­ture and fear mon­ger­ing on the part of polit­i­cal oppo­nents, Syriza should look to unleash a mas­sive aware­ness cam­paign that aims to edu­cate the pub­lic as to what they can expect as fall­out from the break.
To com­bat pan­ic and pro­vide some domes­tic sta­bil­i­ty, Syriza should look to pro­vide basic reas­sur­ances to the peo­ple by fol­low­ing the pro­gram out­lined by Syriza Mem­ber of Par­lia­ment, Costas Lapavit­sas: they should ​"for­bid house fore­clo­sures, write off domes­tic debt, recon­nect fam­i­lies to the elec­tric­i­ty net­work, raise the min­i­mum wage, stop pri­va­ti­za­tions." The mea­sures advo­cat­ed by Lapavit­sas, after all, are the pop­u­lar steps Syriza promised when they cam­paigned to win con­trol of the government.
With­out such mea­sures, Syriza is doomed to fail, stuck in their cur­rent posi­tion of car­ry­ing out a pol­i­tics that is unable to break with neolib­er­al cap­i­tal­ism. By favor­ing the ​"stay in the euro" plat­form instead of focus­ing on end­ing the social cat­a­stro­phe of aus­ter­i­ty and prepar­ing the Greek peo­ple for the dif­fi­cult steps that such an exit would entail, Syriza has favored the sta­tus quo and the finan­cial insti­tu­tions over the people.
The party's apol­o­gists will echo Tsipras and call this approach the only real­is­tic one. Inevitably, capit­u­lat­ing to the demands of Greece's cred­i­tors will be framed as ​"an hon­or­able com­pro­mise." But if Syriza con­tin­ues along this path, the unavoid­able deep­en­ing of an inher­it­ed cri­sis will be blamed on the Left.
Still, with­in Syriza's ranks alter­na­tives to the far­ci­cal cycle of nego­ti­a­tions and capit­u­la­tions exist. Stathis Kou­ve­lakis, a mem­ber of the party's Cen­tral Com­mit­tee and pro­fes­sor of Polit­i­cal The­o­ry at King's Col­lege in Lon­don, argues that Syriza should nation­al­ize the banks, inves­ti­gate and pros­e­cute the ​"scan­dal-immersed oli­garchy," imple­ment a size­able tax on major cor­po­ra­tions, and rein­state pro­tec­tive labor leg­is­la­tion and union­iza­tion rights. These mea­sures, even in the con­text of a Greek exit from the euro­zone, do not spell dis­as­ter — they may sig­ni­fy the only chance at relief for a pop­u­lace that will oth­er­wise con­tin­ue to be sapped dry by domes­tic oli­garchs and vam­pir­ic finan­cial institutions.
By tak­ing such mea­sures, Kou­ve­lakis argues, Syriza can begin address­ing the human cost of the last five years of harsh aus­ter­i­ty. Con­se­quent­ly, such an act of defi­ance may also breathe fresh life into the hopes for elec­toral pol­i­tics' capac­i­ty for change.
When Syriza first won the elec­tions, they did so on the bal­lots of a pow­er­less cit­i­zen­ry — dis­en­fran­chised by the deci­sions of Euro­pean tech­nocrats and des­per­ate for an alter­na­tive. By cham­pi­oning timid action in a time of mor­tal cri­sis, Syriza sides with the pow­er­ful. The prospect of lead­ing Greece out of the euro­zone is an unques­tion­ably ter­ri­fy­ing one. But if Syriza is to roll back the aus­ter­i­ty that has so dev­as­tat­ed the coun­try in recent years, such an exit is the only real­is­tic possibility.
Alexan­dros Orphanides
is a New York City-based free­lance jour­nal­ist, researcher and teacher of Greek-Cypri­ot and Hon­duran descent. He writes on polit­i­cal, social and cul­tur­al issues with an empha­sis on mar­gin­al­ized com­mu­ni­ties. Fol­low him on Twit­ter: @subsentences.