The Greek Crisis Shows the Fundamentally Undemocratic Nature of the Eurozone
To the Troika, the election of Syriza, the referendum vote and the basic principles of democracy are meaningless.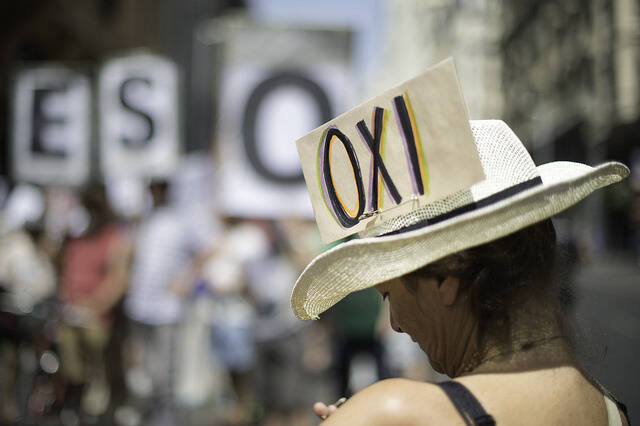 As of Tues­day evening Greek time, euro­zone lead­ers have forced an ulti­ma­tum on Greece's gov­ern­ment: capit­u­late with­in five days or leave. Warn­ing that Syriza's refusal to meet the terms of aus­ter­i­ty imposed on them, Euro­pean Com­mi­sion Pres­i­dent Don­ald Tusk and Euro­pean Coun­cil Pres­i­dent have made it clear that a ​"Grex­it," a Greek exit from the euro­zone, is in the cards — a sit­u­a­tion that Tusk says would be ​"most painful for the Greek people."
There is not a single democratic maneuver that the Greek people can make to appease the Troika—only full capitulation to the demands for more austerity.
This past Sun­day, the Greek peo­ple were faced with a ref­er­en­dum on the very issue of aus­ter­i­ty, pos­ing a sim­ple yes or no ques­tion: accept the bailout and aus­ter­i­ty or reject it. A ​"yes" would mean con­tin­ued ​"sup­port," in the form of fis­cal abuse from the Troi­ka (the Inter­na­tion­al Mon­e­tary Fund, the Euro­pean Com­mis­sion and the Euro­pean Cen­tral Bank), where­as a ​"no" would rebuff the seem­ing­ly all-pow­er­ful cred­i­tors, plac­ing their gov­ern­ment on a col­li­sion course with an ever-more-hos­tile troupe of finance offi­cials. As the ref­er­en­dum results began to trick­le in, it soon became clear: the Greeks, in a tremen­dous major­i­ty, vot­ed ​"oxi" — ​"no," against austerity.
It's a fren­zied time. Eco­nom­ics pro­fes­sor-turned-Greek finance min­is­ter Yanis Varo­ufakis resigned from his post, osten­si­bly due to pres­sure from Troi­ka offi­cials. The Greek banks are crum­bling and on the brink of col­lapse. As of Mon­day evening, the Euro­pean Cen­tral Bank is apply­ing fis­cal pres­sure to Greek banks as they quick­ly run out of money.
There are a num­ber of paths Syriza can take — I've writ­ten on some of them, as have count­less oth­ers. None of those paths will be pain­less. But after the ref­er­en­dum vote, it has become clear that there is much more than an eco­nom­ic cri­sis in Greece. This is the lat­est occur­rence of a cri­sis between the forces of cap­i­tal­ism and the ideals of democ­ra­cy. By call­ing for a plebiscite on the issue and by gar­ner­ing the sup­port of the major­i­ty of Greeks, Syriza answered the Troi­ka with a ques­tion of its own: neolib­er­al­ism and aus­ter­i­ty, or democ­ra­cy and human dig­ni­ty — which will it be?
It should be not­ed that Varo­ufakis under­stood the destruc­tive capa­bil­i­ty of the euro for the Greek econ­o­my years before he was appoint­ed finance min­is­ter. Writ­ing for his blog, he argued that join­ing the cur­ren­cy union was a ​"car­di­nal sin" that led to tremen­dous cap­i­tal inflows and an enor­mous debt bub­ble which formed the veneer of a grow­ing econ­o­my, only to lead Greece into a per­ma­nent depres­sion. The self-described ​"errat­ic Marx­ist" argued that ulti­mate­ly the cur­ren­cy would prove itself tox­ic to the entire euro­zone. If we can glean any­thing from Varo­ufakis' writ­ings, it's that this cri­sis is not only a Greek cri­sis but rather a glob­al one, with Greece serv­ing as the tip of the Euro­pean iceberg.
In respond­ing to the Greek cri­sis with bank bailouts and debil­i­tat­ing aus­ter­i­ty, the Euro­pean neolib­er­al tech­noc­ra­cy per­pet­u­at­ed the eco­nom­ic melt­down with­out bet­ter­ing polit­i­cal, eco­nom­ic or social con­di­tions. As the coun­try teeters on the edge of Europe, spi­ral­ing toward failed-state sta­tus, the sacred order of neolib­er­al­ism rep­re­sent­ed by the Troi­ka keeps pre­scrib­ing the same inef­fec­tive reg­i­ments of bank-friend­ly bailouts and aus­ter­i­ty. We've seen time and again that these prac­tices lead to deep­en­ing unem­ploy­ment, home­less­ness and esca­lat­ing sui­cide rates.
Over the last five months, the Greek peo­ple have con­sis­tent­ly made their oppo­si­tion to aus­ter­i­ty clear: first, with the elec­tion of Syriza in Jan­u­ary, which ran on a firm­ly anti-aus­ter­i­ty plat­form; sec­ond, with last weekend's ref­er­en­dum vote. In spite of these demo­c­ra­t­ic over­tures and pos­i­tive lan­guage about hopes for a deal from Greece's new finance min­is­ter Euclid Tsakalo­tos, the Troi­ka and oth­er euro­zone finance offi­cials have expressed that there can be no fur­ther debt restruc­tur­ing and that the aus­ter­i­ty reform mea­sures are an essen­tial com­po­nent of any deal.
To the Troi­ka, the elec­tion of Syriza, the ref­er­en­dum vote, as well as the very prin­ci­ples of democ­ra­cy, are basi­cal­ly mean­ing­less. There is not a sin­gle demo­c­ra­t­ic maneu­ver that the Greek peo­ple can make to appease them — only full capit­u­la­tion to the demands for more austerity.
In light of the ref­er­en­dum vote, the fact that the Troi­ka is a com­plete­ly unde­mo­c­ra­t­ic enti­ty, car­ry­ing out the dic­tates of the continent's one per­cent with­out hav­ing to answer to any­one else, has become even more clear. The IMF, EC and ECB, the very archi­tects of the bailouts and the insti­tu­tions set­ting the terms of aus­ter­i­ty, are unelect­ed by the peo­ple and ungoverned by the Lis­bon Treaty (the glue of the Euro­pean Union and euro­zone). They've presided over the con­tin­ued upward redis­tri­b­u­tion of wealth — from the peo­ple to the cof­fers of the banks.
This widen­ing of inequal­i­ty by pur­pose­ful­ly redis­trib­u­tive means is not iso­lat­ed to Greece. In 2008, with income inequal­i­ty in the U.S. con­tin­u­ing to broad­en, Amer­i­can tax­pay­ers were unde­mo­c­ra­t­i­cal­ly forced to prop up Wall Street to the tune of 700 bil­lion dol­lars, mak­ing a pri­vate debt a pub­lic one. And even Ger­many, Greece's moral­is­tic task mas­ter on debt, has seen pol­i­cy shifts that have increased wealth inequality.
That inequal­i­ty con­tin­ues to increase in seem­ing­ly demo­c­ra­t­ic nations is indica­tive of a seri­ous flaw in the cur­rent eco­nom­ic mod­el. When neolib­er­al elites see that democ­ra­cy con­strains their abil­i­ty to upward­ly redis­trib­ute wealth, as the Greek people's cur­rent demands do, elites can sim­ply ignore them. As is the case in Greece, once the com­mand of the entire econ­o­my is in the grip of unelect­ed finan­cial insti­tu­tions, democ­ra­cy is reduced to a mirage.
In oth­er words, the con­di­tions cre­at­ed and the stric­tures imposed by neolib­er­al­ism in Europe do not allow for demo­c­ra­t­ic gov­er­nance. No mat­ter what the pub­lic wants, it is the aims of inter­na­tion­al finance that must be met, even if it means the suf­fer­ing of millions.
The Euro­pean Union was con­cep­tu­al­ized, in part, as a means to pro­mote eco­nom­ic and demo­c­ra­t­ic coop­er­a­tion. In call­ing a ref­er­en­dum and mobi­liz­ing the peo­ple, Syriza has revealed this to be a farce, expos­ing just how unde­mo­c­ra­t­ic the EU's eco­nom­ic reliance on the Troi­ka and neolib­er­al agen­da is. By cast­ing their bal­lots, the peo­ple of Greece may be the first in a long line of peo­ple the world over who will have to ask the ques­tion ​"the peo­ple or the banks, democ­ra­cy or aus­ter­i­ty — which will it be?" Some­time with­in the next few days, it appears we will have an answer.
Alexan­dros Orphanides
is a New York City-based free­lance jour­nal­ist, researcher and teacher of Greek-Cypri­ot and Hon­duran descent. He writes on polit­i­cal, social and cul­tur­al issues with an empha­sis on mar­gin­al­ized com­mu­ni­ties. Fol­low him on Twit­ter: @subsentences.