After Youth Activists Storm Their Offices, 13 More House Members Agree To Support a Green New Deal
Thirty-five representatives now support the ambitious climate agenda, but many Democrats refuse to commit.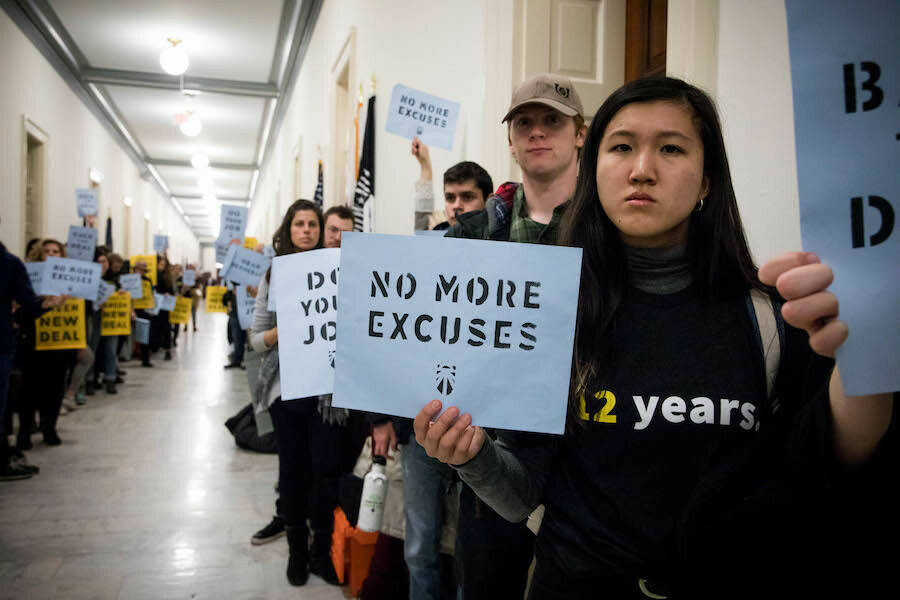 WASH­ING­TON, D.C. — Philadel­phi­ans Abi­gail Leedy, 17 years old and skip­ping school for the day, and Dwight Wil­son, 24, led a group of more than 20 activists to the office of their con­gress­man, Rep. Dwight Evans (D‑Pa.), on Dec. 10, 2018. The group, affil­i­at­ed with the cli­mate advo­ca­cy orga­ni­za­tion Sun­rise Move­ment, was there to demand that House mem­bers sup­port a new select con­gres­sion­al com­mit­tee to draft a Green New Deal.
By day's end, Sunrise had racked up nearly 150 arrests and support from the likely new leader of the House Rules Committee.
Advo­cates say a select com­mit­tee, which Democ­rats could cre­ate as soon as Jan­u­ary, would be the most effec­tive way to pre­pare such sweep­ing leg­is­la­tion — the Green New Deal is meant to both com­bat cli­mate change and boost the econ­o­my. The pro­pos­al burst onto the nation­al scene in Novem­ber 2018, when Rep.-elect Alexan­dria Oca­sio-Cortez (D‑N.Y) joined a sit-in orga­nized by Sun­rise and Jus­tice Democ­rats at the office of Rep. Nan­cy Pelosi (D‑Calif.), the pre­sump­tive next House Speak­er. But now, youth activists are begin­ning to feel the frus­tra­tion of polit­i­cal real­i­ty, many for the first time.
When the pro­test­ers arrived at Evans' office, he was not in. A staffer expressed Evans' sup­port for their cli­mate activism and rec­om­mend­ed they make a for­mal appointment.
He also had some unso­licit­ed advice. ​"Why have 40 peo­ple here?" he asked. ​"Why not [tar­get] Repub­li­can offices? Show some courage."
Ten­sions quick­ly esca­lat­ed. The staffer implored the young peo­ple to ​"learn a lit­tle about about House pro­ce­dure and how it works" before mak­ing poten­tial­ly unre­al­is­tic demands of Democ­rats. The Sun­rise youth insist­ed they under­stood the polit­i­cal com­plex­i­ties, and reit­er­at­ed the need for urgency.
"To say we're gonna talk about it anoth­er day isn't enough," said Rachie Weis­berg, a 25-year-old Philadel­phia urban farmer.
Ulti­mate­ly, both sides agreed to talk fur­ther, but the young activists left feel­ing dis­cour­aged: ​"That sucked," one said. ​"It felt very rude and infan­tiliz­ing and terrible."
Reached by email, a spokesper­son for Evans tells In These Times that ​"Con­gress­man Evans is review­ing the [Green New Deal] pro­pos­al, which would con­sti­tute a sweep­ing set of changes."
The activists made up one of more than 50 del­e­ga­tions to Demo­c­ra­t­ic con­gres­sion­al offices that day to gar­ner sup­port for the Green New Deal proposal.
After the lob­by­ing vis­its, the pro­test­ers sat in at the offices of House lead­er­ship. By day's end, they had racked up near­ly 150 arrests and sup­port from Rep. Jim McGov­ern (D‑Mass.), like­ly new leader of the House Rules Com­mit­tee, for the select com­mit­tee. Both Pelosi and Rep. Ste­ny Hoy­er (D‑Md.), who will become House Major­i­ty Whip, demurred; on Twit­ter, Hoy­er voiced sup­port for the pro­test­ers' ​"pas­sion." Pelosi has nei­ther endorsed nor dis­missed the idea.
As of Wednes­day morn­ing, 13 House mem­bers had signed on since the action, includ­ing Con­gres­sion­al Pro­gres­sive Cau­cus chairs Rep. Mark Pocan (D‑Wis.) and Rep. Prami­la Jaya­pal (D‑Wash.), bring­ing the total num­ber of sup­port­ers in the House to 35. All 13 were vis­it­ed by activists Mon­day, and more vis­its are planned today and tomorrow.
The Green New Deal is, by all accounts, a bold pro­pos­al; Oca­sio-Cortez and the youth-led Sun­rise Move­ment com­pare it to the 1960s moon­shot or post-World War II work pro­grams. It would be the first cli­mate leg­is­la­tion to mar­ry ambi­tious envi­ron­men­tal plans — con­vert­ing to entire­ly renew­able ener­gy sources in 10 years, revamp­ing the grid, mod­ern­iz­ing and ​"green­ing" homes, busi­ness­es and infra­struc­ture — with socioe­co­nom­ic reforms to ensure equi­ty, such as a cli­mate-ori­ent­ed jobs guar­an­tee and a uni­ver­sal basic income.
Some mem­bers have expressed con­cerns that the new com­mit­tee could inter­fere with oth­er pan­els work­ing on cli­mate change, such as the Ener­gy and Com­merce Com­mit­tee. But Sun­rise plans to be so loud and vis­i­ble that the Demo­c­ra­t­ic Par­ty can't pos­si­bly ignore them, shift­ing the Green New Deal from left-wing activist pipe dream to a must-support.
The Sun­rise youth made the threat of elec­toral chal­lenge plain: They will aim to ​"kick peo­ple out of polit­i­cal pow­er if they're not lis­ten­ing to us and not account­able to us," Sun­rise spokesper­son and cofounder Varshi­ni Prakash told reporters.
Prakash said the move­ment will launch a ​"mas­sive tour" in the spring, hop­ing to hold ral­lies with the ​"rock­star" pow­er of Oca­sio-Cortez and oth­er new Demo­c­ra­t­ic lead­ers com­mit­ted to the deal, such as Rep. Rashi­da Tlaib (D‑Mich.).
The Green New Deal strat­e­gy has drawn com­par­isons to the right-wing Tea Par­ty move­ment, but the Penn­syl­va­nia Sun­rise group said they'd pro­ceed care­ful­ly with Evans, and likened their strat­e­gy to some­thing else. How long would they wait, asked In These Times, before reach­ing out to Evans' office again?
"Three days," Lau­ra Berry said. ​"Let them cool down. It's like dating."
Aman­da Palleschi
is a jour­nal­ist based in Wash­ing­ton, D.C. Fol­low her @APalleschi.