Think Free-Trade Deals Can Raise Labor Standards? This Case Suggests Otherwise.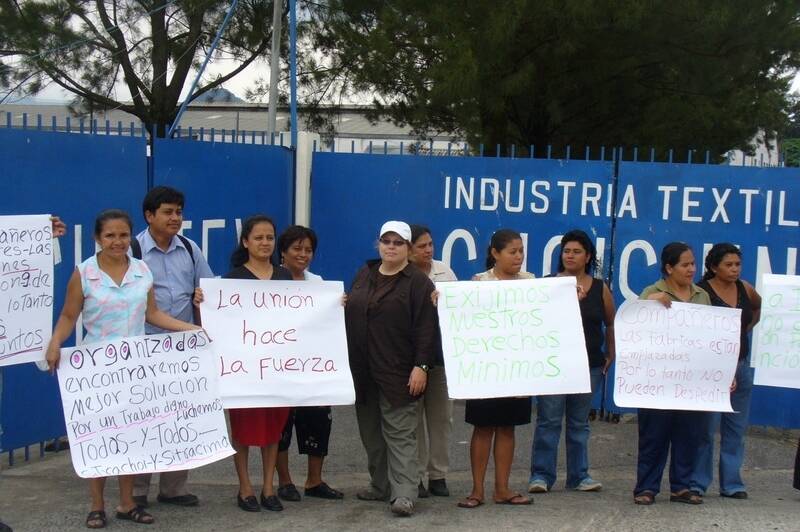 This piece first appeared in Labor Notes.
The first-ever labor case brought under a free-trade agree­ment is almost over — but it's tak­en years to bring just one case this far, and the poten­tial penal­ty is a mere slap on the wrist. The next time a politi­cian assures you a free-trade deal will raise labor stan­dards over­seas, here's your counterexample.
In Decem­ber, an arbi­tra­tion pan­el will issue its rul­ing on a com­plaint brought by the Unit­ed States under the Cen­tral Amer­i­can Free Trade Agree­ment (CAF­TA) against the Guatemalan gov­ern­ment for fail­ing to effec­tive­ly enforce its labor laws.
It's been sev­en years since the AFL-CIO, togeth­er with six Guatemalan unions, first sub­mit­ted a com­plaint to the Depart­ment of Labor. They accused Guatemala of fail­ing to pro­tect work­ers' legal­ly guar­an­teed rights — to asso­ci­a­tion, col­lec­tive bar­gain­ing, and accept­able con­di­tions — by not con­duct­ing inspec­tions, reg­is­ter­ing unions, or ensur­ing com­pli­ance with court orders.
Only 2 per­cent of Guatemala's work­ing pop­u­la­tion belongs to a union. It has become one of the most dan­ger­ous coun­tries in the world for union activists. The AFL-CIO report­ed that 72 Guatemalan union­ists had been mur­dered since CAF­TA went into effect, as of August 2014, with near-total impuni­ty for their assassins.
The case should ring a note of cau­tion about the hype for the Trans-Pacif­ic Part­ner­ship (TPP), the free-trade deal the Oba­ma Admin­is­tra­tion is push­ing next.
Snail's Pace
The slow pace of the CAF­TA case is ​"a huge detri­ment to work­ers in Guatemala," said Stephen Wishart, Cen­tral Amer­i­ca direc­tor for the AFL-CIO Sol­i­dar­i­ty Cen­ter. ​"Their rights are being vio­lat­ed in the same ways that were pre­sent­ed back in 2008."
The delays have sim­ply giv­en the Guatemalan gov­ern­ment an oppor­tu­ni­ty to ​"put make-up on the prob­lems," said Home­ro Fuentes, of a Guatemalan labor stan­dards mon­i­tor­ing orga­ni­za­tion called COVERCO.
After decid­ing to accept the case, the U.S. held con­sul­ta­tions with the Guatemalan gov­ern­ment, but failed to reach an agree­ment. In 2011 the U.S. request­ed the estab­lish­ment of the arbi­tra­tion pan­el, which is sup­posed to pro­tect work­ers' rights under CAFTA.
The pan­el was final­ly con­sti­tut­ed in 2012 — but was put on hold six months lat­er, when Guatemala signed an Enforce­ment Plan, agree­ing to add more labor inspec­tors and increase the Min­istry of Labor's bud­get for enforcement.
But Guatemala failed to act on most of the plan. Final­ly last Sep­tem­ber, the U.S. request­ed that the pan­el be recon­sti­tut­ed. The first hear­ing was held in June.
"A lot of peo­ple would argue that the tim­ing of that is not coin­ci­den­tal — we're in the mid­dle of a huge trade debate," said Cas­san­dra Waters, also of the Sol­i­dar­i­ty Center.
Vio­lence Unaddressed
Anti-union vio­lence isn't among the complaint's charges. The U.S. gov­ern­ment argues that's a prob­lem that falls out­side the scope of free-trade pacts.
The AFL-CIO dis­agrees. ​"There's noth­ing in these agree­ments that pre­vents them from tak­ing up vio­lence," said Waters. ​"Guatemala is required to enforce its laws relat­ed to free­dom of asso­ci­a­tion — and that would include inves­ti­gat­ing mur­ders of trade unionists."
The vio­lence, cou­pled with oth­er fail­ures to enforce labor law, make it extra­or­di­nar­i­ly dif­fi­cult for Guatemalan work­ers to form unions.
For exam­ple, accord­ing to Fuentes, there are unions in only three of the country's more than 160 gar­ment fac­to­ries. Forty per­cent of total Guatemalan exports go to the Unit­ed States — and 94 per­cent of gar­ment exports — are des­tined for the U.S. market.
Guatemala, the largest econ­o­my in Cen­tral Amer­i­ca, is the U.S.'s largest banana sup­pli­er. It also exports hun­dreds of mil­lions of dol­lars of cof­fee, appar­el, and gold each year.
Don't Even Bother
The basis for the com­plaint is a CAF­TA pro­vi­sion that the par­ties may not repeat­ed­ly fail to enforce labor laws in a way that affects trade.
It cites palm oil plan­ta­tions where work­ers allege they were paid $5 a day — half the legal min­i­mum — and suf­fered burns when they were forced to fumi­gate fields with­out protection.
It also refers to work­ers in a num­ber of indus­tries who were ille­gal­ly fired for orga­niz­ing on the job, and who have wait­ed years to get their jobs back.
A major stum­bling block to labor law enforce­ment is that the Guatemalan Min­istry of Labor's can­not legal­ly fine employ­ers. Instead it must go through the courts, which delays sanctions.
And even then, employ­ers often ignore court orders, and the gov­ern­ment stands by.
"There's a large num­ber of cas­es where the Min­istry of Labor hasn't act­ed," said Waters, ​"but there's even more cas­es where the work­ers no longer both­er to con­tact the Min­istry because they have no hope that anything's going to happen."
Weak and Skewed
The pan­el has three mem­bers, cho­sen from a ros­ter estab­lished under CAF­TA. Each par­ty choos­es one mem­ber, and the two sides pick a chair togeth­er. Guatemala chose a con­sti­tu­tion­al law schol­ar who, accord­ing to some activists, has close ties to the pri­vate sector.
"For us, this is a first neg­a­tive deci­sion of the arbi­tral process, since as we under­stand it the arbi­tra­tors should be suit­able, hon­or­able, and inde­pen­dent pro­fes­sion­als," said Mir­na Nij of the Union of Work­ers in the Infor­mal Econ­o­my (Sindi­ca­to de Tra­ba­jadores de la Economía Infor­mal). ​"We believe this lawyer does not have these characteristics."
If the pan­el finds against Guatemala, it will face a fine of up to $15 mil­lion a year. This mon­ey would go into a fund ded­i­cat­ed to strength­en­ing the country's labor institutions.
"The best-case sce­nario is that Guatemala pays a fine to itself — which isn't a very effec­tive deter­rent," said Waters.
And as José Pinzón, of the Cen­tral Gen­er­al de Tra­ba­jadores de Guatemala, points out, ​"It won't be the gov­ern­ment, or the busi­ness sec­tor, who will pay it — it will be the more than 15 mil­lion Guatemalans who have to pay it."
Still, Waters said, ​"the fact that the U.S. chose to take Guatemala to arbi­tra­tion is good, because we should be tak­ing these com­mit­ments seriously."
Pro­vi­sions do exist that would allow the U.S. to sus­pend some trade ben­e­fits, but only if Guatemala fails to pay the fine.
Trust Us This Time
Since CAF­TA, U.S. free-trade agree­ments have made some advances, includ­ing an enforce­able oblig­a­tion to adopt and main­tain basic prin­ci­ples rec­og­nized by the Inter­na­tion­al Labor Orga­ni­za­tion: free­dom of asso­ci­a­tion, the right to col­lec­tive bar­gain­ing, the effec­tive abo­li­tion of forced labor and child labor, and the elim­i­na­tion of employ­ment discrimination.
"There have been sig­nif­i­cant improve­ments about what rights [new­er trade agree­ments] gov­ern," said Waters. ​"But the actu­al real­i­ty about whether those laws are enforced hasn't got­ten any better."
The Oba­ma admin­is­tra­tion pro­motes the TPP as ​"the most pro­gres­sive trade bill in his­to­ry," with the high­est labor stan­dards yet.
But as a report from Sen. Eliz­a­beth Warren's staff point­ed out, sim­i­lar promis­es have been trot­ted out to jus­ti­fy every free-trade agree­ment from NAF­TA on.
For exam­ple, in 2005, U.S. Trade Rep. Rob Port­man said CAF­TA ​"has the strongest labor and envi­ron­men­tal pro­vi­sions of any trade agree­ment ever nego­ti­at­ed by the U.S."
Wishart argues that in all these agree­ments, the ​"mech­a­nisms are weak­er than what exist­ed under the Gen­er­al­ized Sys­tem of Pref­er­ences," which pro­vides pref­er­en­tial tar­iff treat­ment to devel­op­ing coun­tries and applied to Guatemala pri­or to CAFTA.
The GSP is still in effect for coun­tries not cov­ered by a trade agree­ment, like Bangladesh, which had its pref­er­en­tial tar­iffs revoked in 2013 after 1,129 fac­to­ry work­ers were killed in the Rana Plaza disaster.
This U.S. action ​"imme­di­ate­ly trig­gered some reforms," Wishart said — unlike the CAF­TA process that has allowed Guatemala to drag its feet for years.
Enforce­ment Gap
A Gov­ern­ment Account­abil­i­ty Office report last year found that the U.S. is sys­tem­at­i­cal­ly fail­ing to mon­i­tor and enforce com­pli­ance with the labor pro­vi­sions in its free trade agreements.
The agency high­light­ed the same prob­lem in a sim­i­lar report five years earlier.
In all five cas­es where the Depart­ment of Labor has accept­ed sub­mis­sions alleg­ing vio­la­tions of labor pro­vi­sions in free-trade agree­ments, it's missed its 180-day time­line to review them. The aver­age late­ness: nine months.
Most recent­ly, it took over three years to review a sub­mis­sion from the AFL-CIO and Hon­duran unions alleg­ing a sys­tem­at­ic fail­ure by the gov­ern­ment of Hon­duras to enforce its labor laws.
Depart­ment of Labor offi­cials expect that the TPP — which includes ser­i­al labor-rights vio­la­tor Viet­nam, where it is still ille­gal to form an inde­pen­dent union — will strain their resources even further.
Most of the lever­age on labor rights, Waters feels, comes before an agree­ment is signed. ​"Guatemala's an excel­lent exam­ple of a coun­try that wasn't even com­pli­ant with CAF­TA require­ments when it came into force," she said.
"The idea that these agree­ments are going to raise labor stan­dards is com­plete­ly false. There's been no improve­ment on labor rights in Guatemala — if any­thing things have got­ten worse."
Some Guatemalan activists think unions should play a stronger role in mon­i­tor­ing com­pli­ance with any oblig­a­tions in free-trade agree­ments. Fuentes said more offi­cial resources could have been allot­ted to Guatemalan labor to doc­u­ment what was hap­pen­ing to work­ers. He said a type of union-run mon­i­tor­ing board could have been set up.
That cer­tain­ly sounds like a more effec­tive approach than rely­ing on the Guatemalan gov­ern­ment, wide­ly regard­ed as one of the most cor­rupt in the hemi­sphere. The coun­try's pres­i­dent and vice pres­i­dent were both recent­ly forced to resign in a mas­sive cor­rup­tion scan­dal, and are now in prison await­ing trial.
In Novem­ber, the Inter­na­tion­al Labor Orga­ni­za­tion will decide whether to estab­lish a Com­mis­sion of Inquiry — its high­est form of super­vi­sion — to inves­ti­gate Guatemala's sys­tem­at­ic vio­la­tions of work­ers' rights.