DOL Freezes Guestworker Program After Court Ruling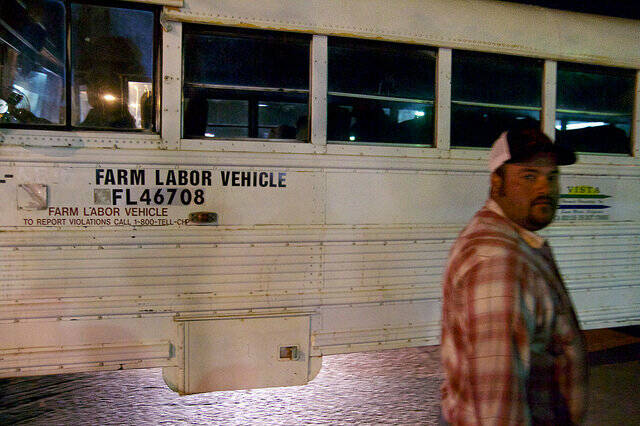 On March 4, the Depart­ment of Labor (DOL) announced, to lit­tle fan­fare, the effec­tive sus­pen­sion of the H‑2B fed­er­al guest­work­er pro­gram. The deci­sion fol­lowed a Flori­da fed­er­al dis­trict court rul­ing that per­ma­nent­ly blocked the DOL's 2008 H‑2B reg­u­la­tions, leav­ing the pro­gram with­out for­mal reg­u­la­tions. The court ruled in Perez v. Perez that the DOL lacks author­i­ty to reg­u­late the H‑2B pro­gram at all; the depart­ment respond­ed by halt­ing the activ­i­ties that keep the pro­gram running.
The H‑2B pro­gram brings for­eign work­ers to the U.S. to fill tem­po­rary or sea­son­al labor short­ages in an array of low-skill, nona­gri­cul­tur­al jobs. Last year H‑2B work­ers most com­mon­ly held jobs as land­scap­ers, forestry work­ers, maids and house­keep­ers and car­ni­val and amuse­ment atten­dants. About 70 per­cent of them come from Mexico.
Despite the many abus­es with which guest­work­er advo­cates charge the H‑2B pro­gram, no one want­ed it abrupt­ly shut down. The sus­pen­sion has both employ­ers and work­ers scram­bling to fig­ure out what this means for the jobs they depend on.
"Work­ers are freak­ing out right now," says Rachel Mic­ah-Jones, exec­u­tive direc­tor of migrant work­er advo­ca­cy group Cen­tro de los Dere­chos del Migrante (CDM). It is unclear how soon the freeze could affect H‑2B employ­ment. The pro­gram is like­ly to be sus­pend­ed at least through April, if not longer.
That has indus­tries that depend on H‑2B work­ers freak­ing out, too. Thir­ty-three thou­sand visas are allot­ted for the six-month peri­od begin­ning April 1. As of the last count, on Feb­ru­ary 27, only 14,740 of these had been grant­ed—mean­ing over 18,000 visas are sit­ting in lim­bo. Trade asso­ci­a­tion West­ern Grow­ers said on its web­site that ​"the sus­pen­sion will have dev­as­tat­ing eco­nom­ic con­se­quences on thou­sands of employ­ers, their Amer­i­can employ­ees, busi­ness­es that sup­ply goods or ser­vices to sea­son­al busi­ness­es and local com­mu­ni­ties across the country."
The Perez v. Perez deci­sion is just the lat­est devel­op­ment in a long bat­tle over H‑2B reg­u­la­tions. The Bush admin­is­tra­tion issued reg­u­la­tions in 2008 that work­ers' advo­cates con­sid­ered weak and regres­sive. In 2012, the Oba­ma admin­is­tra­tion issued reg­u­la­tions with much stronger work­er pro­tec­tions: Employ­ers would have to pro­vide work­ers a con­tract, pay for their trans­porta­tion costs to and from the U.S. and guar­an­tee them at least three-fourths of the hours in their con­tracts, among oth­er provisions.
"It's a com­mon prac­tice to over­recruit work­ers," Mic­ah-Jones says, explain­ing the impor­tance of guar­an­tee­ing hours, ​"and then you have a lot of work­ers who are sit­ting around pay­ing rent to the employ­er." (Many H‑2B work­ers live on employ­er prop­er­ty—not always by choice.)
But many employ­ers were dis­pleased with the more strin­gent require­ments. A group of H‑2B employ­ers and indus­try rep­re­sen­ta­tives, includ­ing the U.S. Cham­ber of Com­merce, filed a law­suit against the DOL claim­ing it did not have the author­i­ty to reg­u­late the pro­gram and ask­ing the court to block the 2012 rules. The Flori­da dis­trict court in Bay­ou Lawn and Land­scape Ser­vices v. Solis agreed with the plain­tiffs and enjoined the regulations.
It seems the plan back­fired, how­ev­er. While the pro­gram con­tin­ued for a while under the lax­er 2008 rules, employ­ers had implic­it­ly made the case against those reg­u­la­tions, too. Work­ers' advo­cates soon brought a suit in the same court ask­ing that the 2008 reg­u­la­tions be enjoined. On March 4, the court complied.
Mic­ah-Jones says the claim that DOL does not have the author­i­ty to reg­u­late the H‑2B pro­gram has no mer­it. It is a work­er pro­gram, she points out. ​"The Depart­ment of Labor has tak­en a role for years and years and years," she says, ​"and their role was nev­er chal­lenged until employ­ers were unhap­py with the sub­stance of some of the reg­u­la­tions in 2012." In a sep­a­rate case, the Third Cir­cuit upheld the DOL's author­i­ty to reg­u­late the program.
The employ­er plain­tiffs in the orig­i­nal suit say only the Depart­ment of Home­land Secu­ri­ty (DHS), which was made respon­si­ble for over­see­ing immi­gra­tion upon its cre­ation in 2002, can issue H‑2B reg­u­la­tions. Immi­gra­tion has nev­er had an obvi­ous home in the exec­u­tive branch. It was once part of the Depart­ment of Labor before mov­ing to the Depart­ment of Jus­tice and then to Home­land Secu­ri­ty. The DOL believes it does have author­i­ty to reg­u­late H‑2B and is appeal­ing the Bay­ou Lawn decision.
In the mean­time, CDM and oth­er work­er advo­cate groups are urg­ing the DOL and DHS to joint­ly reis­sue the 2012 reg­u­la­tions or ones mod­eled on them. That would side­step the author­i­ty dis­pute and pro­vide work­ers with bad­ly need­ed pro­tec­tions, they say. On Fri­day evening, DOL Press Sec­re­tary Xochitl Hino­josa said in a joint state­ment for the two agen­cies that they are work­ing to issue reg­u­la­tions, although she did not com­ment on the sub­stance of those reg­u­la­tions. The agen­cies aim to issue an Inter­im Final Rule for the pro­gram by April 30.
"DOL and DHS rec­og­nize the hard­ship that has result­ed from the Court's deci­sion," the state­ment said. ​"That is why the Depart­ments are mov­ing as quick­ly as pos­si­ble to issue new reg­u­la­tions that would be con­sis­tent with the decision."
Some employ­ers' asso­ci­a­tions, how­ev­er, say the DOL did not have to stop admin­is­ter­ing the H‑2B pro­gram at all. West­ern Grow­ers called the sus­pen­sion ​"seem­ing­ly retal­ia­to­ry," argu­ing that ​"the court did not order DOL to sus­pend pro­cess­ing labor cer­ti­fi­ca­tions which the agency has rou­tine­ly done … for over 40 years with­out a rulemaking."
DOL appeared to be act­ing out of an abun­dance of cau­tion, not­ing that ​"the Depart­ments must be mind­ful of oth­er court deci­sions that have inval­i­dat­ed past sub­reg­u­la­to­ry actions in the H‑2B and relat­ed programs."
What the reg­u­la­tions ulti­mate­ly look like will mat­ter more in the long run than when the pro­gram resumes. Just two days after the sus­pen­sion of the H‑2B pro­gram, the Gov­ern­ment Account­abil­i­ty Office pub­lished a report on H‑2B and its agri­cul­tur­al coun­ter­part H‑2A sub­ti­tled ​"Increased Pro­tec­tions Need­ed for For­eign Work­ers." Whether DOL and DHS use this oppor­tu­ni­ty to estab­lish bet­ter work­er pro­tec­tions remains to be seen.
Rachel Luban
is a writer liv­ing in Mary­land. She con­tributes to Full Stop and her work has appeared on Jezebel, The Rum­pus, and In Our Words. Fol­low her on Twit­ter: @rachelcluban.