How to Pass Gun Control in the Sixth-Most-Gun-Owning State in America
A Missoula ordinance could provide a model for life-saving legislation in states where guns 'are a religion'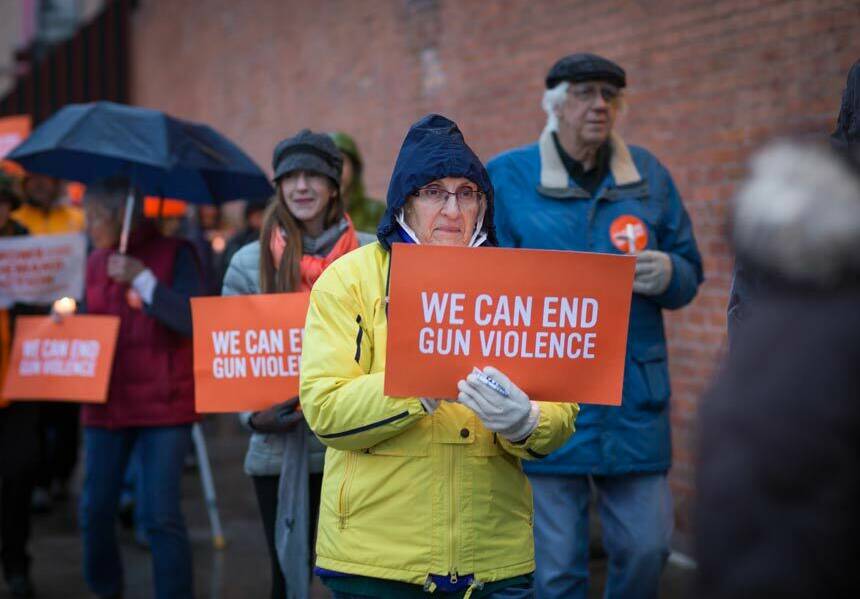 More than 300 peo­ple packed city coun­cil cham­bers in Mis­soula, Mt., on Oct. 19, 2015, for the first hear­ing on an ordi­nance that would require back­ground checks on most gun sales and trans­fers. Speak­ers snaked 30 yards down the hall­way, weav­ing between audi­ence mem­bers who stood four and five abreast.
The lead spon­sor of the ordi­nance, first-term City Coun­cil Mem­ber Bryan von Loss­berg, sat with his hands calm­ly fold­ed at a long table with oth­er mem­bers of the 12-per­son coun­cil. His body lan­guage betrayed no anx­i­ety, but appear­ances can be deceiv­ing. He had received a threat­en­ing anony­mous voice­mail pri­or to the meet­ing, and had asked the chief of police to staff the pro­ceed­ings with an under­cov­er officer.
"This is the most emo­tion­al­ly wrack­ing, stress­ful expe­ri­ence I've ever had on the City Coun­cil," he told In These Times after the four-hour hear­ing. ​"I look across the break­fast table at my wife and 3‑year-old and ask, ​'Why am I touch­ing this?' "
Von Lossberg's trep­i­da­tion is under­stand­able in a West­ern state where near­ly 53 per­cent of res­i­dents — the sixth high­est rate in the nation — own guns, accord­ing to a 2015 study. Mon­tana, along with sev­en oth­er West­ern states, received a fail­ing grade this year from the Law Cen­ter to Pre­vent Gun Vio­lence, an advo­ca­cy group that eval­u­ates state and fed­er­al gun-safe­ty policy.
Back­ground checks are required under fed­er­al law for all gun sales com­plet­ed through a deal­er with a Fed­er­al Firearm License — over 78,000 deal­ers nation­al­ly and more than 1,200 in Mon­tana. But Mon­tana does not require back­ground checks for ​"pri­vate par­ties" — sell­ers who aren't fed­er­al­ly licensed but may still do a brisk trade — nor does it lim­it the num­ber of firearms pur­chased at one time. The state ranks fifth nation­wide in gun deaths per capi­ta, at near­ly 17 per 100,000 residents.
Accord­ing to the law cen­ter, eight states require back­ground checks in all gun trans­fers, a far stricter stan­dard than fed­er­al law. In these states, there are 38 per­cent few­er deaths of women shot by inti­mate part­ners, as well as low­er rates of gun sui­cides and aggra­vat­ed assaults with firearms.
Accord­ing to FBI data, obtained by the nation­al orga­ni­za­tion Every­town for Gun Safe­ty through a pub­lic records request, 17,800 gun sales in Mon­tana were blocked between 1998 and 2014 due to checks by fed­er­al­ly licensed sell­ers. The Mis­soula ordi­nance would expand these checks to cov­er most pri­vate sales and trans­fers. But the path toward tighter gun reg­u­la­tions can seem like a quixot­ic jour­ney in the West, even in lib­er­al Mis­soula, home of the Uni­ver­si­ty of Montana.
"The top­ic is almost taboo in Mon­tana," von Loss­berg explains over cof­fee in down­town Mis­soula. ​"For some peo­ple, it approach­es a reli­gious mat­ter, and the angri­est voic­es are usu­al­ly the loudest."
Yet pro­po­nents of the ordi­nance, includ­ing vol­un­teers asso­ci­at­ed with the local chap­ter of Moms Demand Action for Gun Sense in Amer­i­ca, believe that a munic­i­pal approach could rep­re­sent a new and effec­tive strat­e­gy for pass­ing gun safe­ty laws in gun-friend­ly states.
Kim Rudolph, a 28-year-old moth­er of two, vol­un­teers her time doing nation­al sur­vivor out­reach for Moms Demand Action. Rudolph was 7 when her class­mate, Jere­my Bul­lock, was fatal­ly shot out­side Mar­garet Leary Ele­men­tary School in Butte. She was hold­ing a door for oth­er stu­dents as they entered the build­ing, rough­ly 20 feet from where the shoot­er, a 10-year-old, fired a gun three times.
Rudolph car­ried this mem­o­ry with her for 21 years before she began vol­un­teer­ing for Moms Demand Action after the mas­sacre at Sandy Hook Ele­men­tary School in Decem­ber 2012. A gun own­er her­self, Rudolph is quick to reas­sure those who might be wary of back­ground checks.
"We're not try­ing to take away firearms," she explains. ​"That's the big thing."
A soft-spo­ken woman, she thinks the ben­e­fits of back­ground checks are more wide­ly under­stood now than they were in 2013, when fed­er­al leg­is­la­tion requir­ing back­ground checks on pri­vate sales was defeat­ed in the U.S. Sen­ate by eight votes. Over the last year, nation­al polls have con­sis­tent­ly shown 80 per­cent to 90 per­cent sup­port for expand­ed back­ground checks. In Octo­ber 2015, Every­town, the par­ent orga­ni­za­tion of Moms Demand Action, released a poll of 350 reg­is­tered vot­ers in Mis­soula Coun­ty show­ing 82 per­cent sup­port for back­ground checks, includ­ing 65 per­cent sup­port among gun owners.
"A back­ground check takes about 90 sec­onds," says Rudolph. ​"Is 90 sec­onds worth it to save a life?"
But the ordinance's oppo­nents argue that a falling gun homi­cide rate nation­al­ly dis­proves a cor­re­la­tion between gun vio­lence and gun avail­abil­i­ty. The homi­cide rate has fall­en 49 per­cent between 1993 and 2010 while the total num­ber of guns in the Unit­ed States has increased from 242 mil­lion in 1996 to 310 mil­lion in 2009.
Oppo­nents also think that the ordi­nance is con­trary to state law.
In 1985, the Mon­tana leg­is­la­ture passed a law pre­empt­ing munic­i­pal­i­ties from reg­u­lat­ing firearms at the local lev­el. Mis­soula coun­ty res­i­dent Gary Mar­but helped pass the law with sup­port from the NRA, which has suc­cess­ful­ly pushed sim­i­lar pre­emp­tion laws in 46 states, includ­ing each of Montana's neigh­bors, since the mid-1980s.
"That was one of my first for­ays into pol­i­tics," says Mar­but, now pres­i­dent of the Mon­tana Shoot­ing Sports Asso­ci­a­tion (MSSA). Since then, MSSA has helped pass near­ly 70 gun bills in the state legislature.
Mar­but is a strong crit­ic of the new ordi­nance. ​"It's ill-con­ceived and use­less," he states over the phone. And, thanks to the state law, he believes it won't sur­vive a legal challenge.
Pri­or to the pub­lic hear­ing, State Attor­ney Gen­er­al Tim Fox issued a state­ment say­ing he believed the ordi­nance ​"like­ly vio­lates our con­sti­tu­tion­al right to keep and bear arms." Some of Montana's high­est-rank­ing elect­ed offi­cials, U.S. Sen. Steve Daines and Rep. Ryan Zinke — both Repub­li­cans — have also urged its withdrawal.
City Attor­ney Jim Nugent argued in a con­trary opin­ion, released in Octo­ber 2015, that Mon­tana law, while pro­hibit­ing cities and coun­ties from reg­u­lat­ing firearms in most cas­es, explic­it­ly empow­ers local gov­ern­ments to pre­vent the pos­ses­sion of firearms by con­vict­ed felons, adju­di­cat­ed men­tal­ly incom­pe­tent per­sons, undoc­u­ment­ed immi­grants and minors — a task that advo­cates say would be accom­plished by expand­ing back­ground checks.
Von Loss­berg is well aware that the answer to this legal ques­tion will like­ly have larg­er impli­ca­tions for the state of Mon­tana, and per­haps the region. He expects the ordi­nance to pass this spring and to sur­vive legal chal­lenges. He also hopes oth­er com­mu­ni­ties will fol­low Missoula's exam­ple in adopt­ing back­ground checks.
"Plen­ty of peo­ple told me I was crazy to do this," he says, with a cau­tious smile. ​"But I've real­ized most of the com­mu­ni­ty wants to talk about this.
"There's real­ly no fan­cy dis­course required," he con­tin­ues. ​"The data says they will save lives. So, do we want to save lives?"
Gabriel Fur­shong
lives in Hele­na, Mon­tana, where he writes for The Nation, The Amer­i­can Prospect, and oth­er publications.