At the University of Montana, You Must Pass an Anti-Rape Test Before You Register
After Jon Krakauer exposed a rape epidemic, the university embarked on a radical experiment in stopping sexual assault.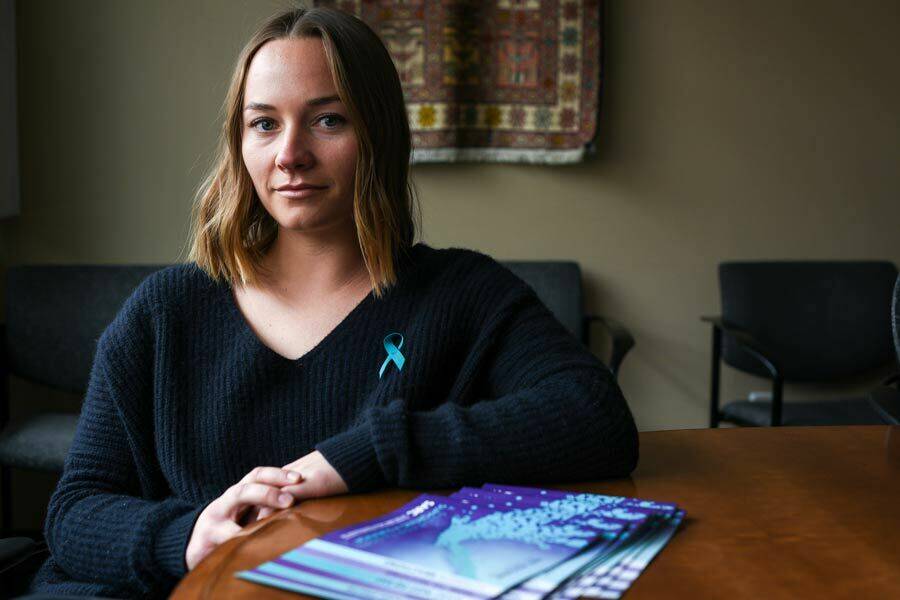 Mis­soula Mont. — First-year and trans­fer stu­dents at the Uni­ver­si­ty of Mon­tana (UM) shuf­fle into an audi­to­ri­um for a spring ori­en­ta­tion ses­sion. Their stu­dent IDs will be scanned as they exit to record their atten­dance. Only then will they be allowed to reg­is­ter for classes.
The stories seem to mark a new chapter in the #MeToo movement in which offenders, as well as survivors, are self-reflecting.
This isn't a pre­sen­ta­tion on cam­pus lay­out or finan­cial aid. It is a mul­ti­me­dia train­ing on sex­u­al assault pre­ven­tion, with graph­ic lan­guage and images, includ­ing a short film that tracks a rapist and his vic­tim from an ear­ly evening house par­ty to a bar and, even­tu­al­ly, to a bed­room, where he begins to remove her clothes even though she's bare­ly conscious.
Isaac La'a, an eight-year army vet­er­an from Hawaii with a com­mand­ing voice, leads the train­ing. He sets the tone by explain­ing (and re-explain­ing) the def­i­n­i­tion of con­sent — ​"clear, coher­ent, will­ing and ongo­ing"— and the role of the bystander. ​"Six­ty-six per­cent of vio­lent crimes occur in the pres­ence of a bystander," he says, mak­ing bystanders the ​"largest group of peo­ple involved in violence."
After­ward, in the hall, a stu­dent from Spain reflects, ​"This is def­i­nite­ly tak­en more seri­ous­ly here." His friend, from Ire­land, says, "[The train­ing] made me think that I've prob­a­bly been a bystander with­out know­ing it."
In April 2012, the U.S. Depart­ment of Jus­tice (DOJ) launched an inves­ti­ga­tion into the university's han­dling of sex­u­al assault after 80 rapes were report­ed over a three-year peri­od in Mis­soula (pop. 72,000), home of UM. Inves­ti­ga­tors found that sur­vivors were denied access to jus­tice due to insuf­fi­cient — or nonex­is­tent — uni­ver­si­ty poli­cies. The school's noto­ri­ety inten­si­fied after Jon Krakauer's 2015 book, Mis­soula: Rape and the Jus­tice Sys­tem in a Col­lege Town, became a bestseller.
UM, and the city and coun­ty of Mis­soula, signed manda­to­ry con­sent agree­ments with the DOJ in 2013. These served as blue­prints for estab­lish­ing what Roy Austin Jr., a for­mer deputy assis­tant attor­ney gen­er­al at the DOJ's Civ­il Rights Divi­sion, called the ​"gold stan­dard" for sex­u­al vio­lence aware­ness and response. UM police, for exam­ple, com­plet­ed 900 hours of train­ing on man­age­ment of sex­u­al assault cas­es. Since 2012, each incom­ing class of first-year stu­dents (rough­ly 1,200 peo­ple) has tak­en a web-based tuto­r­i­al, com­plete with a must-pass quiz, on sex­u­al vio­lence law and pol­i­cy, con­sent, and rape myths. Juniors must take a refresher.
The manda­to­ry bystander train­ing I observed, which was based on research con­duct­ed at the Uni­ver­si­ty of New Hampshire's Pre­ven­tion Inno­va­tions Research Cen­ter, was intro­duced in 2014. More than 8,500 stu­dents have under­gone this train­ing, includ­ing over 2,900 since June 2017 — a reach that is uncom­mon. ​"Most uni­ver­si­ties just aren't there yet — there is bystander inter­ven­tion train­ing offered, but it's not manda­to­ry," explains Elise Lopez, assis­tant direc­tor of the rela­tion­ship vio­lence pro­gram at the Uni­ver­si­ty of Arizona.
With sex­u­al assault still epi­dem­ic on col­lege cam­pus­es, and #MeToo height­en­ing aware­ness of the issue, many eyes are now on Mis­soula to see if the ​"gold stan­dard" is good enough.
Good data on sex­u­al assault is hard to come by. Rape reports to the uni­ver­si­ty or police aren't an accu­rate mea­sure, since most inci­dents go unre­port­ed. Also, improved sex­u­al assault poli­cies can actu­al­ly increase reports, because bet­ter poli­cies pro­mote trust in the jus­tice system.
A more reli­able mea­sure of whether assaults are decreas­ing is an anony­mous sur­vey like those con­duct­ed by UM pro­fes­sor of psy­chol­o­gy Chris­tine Fiore. Between 2013 to 2015, she admin­is­tered three cam­pus cli­mate sur­veys com­plet­ed by more than 4,000 stu­dents. Unfor­tu­nate­ly, to date, there's not enough data to show a sta­tis­ti­cal­ly sig­nif­i­cant change in sex­u­al assault rates.
By anoth­er mea­sure, though, Fiore sees a marked change. Over the three-year peri­od, ​"there was a sta­tis­ti­cal­ly sig­nif­i­cant increase in the rejec­tion of rape myths," Fiore says. The myths test­ed were ​"She asked for it," ​"She lied," ​"It wasn't real­ly rape," and ​"He didn't mean to."
Fiore's results are encour­ag­ing to Mary Collins, a UM grad­u­ate who works at the Stu­dent Advo­ca­cy Resource Cen­ter, the cam­pus orga­ni­za­tion that admin­is­ters bystander train­ings. In her dai­ly life on cam­pus, she can already see and hear the change from when she came to UM as an under­grad­u­ate sev­en years ago.
She says it's now more com­mon to hear con­cerns from male stu­dents about whether they may have per­pe­trat­ed sex­u­al assault. The sto­ries seem to mark a new chap­ter in the #MeToo move­ment in which offend­ers, as well as sur­vivors, are self-reflecting.
"I've had con­ver­sa­tions with peers reflect­ing on high school rela­tion­ships, say­ing ​'I don't know if I asked whether I could touch her or kiss her,' or, ​'Gosh, I don't know if I've vio­lat­ed her or if that was con­sen­su­al; at the time I thought it was fine, but look­ing back I won­der whether I did every­thing I could to make that healthy and con­sen­su­al,' " says Collins. ​"It's reached that boil­ing point, so now peo­ple are ask­ing, ​'What does this look like in my life, in my role?' "
Gabriel Fur­shong
lives in Hele­na, Mon­tana, where he writes for The Nation, The Amer­i­can Prospect, and oth­er publications.