For the First Time, Guestworkers Get Crucial Legal Protections Under New Rules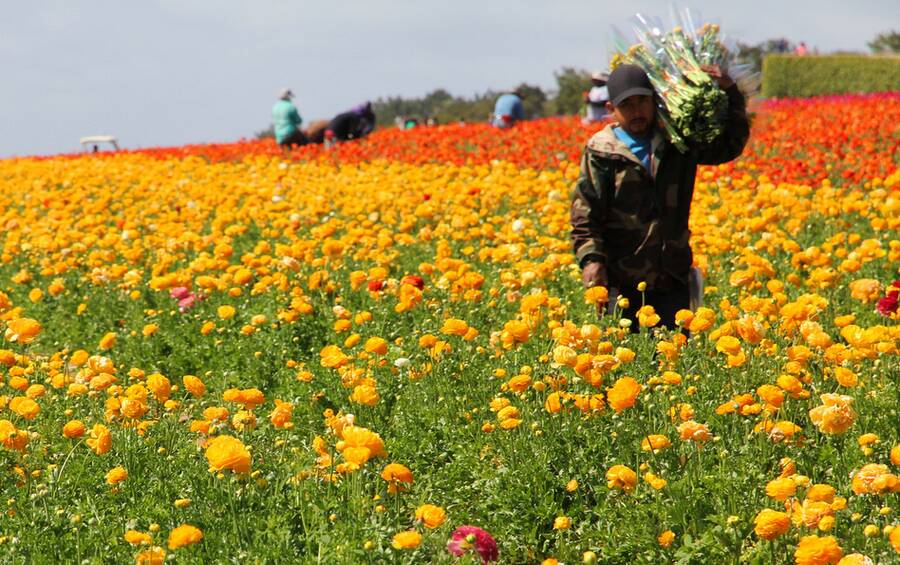 After near­ly two months of sus­pense, the Depart­ment of Labor (DOL) and the Depart­ment of Home­land Secu­ri­ty (DHS) have issued two new rules for the H‑2B guest­work­er pro­gram. Work­er advo­cates are prais­ing the rules for estab­lish­ing bad­ly-need­ed pro­tec­tions for guest­work­ers and U.S. work­ers alike, while indus­tries that rely on H‑2B work­ers call the new rules ​"flawed."
The H‑2B visa pro­gram brings for­eign work­ers to the U.S. to fill labor short­ages in low-skill, non-agri­cul­tur­al sea­son­al or tem­po­rary work. After work­ing for up to ten months in jobs as land­scap­ers or car­ni­val atten­dants, H‑2B guest­work­ers must leave the U.S., at least until the next sea­son. The pro­gram has drawn crit­i­cism for being rid­dled with abuse and exploita­tion. The Gov­ern­ment Account­abil­i­ty Office recent­ly pub­lished a report on H‑2B and its agri­cul­tur­al equiv­a­lent H‑2A sub­ti­tled ​"Increased Pro­tec­tions Need­ed for For­eign Workers."
The two new rules large­ly answer that call. The com­pre­hen­sive rule, which broad­ly reg­u­lates the pro­gram, strength­ens work­er pro­tec­tions while mak­ing it hard­er to get H‑2B work­ers. The oth­er rule is sole­ly con­cerned with wages. Both have been hot­ly con­test­ed for years.
The com­pre­hen­sive rule comes after a long dis­pute that reached a fever pitch in March, when the visa pro­gram shut down for two weeks. The shut-down rep­re­sent­ed the cul­mi­na­tion of a fight osten­si­bly over who has author­i­ty to reg­u­late H‑2B, but which actu­al­ly seemed to con­cern which of two very dif­fer­ent sets of reg­u­la­tions would pre­vail. DOL issued one H‑2B rule under the Bush admin­is­tra­tion, one under the Oba­ma admin­is­tra­tion. The Oba­ma rule, which was to replace the Bush rule, afford­ed many work­er pro­tec­tions the Bush rule did not. Those includ­ed pro­vid­ing work­ers a con­tract in a lan­guage they under­stand, guar­an­tee­ing them three-fourths of the hours in that con­tract, and reim­burs­ing their trav­el costs to and from the U.S.
Years of legal bat­tles even­tu­al­ly blocked both rules, leav­ing the pro­gram with the reg­u­la­to­ry vac­u­um that caused its shut­down in March. The court even­tu­al­ly grant­ed a stay allow­ing the pro­gram to con­tin­ue func­tion­ing while DOL and DHS scram­bled to issue new reg­u­la­tions. (By issu­ing reg­u­la­tions joint­ly, the agen­cies side­stepped the ques­tion of which of them has author­i­ty to reg­u­late H‑2B.)
The legal ado only delayed the real bat­tle over the sub­stance of the reg­u­la­tions. When DOL and DHS pledged to issue a new rule by April 30, work­er advo­cates called for reg­u­la­tions mod­eled on the Oba­ma rule, while indus­tries that use H‑2B work­ers ral­lied against the ​"bur­den­some new require­ments" of that rule.
The result was a deci­sive win for work­ers: reg­u­la­tions ​"vir­tu­al­ly iden­ti­cal" to the Oba­ma rule, accord­ing to the agen­cies. In addi­tion to the con­tract, guar­an­tee of three-fourths of the con­tract hours, and reim­burse­ments for trav­el and visa costs, the new rule estab­lish­es fur­ther work­er pro­tec­tions and a more trans­par­ent recruit­ment process. It pro­tects visa hold­ers from retal­i­a­tion for exer­cis­ing their rights, for instance, and requires employ­ers to pro­hib­it any recruiters they use from charg­ing ille­gal fees. Recruit­ment fees, which often put work­ers in debt just to get jobs, are cur­rent­ly com­mon despite being illegal.
Migrant advo­ca­cy group Cen­tro de los Dere­chos del Migrante (CDM), which spon­sored a peti­tion demand­ing strong work­er pro­tec­tions in the new rule, calls the reg­u­la­tions ​"ground­break­ing." ​"We're very pleased that at last there are going to be some basic pro­tec­tions for work­ers in the H‑2B pro­gram," says Rachel Mic­ah-Jones, CDM's Exec­u­tive Direc­tor. ​"Work­ers have gone with­out pro­tec­tion real­ly since its incep­tion, and for the first time there's a min­i­mum hours guar­an­tee, which is crit­i­cal. As we've seen, a num­ber of work­ers in seafood and oth­er indus­tries are recruit­ed and then they're often­times sit­ting for peri­ods of time when there's no work because of overrecruitment."
Elisa Tovar, a three-time H‑2B work­er who sits on CDM's Migrant Defense Com­mit­tee, has seen the need for these pro­tec­tions in her own com­mu­ni­ty in San Luis Poto­si, Mex­i­co. ​"The prob­lems start when we're here in Mex­i­co," says Tovar, who has worked in seafood and chick­en pro­cess­ing. ​"Recruiters charge fees to send us to jobs in the U.S. Then the prob­lem there is you arrive and there's no work — today you work, tomor­row you don't work. Or the hous­ing is in bad con­di­tion." She says what work­ers told about the jobs in Mex­i­co is often far from real­i­ty. The new rule ​"would help all work­ers, because they would no longer lose their mon­ey," either through recruit­ment fees or through lack of work.
It also makes get­ting H‑2B work­ers more dif­fi­cult — which most work­er advo­cates see as a good thing, because it gives Amer­i­can work­ers a fair shot at the jobs. The guest­work­er pro­gram was cre­at­ed to help fill labor short­ages, but under the recent sys­tem the bar for prov­ing a short­age was low. Accord­ing to the Eco­nom­ic Pol­i­cy Insti­tute (EPI), unem­ploy­ment rates in top H‑2B indus­tries are high and get­ting high­er, sig­nal­ing plen­ty of will­ing Amer­i­can workers.
The com­pre­hen­sive rule pro­hibits employ­ers from giv­ing pref­er­en­tial treat­ment to H‑2B work­ers and strength­ens the require­ments for recruit­ing work­ers domes­ti­cal­ly before resort­ing to H‑2B workers.
The sec­ond rule, the wage rule, also strength­ens work­er pro­tec­tions. It requires H‑2B work­ers to be paid the local aver­age wage for the jobs they're doing, which Ross Eisen­brey of the EPI says is cru­cial both for H‑2B work­ers and for Amer­i­cans. If H‑2B work­ers can be paid less than their Amer­i­can coun­ter­parts, it dri­ves down wages for everyone.
"I think the total impact is going to be that work­ers will have wages set at a lev­el that's clos­er to the actu­al pre­vail­ing wage," he says, although he notes that anoth­er pro­vi­sion of the new rule, the lim­it­ed allowance of wage sur­veys, could depress wages. ​"And that means more Amer­i­can work­ers will have an oppor­tu­ni­ty to bid for the job, and will be like­li­er to take a job that's offered because it won't be sub­stan­tial­ly below pre­vail­ing wage lev­els." If there tru­ly aren't Amer­i­can work­ers to do the jobs, he says, H‑2B work­ers will still receive fair­er pay.
Eisen­brey thinks the pro­gram is vast­ly overused, espe­cial­ly in the indus­try that depends on it the most: land­scap­ing. More than half of the 66,000 annu­al H‑2B visas go to land­scap­ers. But, he says, ​"It's just stone cold obvi­ous that there are prob­a­bly mil­lions of unem­ployed peo­ple who could do this work." He says there are already 700,000 U.S. work­ers in land­scap­ing and that if employ­ers paid well and recruit­ed local­ly, they could eas­i­ly find work­ers. ​"To me it's kind of an abom­i­na­tion that we have 30,000 guest­work­ers doing this work every year. It's just crazy."
If there's no short­age of will­ing work­ers on Amer­i­can soil, why has the land­scap­ing indus­try become the chief con­sumer of H‑2B labor? Two rea­sons, Eisen­brey says: one, until now employ­ers have been able to pay H‑2B work­ers less than U.S. work­ers. The new wage rule should shrink that gap.
But he offers a big­ger rea­son that nei­ther of the new rules touch­es. "[Employ­ers] love hav­ing work­ers who can't change jobs," he says. ​"Once they start, they know no mat­ter what the con­di­tions are, they can't leave." H‑2B work­ers are tied to the employ­ers who spon­sor their visas — if they leave their jobs, they are deportable. Only a total over­haul of the pro­gram could change that.
The land­scap­ing indus­try crit­i­cized the new reg­u­la­tions, call­ing them ​"harsh" and ​"flawed." In a Twit­ter con­ver­sa­tion under the hash­tag #land­scapechat, busi­ness­es voiced their frus­tra­tions over the rules. ​"It seems like this admin­is­tra­tion will con­tin­ue to try to make H‑2B vir­tu­al­ly impos­si­ble to use," tweet­ed the Nation­al Asso­ci­a­tion of Land­scape Pro­fes­sion­als (NALP). It said the H‑2B Work­force Coali­tion, a bloc of indus­try groups that use H‑2B work­ers, is attempt­ing ​"to see if there is a case to sue and stop the rule."
The par­tic­i­pants denied being able to find will­ing U.S. work­ers, say­ing no one would use the ​"cost­ly and unpre­dictable" pro­gram if they didn't have to. A few dis­sent­ing voic­es sug­gest­ed the dearth of will­ing Amer­i­can work­ers came from the low wages. Oth­ers respond­ed by say­ing Amer­i­can work­ers didn't want the jobs or couldn't take the sum­mer heat. ​"A fair wage is one thing and what DOL makes [employ­ers] pay is much more than that," tweet­ed Tom Delaney, NALP's Direc­tor of Gov­ern­ment Affairs.
The wage rule is final, but the com­pre­hen­sive rule is open to com­ment for six­ty days before being final­ized. It prob­a­bly will not change sub­stan­tial­ly, how­ev­er, since the Oba­ma rule it descends from already passed through a com­ment peri­od. The only things like­ly to change the reg­u­la­tions now are leg­is­la­tion or litigation.
Rachel Luban
is a writer liv­ing in Mary­land. She con­tributes to Full Stop and her work has appeared on Jezebel, The Rum­pus, and In Our Words. Fol­low her on Twit­ter: @rachelcluban.