Has Rahm Emanuel Declared War on Chicago Unions?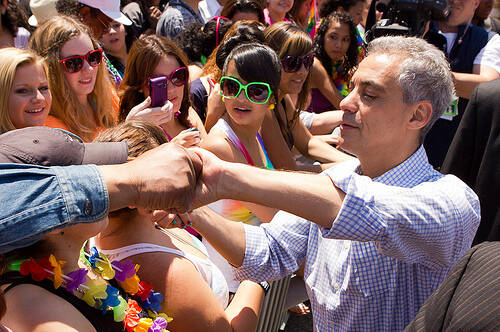 A lit­tle over a month has passed since Rahm Emanuel took over as the may­or of Chica­go, but he already has his hands full with local labor unions.

The for­mer Chief of Staff to Barack Oba­ma faces a mid­night Thurs­day dead­line to set­tle a bud­get short­fall involv­ing the city's union­ized employ­ees. The cut-off date comes just weeks after Emanuel's per­son­al­ly appoint­ed Chica­go School Board ran­kled the local teacher's union with a num­ber of con­ces­sions. And with a man­date on cut­ting costs, Emanuel's upcom­ing labor nego­ti­a­tions may be an ear­ly indi­ca­tor of either a frac­tious or cor­dial rela­tion­ship with local labor lead­ers in the future.

Ear­ly signs indi­cate that Emanuel is seek­ing union con­ces­sions to address the bud­get cri­sis in a cash-strapped city. The may­or met with labor lead­ers on Tues­day to find ways to plug a $30 mil­lion bud­get gap for the sec­ond half of the year. Union­ized city work­ers made con­ces­sions with May­or Daley by tak­ing fur­lough days to avoid lay­offs. But Emanuel said he won't rely on those terms because they are bad for morale and wouldn't save as much as hoped.
But in turn, he has to work with the union to find ways to nar­row the deficit before the con­tract expires this week. And he hasn't ruled out lay­offs, although both sides would pre­fer to avoid it.
On Wednes­day, Emanuel said 625 city work­ers will be laid off if unions don't agree to work-rule changes, the Chica­go Tri­bune report­ed. The pro­pos­al would save $20 mil­lion. Labor lead­ers will need to come up with their own pro­pos­al, which may take up to two weeks. Chica­go Labor Fed­er­a­tion pres­i­dent Jorge Ramirez met with Emanuel on Tues­day. Ear­li­er reports said that few­er work hours, reduced over­time pay and fur­ther pri­va­tiz­ing of city busi­ness­es were among the dis­cus­sions, accord­ing to a local alder­man.

The talks stem from Emanuel's plans to trim $75 mil­lion from the cur­rent bud­get and find ways to nar­row next year's deficit that is esti­mat­ed to be between $500 mil­lion and $700 mil­lion. But much of those cuts are seem­ing­ly aimed at unions, some­thing labor groups were wary of dur­ing the may­oral race.

Emanuel received scant polit­i­cal sup­port from local labor groups. There was already the infa­mous ​"F‑Bomb" gaffe aimed at the Unit­ed Auto Work­ers revealed in a book last year. Short­ly before his cam­paign announce­ment, an SEIU offi­cial told the Chica­go News Coop­er­a­tive that Emanuel would favor busi­ness­es over unions and the union did not make any may­oral endorse­ments. The Chica­go Fed­er­a­tion of Labor and the Chica­go Teacher's Union did not endorse any may­oral can­di­dates either, and the lat­ter wrote on their web­site at the time that Emanuel is ​"out of touch and direct­ly oppos­es the CTU's offi­cial posi­tions."

Soon after the elec­tion, Emanuel fired his open­ing sal­vo by warn­ing teach­ers that change was com­ing. And since then, the teacher's union has already faced cut­backs in jobs, wages and labor rights. This week, the Chica­go Pub­lic Schools announced lay­offs of 1,000 teach­ers. An edu­ca­tion reform bill passed by the state ear­li­er this month makes it more dif­fi­cult for teach­ers to strike; Emanuel sup­port­ed cur­tail­ing that right dur­ing his elec­tion. A few weeks ago, the Chica­go School Board denied teach­ers a 4‑percent pay raise worth $100 mil­lion, which was to trim the school bud­get. Emanuel said stu­dents ​"got the shaft" from the pay rais­es that were oblig­at­ed under the cur­rent con­tract.

The union was angered even more after the same board approved pay rais­es for school sys­tem exec­u­tives, who earn six-fig­ure salaries. Sev­er­al of Emanuel's top admin­is­tra­tion offi­cials are also report­ed­ly receiv­ing salaries high­er than what offi­cials in the same posi­tion earned under May­or Daley.
Unions don't appear to be hap­py with the prospect of sub­mit­ting to con­ces­sions while city exec­u­tives receive rais­es. The CTU already plans a ral­ly next week. And ten­sions have already risen even before teach­ers and Emanuel will meet in June 2012 when the cur­rent col­lec­tive bar­gain­ing deal expires.
Mean­while, Emanuel has found oth­er ways to add jobs via cor­po­ra­tions includ­ing GE Cap­i­tal, Unit­ed-Con­ti­nen­tal and Allscripts. But there are still more bud­get cuts planned, includ­ing the pos­si­bil­i­ty of reduced pen­sion ben­e­fits, and maybe even lay-offs. It remains to be seen whether Emanuel and unions can work togeth­er for the long haul, but so far they're not off to a good start.