Interviews for Resistance: Disrupting the System by Demanding Healthcare as a Human Right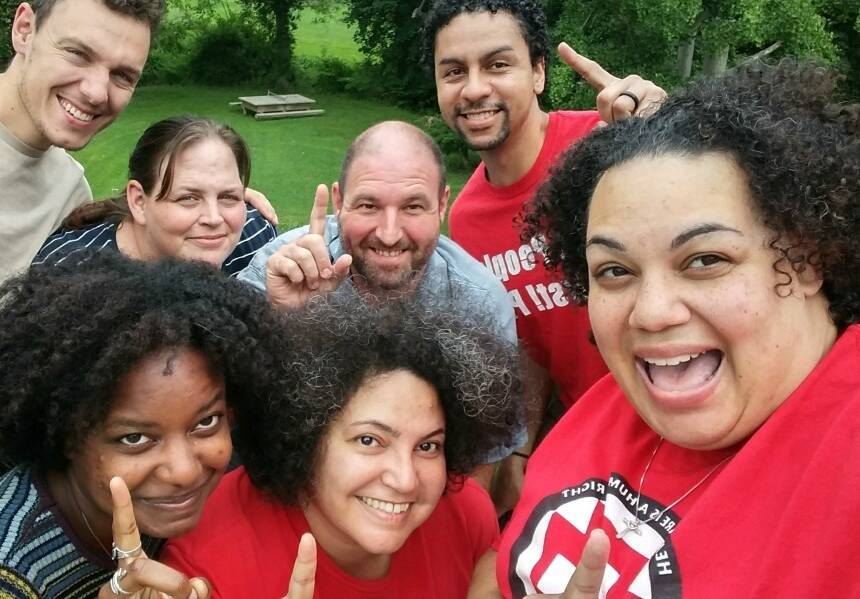 Since elec­tion night 2016, the streets of the Unit­ed States have rung with resis­tance. Peo­ple all over the coun­try have wok­en up with the con­vic­tion that they must do some­thing to fight inequal­i­ty in all its forms. But many are won­der­ing what it is they can do. In this series, we'll be talk­ing with expe­ri­enced orga­niz­ers, trou­ble­mak­ers, and thinkers who have been doing the hard work of fight­ing for a long time. They'll be shar­ing their insights on what works, what does­n't, and what has changed, and what is still the same.
Nijmie Dzurinko: My name is Nijmie Dzurinko, a life­long Penn­syl­van­ian and a black and indige­nous woman who grew up in Mon­essen in West­more­land Coun­ty. I have lived in Philadel­phia for over twen­ty years.
Sarah Jaffe: Short­ly after the elec­tion, you sent me a piece that one of the mem­bers of Put Peo­ple First Penn­syl­va­nia had writ­ten about her hus­band being an almost-Trump vot­er. I still think about this, because it was in that moment when there was a lot of pan­ic, dis­trust and anger, and there still is. This was a piece about how some­body goes from being an almost-Trump vot­er to not being a Trump vot­er through an orga­ni­za­tion. I won­der if you could talk about that piece and what it says about the orga­niz­ing phi­los­o­phy of Put Peo­ple First.
Nijmie: The piece chron­i­cles the sto­ry of one of our mem­bers, Danelle Mor­row, and her hus­band, Kevin. They are from John­stown, Penn­syl­va­nia, a place where Trump cam­paigned heav­i­ly in the elec­tion. The pur­pose of the sto­ry is not to say that our inten­tion was to turn him from being a Trump vot­er. That was an out­growth of the strat­e­gy, which is to build an inter­sec­tion­al, work­ing-class move­ment across the state of Penn­syl­va­nia that meets peo­ple where they are at, sees them for who they are, engages them around where they are hurt­ing and moves us all toward a vision of human rights that is inclu­sive of all peo­ple. Includ­ing them.
Danelle wrote this piece about her hus­band. She found Put Peo­ple First online. She saw us on Face­book. The first con­tact she ever made with us was jump­ing in a car with her two daugh­ters and dri­ving about two-and-a-half hours to come to a meet­ing with a bunch of peo­ple she had nev­er met before, because she just liked the sound of what we were doing. She then found a place in the orga­ni­za­tion and has since has become a leader of an orga­niz­ing com­mit­tee in John­stown. What that piece was about, part­ly, what impact­ed her hus­band who is not direct­ly involved, but involved through fam­i­ly, is that Danelle's mom had been in a senior care cen­ter in her com­mu­ni­ty and actu­al­ly died as a result of not being treat­ed, not being test­ed and hav­ing her care put off for the sake of sav­ing cost by this company.
In Put Peo­ple First, we have this say­ing about mak­ing the invis­i­ble vis­i­ble. We helped Danelle through the process — she actu­al­ly did a pub­lic vig­il about her mom and her mom's life. Kevin, her hus­band, was there, and fam­i­ly friends were there. I think that was real­ly a turn­ing point, also, in real­ly under­stand­ing the pow­er of what we are doing.
Sarah: Part of Put Peo­ple's First's strat­e­gy is to orga­nize peo­ple as fam­i­lies, in com­mu­ni­ties. Can you talk about that strategy?
Nijmie: I have learned a lot from inter­na­tion­al move­ments, the Land­less Work­ers' Move­ment in Brazil and oth­ers, about we have to be orga­niz­ing whole fam­i­lies because peo­ple are a part of their fam­i­ly. When we are orga­niz­ing peo­ple only as indi­vid­u­als, they come and go. We are try­ing to actu­al­ly cre­ate some­thing that lasts. Sim­i­lar to the way we are sit­u­at­ed in our fam­i­lies, we talk about per­ma­nent­ly orga­nized com­mu­ni­ties. We don't want to come togeth­er around some­thing and then disband.
We need to remove bar­ri­ers to peo­ple who have fam­i­lies being able to par­tic­i­pate. That means hav­ing child­care, hav­ing food, mak­ing it open and wel­come for chil­dren and young peo­ple to be present, and also for spous­es and sig­nif­i­cant oth­ers and aun­ties and uncles and grand­mas to be part of the process. Being explic­it about that has actu­al­ly real­ly been impor­tant. That has meant that peo­ple bring in their part­ners. They bring in the peo­ple in their lives who are impor­tant to them. Then, when that hap­pens, some­thing shifts, because then it is a dou­ble com­mit­ment. ​"I am here and I am com­mit­ted to this, but I am also here with the peo­ple I am com­mit­ted to," which is a real­ly dif­fer­ent kind of thing.
I think it also actu­al­ly brings love. It is this align­ment between what we say about love — we say some­times in our move­ments, ​"We are orga­niz­ing from a place of love." How do we real­ly demon­strate that? I think that hav­ing fam­i­ly being part of our work is one of the ways that we demon­strate that.
I think that is anoth­er aspect of this. Let's not get com­fort­able in think­ing that, ​"Because I know some­thing and I am woke, that means that every­one else isn't." Right? ​"I am bet­ter now. I know some­thing that oth­er peo­ple don't." If I enter into this work and enter into com­mu­ni­ty with peo­ple that are try­ing to change the world, I have to be ready to be trans­formed as much as I am try­ing to trans­form oth­ers. If I hold myself out­side of that and I think, ​"Well, I am not going to change. Just every­one else is going to change," that is lim­it­ing. That is a real­ly lim­it­ing way of look­ing at it.
When we open our­selves up to being trans­formed and trans­form­ing oth­ers, amaz­ing things hap­pen. How do we make that change in each oth­er through our work and then have that spread to oth­ers and build our orga­ni­za­tions in such a way that they are hav­ing influ­ence on peo­ple — that they are actu­al­ly mov­ing people?
Sarah: We have seen a lot of big mobi­liza­tions since Trump was elect­ed, and we have also seen the growth of orga­niz­ing in a lot of places. A lot of peo­ple who come out of the move­ments of the last few years, who had been a bit averse to join­ing orga­ni­za­tions, are now doing so. But what is the dif­fer­ence between long-term orga­niz­ing strat­e­gy and dri­ving your­self bonkers by try­ing to get to every protest?
Nijmie: To speak to a long-term orga­niz­ing strat­e­gy, I think we have got to get clear on a few things. One is that my work is still around the idea that we have got to be orga­niz­ing an inter­sec­tion­al, work­ing-class move­ment. That means that we have got to be orga­niz­ing the folks who are forced to work for wages and par­tic­u­lar­ly folks who are the most mar­gin­al­ized work­ers or can't work, are locked out of the sys­tem of work. That group of peo­ple is rep­re­sen­ta­tive of every race, every gen­der, every sta­tus of doc­u­men­ta­tion. That group of peo­ple is very broad. We need to make sure that the most mar­gin­al­ized peo­ple in the class are in the cen­ter of our work, but we have got to be orga­niz­ing a work­ing-class movement.
One of the things we have got to rec­og­nize in that sense is that to build a long-term strat­e­gy is that the 1% is not nec­es­sar­i­ly going to fund the uni­ty of the 99%. The 1% is pret­ty com­fort­able fund­ing seg­ments of that group to fight for their own piece, but not nec­es­sar­i­ly for the com­ing togeth­er of that class as a class. I think that, in terms of long-term strat­e­gy, we need to be okay with that. We are going to have to do some things that might not get fund­ed. We are going to have to put in some work that might not get paid. No one wants to hear that nec­es­sar­i­ly. We are in this moment when there are some dreams about how every­one is going to have a career, every­one is going to be able to do some kind of rev­o­lu­tion­ary work and get paid real­ly well to do it — and that is still a con­tra­dic­tion. It nev­er hasn't been, and it always will be. The 1% is not going to put their mon­ey behind a class strug­gle that is aim­ing at them. They might put their mon­ey behind a strug­gle that was aim­ing at bet­ter rep­re­sen­ta­tion among their class of a cer­tain group of peo­ple, but they are not going to put their mon­ey behind a uni­fied group of folks that is com­ing for them.
As far as long-term strat­e­gy, that is some­thing we have got to be aware of. We have got to be build­ing for­ma­tions and infra­struc­ture that uses the skills, tal­ents, bril­liance, resilience and time of peo­ple that are mar­gin­al­ized by the sys­tem, that are locked out of the sys­tem to get around. To make a way out of no way. That is what we know how to do. We need to have orga­ni­za­tion­al struc­tures and for­ma­tions that make the most of our strengths.
Sarah: There have been a lot of bad con­ver­sa­tions about these divides since the elec­tion, but one of the divides you have been bridg­ing in Put Peo­ple First is this urban/​rural divide — which in the State of Penn­syl­va­nia can be real­ly, real­ly stark. What has it meant to actu­al­ly build a statewide orga­ni­za­tion in Penn­syl­va­nia and bring peo­ple togeth­er when politi­cians and oth­ers try to play rur­al Penn­syl­va­nia off against Philadel­phia and Pittsburgh?
Nijmie: The first thing is that you have to be deter­mined to do that, because every sin­gle per­son and nar­ra­tive and the pow­ers that be will try to get inside your head and say to you, ​"Why would you do that? It is not worth it. It is a waste of time. Those peo­ple, who­ev­er they may be, they are use­less. They are worth­less." So, you have to be deter­mined to do it. If you are not deter­mined, in statewide orga­niz­ing, to get out of that bina­ry and to real­ly look at what is real and take your blind­ers off, then you will not suc­ceed. You have to build up the deter­mi­na­tion of oth­er peo­ple with you so you are not in isolation.
What we have found is that there are a few crit­i­cal things that make it pos­si­ble. One is peo­ple actu­al­ly have to get out of the place where they are com­fort­able, get out of the place they live, and go some­where else they have nev­er been and meet some peo­ple they have nev­er met and actu­al­ly be togeth­er over the long term. It is not a one-off thing. It is not one meet­ing where peo­ple sort of smile and have a lot of pre­tense. It is a long-term rela­tion­ship among peo­ple who live in dif­fer­ent places, and the orga­ni­za­tion has to facil­i­tate that. Long-term rela­tion­ship-build­ing between peo­ple who are actu­al­ly liv­ing in dif­fer­ent places and hav­ing dif­fer­ent expe­ri­ences but then unit­ing on the basis of what we have in common.
The sec­ond thing is a real lead­er­ship devel­op­ment and polit­i­cal edu­ca­tion process. We know we have all learned a lot of bull­shit, and we all live in a cul­ture and a polit­i­cal and eco­nom­ic sys­tem that are extreme­ly exploita­tive and oppres­sive. We have all inter­nal­ized that. No one is free of that. So, we all have to be engaged in a process of unlearn­ing that and chang­ing how we see things through look­ing at his­to­ry, through study, through learn­ing about oppres­sion and exploitation.
In Put Peo­ple First, we talk about lead­er­ship across dif­fer­ence. We are not try­ing to erase people's dif­fer­ences. We actu­al­ly need lead­ers who real­ly, deeply under­stand the sources of where exploita­tion comes from, as well as the results and the out­comes on groups of peo­ple. Then, also, are very com­mit­ted to and skilled at unit­ing peo­ple any­way. Which is real­ly the crux. How do we unite peo­ple any­way, even despite all that has happened?
You need edu­ca­tion and a real­ly, real­ly clear pro­gram. Then, you need activ­i­ties that peo­ple are doing togeth­er. In our case, that is the Health­care is a Human Right cam­paign. We are work­ing on some­thing, we are invest­ed in it, we are mov­ing togeth­er, we are fight­ing for each oth­er. The rela­tion­ships have to be there, the edu­ca­tion has to be there, and the activ­i­ty has to be there. It has tak­en a while, some­times, for folks to stop going to a very reac­tive place. It is a habit to think of urban peo­ple in a par­tic­u­lar way and rur­al peo­ple in a par­tic­u­lar way. But peo­ple have been able to unlearn those habits.
I have the advan­tage of hav­ing grown up in a small town and hav­ing a very dif­fer­ent per­spec­tive on what that real­ly is. I real­ly encour­age every­one who thinks they are a truth-teller and talks about speak­ing truth to pow­er to engage the fol­low­ing ques­tions. Have you gone out and actu­al­ly looked at what is true? Have you exposed your­self to some of that truth?
Sarah: Let's talk about the Health­care is a Human Right frame­work. We are in a moment when health­care is the most impor­tant top­ic, accord­ing to polls, on the minds of most peo­ple. You have been work­ing on this, through this par­tic­u­lar frame­work, for sev­er­al years now.
Nijmie: The premise of our orga­niz­ing is that basic needs are human rights and that win­ning some of those needs, that dis­rupts the log­ic of the cur­rent sys­tem. It is trans­for­ma­tion­al, not trans­ac­tion­al. We are try­ing to change what is polit­i­cal­ly pos­si­ble. We need a mass move­ment of peo­ple who are not nor­mal­ly known to be togeth­er in order to make that happen.
Health­care is some­thing that, from the begin­ning, was very clear­ly on everyone's mind. At our first mem­ber­ship assem­bly, which was in Schuylkill Coun­ty, we had thir­ty-six peo­ple there. We had done a bunch of research on dif­fer­ent things that we could pos­si­bly take up as a cam­paign. We chose between health­care and edu­ca­tion. There was a vote and health­care won.
It con­tin­ues to be, of course, some­thing that is on everyone's mind. It is very per­son­al. We all have a rela­tion­ship to it because we all have a body. We start­ed in 2012. The fun­ny thing was that not very many orga­ni­za­tions were talk­ing about health­care then, because every­thing had been solved by the ACA. [Laughs] And we got some weird looks for even work­ing on health­care, because some peo­ple sit­u­at­ed in cer­tain places and in cer­tain orga­ni­za­tions felt like there was no prob­lem any­more. But actu­al­ly, when the ACA was not even being chal­lenged polit­i­cal­ly in the way that it is now, going out and door-knock­ing and talk­ing to peo­ple, we found there was still a tremen­dous amount of cri­sis in the health­care system.
We all know the sys­tem is a patch­work sys­tem. The sys­tem is built upon the idea that health­care is a com­mod­i­ty. The ACA did not fun­da­men­tal­ly change that. It helped peo­ple get access to that com­mod­i­ty. It made the com­mod­i­ty more afford­able for peo­ple, more acces­si­ble to peo­ple and expand­ed Med­ic­aid — which was an amaz­ing achieve­ment in the ACA. But, it also rein­forced the idea that health­care is some­thing that you buy. That there are dif­fer­ent lev­els. That you get dif­fer­ent kinds of care depend­ing on how much mon­ey you have. There are dif­fer­ent tiers. It shored and propped up insur­ance mar­kets. There was still a tremen­dous amount of cri­sis that peo­ple were expe­ri­enc­ing dur­ing that time that we were able to lis­ten to and real­ly ful­ly understand.
It is part of our the­o­ry of change to real­ly hold all pow­er hold­ers account­able and to have inde­pen­dent pol­i­tics. We are nev­er behold­en to some idea that in order to ingra­ti­ate our­selves to any­one we have to say, ​"The prob­lem is solved." The prob­lem isn't solved. Now, we are look­ing at a sys­tem that is poten­tial­ly even more inequitable and even more unfair. But what we have been able to do using these prin­ci­ples of uni­ver­sal­i­ty, equi­ty, par­tic­i­pa­tion, trans­paren­cy and account­abil­i­ty is to real­ly hold out a belief in a health­care sys­tem that meets those prin­ci­ples, one in which we don't all have to fight for our piece, but we can all fight togeth­er for a dif­fer­ent kind of sys­tem. That has been actu­al­ly pro­found in our work and it has led to win­ning the first pub­lic hear­ing in the state from the insur­ance depart­ment on ris­ing health­care costs last year. It is very aligned with our work of build­ing an inter­sec­tion­al work­ing class movement.
Sarah: When we look at what the Repub­li­cans in Con­gress are going to try to do, this is not just going to hit peo­ple who have Afford­able Care Act plans or peo­ple who are on the Med­ic­aid expan­sion. It is going to affect peo­ple who have employ­er-pro­vid­ed plans. It seems they hand­ed us an issue that affects every­body, and Democ­rats don't want to cam­paign on it. I don't want to spend too much time mak­ing you talk about the Demo­c­ra­t­ic Par­ty, but there is a broad­er ques­tion, as you said, of orga­ni­za­tions that are expect­ed to sort of toe that line in order to get fund­ing and get support.
Nijmie: I have been talk­ing about the stakes in this last elec­tion, with this coun­try still being the most pow­er­ful and the rich­est coun­try in the world. What is at stake in the elec­tion of a pres­i­dent who, of course, is not the sole pow­er, but is a fig­ure­head for pow­er? Democ­rats lost this elec­tion and, in some ways, had them­selves con­vinced and had a large por­tion of their base con­vinced that they were going to win. The fact that they lost the elec­tion, to me, rep­re­sents one of the biggest tac­ti­cal errors of a fac­tion of the rul­ing class in history.
I think it is impor­tant for peo­ple to then rec­og­nize, par­tic­u­lar­ly folks who have recent­ly come into activ­i­ty through some of the new for­ma­tions that have arisen from those same tac­ti­cians — who just expe­ri­enced a tremen­dous fail­ure that real­ly should and could have been rec­og­nized in advance and pre­vent­ed. They have an oppor­tu­ni­ty to turn around and tell all of the peo­ple in their base, ​"Here is what to do next. Now we are going to teach you about resistance."
I think it is worth it for folks to real­ly look at that and say, ​"Hmm. What did they do there?" Instead of focus­ing our atten­tion on how to pre­vent some­thing like this from ever hap­pen­ing again, we have been boxed into being told what to do and deflect­ing all of the ener­gy and the atten­tion from the mis­take that we just made. I think that is a real­ly pow­er­ful sleight of hand.
That is not in any way blam­ing those peo­ple who are out there and doing lots of things, but I think it is real­ly worth it to look at where those things come from. What is it doing and what is it pur­pose­ful­ly not doing it? Where is it tar­get­ing ener­gy and where is it pur­pose­ful­ly not doing that?
Sarah: The con­ver­sa­tion about race and class has been absolute­ly ter­ri­ble since this elec­tion, on both sides. There are peo­ple talk­ing about class in a way that basi­cal­ly means we need to talk to more white peo­ple. And there are peo­ple say­ing you can't do that because Trump vot­ers are inher­ent­ly racist. When I talk to peo­ple like you, who are orga­niz­ing across all sorts of lines and bina­ries that we nor­mal­ly accept as immutable, I find the con­ver­sa­tion on the inter­net has absolute­ly noth­ing to do with people's realities.
Nijmie: One piece is that talk­ing and think­ing about class as sort of a proxy for white­ness is just wrong. The work­ing class is, again, rep­re­sen­ta­tive of every group of peo­ple, every back­ground, every nation­al­i­ty, every eth­nic­i­ty, every gen­der and every region. We need to think about it that way.
The strength of white suprema­cy in this coun­try has always rest­ed on an all-white, all-class uni­ty. Break­ing that uni­ty is one of the key fac­tors in chang­ing the coun­try, as well as build­ing the class con­scious­ness of the whole class and uni­fy­ing the whole class. The actu­al objec­tive con­di­tions that we are look­ing at right now are break­ing down.
My men­tor, Willie Bap­tist, likes to talk about con­di­tions and con­scious­ness. It is not enough to have con­scious­ness on its own. You also have to have the con­di­tions. As world chang­ers, we have to be real­ly look­ing at the con­di­tions right now and how we match those con­di­tions with con­scious­ness. I think that it is real­ly about build­ing an inter­sec­tion­al, work­ing-class move­ment. The same way that we have a very healthy and impor­tant respect for the fact that folks that are talk­ing about race and gen­der need to be ground­ed both through lived expe­ri­ence, and also though analy­sis and strat­e­gy, the same is true about class. It is impor­tant to not nec­es­sar­i­ly take seri­ous­ly folks who are total­ly dis­mis­sive of class when they are not ground­ed, when they can't real­ly speak to the sub­ject, but they just dis­miss it out of hand.
Every­one is impact­ed by the eco­nom­ic struc­ture that we live in. No one isn't. So, the same way that race and gen­der are not just iden­ti­ties, they are struc­tures, the eco­nom­ic sys­tem is a struc­ture that impacts every one of every race and every gen­der. It is the world that we live in.
To be hon­est, it is a niche mar­ket to be caught up in these debates. It actu­al­ly pro­duces cap­i­tal to be on one side or the oth­er or to be caught in an end­less war of words around these things. I do think that serves a pur­pose for cer­tain folks, but for peo­ple who don't want to be part of that and want to do some­thing else, I think there are oth­er ways and oth­er tools and oth­er lan­guage that we can use to real­ly think about how we build an inter­sec­tion­al, work­ing-class move­ment that doesn't min­i­mize people's dif­fer­ences. It is very impor­tant to rec­og­nize the ways that we have been sit­u­at­ed and oppressed and exploit­ed dif­fer­ent­ly based on our race, based on our gen­der. Also, it is impor­tant to rec­og­nize the use­ful­ness of that oppres­sion and exploita­tion in con­trol­ling the whole class.
It was nev­er just about tar­get­ing a spe­cif­ic group of peo­ple just because we hate them so much. It is about man­ag­ing the entire class through the hyper-exploita­tion and the hyper-oppres­sion of peo­ple around race and gen­der. It man­ages the entire class. The thing that we have to rec­og­nize is that if we are build­ing an inter­sec­tion­al work­ing class move­ment, how do we under­mine that man­age­ment of our class on the basis of race and gen­der? The only way we can do that is by unit­ing the whole class and real­ly cen­ter­ing race and gen­der in build­ing the uni­ty of that class. But, if we give up on unit­ing that class, if we go, ​"Oh, that is not our project. Our project is not about unit­ing the class," then we are not actu­al­ly chal­leng­ing the sys­tem of white supremacy.
Sarah: How can peo­ple keep up with you and your work?
Nijmie: You can find us at www​.put​peo​ple​first​pa​.org. You can find us on Face­book Put Peo­ple First PA, on Twit­ter @PPF_PA. If you are in Penn­syl­va­nia, you can join. If you are any­where else, you can sup­port as well.
Inter­views for Resis­tance is a project of Sarah Jaffe, with assis­tance from Lau­ra Feuille­bois and sup­port from the Nation Insti­tute. It is also avail­able as a pod­cast on iTunes. Not to be reprint­ed with­out permission.
Sarah Jaffe
is a for­mer staff writer at
In These Times
and author of
Nec­es­sary Trou­ble: Amer­i­cans in Revolt
, which Robin D.G. Kel­ley called ​
"
The most com­pelling social and polit­i­cal por­trait of our age." You can fol­low her on Twit­ter
@sarahljaffe
.