Despite Bernie Sanders' Prodding Last Night, Hillary Clinton Stuck to Her Neoliberal Talking Points
Hillary Clinton's performance in last night's debate shows her to be every inch the neoliberal "true believer" she's a built a reputation as being.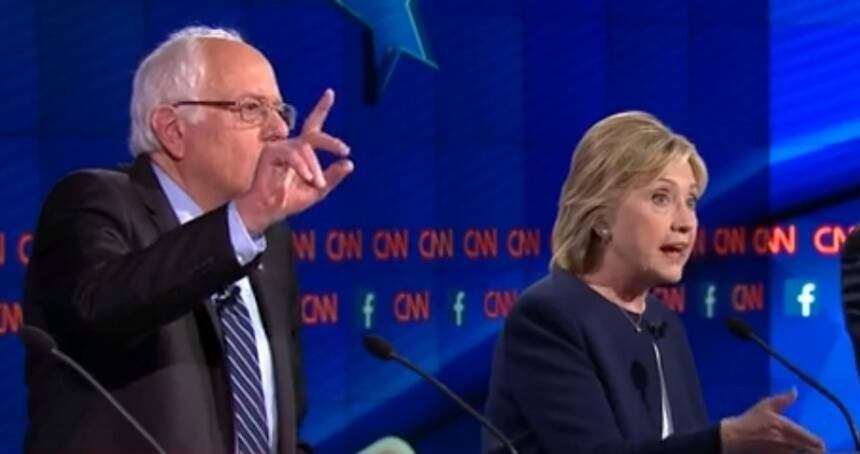 This post is an excerpt from a round­table dis­cus­sion about Tues­day's debate that orig­i­nal­ly appeared on Jacobin.
The characteristically Clintonian drive to pander to everyone at once was so strong as to enable her to gracefully drop the implication that there are no small Danish businesses and move right along.
It was dif­fi­cult enough eight years ago when Hillary Clin­ton only had to defend her vote for the Iraq War. This time around, the insur­gent can­di­date she faces, in impor­tant ways out­pac­ing even the last guy, talks about ​"rev­o­lu­tion" and ​"the work­ing class" in the same sen­tence, and thus puts her in the unen­vi­able posi­tion of hav­ing to defend cap­i­tal­ism itself.
Not to wor­ry: Clin­ton­ian tri­an­gu­la­tion is noth­ing if not ver­sa­tile. Remind­ing the audi­ence that ​"we are not Den­mark," Clin­ton deployed the frame late­ly pop­u­lar­ized by her husband's one-time labor sec­re­tary, Robert Reich, that it is imper­a­tive to ​"save cap­i­tal­ism from itself."
Sure, she wants to ​"rein in the excess of cap­i­tal­ism so that it doesn't run amok and doesn't cause the kind of inequal­i­ties we're see­ing in our eco­nom­ic sys­tem." But the baby mustn't go out with the bath­wa­ter: ​"We would be mak­ing a grave mis­take to turn out backs on what built the great­est mid­dle class in his­to­ry," she said, pray­ing in aid ​"all the small busi­ness­es that were start­ed because we have the oppor­tu­ni­ty and the free­dom in our coun­try for peo­ple to do that." The char­ac­ter­is­ti­cal­ly Clin­ton­ian dri­ve to pan­der to every­one at once was so strong as to enable her to grace­ful­ly drop the impli­ca­tion that there are no small Dan­ish busi­ness­es and move right along.
She tipped her hand, though: pressed repeat­ed­ly to agree or dis­agree with Sen. Sanders's pref­er­ence for expand­ing Social Secu­ri­ty, Clin­ton insist­ed that she'd rather ​"enhance the ben­e­fits for the poor­est recip­i­ents of Social Secu­ri­ty." Sim­i­lar­ly, as to whether she agrees with Sanders's health care approach, extend­ing Medicare to every­one, Clin­ton declined to answer (she doesn't, though), insist­ing vague­ly that ​"we agree on the goals, we just dis­agree on the means."
Here was the vin­tage neolib­er­al approach with which the Clin­tons are just­ly asso­ci­at­ed, unchanged by the finan­cial crises and social move­ments that have shift­ed the polit­i­cal ter­rain since its hey­day in the 1990s. The means Sanders favors, the ones that work in Den­mark and else­where, are uni­ver­sal pro­grams aimed at pro­vid­ing the work­ing class with relief from our depen­dence on cap­i­tal­ist firms for deriv­ing the means of our own sub­sis­tence: pub­lic pen­sions so we aren't at the mer­cy of a per­fid­i­ous ​"sav­ings indus­try" and pub­lic health care, so we go not mere­ly by the grace of a sec­tor Clin­ton cit­ed as one of her most prized ene­mies, but which has con­tributed more than $11 mil­lion to her over her career. (With ene­mies like this…)
Clin­ton, instead, clings to the idea that small, polit­i­cal­ly vul­ner­a­ble, means-test­ed pro­grams are prefer­able to large, uni­ver­sal ones, and that the medi­a­tion of a mar­ket­place of prof­it-obsessed firms is just what America's sick need to help them heal.
The ques­tion of means is cru­cial, and we should take great heart that the grass­roots foment — the move­ment for black lives, the cli­mate move­ment, Occu­py Wall Street, the low-wage work­er move­ment — whose salience was in con­stant evi­dence through­out the debate, are wide open to uncon­ven­tion­al means.
Read more from this and many oth­er arti­cles at Jacobin.
Jesse A. Myer­son is a New York – based activist and writer.