Inside Honduras' Torch-Lit Marches Against the U.S.-Backed Dictatorship
Thousands are defying military curfew to protest what they say is a fraudulent election.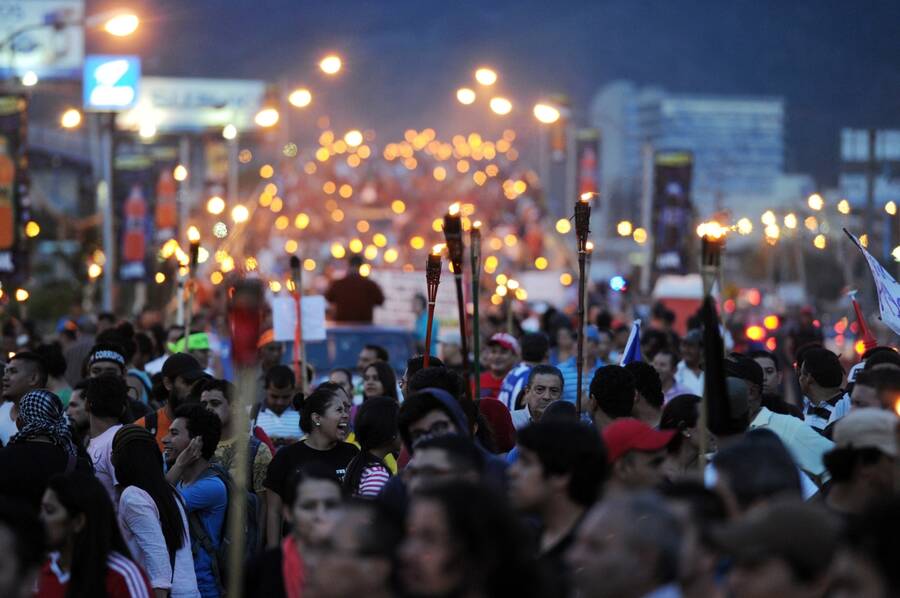 Torch­es lit Tegucigalpa's night sky, and a cacoph­o­ny of noise­mak­ers and chants rang out, as hun­dreds of Hon­durans, led by youth, marched to the U.S. embassy to protest alleged elec­tion fraud. The demon­stra­tion for democ­ra­cy on Dec. 8 took place amid the worst polit­i­cal cri­sis to grip the Cen­tral Amer­i­can coun­try since the 2009 U.S.-backed coup.
"The only thing we Hondurans can do is to take to the street."
The march was prompt­ed by fears that the elec­tion is being stolen for incum­bent Pres­i­dent Juan Orlan­do Hernandez.
"We want a change," 23-year-old Meli Mar­tinez told In These Times while stand­ing in front of the embassy. ​"We want jobs, and we want security."
With youth at the fore­front, Hon­durans des­per­ate for change have protest­ed by the thou­sands and defied a mil­i­tary cur­few to make their voic­es heard.
"There's a gen­er­al­ized anger among the youth – fatigue, weari­ness," Gabriela Blen, a 29-year-old social leader and con­gres­sion­al can­di­date, told In These Times.
In recent march­es, many young peo­ple have car­ried signs read­ing, ​"You messed with the wrong gen­er­a­tion." The dec­la­ra­tion, ​"Out with JOH," a ref­er­ence to the incum­bent pres­i­dent, has been a ral­ly­ing cry among pro­test­ers of all ages.
Two weeks after elec­tion day, results show a lead for Her­nan­dez over Oppo­si­tion Alliance Against the Dic­ta­tor­ship can­di­date Sal­vador Nas­ral­la. But a win­ner has not been offi­cial­ly declared. The oppo­si­tion has decried vote tam­per­ing and demand­ed a recount, while inter­na­tion­al observers from the Orga­ni­za­tion of Amer­i­can States and a Euro­pean Union elec­tion obser­va­tion team cast doubt on the results.
"It is evi­dent that there's fraud," claimed 25-year-old Cindy Mara­di­a­ga, who said she wasn't part of any polit­i­cal par­ty, as the Dec. 8 march kicked off. ​"Fraud began when Juan Orlan­do got the oppor­tu­ni­ty to seek re-election."
Oppo­nents slam Hernandez's bid for a sec­ond term as ille­gal. He jus­ti­fied the move using a dis­put­ed 2015 Supreme Court rul­ing that over­turned a con­sti­tu­tion­al ban on re-election.
"The only thing we Hon­durans can do is to take to the street," Mara­di­a­ga added, not­ing that Her­nan­dez con­trols state pow­ers, includ­ing the Supreme Court, that could oth­er­wise offer recourse. ​"Juan Orlan­do can­not be pres­i­dent if the major­i­ty didn't vote for him."
A tip­ping point for many, espe­cial­ly urban youth, was the cor­rup­tion scan­dal that sur­faced in 2015 impli­cat­ing the gov­ern­ing Nation­al Par­ty in an embez­zle­ment scheme that siphoned mil­lions of dol­lars from the country's cash-strapped social secu­ri­ty insti­tute and alleged­ly ben­e­fit­ed Hernandez's 2013 pres­i­den­tial cam­paign. Civ­il soci­ety groups report­ed close to 3,000 deaths linked to the scam.
The scan­dal sparked the Indig­na­dos move­ment, which orga­nized 24 weeks of torch-lit march­es to demand an end to cor­rup­tion, the cre­ation of an inde­pen­dent anti-impuni­ty com­mis­sion and the president's res­ig­na­tion. The movement's core demands remain unanswered.
Blen, a found­ing leader of the Indig­na­dos, said the elec­toral deba­cle has been anoth­er flash­point reawak­en­ing polit­i­cal consciousness.
As cries of fraud sur­faced, unrest broke out across the coun­try. Masked youth faced off on Nov. 29 and 30 against riot cops and mil­i­tary police in Tegu­ci­gal­pa, set­ting up bar­ri­cades that par­a­lyzed the cap­i­tal. In con­trast to the recent torch-lit march's peace­ful atmos­phere, scenes from the block­ades were charged with ten­sion and cloud­ed with smoke from burn­ing tires and tear gas.
Secu­ri­ty forces respond­ed with repres­sion, and protests grew angry on Dec. 1. Local media report­ed thefts from elec­tron­ics and appli­ance stores. Cen­tral Tegu­ci­gal­pa was desert­ed before sun­down as busi­ness­es closed shop ear­ly. Tele­vi­sion chan­nels broad­cast images of long line­ups at ATMs and gas sta­tions, height­en­ing gen­er­al panic.
Accord­ing to the Hon­duran human rights orga­ni­za­tion Com­mit­tee of Rel­a­tives of the Dis­ap­peared in Hon­duras (COFADEH), at least 148 peo­ple were detained amid the protests on charges of armed rob­bery between Nov. 30 and Dec. 5. The gov­ern­ment blamed oppo­si­tion sup­port­ers for foment­ing vio­lence, while the oppo­si­tion accused Hernandez's Nation­al Par­ty of infil­tra­tion to jus­ti­fy a mil­i­tary crackdown.
On Dec. 1, the gov­ern­ment imposed a 10-day state of siege, sewing ter­ror as news of bru­tal mil­i­tary enforce­ment spread the first night of the cur­few. The next evening, peo­ple pushed back with noise-mak­ing protests known as cacero­la­zos, bang­ing pots and pans from their doorsteps.
"Peo­ple need­ed to break the ice, over­come fear," recalled Blen, point­ing out that youth played a role in spread­ing the demon­stra­tions through social media.
The crack­down was harsh. Mar­tinez, a mem­ber of the uni­ver­si­ty stu­dents' move­ment that has fought creep­ing pri­va­ti­za­tion in pub­lic edu­ca­tion, said mil­i­tary police launched tear gas to dis­perse her neighborhood's cacero­la­zo even though peo­ple were in their homes.
"We had chil­dren on the ter­race," she told In These Times. ​"It was ter­ri­ble. It was illegal."
Accord­ing to Amnesty Inter­na­tion­al, mil­i­tary police used ​"ille­gal tac­tics" and firearms to enforce the cur­few. At least 14 peo­ple have been killed in the tur­moil, accord­ing to COFADEH.
Despite the repres­sion, Hon­durans are deter­mined to protest what they see as the con­sol­i­da­tion of a U.S.-backed dic­ta­tor­ship. Youth orga­ni­za­tions called for a nation­al strike on Dec. 11 to esca­late pressure.
Blen said that if Her­nan­dez is ​"imposed" as pres­i­dent, which many expect will be the next step in the con­test­ed elec­toral process, the coun­try will not see calm for the next four years.
"I think there are very few options left for youth. One is to migrate," she said.
"And the youth with­out much edu­ca­tion, with­out mon­ey, with­out work, who live in neigh­bor­hoods where they are eas­i­ly cap­tured by orga­nized crime — those youth have noth­ing to lose," she con­tin­ued, not­ing these youth often bat­tle police or spear­head road­blocks. ​"Those are the youth who will do more rad­i­cal things."
The Dec. 8 torch-lit march, orga­nized by the uni­ver­si­ty stu­dents' move­ment and the Indig­na­dos, cir­cu­lat­ed on social media with the Eng­lish hash­tag #IDont­Want­ToLeave­My­Coun­try. The theme crit­i­cized Wash­ing­ton over for­eign pol­i­cy ini­tia­tives like the Alliance for Pros­per­i­ty, which pur­ports to improve secu­ri­ty and stem migra­tion, but in prac­tice exac­er­bates dri­vers of migration.
It was a mes­sage to Hon­duran and U.S. author­i­ties that youth want oppor­tu­ni­ties at home, but are being forced to leave.
The cur­rent cri­sis has roots in the 2009 mil­i­tary coup that con­sol­i­dat­ed elite pow­er and paved the way for eight years of Nation­al Par­ty rule. The coup trig­gered gen­er­al­ized impuni­ty and law­less­ness that allowed orga­nized crime, vio­lence, unfet­tered neolib­er­al­ism and a human rights cri­sis to flourish.
The U.S. State Depart­ment played a diplo­mat­ic role in secur­ing the coup, and Wash­ing­ton has tac­it­ly endorsed post-coup gov­ern­ments by pour­ing more than $114 mil­lion in secu­ri­ty aid into the coun­try since 2009 despite its poor human rights record. Days after the elec­tion, the State Depart­ment cer­ti­fied Hon­duras for addi­tion­al aid.
Oppo­si­tion sup­port­ers increas­ing­ly fear that Wash­ing­ton is poised to embrace Her­nan­dez as pres­i­dent despite the ques­tioned election.
"We are ready to work with who­ev­er wins," said U.S chargé d'affaires in Tegu­ci­gal­pa, Hei­di Ful­ton, appear­ing in a press con­fer­ence on Dec. 9 beside elec­toral com­mis­sion chief David Mata­moros. An active mem­ber of the Nation­al Par­ty, Mata­moros is accused of car­ry­ing out fraud on Hernandez's behalf.
Many slammed Fulton's appear­ance after rel­a­tive silence as a show of implic­it U.S. sup­port for the con­test­ed results.
"We are a sov­er­eign peo­ple, we want our voice to be val­ued," said Aaron Rodriguez, par­tic­i­pat­ing in anoth­er demon­stra­tion on Dec. 10 near the pres­i­den­tial palace with a sign reject­ing U.S. intervention.
He added that youth will protest ​"until there is jus­tice" respect­ing the people's will.
Accord­ing to Blen, the cur­rent upris­ing comes after youths' break from apa­thy — which stemmed from hope­less­ness, not polit­i­cal dis­in­ter­est. Now, young peo­ple car­ry a grow­ing sense of cit­i­zen empow­er­ment that they are tak­ing to the streets.
"What's hap­pen­ing right now will mark the hearts and minds of Hon­durans for­ev­er — above all, the youth," Blen said. ​"This gen­er­a­tion has accept­ed the respon­si­bil­i­ty of being the gen­er­a­tion that will make change."
Heather Gies
is a free­lance jour­nal­ist who has writ­ten on human rights, social move­ments and envi­ron­men­tal issues for
Al Jazeera
,
The Guardian
,
In These Times
and
Nation­al Geo­graph­ic
. Fol­low her on twit­ter @HeatherGies.