House Cuts TSA Funding, Eliminates Collective Bargaining Amid Union Election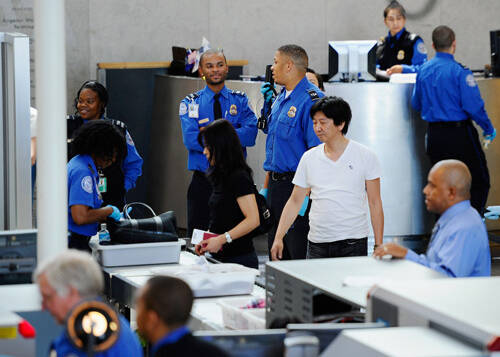 We wanted to make sure you didn't miss the announcement of our new Sustainer program. Once you've finished reading, take a moment to check out the new program, as well as all the benefits of becoming a Sustainer.

It was just a few months ago when Transportation Security Administration (TSA) workers were granted the right to form a union following months of contentious debates in Congress.

The move paved the way for the largest federal labor election in U.S. history; balloting began in early March. But two amendments recently passed by the House of Representatives could undermine the efforts of more than 45,000 airports workers to organize as union run-off elections are set to conclude in the weeks ahead.

Last Thursday, the Republican-led House approved legislation that would eliminate collective bargaining and cut the TSA's budget, which the unions and the federal agency say would cost thousands of jobs. The amendments were part of the 2012 homeland security budget bill for fiscal year 2012.
Rep. Todd Rokita's (R‑Ind.) amendment, which passed 218 – 205, prevents the use of federal funds for collective bargaining by the TSA workers, who provide security for the nations's airports. Another measure cuts more than $270 million from the agency and was led by Rep. John L. Mica (R‑Fla.), who is also House Chairman of the Transportation and Infrastructure Committee.

The timing of the bill coincided with a report released by Rep. Mica on Friday, which found that private screeners operate more efficiently and could save the government at least $1 billion over five years. A TSA spokesperson told the Washington Post that the 10 percent workforce reduction would cut about 5,000 jobs.

In a statement, Rep. Rokita echoed similar sentiments, but went further by saying collective bargaining ​"would hamper the critical nature of TSA agents' national security responsibilities." He added that collective bargaining would make it difficult for people to settle disputes with the security workers.

The financial undercutting and rollback of union rights comes as the workers are currently voting to decide whether the National Treasury Employees Union (NTEU) or the American Federation of Government Employees (AFGE) will represent them.

In April, neither union received a majority vote, leading to a run-off election that will continue until June 21; ballot counting will occur two days later. The landmark voting came just two months after TSA administrator John Pistole allowed limited collectively bargaining rights for the first time in the agency's ten-year history.

In spite of the election, both unions have separately called on their supporters to mobilize against the House bills. ​"AFGE will not allow these corporate, right-wing politicians to make being in a union un-American," said national union president John Gage in a statement. ​"This amendment is nothing but a repeat of Wisconsin Governor Scott Walker's unfounded attack on the right of all Americans to have a voice at work and the right to bargain collectively."

The NTEU also appealed to some Senate members in hopes that the bill will not pass under the Democratic majority. President Colleen M. Kelley also called Rep. Mica's study ​"partisan" and refuted the report. She writes:
In the wake of 9/11, Congress and the President determined, with wide public support, that airport security functions are better performed by federal employees. Not only does NTEU question the validity of the study, I believe the American traveling public would be loathe to return to the days [of] less than a decade ago, when low-paid, ill-trained employees of private contractors handled air passenger screening duties.
An updated study by the Government Accountability Office found that using private screeners would cost 3 percent more after an analysis of revised data from the TSA. A 2007 GAO study found that the costs were upwards of 17 percent. In January, Pistole suspended private screening programs because he did not find any ​"substantial advantages."
Become a Sustainer
We surveyed thousands of readers and asked what they would like to see in a monthly giving program. Many of you expressed interest in magazine subscriptions, gift subscriptions, tote bags, events and books —and we've added all of those. Some of you said that cost was an issue, so we've kept our starting tier at just $5 a month—less than 17 cents a day.

Now, for the first time, we're offering three different levels of support, with unique rewards at each level, for you to choose from. Check out the new Sustainer program.