#BlackTwitter and the Revolutionary Power of Horizontal Networks
The online reaction to Ferguson shows the importance of 'mass self-communication' that isn't controlled by government or corporations.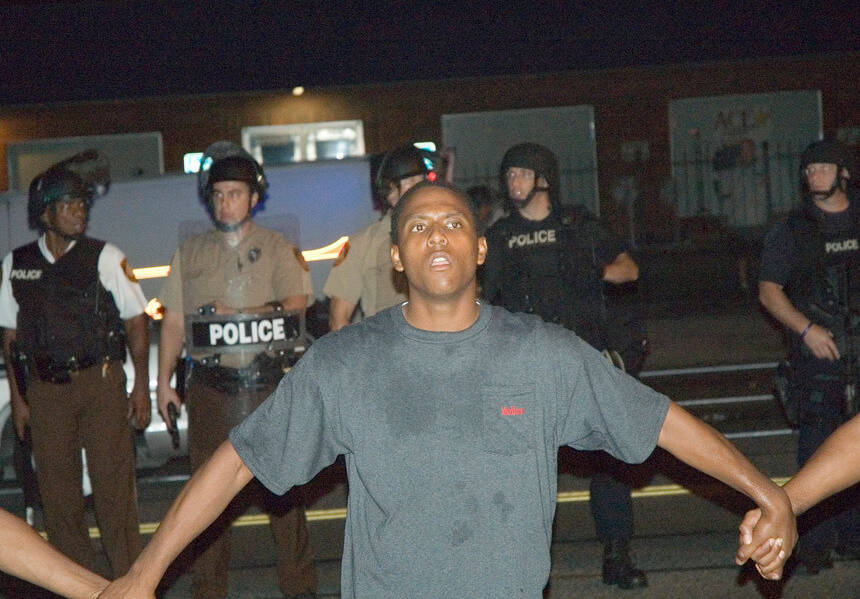 By now the shock­ing pho­tos that first ric­o­cheted around social media, then hit main­stream media the fol­low­ing day, are embla­zoned in our minds: robo­cops astride armored vehi­cles in cam­ou­flage uni­forms, black hel­mets and gas masks, bran­dish­ing assault rifles.
Andre Brock, an expert on African Americans' use of new media, notes that 'if it wasn't for Twitter, you wouldn't hear the voices of the disenfranchised.'
The killing of unarmed Michael Brown by a white cop who drilled him with six bul­lets has blown open debates old and new, from the per­sis­tence of police bru­tal­i­ty to the recent and out­ra­geous mil­i­ta­riza­tion of the country's police forces. But this would not have been a sto­ry if the black com­mu­ni­ty in Fer­gu­son and else­where had not instant­ly risen up and, impor­tant­ly, gone to social media.
What the police action in Fer­gu­son — and the out­rage against it — exem­pli­fied was how strug­gles for jus­tice are now being fought out with­in a new tech­no­log­i­cal frame­work — in this case, one that pit tanks against cell phones. It is a con­test between tech­nolo­gies of coer­cion and force, and tech­nolo­gies of infor­ma­tion and per­sua­sion. Typ­i­cal­ly — and trag­i­cal­ly — the for­mer usu­al­ly trumps the lat­ter. But not in Fer­gu­son, despite the tear gas and bul­lets, both rub­ber and real. And the hero is ​"Black Twitter."
Ini­tial­ly some media out­lets used a pic­ture of Brown in a cap and gown to illus­trate the sto­ry. But a day after the killing, an NBC News tweet post­ed a pho­to of a threat­en­ing-look­ing Brown in a Nike Air jer­sey giv­ing the peace sign, which some mis­con­strued as a ​"gang sign." The next day, the hash­tag "#IfThey­GunnedMe­Down" fol­lowed by ​"which pic­ture would they use" went viral, with young African Amer­i­cans jux­ta­pos­ing pic­tures of them­selves in prom gowns, suits, or mil­i­tary uni­forms against shots of them­selves in torn jeans and T‑shirts, appear­ing to be smok­ing dope, flip­ping the bird or also throw­ing ​"gang signs." The meme quick­ly jumped to Face­book and numer­ous web­sites, with the New York Times and NPR in awe of its pow­er. And NBC stopped using that photo.
Using the hash­tag #Fer­gu­son, and enabled by design changes that allow the post­ing of images and video, black res­i­dents used Twit­ter to scoop tele­vi­sion and cable news, and to force them to keep Brown's death and its after­math a front-page story.
Their fury coin­cid­ed with online exposés about oth­er aspects of the sto­ry, like The New Repub­lic blog post about how our tax dol­lars have gone to arm­ing the country's police depart­ments with armored vehi­cles, assault rifles and, yes, grenade launch­ers. One day lat­er, the New York Times ran a front-page sto­ry about ​"Calls to Demil­i­ta­rize Police," and stodgy old CBS news empha­sized how fed­er­al pro­grams have encour­aged the spread of mil­i­tary-style equip­ment.
This event sent me back to Manuel Castells' impor­tant work on the net­worked soci­ety. With the old­er one-to-many chan­nels of com­mu­ni­ca­tion now con­fronting inter­ac­tive, hor­i­zon­tal net­works like Twit­ter and Face­book, what Castells calls ​"mass self-com­mu­ni­ca­tion" is play­ing a grow­ing role in the resis­tance against oppres­sion. It is enabling insur­gent social move­ments to chal­lenge insti­tu­tion­al­ized pow­er rela­tions. While Castells is no Pollyan­na — he sees cor­po­rate and gov­ern­men­tal inter­ests col­o­niz­ing, sur­veilling and seek­ing to tame the Inter­net, mobile com­mu­ni­ca­tions and mass self-com­mu­ni­ca­tion — he also sees a new tech­no­log­i­cal régime where these strug­gles to ​"free our minds" give bot­tom-up folks more of a voice.
And that's what #Black­Twit­ter has done. Twit­ter is more pop­u­lar among young African Amer­i­cans than whites: Forty per­cent of online African Amer­i­cans between 18 and 29 use Twit­ter, com­pared to 28 per­cent of young whites. African Amer­i­cans' own­er­ship of smart phones is above the nation­al aver­age, and Twitter's 140-char­ac­ter lim­it is cell-phone friend­ly. Twit­ter has pro­vid­ed a space for exchanges about racism in the U.S. to flour­ish. Andre Brock, an expert on African Amer­i­cans' use of new media, notes that ​"if it wasn't for Twit­ter, you wouldn't hear the voic­es of the dis­en­fran­chised," espe­cial­ly giv­en how blacks are stereo­typed or ignored by the main­stream media. Brock explains that Twitter's plat­form is espe­cial­ly con­ducive to cap­tur­ing event-spe­cif­ic out­rage, because Twitter's algo­rithm looks for spikes in hash­tags when a top­ic is being dis­cussed much more than it was pre­vi­ous­ly. Then Face­book and even the main­stream media take note, too.
So #Black­Twit­ter has emerged as the one tiny point of opti­mism in this oth­er­wise infu­ri­at­ing event. It forced nation­al atten­tion onto the ongo­ing can­cer of racial vio­lence in this coun­try. Of course, Twit­ter is no match for insti­tu­tion­al racism and media com­pla­cen­cy, but as a cru­cial moment of mass self-com­mu­ni­ca­tion and evi­dence of an evolv­ing media land­scape, it was an impor­tant vic­to­ry, how­ev­er fleet­ing, in the ongo­ing strug­gles for social justice.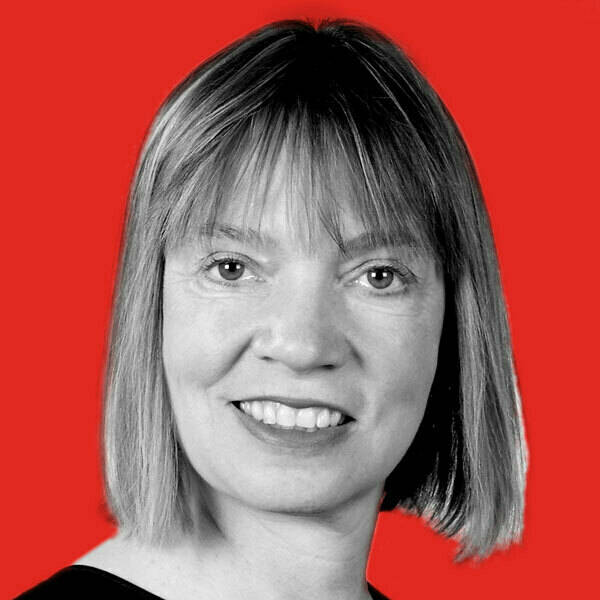 Susan J. Dou­glas
is a pro­fes­sor of com­mu­ni­ca­tions at the Uni­ver­si­ty of Michi­gan and a senior edi­tor at
In These Times
. Her forth­com­ing book is
In Our Prime: How Old­er Women Are Rein­vent­ing the Road Ahead.
.