Want To Fix the Debates? Shut Down the Trump-Style Theatrics.
The sensationalist, ratings-first format needs to change—and candidates should boycott debates until it does.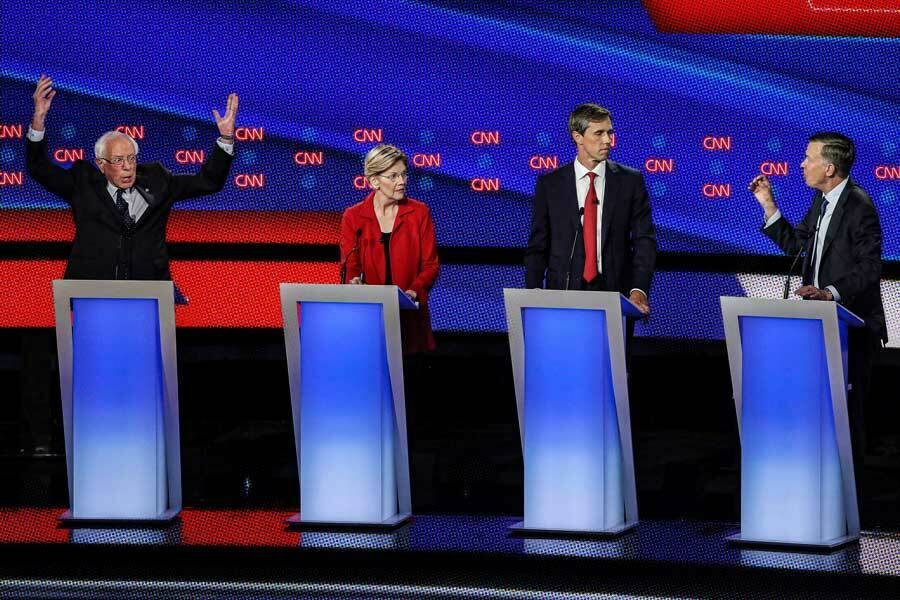 The ver­dict came in fast and furi­ous: The Demo­c­ra­t­ic debates were a ​"deba­cle" (Poyn­ter Insti­tute), ​"an unmit­i­gat­ed dis­as­ter designed to hype rat­ings" (Wash­ing­ton Post) and fea­tured a ​"smack­down aes­thet­ic" intend­ed to pro­voke dis­cord (New York Times). The CNN mod­er­a­tors were blast­ed for stok­ing divi­sion, using Repub­li­can talk­ing points to goad candidates.
Here's one thought: Why don't the Democratic candidates refuse to participate in any more debates until the format is changed?
In his very first ques­tion at the July 30 debate, direct­ed at Sen. Bernie Sanders (Vt.), mod­er­a­tor Jake Tap­per brought up that for­mer Rep. John Delaney (Md.) had called Medicare for All ​"polit­i­cal sui­cide." The TV cut to a split screen of Sanders and Delaney as Tap­per demand­ed, ​"What do you say to Con­gress­man Delaney?" In case we missed the chal­lenge, the chy­ron blared the same ques­tion. This for­mat — ​"What do you say to X about their attacks on you?" — dom­i­nat­ed the debates.
Mod­er­a­tors do this, of course, to try to build rat­ings. They aim for sound­bites they can use (and attack) the next day, so they can gos­sip about who dissed who, who got in the best ​"zingers" and the like. This super­fi­cial­i­ty has long been a prob­lem, but it's got­ten much worse since 2016, when Don­ald Trump's inflam­ma­to­ry, real­i­tyTV approach to pol­i­tics — vul­gar insults, ado­les­cent name-call­ing, ad hominem attacks on oppo­nents — bush­whacked an unpre­pared yet enthralled news media. The cable chan­nels, in par­tic­u­lar, fol­lowed the TV-star candidate's lead and suc­cumbed to the cat­fight con­ven­tions of celebri­ty jour­nal­ism — who has Trump trashed now, who's betrayed whom, who's on Trump's shit list today? As Van­i­ty Fair not­ed, Trump under­stands the press is ​"essen­tial­ly a sen­sa­tion­al­is­tic enter­prise," and made the media ​"com­plic­it in a high­ly chore­o­graphed dis­trac­tion." This lazy and con­t­a­m­i­nat­ing for­mat has fur­ther cor­rupt­ed the debates.
The Demo­c­ra­t­ic can­di­dates should see this spec­ta­cle for what it is: a Trumpian-dri­ven frame that, with its lead­ing, biased gotcha ques­tions, inces­sant inter­rup­tions, and stok­ing of divi­sions, results in a cir­cu­lar fir­ing squad, dam­ag­ing them all. Here's one thought: Why don't the Demo­c­ra­t­ic can­di­dates refuse to par­tic­i­pate in any more debates until the for­mat is changed?
The first need­ed change is get­ting rid of broad­cast jour­nal­ists as the mod­er­a­tors. Their job is to report break­ing news and pro­duce rat­ings, as well as bur­nish their own celebri­ty, not to illu­mi­nate the sub­stance of pol­i­cy pro­pos­als. Vot­ers, at town halls or online, ask bet­ter, more pol­i­cy-ori­ent­ed ques­tions than preen­ing and self-serv­ing TV news stars. Ques­tions pro­posed by vot­ers to the Open Debate Coali­tion in 2016 eschewed ​"horse race" queries and instead focused on issues like gun safe­ty, mon­ey in pol­i­tics and cli­mate change. Vot­ers' ques­tions would make the debates more demo­c­ra­t­ic and more infor­ma­tive. Kath­leen Hall Jamieson, a researcher on polit­i­cal cam­paigns, has pro­posed that his­to­ri­ans or retired judges serve as mod­er­a­tors, because they're not invest­ed in sell­ing con­flict-dri­ven news. We could add to that list pub­lic pol­i­cy schol­ars, polit­i­cal sci­en­tists and activists work­ing in non­prof­its focused on the envi­ron­ment, health­care, women's rights, racial jus­tice and oth­er impor­tant issues. Per­son­al­ly, I think smart high school and col­lege stu­dents would be great ques­tion­ers, as so many of today's press­ing issues pow­er­ful­ly affect their futures.
Anoth­er of Jamieson's pro­pos­als is to get rid of the live audi­ence — remem­ber, there was none in the Nixon-Kennedy debate — elim­i­nat­ing their laugh­ter, applause, boo­ing and oth­er reac­tions, which can stoke can­di­date grand­stand­ing. The Annen­berg Pub­lic Pol­i­cy Cen­ter has found that stu­dio audi­ence respons­es cue the home audi­ence reac­tions and can affect the public's assess­ments of candidates.
Yet anoth­er pro­pos­al, though intend­ed for gen­er­al elec­tion debates, could improve pri­ma­ry debates as well. Intel­li­gence Squared U.S., a non­par­ti­san group that spon­sors debates on press­ing issues, advo­cates for the Oxford style of debate in which a series of motions is put for­ward — for exam­ple, that the Unit­ed States should tran­si­tion to a sin­gle-pay­er, Medicare-for-all health sys­tem — and then each can­di­date argues for or against it with lim­it­ed mod­er­a­tor inter­rup­tion. Then there is time for rebut­tal, a clos­ing state­ment and on to the next motion. And if any­one talks out of turn — why not just cut the mic?
Broad­cast and cable TV do have an oblig­a­tion to air these debates. But with their prof­it-dri­ven ded­i­ca­tion to sen­sa­tion­al­ist enter­tain­ment val­ues, they are the last ones who should be fram­ing or mod­er­at­ing what we need to learn from and about the can­di­dates, espe­cial­ly at this time of nation­al peril.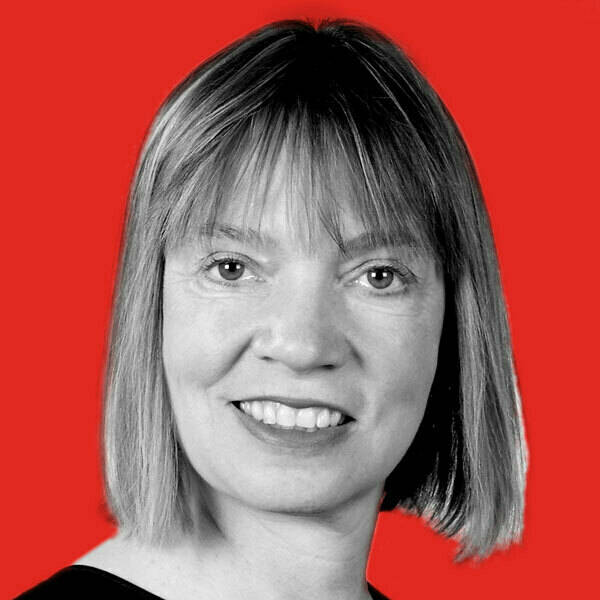 Susan J. Dou­glas
is a pro­fes­sor of com­mu­ni­ca­tions at the Uni­ver­si­ty of Michi­gan and a senior edi­tor at
In These Times
. Her forth­com­ing book is
In Our Prime: How Old­er Women Are Rein­vent­ing the Road Ahead.
.