How Corporations Plan To Use Janus To Turn Workers Against Their Own Unions
A union buster may be coming to your door.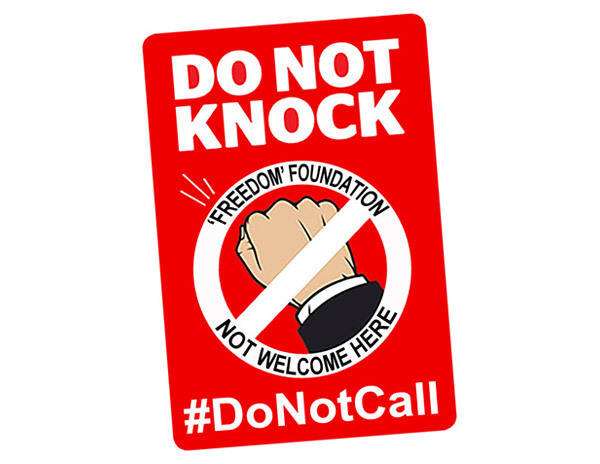 Hol­ly Lind­sey, 52, has been a licensed home child-care provider for 22 years and a union mem­ber for 12. She joined SEIU 925 when the local formed in 2006.
"At the very begin­ning, the union went house to house to recruit us," recalls Lind­sey, who runs a home day care and preschool near Longview, Wash. In time, the union began hold­ing reg­u­lar meet­ings. Work­ing from home can be iso­lat­ing, so Lind­sey is thank­ful for SEIU 925's large net­work of child­care providers. ​"It's been huge for us to col­lab­o­rate and com­mu­ni­cate as a group," she says. ​"The union just opened all these doors for us."
But the union isn't the only one try­ing to open doors these days.
One day in 2017, Lind­sey heard a knock on her slid­ing glass door. A casu­al­ly dressed man in his 20s stood out­side, clip­board in hand. He was with the Free­dom Foundation.
"He told me I pay a lot of mon­ey to the union for noth­ing," Lind­sey says. ​"He tried to give me pam­phlets show­ing how much mon­ey I would save if I opt­ed out" — as much as $500 a year in dues, he claimed. Lind­sey felt threat­ened by the expe­ri­ence. ​"Most times when peo­ple try to bust a union, they do it in the work­place," she says. ​"They don't go to union mem­bers' homes. They don't both­er them and their fam­i­lies like this."
Soon, Lindsey's phone was light­ing up with calls from oth­ers in her local who had been vis­it­ed by trav­el­ing union busters. Then the mail­ers and robo­calls start­ed, some­times three a day. They've nev­er stopped.
SEIU 925 is the tar­get of an ​"opt-out cam­paign," a new anti-union ini­tia­tive by the State Pol­i­cy Net­work (SPN), the web of bil­lion­aire-backed right-wing groups that helped fund the Janus v. AFSCME law­suit. The Wash­ing­ton-based Free­dom Foun­da­tion is a star member.
SPN got the Supreme Court rul­ing it want­ed in Janus, which nation­al­ized right-to-work con­di­tions across the pub­lic sec­tor. All pub­lic sec­tor work­ers now have the option of receiv­ing union ben­e­fits with­out pay­ing for them. If enough work­ers choose to stop pay­ing dues, union bud­gets and pow­er will be great­ly diminished.
SPN is now build­ing on the Janus vic­to­ry with opt-out cam­paigns to con­tact gov­ern­ment employ­ees in union-dense states and encour­age them to drop their mem­ber­ship. Their tar­gets include blue states such as Cal­i­for­nia, Illi­nois, New York, Ore­gon and Wash­ing­ton that have resist­ed pass­ing anti-union leg­is­la­tion. The plan is sim­ple: Gut unions of mem­bers and mon­ey so they have less influ­ence on state elec­tions. Once sym­pa­thet­ic politi­cians are in office, cor­po­rate inter­ests can pass state laws to torch what remains of orga­nized labor.
But unions have also spent months prepar­ing for this moment.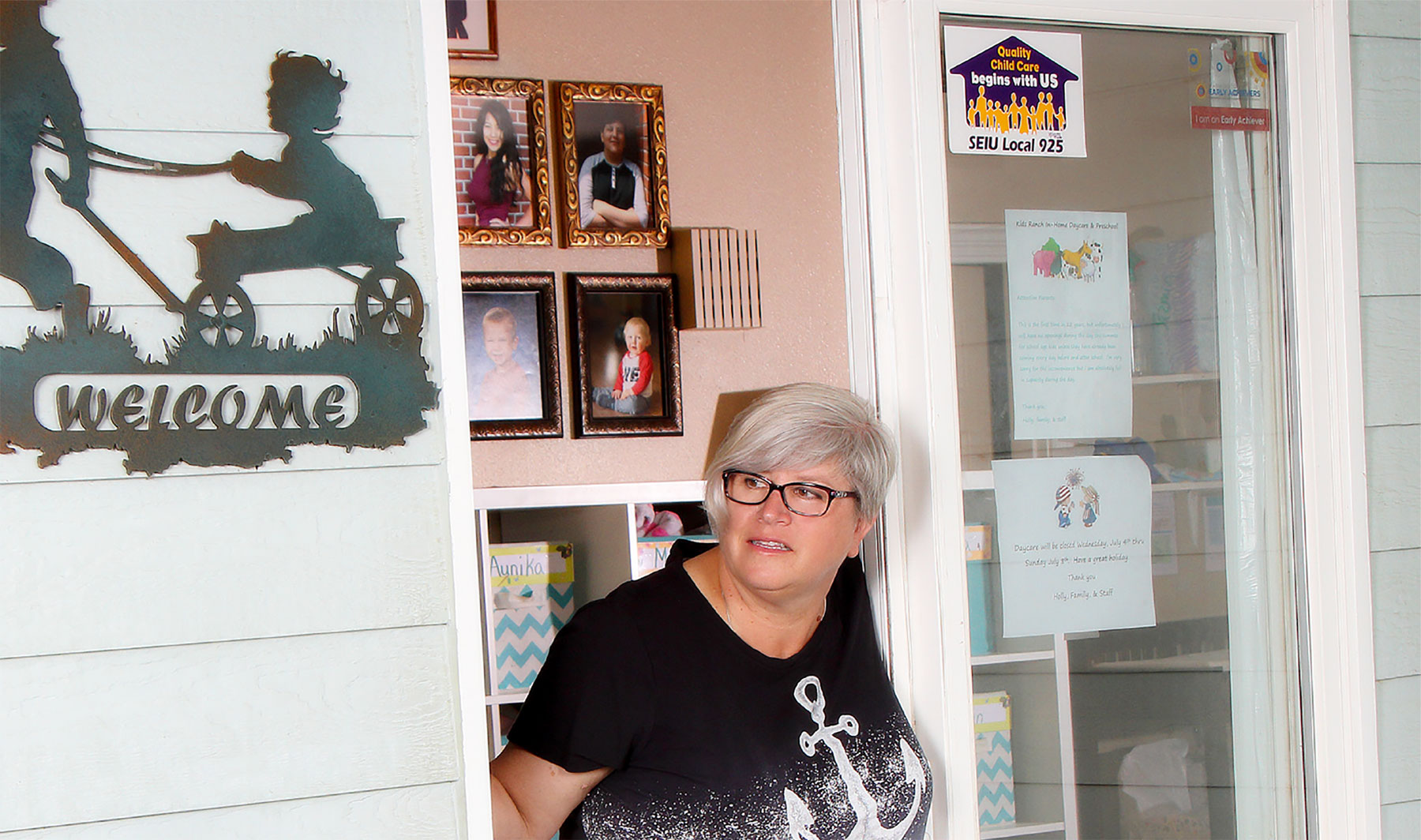 THE STATE POL­I­CY NETWORK
SPN is com­posed of 66 free-mar­ket think tanks across all 50 states. To enact their opt-out cam­paign, the net­work is rely­ing on a mix of tele­vi­sion and radio ads, social media, mail­ers, robo­calls and door knockers.
"This is new," says polit­i­cal econ­o­mist Gor­don Lafer, author of The One Per­cent Solu­tion: How Cor­po­ra­tions Are Remak­ing Amer­i­ca One State at a Time. ​"Until now, the SPN has most­ly been the place that pro­duces so-called experts and pol­i­cy papers in sup­port of the cor­po­rate agen­da. Now, they are play­ing a more active role in the attempt to dev­as­tate unions, through adver­tis­ing and actu­al ground campaigns."
As In These Times report­ed in March, inter­nal SPN doc­u­ments describe a four-part strat­e­gy to ​"defund and defang" the labor movement.
The first part is to con­tin­ue advanc­ing so-called right-to-work laws to starve union bud­gets. For 15 years, SPN has col­lab­o­rat­ed with forces like the Amer­i­can Leg­isla­tive Exchange Com­mit­tee, the Nation­al Right to Work Com­mit­tee and the Koch broth­ers to get six states to pass right-to-work laws, as well as munic­i­pal­i­ties in blue states such as Illi­nois and New Mex­i­co. But the crown­ing suc­cess was Janus. In mid-June, Pres­i­dent Don­ald Trump vowed to get Con­gress to pass a nation­al right-to-work law to cov­er the rest of the pri­vate sector.
The sec­ond part is devel­op­ing its opt-out cam­paigns to erode union mem­ber­ship, pio­neered in Wash­ing­ton state by the SPN-affil­i­at­ed Free­dom Foundation.
The third part is to require unions to recer­ti­fy more often with peri­od­ic votes, as Wisconsin's Act 10 did in 2011. Such man­dates sad­dle unions with reg­u­lar bat­tles for survival.
The fourth is to elim­i­nate the right of unions to exclu­sive­ly rep­re­sent work­ers, allow­ing indi­vid­u­als to opt out of col­lec­tive bar­gain­ing and sign their own con­tracts. This leg­is­la­tion, which SPN has not yet suc­ceed­ed in get­ting a state to pass, splin­ters and weak­ens unions while cre­at­ing an oppor­tu­ni­ty for the employ­er to sow dis­cord. For exam­ple, employ­ers could offer nonunion work­ers a bonus or slight­ly high­er hourly rate to dis­cour­age participation.
"Tak­en indi­vid­u­al­ly, they are each bad," Lafer says. ​"In com­bi­na­tion, this rep­re­sents a con­cert­ed effort to do away with pub­lic-sec­tor unions."
Only a small frac­tion of work­ers in the pri­vate sec­tor — less than 7 per­cent — belong to unions, down from 35 per­cent at their peak in 1954. The pub­lic sec­tor, on the oth­er hand, has enjoyed a Cana­di­an lev­el of union den­si­ty, with one in three work­ers a mem­ber of a union. Accord­ing to the Illi­nois Eco­nom­ic Pol­i­cy Insti­tute, Janus could prompt a drop in pub­lic-sec­tor mem­ber­ship as large as 8 per­cent — a loss of 726,000 mem­bers — in the com­ing years.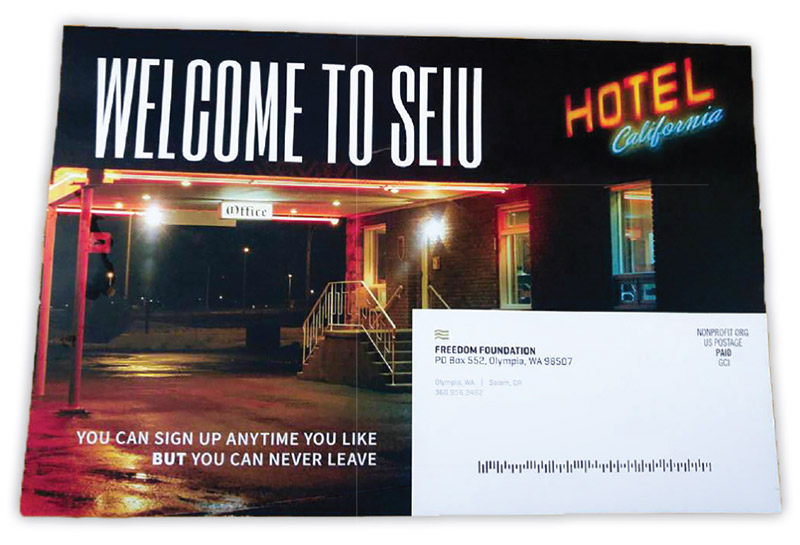 The Wash­ing­ton-based and bil­lion­aire-backed Free­dom Foun­da­tion has tar­get­ed union mem­bers with glossy anti-union flyers.
"OPPOR­TU­NI­TY OF A LIFETIME"
The Free­dom Foun­da­tion calls Janus ​"the oppor­tu­ni­ty of a life­time" to starve unions. It ramped up its opt-out cam­paign with an email dri­ve in May tar­get­ing more than 100,000 pub­lic employ­ees in Ore­gon, Cal­i­for­nia and Alas­ka. Accord­ing to Bloomberg News' Josh Eidel­son, the group also had 80 can­vassers trained and ready to start knock­ing on doors in Cal­i­for­nia, Wash­ing­ton and Ore­gon the day the Janus deci­sion came down. Their goal is to con­vince 127,000 pub­lic employ­ees to opt out of union mem­ber­ship across the three states.
Mean­while, the Mack­inac Cen­ter, an SPN affil­i­ate, pub­licly launched an opt-out hot­line for union mem­bers across the coun­try. The Cal­i­for­nia Pol­i­cy Cen­ter, anoth­er affil­i­ate, sent a fundrais­ing email to 8,000 union social ser­vice work­ers in Los Ange­les Coun­ty with the stat­ed goal of reduc­ing union dues ​"by $300 mil­lion in the next three years." The Penn­syl­va­nia-based Amer­i­cans for Fair Treat­ment — an orga­ni­za­tion formed in 2014 whose four board mem­bers are SPN-affil­i­ate employ­ees — recent­ly hired a for­mer teacher and anti-union activist to lead an opt-out cam­paign tar­get­ing the state's 330,000 pub­lic employ­ees. SPN spokesper­son Car­rie Conko con­firmed to the Wall Street Jour­nal that the net­work is pro­vid­ing sup­port to opt-out cam­paigns in Illi­nois, Michi­gan, Ohio and Pennsylvania.
All of these orga­ni­za­tions are direct­ly or indi­rect­ly fund­ed by one of the largest right-wing grant-mak­ing insti­tu­tions in the coun­try, the Bradley Foun­da­tion, with $835 mil­lion in assets. Inter­nal Bradley Foun­da­tion doc­u­ments from 2015 praise the Free­dom Foundation's aggres­sive attacks on unions as ​"a nation­al mod­el." Sim­i­lar doc­u­ments show the Bradley Foun­da­tion con­sid­ered fund­ing for SPN affil­i­ates such as the Empire Cen­ter for Pub­lic Pol­i­cy in New York, on the basis of their hav­ing ​"the stom­ach" to fol­low the Free­dom Foundation's exam­ple. In May, the Empire Cen­ter mailed New York state pub­lic employ­ers warn­ing them to ​"imme­di­ate­ly stop with­hold­ing funds from non­mem­bers' pay­checks" after Janus.
OPT-OUT CAM­PAIGNS
Opt-out cam­paigns hinge on accu­rate lists of gov­ern­ment employ­ees' con­tact infor­ma­tion. SEIU 925 pres­i­dent Karen Hart was dis­mayed when the Free­dom Foun­da­tion began con­tact­ing her mem­bers in 2014.
"We were caught total­ly off guard," she says. ​"We had no idea they had obtained a list."
These lists are often obtained through pub­lic records requests. In one fundrais­ing let­ter, the Free­dom Foun­da­tion described obtain­ing the con­tact infor­ma­tion of 300,000 pub­lic employ­ees in Wash­ing­ton using open records requests as being ​"like a prospec­tor locat­ing a vein of gold." The Free­dom Foun­da­tion claims that its mul­ti­year cam­paign cost SEIU 925 two-thirds of its mem­bers. The union con­firms this loss rate but attrib­ut­es it to a high-attri­tion work­force, not the opt-out campaign.
In These Times has iden­ti­fied at least 26 pub­lic records requests for the per­son­al infor­ma­tion of pub­lic-sec­tor work­ers filed under state open records laws since Sep­tem­ber 2017, when the Supreme Court agreed to hear Janus. The requests tar­get union teach­ers and oth­er pub­lic employ­ees in sev­en states that would be affect­ed by Janus: Cal­i­for­nia, Con­necti­cut, Illi­nois, Mis­souri, New Jer­sey, Ore­gon and Washington.
Among their tar­gets were Port­land, Ore., city work­ers, rep­re­sent­ed by LIU­NA Local 483, and the Con­necti­cut Depart­ment of Trans­porta­tion, rep­re­sent­ed by AFSCME and oth­er unions. Three requests were filed by orga­ni­za­tions with SPN ties: the Free­dom Foun­da­tion and the Illi­nois Pol­i­cy Insti­tute-affil­i­at­ed Prairie State Wire.
The remain­ing 23 requests, most­ly for teach­ers' infor­ma­tion, were filed by two shad­owy orga­ni­za­tions — the Par­ents Foun­da­tion and Data Research Part­ners — using address­es in Austin, Texas, and Las Vegas. Nei­ther has a func­tion­ing web­site or is reg­is­tered with any state. In These Times was unable to find indi­vid­u­als cor­re­spond­ing to the names on the fil­ing forms. Their motives are unclear, but giv­en the big mon­ey behind the opt-out cam­paigns, pub­lic employ­ees' per­son­al con­tact infor­ma­tion may soon become a lucra­tive market.
Whether or not the gov­ern­ment is oblig­at­ed to release the per­son­al home address of a high school librar­i­an or a home health­care work­er is a murky legal area. ​"There is not a clear delin­eation of when infor­ma­tion goes from pub­lic to pri­vate," says JPat Brown, exec­u­tive edi­tor at Muck­Rock, an inves­tiga­tive news orga­ni­za­tion that spe­cial­izes in open records requests. ​"It isn't always deter­mined by state law, but by the par­tic­u­lar FOIA officer."
Block­ing SPN affil­i­ates from obtain­ing pri­vate con­tact infor­ma­tion is one way unions can nip opt-out cam­paigns in the bud — and sev­er­al unions are pur­su­ing state leg­is­la­tion to do just that.
After los­ing a court chal­lenge to block the Free­dom Foun­da­tion from receiv­ing a con­tact list of its mem­bers, SEIU 925 teamed up with health­care local SEIU 775 to pass a statewide ini­tia­tive exempt­ing the per­son­al infor­ma­tion of child-care and home health­care work­ers from Washington's open records law. Unions in Cal­i­for­nia and New Jer­sey have sim­i­lar­ly worked with Democ­rats to pass laws exempt­ing the per­son­al infor­ma­tion of gov­ern­ment employ­ees from open records requests. The New Jer­sey law also frus­trates opt-out cam­paigns by only allow­ing work­ers to opt out dur­ing the 10 days fol­low­ing the anniver­sary of their hire date.
Oth­er blue states, such as Hawaii, Mass­a­chu­setts and Wash­ing­ton, are con­sid­er­ing or have already passed sim­i­lar pro-union laws.
"It's crit­i­cal­ly impor­tant to inoc­u­late mem­bers against these orga­ni­za­tions," says SEIU 925's Karen Hart. ​"We made the mis­take of talk­ing about how great the union is and not talk­ing about the Free­dom Foun­da­tion, so folks got this infor­ma­tion and didn't under­stand who it was com­ing from."
SEIU 32BJ in Penn­syl­va­nia, after learn­ing of open records requests for the con­tact infor­ma­tion of school employ­ees, began hav­ing con­ver­sa­tions with mem­bers about the Com­mon­wealth Foun­da­tion, the state's SPN affil­i­ate, which shares staff with Amer­i­cans for Fair Treat­ment. The union is hand­ing out ​"Union House­hold — No Solic­it­ing" win­dow clings for front doors.
In many states, pub­lic-sec­tor unions have pre­empt­ed opt-out cam­paigns with ​"all in" cam­paigns, ask­ing mem­bers to sign ​"recom­mit" cards con­firm­ing their union mem­ber­ship. The Amer­i­can Fed­er­a­tion of Teach­ers says that by the time of the Janus rul­ing, it had secured 530,000 recom­mit cards from its esti­mat­ed 800,000 mem­bers nation­wide who would be affect­ed. Some locals, like the Unit­ed Teach­ers of Los Ange­les (UTLA), have used these cam­paigns as oppor­tu­ni­ties to deep­en mem­ber engage­ment. To date, the union has had one-on-one con­ver­sa­tions and col­lect­ed cards from almost 25,000 members.
"We are mak­ing the case to our mem­bers that our all in cam­paign and our con­tract cam­paign are inex­tri­ca­bly linked," says Jeff Good, UTLA exec­u­tive direc­tor. ​"If you want good con­tracts with good work­ing con­di­tions, then you need a strong union, and we can't have a strong union if peo­ple are choos­ing to sit out. So we are fight­ing for a good con­tract for com­mu­ni­ty schools and build­ing a fight­ing union that can win."
Home day care provider Hol­ly Lind­sey of Longview, Wash., says she receives vis­its, calls and mail from cam­paign­ers affil­i­at­ed with the right-wing State Pol­i­cy Net­work, all urg­ing her to quit her union. (Pho­to by C's Photography)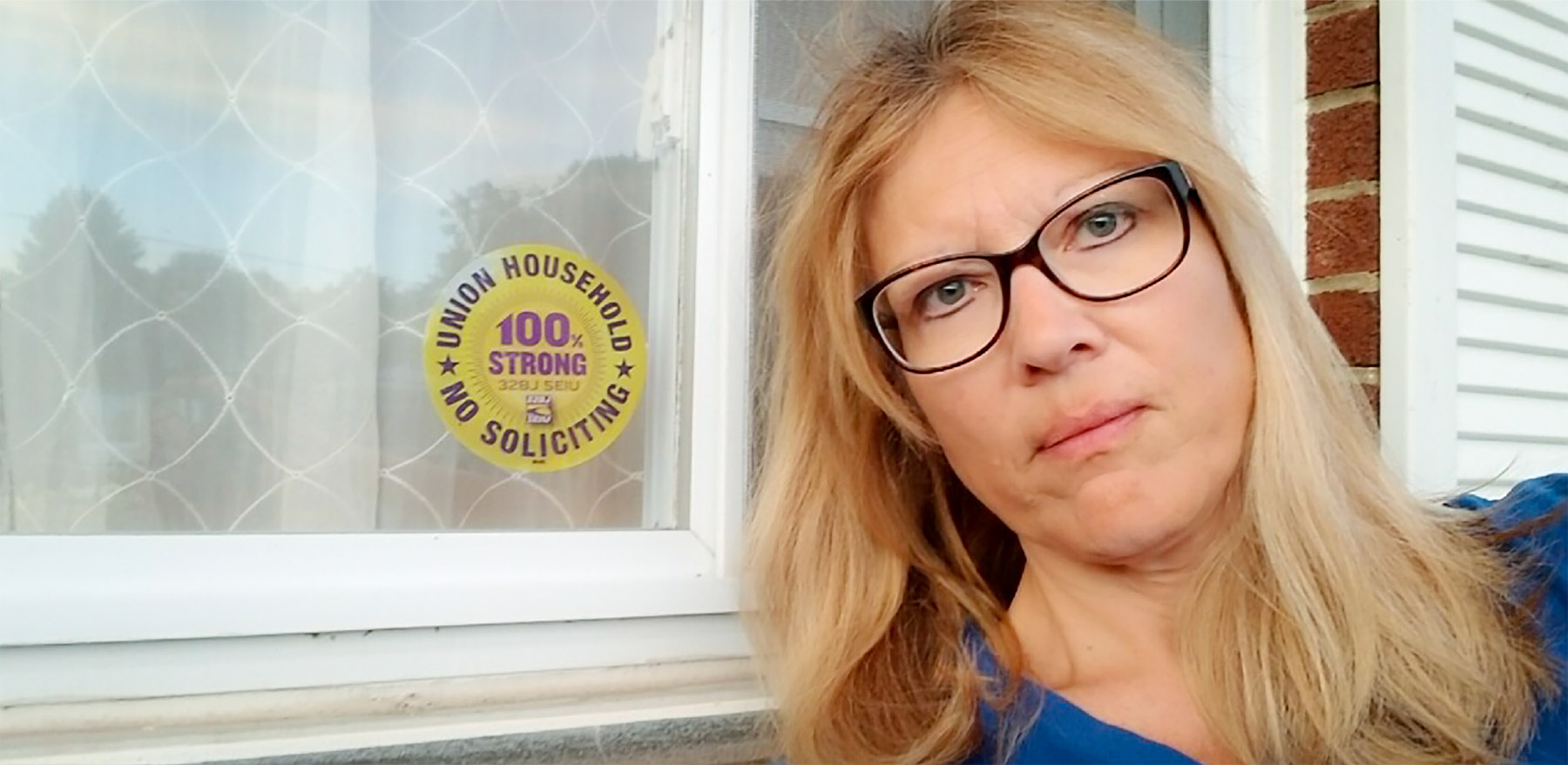 THE WIS­CON­SIN MODEL
The cor­po­rate Right has mul­ti­ple rea­sons for dis­lik­ing labor, but cer­tain­ly one is the role of unions as a major source of fund­ing for pro­gres­sive caus­es and for Democ­rats. As the Free­dom Foun­da­tion wrote in an Octo­ber 2017 let­ter to donors about the poten­tial of post-Janus opt-out cam­paigns, ​"Imag­ine tens, even hun­dreds, of mil­lions of dol­lars cur­rent­ly used to push dam­ag­ing left-wing caus­es and can­di­dates vanishing."
"Big Gov­ern­ment unions are the biggest sources of fund­ing and polit­i­cal mus­cle for the Left," wrote SPN pres­i­dent Tra­cie Sharp in a 2016 fundrais­ing let­ter. ​"Which is why, to win the bat­tle for free­dom, we must take the fight to the unions, state by state, with key reforms."
Two of the states with opt-out cam­paigns under way are tra­di­tion­al union bas­tions where the Right is mak­ing inroads. In Illi­nois, Repub­li­can mul­ti­mil­lion­aire Gov. Bruce Rauner's anti-union agen­da has been stymied by Demo­c­ra­t­ic majori­ties in the state leg­is­la­ture. In Penn­syl­va­nia, where con­ser­v­a­tive Repub­li­cans now dom­i­nate the state leg­is­la­ture, their leg­isla­tive goals could be blocked by Demo­c­ra­t­ic Gov. Tom Wolf.
But if SPN and its allies secure Repub­li­can dom­i­na­tion of more state gov­ern­ments, they will be able to imple­ment part three of the game plan: pass­ing laws requir­ing union recer­ti­fi­ca­tion elections.
In Wis­con­sin, for exam­ple, the Repub­li­can-con­trolled leg­is­la­ture in 2011 passed Gov. Scott Walker's union-bust­ing behe­moth, Act 10. Much of the report­ing on Act 10 called it a right-to-work bill, but it also made col­lect­ing union dues more dif­fi­cult, dra­mat­i­cal­ly lim­it­ed the scope of col­lec­tive bar­gain­ing, and cre­at­ed a recer­ti­fi­ca­tion require­ment: Each year, Wis­con­sin unions must now hold an elec­tion and con­vince more than 50 per­cent of the bar­gain­ing unit to vote for rep­re­sen­ta­tion. Under this sys­tem, any­one who doesn't vote is effec­tive­ly vot­ing against the union. Sim­ply get­ting enough mem­bers to par­tic­i­pate in a vote to main­tain the sta­tus quo became one of the biggest challenges.
SPN affil­i­ates couldn't be hap­pi­er with the results. ​"In 2010, our Net­work unit­ed our intel­lec­tu­al resources, win­ning mes­sag­ing and moral sup­port behind Gov­er­nor Scott Walker's hero­ic efforts to bring his­toric gov­ern­ment union col­lec­tive bar­gain­ing and pen­sion reform to Wis­con­sin," Sharp wrote in the same let­ter. ​"Most Wis­con­sin pub­lic employ­ee unions have lost between 30 per­cent and 60 per­cent of their mem­bers in the two years since Act 10 went into effect. And this decline has in turn cost orga­nized labor tens of mil­lions of dol­lars. Imag­ine the impact this will have when we achieve even more gov­ern­ment union reforms across the nation this year!"
Indeed, Wis­con­sin AFSCME — which once rep­re­sent­ed almost every state, coun­ty and city employ­ee across the state, close to 63,000 gov­ern­ment work­ers — has now lost 90 per­cent of its membership.
"It dec­i­mat­ed our abil­i­ty to rep­re­sent local and state gov­ern­ment employ­ees," says Neil Rain­ford, a Wis­con­sin AFSCME staff mem­ber for 18 years. Union spokesper­son Michael Horec­ki says that the loss­es were espe­cial­ly bad in rur­al areas, where ​"many coun­ties have few, if any, remain­ing union members."
After Act 10, Wis­con­sin AFSCME let its locals choose whether to keep fight­ing for recer­ti­fi­ca­tion, and many stopped seek­ing offi­cial recog­ni­tion by the state as the exclu­sive rep­re­sen­ta­tive of gov­ern­ment employ­ees. Instead, they decid­ed to fight for work­ers out­side the offi­cial sys­tem of col­lec­tive bargaining.
"We've devel­oped this mod­el we call the asso­ci­a­tion mod­el," says Rain­ford. ​"It relies on pol­i­tics and elect­ing peo­ple at the local lev­el, and then we nego­ti­ate the terms and con­di­tions of employ­ment annu­al­ly through a meet and con­fer process. We have been able to place lan­guage from our pre­vi­ous con­tracts into the employ­ee hand­book. We don't have dues, we have fees, which are tak­en out of mem­ber pay­checks by local gov­ern­ment. Since we oper­ate out­side the state sys­tem, none of it requires any over­sight or involve­ment from the state."
Accord­ing to many in the Wis­con­sin labor move­ment, the shift in AFSCME's approach was born of neces­si­ty. Decades of busi­ness-as-usu­al union­ism had turned Wis­con­sin pub­lic-sec­tor unions into high­ly legal­is­tic orga­ni­za­tions inca­pable of respond­ing to the cri­sis. ​"The cul­ture that peo­ple have known his­tor­i­cal­ly is the busi­ness mod­el: pro­fes­sion­al staff tak­ing care of prob­lems, meet­ing the needs of mem­bers and doing the orga­niz­ing," says for­mer Wis­con­sin AFSCME orga­niz­er Edward Sad­lows­ki. ​"The fun­da­men­tals of orga­niz­ing — map­ping out the work­site, iden­ti­fy­ing lead­ers, build­ing rela­tion­ships on the shop floor, that kind of thing — were com­plete­ly miss­ing from most unions' cul­ture. With­out a vision and no plan to move for­ward, union den­si­ty plum­met­ed. For too many work­ing peo­ple, the union has no relevance."
There is hope amidst the wreck­age. In Mil­wau­kee, sev­en out of every 10 teach­ers are mem­bers of the Mil­wau­kee Teach­ers' Edu­ca­tion Asso­ci­a­tion (MTEA), which has won its recer­ti­fi­ca­tion elec­tions each year. ​"Most regions are los­ing mem­bers every sin­gle month, and every sin­gle month our union is hold­ing steady or putting num­bers up on the board," says MTEA vice pres­i­dent Amy Mizialko.
After the Mil­wau­kee school dis­trict pro­posed a 2019 bud­get that cut class­room spend­ing by 5 per­cent per stu­dent, MTEA launched an aggres­sive cam­paign to restore fund­ing. At ral­lies, MTEA mem­bers often chant­ed, ​"If we don't get it, shut it down." The threat was not idle. The union spent months orga­niz­ing esca­lat­ing actions, from town halls to walk-ins, at which teach­ers ral­lied out­side schools to greet par­ents and stu­dents with signs and information.
At one rau­cous school board meet­ing, union mem­bers shout­ed down the board with chants while the union pres­i­dent deliv­ered 3,000 peti­tion sig­na­tures oppos­ing the cuts. At anoth­er, more than 3,000 MTEA mem­bers and sup­port­ers pick­et­ed out­side the cen­tral office, then marched into the board­room behind a drum­line. The union asked mem­bers to sign a pledge ​"to do what it takes" to stop the bud­get cuts, sig­nal­ing their intent with­out using the word ​"strike." In May, the super­in­ten­dent announced that the dis­trict was restor­ing the fund­ing by chop­ping from the top and mak­ing cuts to dis­trict man­age­ment instead.
That same spir­it is evi­dent in Iowa, where, in 2016, Repub­li­cans scored a tri­fec­ta and seized the gov­er­nor­ship and both cham­bers of the state gov­ern­ment. The new leg­is­la­ture passed its own vari­a­tion of Act 10. The law cur­tailed col­lec­tive bar­gain­ing, capped wage increas­es unions could nego­ti­ate at the rate of infla­tion, out­lawed the deduc­tion of union dues from pay­checks, and required a major­i­ty of all eli­gi­ble vot­ers — even those who are not union mem­bers, since Iowa is right-to-work — to vote to recer­ti­fy the union dur­ing an annu­al two-week election.
Even though the law was large­ly the same as in Wis­con­sin, the result was very dif­fer­ent: 99 per­cent of unions recertified.
"It real­ly back­fired on them," says Anke­ny High School his­to­ry teacher Nick Cov­ing­ton. In Covington's local, the Anke­ny Edu­ca­tion Asso­ci­a­tion, stew­ards and activists had per­son­al con­ver­sa­tions with every­one in the bar­gain­ing unit — regard­less of whether they were a mem­ber. ​"We had a col­or-coor­di­nat­ed sys­tem for fol­low­ing up with peo­ple who were on the fence. We were con­stant­ly com­mu­ni­cat­ing," Cov­ing­ton says.
The Iowa activists had a sim­ple mes­sage: Being a union mem­ber is an act of resis­tance to the state leg­is­la­ture that tried to take their bar­gain­ing rights. It worked.
Teach­ers in Flori­da shared a sim­i­lar mes­sage in response to a new law requir­ing unions to annu­al­ly prove they have 50 per­cent mem­ber­ship. Those that do not must orga­nize a recer­ti­fi­ca­tion election.
Flori­da teach­ers unions are tap­ping into rage over the fact that elect­ed offi­cials are mak­ing anti-union leg­is­la­tion a top pri­or­i­ty in the weeks fol­low­ing the trag­ic school shoot­ing in Park­land. ​"All three of the edu­ca­tors shot down were union mem­bers," says Broward Teach­ers Union pres­i­dent Anna Fus­co. ​"This leg­is­la­tion just proves that these leg­is­la­tors have no respect or val­ue for edu­ca­tors. Their only con­cern is strip­ping down and pri­va­tiz­ing our schools."
A PETRI DISH FOR THE NATION
Writ­ing in 2017, anti-tax cru­sad­er and con­ser­v­a­tive strate­gist Grover Norquist, head of the SPN affil­i­ate Amer­i­cans for Tax Reform, argued that Wis­con­sin should be a mod­el for all Repub­li­can leg­is­la­tures. He sees union-bust­ing as a way to erode a Demo­c­ra­t­ic fundrais­ing, door-knock­ing and vot­ing base. ​"If Act 10 is enact­ed in a dozen more states," he said, ​"the mod­ern Demo­c­ra­t­ic Par­ty will cease to be a com­pet­i­tive pow­er in Amer­i­can politics."
On this point, Norquist has wide agree­ment from labor activists.
"Wis­con­sin is the petri dish for the rest of the coun­try," says Dave Pok­linkos­ki, pres­i­dent of IBEW 2304 in Madi­son. ​"This was an exper­i­ment. Bil­lion­aires and cor­po­ra­tions are try­ing to fig­ure out how they can main­tain their rule. Spread­ing Act 10 on a nation­al scale is their plan to do it."
"The cur­rent onslaught against labor unions is the largest, the best fund­ed and the most elab­o­rate­ly coor­di­nat­ed in U.S. his­to­ry," says Sarah Lawrence Col­lege his­to­ri­an Priscil­la Muro­lo. ​"All unions are in the crosshairs."
Is there hope for labor beyond mere­ly surviving?
As the recent teacher upris­ing sweep­ing the nation has shown, work­ers are not apa­thet­ic. Pushed far enough, and when they see a way, they are will­ing to fight.
The chal­lenge fac­ing many pub­lic-employ­ee unions, after decades of demo­bi­liza­tion, is to learn how to break away from busi­ness-as-usu­al union­ism and enlist their mem­bers and the com­mu­ni­ty to resist. And they will have to do this with few­er staff and resources than before.
The unions that are build­ing a fight­ing cul­ture are the ones most like­ly to fare well in a right-to-work envi­ron­ment and to beat back leg­isla­tive attacks. Accord­ing to the MTEA's Mizialko, the best for­ti­fi­ca­tion is a strong, mem­ber-run union that is con­stant­ly in action, build­ing allies in the com­mu­ni­ty and pow­er in the work­place. ​"No one decides our fate but us," she says.

Chris Brooks
is a staff writer and labor edu­ca­tor at
Labor Notes,
where he cov­ers the Unit­ed Auto Work­ers. He is a mem­ber of the Nation­al Writ­ers Union (UAW Local
1981
).