How Muslim Activists Are Organizing Against Islamophobia in the Face of President Trump
Communities brace for more aggressive policies, and prepare to fight back.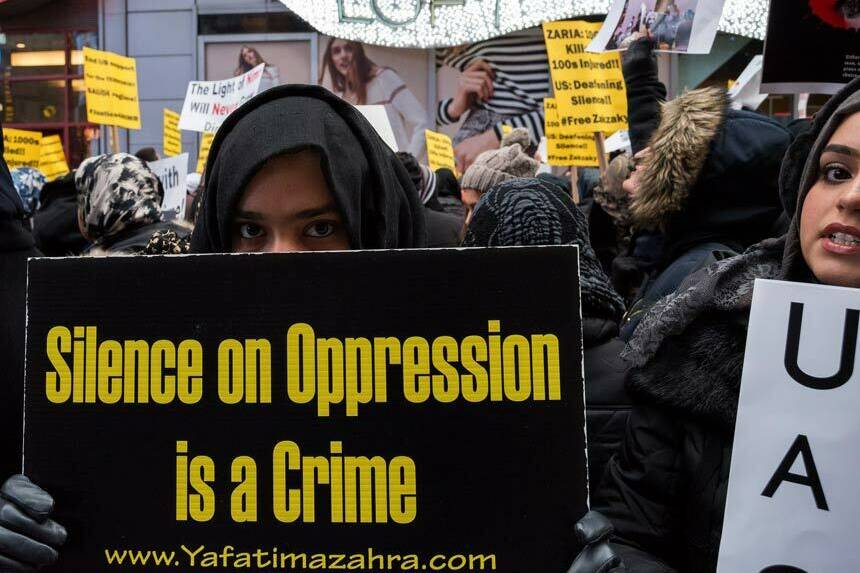 The candidate who unapologetically called for the registration, ​"extreme vetting" and outright banning of Muslims has been elected president. If one were to make a roster of anti-Muslim and anti-immigrant all-stars, it would look a lot like Donald Trump's appointees and inner circle: Kris Kobach, Jeff Sessions, Michael Flynn, Frank Gaffney, Katie Gorka, Rudy Giuliani, Walid Phares.
"We know from U.S. history that lots of unimaginable things happen when people like Trump take power and when people are afraid," says Zahra Billoo, executive director of the San Francisco Bay Area chapter of the Council on American Islamic Relations (CAIR). ​"One of the most frustrating things is that there is a long list of things that are unknown. Will he follow through with his threats?"
In the haze of Trump's bombast, activists like Billoo are quick to remind us that the United States expanded the ​"War on Terror" under the leadership of President Obama and former Secretary of State Hillary Clinton. The Obama administration increased its drone strikes and targeted killings abroad and turned its surveillance tactics on Muslims at home.
The Obama administration also launched local ​"countering violent extremism" (CVE) programs that train teachers, religious leaders, parents and teens to become extensions of law enforcement by identifying young people they think might commit terrorist acts. Beneath the buzzwords of community ​"resilience" and development, the programs are based on debunked and discredited radicalization theories that leave the door wide open for profiling Arab and Muslim youth.
The ACLU and a host of Arab and Muslim activist organizations have called for an end to CVE programs. As for the use of lethal drone strikes, Amnesty International claims the program violates human rights and has called for reforms. Trump's ascension makes these demands more urgent.
In this sense, Trump's election does not necessarily change the strategy of Muslim activists, but it definitely speeds things up and raises frightening possibilities. Advocates are already working to head him off at the pass.
For example, Queens-based Desis Rising Up & Moving – South Asian Organizing Center (DRUM) has gathered more than 120,000 signatures on a MoveOn​.org petition calling on President Obama to dismantle a Bush-era registry program known as the National Security Entry-Exit Registration System, or NSEERS. NSEERS was effectively a ​"Muslim registry": It registered immigrants from 25 countries, of which 24 are majority-Muslim. According to DRUM, more than 83,000 Muslim immigrant men and boys were registered and more than 13,000 were entered into deportation proceedings. None were ever connected to any violent activity.
The program was halted, but the framework still exists; the Trump administration could immediately revive it. Trump adviser Kris Kobach, who helped create NSEERS, has already outlined plans to update and reintroduce it. ​"We need everyone to pour their energy into making sure President Obama shuts this program down once and for all so that it does not end up in the hands of Donald Trump," wrote DRUM in a statement.
Activists are also bracing for more aggressive anti-Muslim politicking by state and local lawmakers emboldened by Trump. In Tennessee, conservative politicians have already tried to ban Muslim religious practices, block new mosque construction, seize mosques' assets and whitewash school curricula by removing references to Islam in social studies units, citing fear of ​"indoctrination."
Muslim activist Paul Galloway, executive director of the American Center for Outreach, says advocates have been able to ​"hold the line in the face of overt bigotry," in part through behind-the-scenes work, but he says the assault likely to come will require more visible and dogged participation by Muslims.
Billoo and Galloway say Muslims don't have to — and shouldn't — go it alone. They both point to shared struggles with people who are Black, Latino, Native American, undocumented and LGBTQ. Building awareness of these identities within the Muslim community, as well as strengthening relationships with advocacy groups outside it, can lead to the meaningful solidarity needed to challenge the Trump administration.
"If you think of this big group that white supremacy targets, we are not that small," says Namira Islam, executive director of the Muslim Anti-Racism Collaborative. ​"If you come after one of us, you're going to have to come after all of us."
Kalia Abiade
is program director at the Pillars Fund, a social investment fund to create and expand opportunities for U.S. Muslims.