How the Left Is Using Tea Party Tactics To Take On Both the GOP and the Democratic Establishment
Organizers are plotting a populist one-two punch.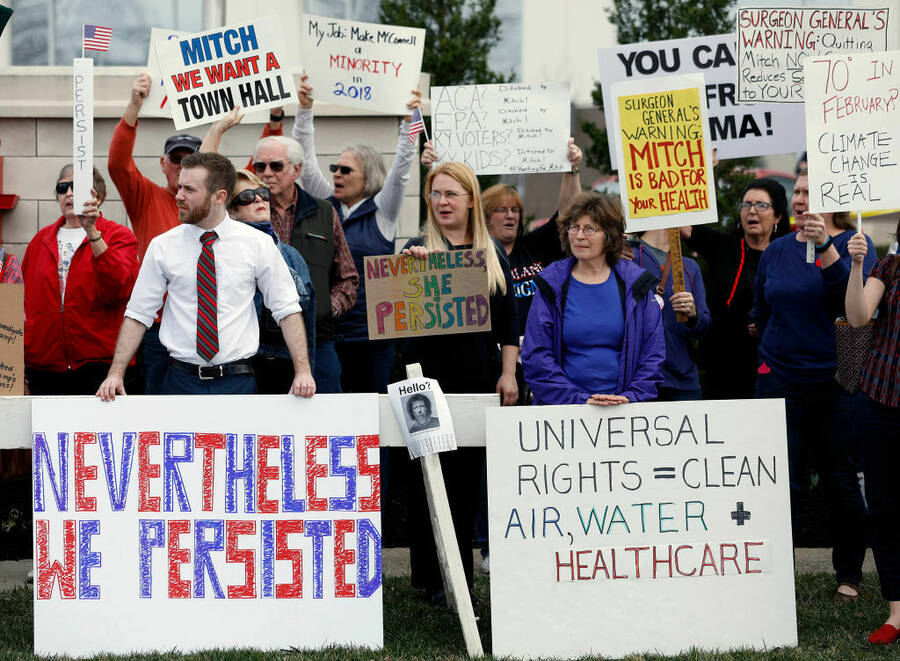 If rumors about pro­test­ers being paid turn out to be true, this coun­try might be clos­er to full employ­ment than the most recent jobs report claims. Kick­ing off with the Women's March, the day after Pres­i­dent Don­ald Trump's inau­gu­ra­tion, vot­ers have been mobi­liz­ing against the GOP's agen­da, pres­sur­ing Repub­li­cans and Democ­rats alike to reject it. Increas­ing­ly, activists are also look­ing to put the rep­re­sen­ta­tives who do col­lab­o­rate out of a job.
"How are we building beyond 2017 and 2018, and starting to ask questions about 2020 and beyond?"
Dur­ing the Oscars, 30,000 peo­ple hopped on a phone call host­ed by orga­niz­ers from the Wom­en's March, MoveOn​.org, the Cen­ter for Pop­u­lar Democ­ra­cy, the Work­ing Fam­i­lies Par­ty and Peo­ple's Action, all look­ing for ways to get or stay involved with anti-Trump resis­tance efforts. Indi­vis­i­ble, pro­filed here last month, has now swelled to more than 5,800 reg­is­tered groups. Near­ly 2 mil­lion peo­ple have down­loaded its orga­niz­ing guide.
When Con­gres­sion­al rep­re­sen­ta­tives head­ed home for recess, many of those same con­stituents flocked to in-dis­trict events. In some cas­es, they demand­ed their rep­re­sen­ta­tives hold them in the first place. #Resis­tanceRe­cess, orga­nized by many of the groups that host­ed the Oscars night call, brought activists out to around 1,000 events around the coun­try. As part of the week of action, Paul Ryan's Wis­con­sin con­stituents sent him more than 80,000 post­cards demand­ing he stand up to Trump. In rur­al Iowa Falls, Sen. Chuck Grass­ley, a Repub­li­can, faced scores of anti-Trump pro­test­ers, many voic­ing con­cerns over the repeal of the Afford­able Care Act (ACA). Vot­ers in the Detroit sub­urbs brought a live chick­en to a town hall meet­ing as a stand-in for no-show Rep. Dave Trott, also a Repub­li­can, after around a dozen peo­ple were turned away from his office ear­li­er in the week.
Autumn Zemke, co-chair of the Car­son City Chap­ter of the Work­ing Fam­i­lies Par­ty, helped turn 150 Nevadans out to line the side­walks around a din­ner Sen. Dean Heller attend­ed with the Cham­ber of Com­merce there. Some par­tic­i­pants entered the venue itself.
"I have a feel­ing that some of those peo­ple in the room were pre­vi­ous­ly his base," Zemke told In These Times, ​"who are com­ing to some real­iza­tion after Trump that this [admin­is­tra­tion] is going to hurt them."
In Neva­da, Zemke says some of vot­ers' main con­cerns are the threat Trump pos­es to the ACA, along with his embrace of men like ​"fore­clo­sure king"-turned Trea­sury Sec­re­tary Steven Mnuchin. The state has faced an uphill road to recov­ery after the hous­ing crash, which dec­i­mat­ed home val­ues in Las Vegas. Resist­ing Cab­i­net picks like Edu­ca­tion Sec­re­tary Bet­sy DeVos, she says, ​"isn't real­ly a par­ty issue. I think that's just a bad choice for Neva­da," ref­er­enc­ing the state's con­sis­tent­ly low-rank­ing in its qual­i­ty of education.
While she grew up in north­ern Neva­da, Zemke lived for sev­er­al years in Seat­tle before mov­ing back with her hus­band and young daugh­ter in 2008. They quick­ly lost $50,000 off the val­ue of their home. Last year, Zemke told me that she and her hus­band con­sid­ered mov­ing back to the Pacif­ic North­west, and ​"were seri­ous­ly think­ing that Neva­da was not the right place, espe­cial­ly not rur­al Neva­da. We live in a very con­ser­v­a­tive town."
Then she start­ed vol­un­teer­ing with Bernie Sanders' pri­ma­ry cam­paign, hav­ing nev­er done polit­i­cal work before. ​"I real­ized that Car­son City is actu­al­ly very pro­gres­sive. It's just that we didn't know each oth­er. After Bernie, peo­ple were reach­ing out to me," Zemke says. The ener­gy post-Bernie seems to have kept up, inject­ed with a new dose of vig­or post-elec­tion. A satel­lite Women's March in near­by Reno drew an esti­mat­ed 10,000 peo­ple.
"I always kind of thought there were oth­er peo­ple doing this," Zemke says. ​"I thought there were oth­er peo­ple who were more equipped. And then vol­un­teer­ing for Bernie I real­ized that that's not true." Now, active with the state's Work­ing Fam­i­lies Par­ty, she is firm­ly plant­ed in Neva­da and mulling a run for state legislature.
"I'll nev­er go back to not being involved … We're mak­ing the place we want to Iive rather than going to a place that's real­ly pro­gres­sive. They don't need us. Neva­da needs us," Zemke said.
From protest to politics
Analil­ia Mejia, direc­tor of New Jer­sey Work­ing Fam­i­lies, is see­ing a sim­i­lar trend play out in her state — so much so that she returned ear­ly from mater­ni­ty leave to help chan­nel it. ​"I've talked to folks who, three months ago or three weeks ago, said they had to Google ​'Who is my rep­re­sen­ta­tive?' Now they're par­tic­i­pat­ing in vig­ils every Fri­day in front of their offices," says Mejia. ​"It's a new crop of activists."
Found­ed in 1998, the Work­ing Fam­i­lies Par­ty (WFP) has been run­ning and endors­ing pro­gres­sive can­di­dates for office for years, with­in and out­side the Demo­c­ra­t­ic Par­ty. With a new influx of inter­est in pro­gres­sive pol­i­tics, first from Bernie and now from Trump, the group has become increas­ing­ly involved in mobi­liza­tion efforts in states around the coun­try. At a #Resis­tanceRe­cess event in Rep. Tom MacArthur's dis­trict, hun­dreds of peo­ple showed up to a town hall that Work­ing Fam­i­lies and Indi­vis­i­ble mem­bers had helped orga­nize. MacArthur had been invit­ed, but did not attend.
"I think [MacArthur] needs to know that this many peo­ple are inter­est­ed in what he's doing, whether he calls peo­ple on a town hall and does­n't show up," one attendee told a local news crew. ​"Look at this crowd, it's amazing!"
WFP hopes to fun­nel that kind of pas­sion into the halls of pow­er, and is host­ing reg­u­lar (and increas­ing­ly packed) train­ings for con­stituents to learn how to run for office.
"What we're work­ing on is a plan to reg­is­ter new vot­ers, run vol­un­teer can­vass­es in tar­get dis­tricts, and fig­ure out ways to con­tin­ue to mobi­lize peo­ple. Hope­ful­ly, it will all trans­late to a cou­ple of leg­isla­tive seats," Mejia says. ​"That'll be worth a few lost nights of sleep and a few gray hairs."
It's worked before. In addi­tion to sig­nif­i­cant back­ing from places like Fox News and Amer­i­cans for Pros­per­i­ty, part of the Tea Party's suc­cess relied on a two-pronged approach: accost­ing politi­cians around the clock and gun­ning for the seats of so-called RINOs ("Repub­li­cans In Name Only"). The approach paid off in droves. After the movement's 2009 launch, Tea Par­ty-backed can­di­dates like Mar­co Rubio and Rand Paul cap­tured seats in Con­gress' upper and low­er hous­es. Their suc­cess strength­ened the par­ty as a whole, too, with Repub­li­cans pick­ing up six seats in the Sen­ate and 63 in the House, over which they regained con­trol in 2010. By 2014, long after Tea Par­ty ral­lies had died down, they took back the Sen­ate, as well. Even more stun­ning were Repub­li­can gains at the state lev­el, where they now hold 33 gov­er­nor­ships and total con­trol — of the gov­er­nors' man­sions and leg­is­la­tures — in 25 states. In all, the GOP has dri­ven Democ­rats out of a whop­ping 919 state leg­isla­tive seats since 2009.
#AllO­fUs will replace you
It's that kind of momen­tum that groups like #AllO­fUs are try­ing to repli­cate, with a slight­ly dif­fer­ent strat­e­gy than WFP. Last month, it launched a hybrid PAC. That legal sta­tus means the group can col­lect dona­tions and coor­di­nate direct­ly with can­di­dates. Since launch­ing in Jan­u­ary, its aver­age dona­tions have clocked in at around $30 — just $3 shy of Sanders's oft-cit­ed aver­age per-per­son dona­tion of $27. Under­gird­ing pres­sure on estab­lish­ment Democ­rats since the elec­tion, #AllO­fUs con­tends, has been the pos­si­bil­i­ty that they could face pri­ma­ry challenges.
"We are mak­ing an implic­it threat explic­it," says Claire Sand­berg, a staff mem­ber at #AllO­fUs, and vet­er­an of both Sanders' pri­ma­ry cam­paign and New York's fight against hydraulic nat­ur­al gas fracturing.
Jess Pierce, her col­league at #AllO­fUs, has worked on elec­tions in every cycle since 2006, hav­ing first got­ten involved in pol­i­tics as a stu­dent at the Uni­ver­si­ty of Cal­i­for­nia at San­ta Cruz. She worked for years over­see­ing the NAACP's nation­al train­ing pro­grams and elec­toral work. She served most recent­ly as the Nation­al Chair of the Black Youth Project 100 (BYP100) before join­ing #Allo­fUs' tiny staff.
Out of curios­i­ty, Pierce attend­ed the first Tea Par­ty ral­ly in New York. ​"I'm not going to say it wasn't scary," Pierce says, ​"but what was inter­est­ing about it is that they were able to har­ness the ener­gy and the pas­sion of peo­ple in the moment, and real­ly think about what it means to har­ness the ener­gy of peo­ple who have all this polit­i­cal pas­sion and no polit­i­cal home. That's one of the ques­tions we're try­ing to answer right now."
The peo­ple show­ing up to ral­lies and town hall meet­ings, Sand­berg observes, ​"are con­fused as to why do so many elect­ed lead­ers in our par­ty have the instinct to fold when they should fight," and angry with their Demo­c­ra­t­ic rep­re­sen­ta­tives, espe­cial­ly, for their will­ing­ness to com­pro­mise with Trump's team and agen­da. ​"As an orga­niz­er for over a decade, I have nev­er gone into any sit­u­a­tion ask­ing for a com­pro­mise," Pierce adds.
Cov­er­age of groups like Indi­vis­i­ble has tend­ed to focus on peo­ple who look a lot like the orig­i­nal Tea Party's base — for the most part, mid­dle-aged white peo­ple, many of them hav­ing their first expe­ri­ence in activism. Yet the peo­ple behind #AllO­fUs are almost exclu­sive­ly mil­len­ni­als, most hav­ing cut their teeth in places like the Howard Dean and Sanders cam­paigns, and upris­ings like Occu­py Wall Street and the Move­ment for Black Lives. For Pierce and Sand­berg, it's impor­tant that any ​"Tea Par­ty of the Left" for­ma­tion be thor­ough­ly mul­ti-racial, with ample room for lead­er­ship avail­able to millennials.
Hav­ing also seen the boom and bust cycle of dif­fer­ent cam­paigns and social move­ments, #AllO­fUs sees the PAC, in part, as a way to keep post-inau­gu­ra­tion resis­tance ener­gy up over the long term.
"Peo­ple are com­ing out to town halls," Pierce tells me, ​"but what are they doing next? How are they stay­ing involved? How are we build­ing beyond 2017 and 2018, and start­ing to ask ques­tions about 2020 and beyond?"
It's also, of course, a way to take back state pow­er for pro­gres­sives, and turn the Democ­rats into a par­ty capa­ble of beat­ing Trump's agen­da. Accord­ing­ly, #AllO­fUs endorsed Kei­th Ellison's failed DNC lead­er­ship run, with sev­er­al mem­bers sign­ing off on a state­ment short­ly after the defeat ensur­ing Tom Perez knew that ​"there's still a fight with­in the Demo­c­ra­t­ic Par­ty," and promis­ing to push for ​"a Demo­c­ra­t­ic Par­ty that can actu­al­ly be a vehi­cle for resist­ing Don­ald Trump and solv­ing the crises in our coun­try today."
"The big dan­ger that Democ­rats face," Sand­berg warns, ​"is that an unin­spired base will not both­er show­ing up if they don't see Democ­rats fighting."
"It's a fight for the soul of the par­ty," she adds. ​"Is the par­ty going to choose to join the resis­tance move­ment, or does it want to embrace Trump?"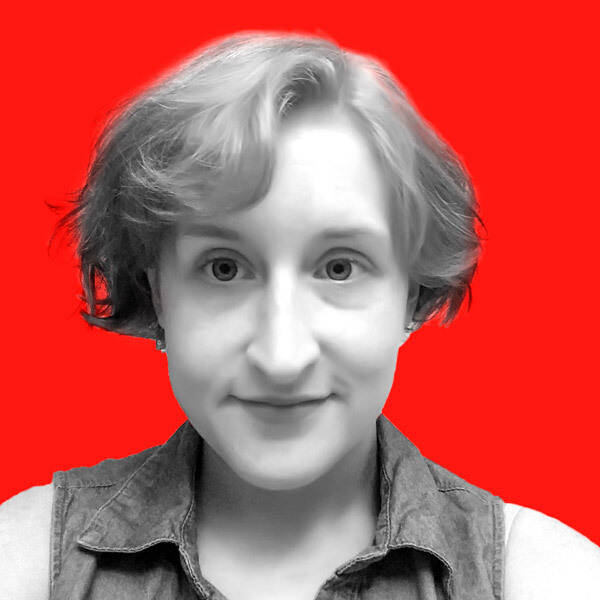 Kate Aronoff
is a Brook­lyn-based jour­nal­ist cov­er­ing cli­mate and U.S. pol­i­tics, and a con­tribut­ing writer at The Inter­cept. Fol­low her on Twit­ter @katearonoff.