How To Sell Off a City
Welcome to Rahm Emanuel's Chicago, the privatized metropolis of the future.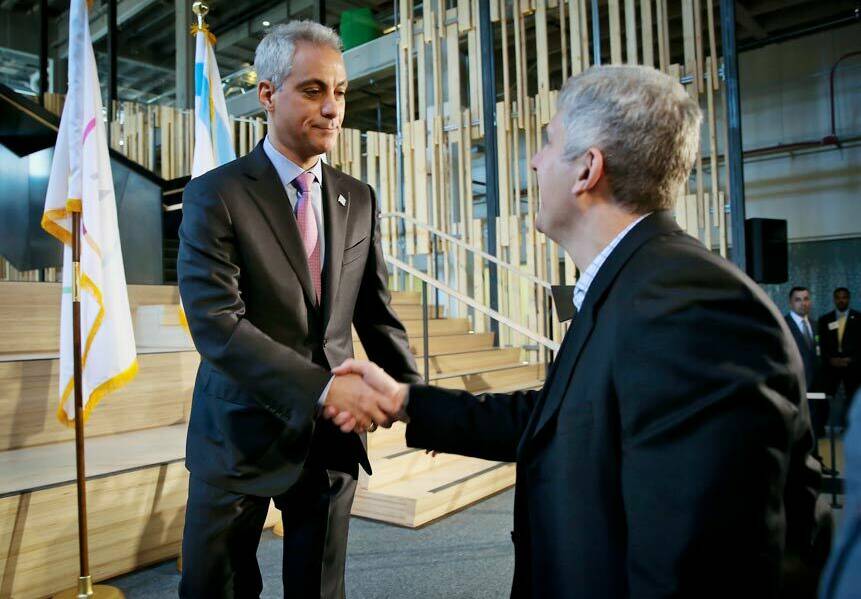 In June of 2013, Chica­go May­or Rahm Emanuel made a new appoint­ment to the city's sev­en-mem­ber school board to replace bil­lion­aire heiress Pen­ny Pritzk­er, who'd decamped to run Pres­i­dent Barack Obama's Depart­ment of Com­merce. The appointee, Deb­o­rah H. Quaz­zo, is a founder of an invest­ment firm called GSV Advi­sors, a busi­ness whose goal — her cofounder has been para­phrased by Reuters as say­ing — is to drum up ven­ture cap­i­tal for ​"an edu­ca­tion rev­o­lu­tion in which pub­lic schools out­source to pri­vate ven­dors such crit­i­cal tasks as teach­ing math, edu­cat­ing dis­abled stu­dents, even writ­ing report cards."
Most privatization deals fail every public policy test. There's little record of successful competition between concessionaires to deliver services more efficiently.
GSV Advi­sors has a sis­ter firm, GSV Cap­i­tal, that holds own­er­ship stakes in edu­ca­tion tech­nol­o­gy com­pa­nies like ​"Knew­ton," which sells soft­ware that replaces the func­tions of flesh-and-blood teach­ers. Since join­ing the school board, Quaz­zo has invest­ed her own mon­ey in com­pa­nies that sell cur­ric­u­lar mate­ri­als to pub­lic schools in 11 states on a sub­scrip­tion basis.
In oth­er words, a key deci­sion-mak­er for Chicago's pub­lic schools makes mon­ey when school boards decide to sell off the func­tions of pub­lic schools.
She's not alone. For over a decade now, Chica­go has been the epi­cen­ter of the fash­ion­able trend of ​"pri­va­ti­za­tion" — the trans­fer of the own­er­ship or oper­a­tion of resources that belong to all of us, like schools, roads and gov­ern­ment ser­vices, to com­pa­nies that use them to turn a prof­it. Chicago's pri­va­ti­za­tion mania began dur­ing May­or Richard M. Daley's admin­is­tra­tion, which ran from 1989 to 2011. Under his suc­ces­sor, Rahm Emanuel, the trend has con­tin­ued apace. For Rahm's invest­ment banker bud­dies, the trend has been a boon. For cit­i­zens? Not so much.
They say that the first per­son in any polit­i­cal argu­ment who stoops to invok­ing Nazi Ger­many auto­mat­i­cal­ly los­es. But you can look it up: Accord­ing to a 2006 arti­cle in the Jour­nal of Eco­nom­ic Per­spec­tives, the Eng­lish word ​"pri­va­ti­za­tion" derives from a coinage, Repri­vatisierung, for­mu­lat­ed in the 1930s to describe the Third Reich's pol­i­cy of win­ning businessmen's loy­al­ty by hand­ing over state prop­er­ty to them. In the Amer­i­can con­text, the idea also began on the Right (to be fair, entire­ly inde­pen­dent of the Nazis) — and prompt­ly went nowhere for decades. In 1963, when Repub­li­can pres­i­den­tial can­di­date Bar­ry Gold­wa­ter mused ​"I think we ought to sell the TVA" — refer­ring to the Ten­nessee Val­ley Author­i­ty, the giant com­plex of New Deal dams that deliv­ered elec­tric­i­ty for the first time to vast swaths of the rur­al South­east — it helped seal his campaign's doom. Things only real­ly took off after Prime Min­is­ter Mar­garet Thatcher's sale of U.K. state assets like British Petro­le­um and Rolls Royce in the 1980s made the idea fash­ion­able among elites — includ­ing a right­ward tend­ing Demo­c­ra­t­ic Party.
As pres­i­dent, Bill Clin­ton great­ly expand­ed a pri­va­ti­za­tion pro­gram begun under the first Pres­i­dent Bush's Depart­ment of Hous­ing and Urban Devel­op­ment. ​"Hope VI" aimed to replace pub­lic-hous­ing high-ris­es with mixed-income hous­es, duplex­es and row hous­es built and man­aged by pri­vate firms.
Chica­go led the way. In 1999, May­or Richard M. Daley, a Demo­c­rat, announced his inten­tion to tear down the pub­lic-hous­ing high-ris­es his father, May­or Richard J. Daley, had built in the 1950s and 1960s. For this ​"Plan for Trans­for­ma­tion," Chica­go received the largest Hope VI grant of any city in the nation. There was a ration of ide­al­ism and intel­lec­tu­al ener­gy behind it: Blight­ed neigh­bor­hoods would be renewed and their ​"cul­ture of pover­ty" would be bro­ken, all vouch­safed by the hon­or­able desire of pub­lic-spir­it­ed entre­pre­neurs to make a prof­it. That is the promise of pri­va­ti­za­tion in a nut­shell: that the prof­it motive can serve not just those mak­ing the prof­its, but soci­ety as a whole, by bypass­ing inef­fi­cient gov­ern­ment bureau­cra­cies that thrive whether they deliv­er ser­vices effec­tive­ly or not, and empow­er grub­by, cor­rupt politi­cians and their pals to dip their hands in the pie of guar­an­teed gov­ern­ment money.
As one of the movement's fans explained in 1997, his expe­ri­ence with nascent attempts to pay pri­vate real estate devel­op­ers to replace pub­lic hous­ing was an ​"exam­ple of smart policy."
"The devel­op­ers were think­ing in mar­ket terms and oper­at­ing under the rules of the mar­ket­place," he said. ​"But at the same time, we had gov­ern­ment sup­port­ing and sub­si­diz­ing those efforts."
The fan was Barack Oba­ma, then a young state sen­a­tor. Four years lat­er, he cospon­sored a bipar­ti­san bill to increase sub­si­dies for pri­vate devel­op­ers and financiers to build or revamp low-income housing.
How­ev­er, the rush to out­source respon­si­bil­i­ty for hous­ing the poor became a text­book exam­ple of one per­il of pri­va­ti­za­tion: Com­pa­nies fre­quent­ly get paid whether they deliv­er the goods or not (one of the rea­sons investors like pri­va­ti­za­tion deals). For exam­ple, in 2004, city inspec­tors found more than 1,800 code vio­la­tions at Lawn­dale Restora­tion, the largest pri­vate­ly owned, pub­licly sub­si­dized apart­ment project in Chica­go. Guar­an­teed a steady rev­enue stream whether they did right by the ten­ants or not — from 1997 to 2003, the project gen­er­at­ed $4.4 mil­lion in man­age­ment fees and $14.6 mil­lion in salaries and wages — the devel­op­ers were appar­ent­ly sat­is­fied to just let the place rot.
Mean­while, the $1.6 bil­lion Plan for Trans­for­ma­tion drags on, six years past dead­line and still 2,500 units from com­ple­tion, while thou­sands of fam­i­lies lan­guish on the Chica­go Hous­ing Authority's wait­list. Be that as it may, the Chica­go expe­ri­ence looks like a lab­o­ra­to­ry for a new White House pilot ini­tia­tive, the Rental Assis­tance Demon­stra­tion Pro­gram (RAD), which is set to turn over some 60,000 units to pri­vate man­age­ment next year. Lack of suc­cess nev­er seems to be an imped­i­ment where pri­va­ti­za­tion is concerned.
Chica­go Inc.
Pri­va­ti­za­tion plain­ly made sense to anoth­er wit­ness to the Plan for Trans­for­ma­tion: Rahm Emanuel, who served as a Chica­go Hous­ing Author­i­ty vice chair­man from 1999 to 2001. After his time as a top aide in the Clin­ton White House, he made more than $18 mil­lion in two-and-a-half years as an invest­ment banker, brought into the busi­ness by the man who just became Illi­nois' new Repub­li­can gov­er­nor, bil­lion­aire ven­ture cap­i­tal­ist Bruce Rauner.
And as may­or, Emanuel has proven him­self prac­ti­cal­ly an addict when it comes to bro­ker­ing deals with his for­mer invest­ment banker com­rades and the oth­er busi­ness inter­ests he keeps on speed dial. As the Chica­go Read­er​'s Ben Joravsky and Mick Dumke dis­cov­ered when they filed a Free­dom of Infor­ma­tion Act request for the mayor's pri­vate sched­ule, Emanuel almost nev­er met with com­mu­ni­ty lead­ers dur­ing his first year in office, but he met con­stant­ly with rich bankers like Rauner, BMO CEO William Downe and Lar­ry Fink, chair­man and CEO of Black­Rock, the world's biggest mon­ey man­age­ment firm. These are his people.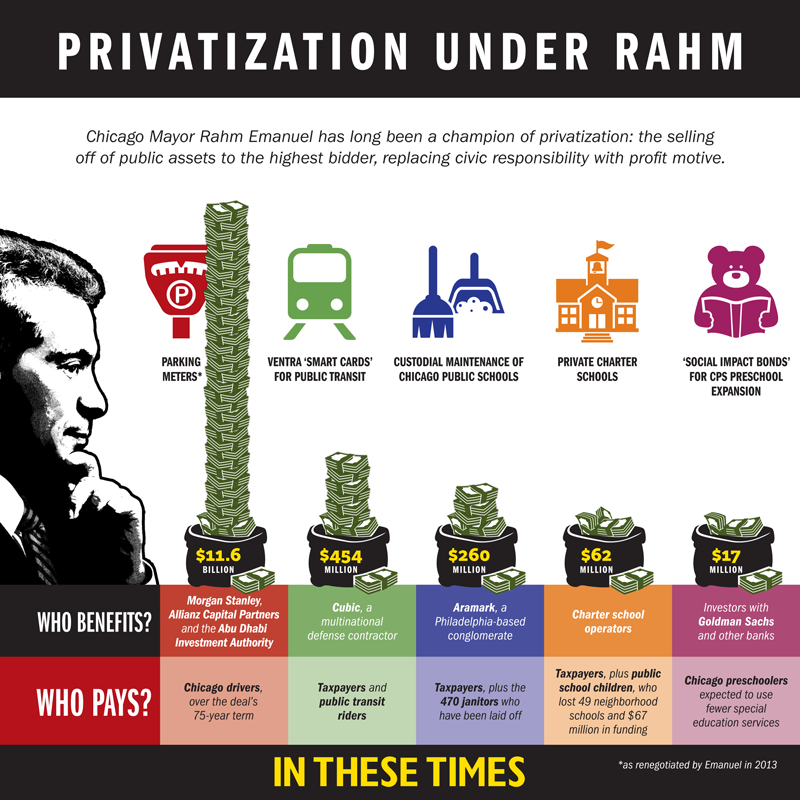 When he took office as may­or, Emanuel inher­it­ed sev­er­al major deals with cor­po­ra­tions for city ser­vices. One is infa­mous: the park­ing meter deal between Mor­gan Stan­ley, Allianz Cap­i­tal Part­ners and the Abu Dhabi Invest­ment Author­i­ty — the poster child for pri­va­ti­za­tion deals gone wrong.
May­or Daley's 2008 deal to sell off Chicago's park­ing meter fran­chise was nego­ti­at­ed in secret; City Coun­cil mem­bers got just two days to study the con­tract before sign­ing off on it. Under the deal, rates prompt­ly sky­rock­et­ed. And worse: Not only does the pri­vate­ly owned Chica­go Park­ing Meters get the mon­ey when­ev­er one of Chicago's fine upstand­ing cit­i­zens pumps mon­ey into a meter; CPM gets paid even when they don't. Each park­ing meter has been assigned a ​"fair mar­ket val­u­a­tion." When the city takes what is called a ​"reserved pow­ers adverse action" — any­thing from remov­ing a meter that impedes traf­fic flow to shut­ting down a street for a block par­ty — CPM can demand a pay­ment for the loss of that meter's ​"fair" mar­ket val­ue for the entire time it's down.
What's more, a 2009 esti­mate from the city Inspec­tor Gen­er­al found that the city had sold the meters for about half of what they were worth. Then, in 2010, Forbes esti­mat­ed that the city had in fact been under­paid by a fac­tor of 10.
What, then, did the new may­or do? ​"He simul­ta­ne­ous­ly bad­mouths the deal and defends it to the death," explains pub­lic inter­est lawyer Thomas Geoghe­gan, who argued in an unsuc­cess­ful law­suit that the con­tract was invalid because it uncon­sti­tu­tion­al­ly usurped the police pow­ers of the city. On the one hand, Emanuel loud­ly boast­ed he'd rene­go­ti­at­ed the deal to the public's ben­e­fit. Park­ing became free on Sun­day (but the hours peo­ple had to pay to park on week­nights were extend­ed, vouch­saf­ing CPM's prof­its). Mean­while, he was care­ful to say noth­ing bad about the multi­na­tion­al con­sor­tium, which con­tin­ues to bilk his con­stituents. That would dis­cour­age oth­er would-be con­ces­sion­aires — like the ones with whom he nego­ti­at­ed a $154 mil­lion deal to oper­ate dig­i­tal bill­boards along Chicago's express­ways for a term of 20 years.
That's in keep­ing with the cash-up-front, con­se­quences-lat­er log­ic of pri­va­ti­za­tion deals. An extreme exam­ple is a 2004 deal that then-may­or Daley won't even be alive to see the out­come of: the leas­ing of the Chica­go Sky­way for $1.8 bil­lion to a con­sor­tium com­posed of Mac­quar­ie, a Syd­ney-based invest­ment firm, and Cin­tra, a Span­ish pri­vate infra­struc­ture devel­op­er, for 99 years.
In 2007, Chicago's chief finan­cial offi­cer, Dana Lev­en­son, explained the ratio­nale for the deal to Busi­ness­week: ​"There is mon­ey to be had, and cities need mon­ey." He point­ed out that because of the $1.8 bil­lion cash influx, Chica­go was able to pay off its debt, com­mit $100 mil­lion to social pro­grams like Meals on Wheels, and have enough left over to earn as much inter­est income as it used to make from tolls (which now went instead to the con­ces­sion­aires in Syd­ney and Spain). Sounds nice — unless you hap­pen to dri­ve on the Sky­way. On Jan­u­ary 1, the price to dri­ve its eight miles rose to $4.50, up from the two bucks it cost when the city ran it, mak­ing it the high­est toll-per-mile road­way in the Unit­ed States; if prices had reflect­ed only infla­tion, it would cost $2.50. To investors, that's the point. As Tim­o­thy J. Car­son, vice-chair of the Penn­syl­va­nia Turn­pike com­mis­sion, not­ed years ago in fight­ing a deal to pri­va­tize that high­way: ​"There's no mag­ic here. These [deals] are large­ly dri­ven by one fac­tor: the per­mit­ted toll increases."
As for the Sky­way, the hit is like­ly to get worse — and the claimed ben­e­fits will fade, too. Research by John B. Gilmour of William and Mary Uni­ver­si­ty indi­cates that the longer road pri­va­ti­za­tion deals last, the more they reward investors but short­change the public.
He ran a math­e­mat­i­cal mod­el based on the deal the state of Indi­ana inked in 2006 to lease the Indi­ana Toll Road, the ​"Main Street of the Mid­west," for a 75-year term. The delight­ful ini­tial cash pay­out closed the state's bud­get deficit, But, accord­ing to Gilmour's midrange esti­mate, by the time that deal reach­es the last third of its term, only 13 per­cent of rev­enue goes to the public.
Why would politi­cians nego­ti­ate 75-and 99-year con­tracts that sys­tem­at­i­cal­ly short­change their con­stituen­cies the longer they last? Because the con­ces­sion­aires are able to exploit the sim­ple fact that no politi­cian, even ones named ​"Daley," last in office that long. Politi­cians reap imme­di­ate glo­ry for clos­ing deficits with­out rais­ing tax­es and fund­ing pop­u­lar pro­grams, an irre­sistible temp­ta­tion. Vot­ers blame the cor­po­ra­tions that oper­ate the roads for the toll increas­es and rev­enue short­falls, not the politi­cians who wrote or vot­ed for the deals in the first place. Then, when the dam­age is done, IBDYBD — ​"I'll be dead, you'll be dead," to repur­pose the phrase that became pop­u­lar among the cyn­i­cal Mas­ters of the Uni­verse who struc­tured the finan­cial time-bombs like mort­gage-backed secu­ri­ties that tanked the glob­al econ­o­my in 2008. A short-term infu­sion of cash that forces the recip­i­ent more and more into hock the longer the arrange­ment lasts: ​"It's like going to the pay­day loan store," explains Tom Tress­er, a Chica­go-based anti-pri­va­ti­za­tion activist.
What Rahm hath wrought
Oth­er cities and states did their home­work and reject­ed the pri­va­ti­za­tion fad. In 2008, Penn­syl­va­nia turned back Demo­c­ra­t­ic gov­er­nor Ed Rendell's dream of sell­ing off the state's famous turn­pike for 75 years to a con­sor­tium of Citi Infra­struc­ture Investors and the Span­ish com­pa­ny Alber­tis Infraestruc­turas. The pro­posed deal would have raised tolls by about two-thirds with­in 10 years (to $36.40 to trav­el from one side of the state to the oth­er), would have even­tu­al­ly made the state pay the con­sor­tium for lost traf­fic dur­ing emer­gency road-clo­sures, and would have turned over trans­porta­tion-plan­ning deci­sions to far-off cor­po­rate bureau­crats. And after Atlanta leased its water sys­tem to Unit­ed Water Inc. in 1997, lead­ing to a series of water-main breaks and billing dis­putes, the city's water­shed com­mis­sion­er said, ​"I don't believe the city will ever look at pri­va­tiz­ing essen­tial ser­vices again."
Rahm Emanuel's Chica­go, though, press­es ahead.
Soon after tak­ing office, Emanuel announced the Chica­go Tran­sit Authority's new Ven­tra ​"smart card" pay­ment sys­tem for pub­lic trans­porta­tion. Cubic, the San Diego-based defense con­trac­tor that got $454 mil­lion in tax­pay­er mon­ey to cre­ate it, had faced endem­ic com­plaints in near­ly every oth­er city in which it had been intro­duced. The sys­tem proved just as dis­as­trous in Chica­go: For months, card fail­ures forced bus dri­vers to sim­ply wave pas­sen­gers through. Or cus­tomers were charged twice if their purs­es or back­packs brushed too close to the read­er upon exit­ing a bus. Fed­er­al gov­ern­ment employ­ees found they could ride free by swip­ing their work IDs. The sys­tem­at­ic glitch­es are dev­as­tat­ing to the argu­ment that busi­ness is bet­ter than gov­ern­ment at deliv­er­ing services.
Anoth­er wonky fea­ture of the Ven­tra sys­tem is that it was designed to suck up the hard-earned mon­ey of mil­lions of less-for­tu­nate Chicagoans into bank cof­fers. The tran­sit cards can dou­ble as deb­it cards, you see, pro­mot­ed as a boon for Chicago's un- and under-banked. But dig the cus­tomer fees hid­den in the 1,000-page con­tract the city signed with Cubic: $1.50 every time cus­tomers with­draw cash from an ATM, $2.95 every time they add mon­ey to their online deb­it account with a per­son­al cred­it card, $2 for every call with a ser­vice rep­re­sen­ta­tive and an ​"account research fee" of $10 an hour for fur­ther inquiries, $2 for a paper copy of their account infor­ma­tion, and, if you decide you've had enough, a $6 ​"bal­ance refund fee." This all makes mince­meat of the pro-pri­va­ti­za­tion argu­ment that ​"the mar­ket­place" is more trans­par­ent than a gov­ern­ment bureau­cra­cy. The city might have been able to antic­i­pate this before ink­ing the deal had they paid atten­tion to the fact that Mon­ey Net­work, the pay­ment pro­cess­ing com­pa­ny part­ner­ing with Cubic, had received the low­est pos­si­ble grade from the Bet­ter Busi­ness Bureau, and that anoth­er part­ner, Meta­Bank, was fined $5.2 mil­lion by fed­er­al reg­u­la­tors for a scheme to issue deb­it cards fund­ed by tax refund loans at inter­est rates of up to 650 percent.
How did this all go down? Con­sid­er, as a clue, the case of one John Fly­nn. As the Chica­go Tri­bune report­ed, Fly­nn was the Chica­go Tran­sit Authority's vice pres­i­dent of tech­nol­o­gy from 2000 to 2008, then decamped for the pri­vate sec­tor. Dur­ing a four-year term at the Chica­go divi­sion of Cubic, Fly­nn helped bro­ker the $454 mil­lion Ven­tra deal. Then, last year, under Emanuel, he returned to the city's employ.
Pro­pa­gan­dists vaunt pri­va­ti­za­tion as a brave new world beyond the icky quid pro quos of old-school munic­i­pal pol­i­tics. Tell that to Deb­o­rah Quaz­zo — who might just laugh all the way to the bank. A year ago, when I first start­ed research­ing this arti­cle, I sent Quaz­zo an email pos­ing two sim­ple ques­tions: Giv­en the work her firm does in edu­ca­tion, did she antic­i­pate recus­ing her­self from school board deci­sions that pre­sent­ed a con­flict of inter­est? And did she antic­i­pate putting invest­ments in a blind trust dur­ing her tenure? I nev­er heard back. Then, this past Decem­ber, the Chica­go Sun-Times report­ed that com­pa­nies in which she invest­ed have reaped $2.9 mil­lion in busi­ness from Chica­go Pub­lic Schools — com­pared to only $930,000 in the three-and-a-half years pri­or to her appointment.
She told the paper she saw no con­flict of inter­est: ​"It's my belief I need to invest in com­pa­nies and phil­an­thropic orga­ni­za­tions who improve out­comes for chil­dren" — and that she wasn't involved in the deals or aware that her com­pa­nies' take had tripled since she took office. Which would make her either a pret­ty inat­ten­tive school board mem­ber or a pret­ty inat­ten­tive exec­u­tive: Some of her com­pa­nies that had pre­ex­ist­ing con­tracts with CPS cut their prices after Quaz­zo joined the school board so their bills would fall under the thresh­old that would require review by dis­trict bureau­crats. One of those bills came to pre­cise­ly $24,999. The thresh­old for review? $25,000, nat­u­ral­ly. Pri­va­ti­za­tion is build­ing a new Chica­go machine in many respects more offen­sive than the machine of old.
The $14 bil­lion Philadel­phia-based facil­i­ties ser­vice con­glom­er­ate Ara­mark has a well-earned rep­u­ta­tion for unsa­vory labor rela­tions and shod­dy busi­ness prac­tices — for instance, the mag­gots dis­cov­ered in food served in Ara­mark-run prison cafe­te­rias in Michi­gan and Ohio. That didn't keep the Chica­go School Board from vot­ing in March of 2014 to give Ara­mark a $260 mil­lion, three-year con­tract to han­dle cus­to­di­al main­te­nance. Before the first month of the 2014 school year was out, how­ev­er, a group of Chica­go prin­ci­pals released a report describ­ing filthy con­di­tions in their schools since Ara­mark took over, includ­ing rodents, insects, mouse drop­pings and urine left in toi­lets for weeks. Con­di­tions had been so bad just before the schools opened that par­ent and teacher vol­un­teers had pitched in with cleaning.
What hap­pened next? With­in days of the report's release, Ara­mark announced it was lay­ing off 470 of its jan­i­tors, reduc­ing the cus­to­di­al labor force by almost 20 per­cent. In response to com­plaints that such lay­offs help destroy the work­ing class, Chica­go Pub­lic Schools CEO Bar­bara Byrd-Ben­nett, an Emanuel appointee, all but boast­ed about one of the most prob­lem­at­ic aspects of pri­va­ti­za­tion: the way it allows pub­lic offi­cials to evade account­abil­i­ty. The Chica­go Sun-Times para­phrased her: ​"They are employed by pri­vate com­pa­nies, so it's not the dis­trict lay­ing them off."
Of course, anoth­er thing that elites like about pri­va­ti­za­tion is that it lets them lay off pub­lic employ­ees — espe­cial­ly union­ized ones. In Chica­go, pri­vate­ly run char­ter schools that replace tra­di­tion­al pub­lic schools are not cov­ered by Chica­go Teach­ers Union con­tracts, and most are not union­ized. Before the Chica­go Sky­way was pri­va­tized, the toll-tak­ers were full-time city employ­ees with full ben­e­fits. Now many are part-time con­trac­tors with­out ben­e­fits. When a Japan­ese-owned tech­nol­o­gy com­pa­ny took over respon­si­bil­i­ty for the call cen­ter that han­dles water bill com­plaints, jobs were out­sourced to part-timers. All told, since 2009, the city has cut 5,000 jobs, in addi­tion to lay­ing off 1,700 pub­lic-school employ­ees. This is bad not just for the work­ers who lost their jobs and the labor move­ment gen­er­al­ly, but could serve to dri­ve down wages for all work­ers in the city.
Pri­va­tiz­ers like Emanuel say they have no choice: The city is going broke. That ali­bi is thread­bare. Short­ly after his inau­gu­ra­tion, May­or Emanuel threat­ened 625 lay­offs unless the city's unions acced­ed to a set of work rule changes. In response, the city's Coali­tion of Union­ized Pub­lic Employ­ees — which rep­re­sents 6,400 work­ers — quick­ly released a study propos­ing to save the city $242 mil­lion. The plan: Adopt more effi­cient sched­ul­ing and con­tract­ing pro­ce­dures, get rid of unneed­ed mid­dle man­agers instead of front-line union work­ers — and, defy­ing con­ven­tion­al wis­dom, replace pri­vate con­trac­tors with city work­ers. Accord­ing to two COUPE prin­ci­pals, Chica­go Fed­er­a­tion of Labor Pres­i­dent Jorge Ramirez and Labor­ers Local 1001 busi­ness man­ag­er Lou Philips, they nev­er got a direct response from City Hall. ​"We're say­ing we can save you more than $200 mil­lion and they don't even read it!" Ramirez told Emanuel biog­ra­ph­er Kari Lyder­sen.
So things rest: Most pri­va­ti­za­tion deals fail every pub­lic pol­i­cy test. There's lit­tle record of suc­cess­ful com­pe­ti­tion between con­ces­sion­aires to deliv­er ser­vices more effi­cient­ly. The very log­ic is faulty, because most gov­ern­ment ser­vices are what econ­o­mists call a ​"nat­ur­al monop­oly" — which turns out to be what makes it so attrac­tive to cap­i­tal­ists in the first place: ​"Infra­struc­ture is ultra-low-risk because com­pe­ti­tion is lim­it­ed by a host of forces that make it dif­fi­cult to build, say, a rival toll road," as Busi­ness­week explained way back in 2007. ​"With cap­tive cus­tomers, the cash flows are vir­tu­al­ly guar­an­teed." Mean­while, trans­paren­cy is plain­ly a joke; indeed, alder­men in hock to May­or Emanuel have let lan­guish an ordi­nance draft­ed by unions and pro­gres­sive alder­man demand­ing actu­al trans­paren­cy. So, what's real­ly going on here?
It's about mon­ey and power.
Con­sid­er, final­ly, the mys­tery of Emanuel's ​"infra­struc­ture trust." The idea was announced with great fan­fare in March 2012 as an inno­v­a­tive way to pour pri­vate mon­ey into pub­lic goods like air­port expan­sion, street and water improve­ments, and an expand­ed com­muter rail net­work. An ​"inte­grat­ed, com­pre­hen­sive approach" for ​"build­ing a new Chica­go," Emanuel called it — with lit­tle risk to the pub­lic. The Pow­er­Point pre­sen­ta­tion alder­man watched before vot­ing 41 to 7 to approve the deal con­tained only five slides. The New York Times cred­u­lous­ly report­ed the city's esti­mate that the trust would cre­ate ​"30,000 jobs over the next three years." How? Three years in, with not a sin­gle new job cre­at­ed, no one seems to have any idea.
Maybe they're just work­ing out the kinks. Chica­go Pub­lic Schools cer­tain­ly hasn't giv­en up on the idea. In late 2014, the school board and the City Coun­cil approved a $17 mil­lion agree­ment with sev­er­al invest­ment banks, includ­ing Gold­man Sachs, to expand preschool using ​"social impact bonds." The plan hinges on ​"suc­cess pay­ments" that are trig­gered if chil­dren per­form well on kinder­garten readi­ness tests and third-grade lit­er­a­cy tests. The bet­ter kids do, the more investors get — up to dou­ble their mon­ey over the 16-year pro­gram, accord­ing to an analy­sis by the edu­ca­tion mag­a­zine Cat­a­lyst Chica­go. The deal, Cat­a­lyst explains, ​"relies on a com­pli­cat­ed for­mu­la that pos­es lit­tle risk to investors … large­ly due to the proven track record of the project's cho­sen preschool pro­gram." Ben­e­fit to the pub­lic hard­ly seems the pri­ma­ry aim when you con­sid­er the expec­ta­tion — built into the deal — that Chica­go chil­dren will be using few­er spe­cial edu­ca­tion services.
Chicago's NBC affil­i­ate, WMAQ, edi­to­ri­al­ized, ​"Once again, the city is about to enter into a com­plex, long-term finan­cial trans­ac­tion with mil­lions of dol­lars at stake with almost no debate, lit­tle under­stand­ing of how the pro­gram works, and no third par­ty to weigh in on the poten­tial risk and rewards" — with chil­dren as col­lat­er­al, to boot. Why? Fol­low the mon­ey. Rues Tom Tress­er: ​"These are invest­ment bankers at work cook­ing up busi­ness for their cam­paign con­trib­u­tors. … The banks and bil­lion­aires who are sit­ting on piles of cash are look­ing for some sweet deals, like Mor­gan Stanley's get­ting $10 for every $1 they invest­ed in our park­ing meters. They play. You pay."
What's next? Now that Emanuel is glid­ing to like­ly re-elec­tion in Feb­ru­ary, quite pos­si­bly a munic­i­pal con­sti­tu­tion­al apoc­a­lypse. The enabling leg­is­la­tion for his infra­struc­ture trust includes the fol­low­ing lan­guage: ​"To the extent that any ordi­nance, res­o­lu­tion or order of the city is in con­flict with the pro­vi­sions of this ordi­nance, the pro­vi­sions of this ordi­nance shall be con­trol­ling." It sounds like a for­mu­la to turn the gov­ern­ing of the City by the Lake over to the bankers on a street called Wall. When Chica­go vot­ers go to the polls on Feb­ru­ary 24 to decide whether to keep Rahm Emanuel as their may­or or replace him with some­one else, this is what that race should be all about.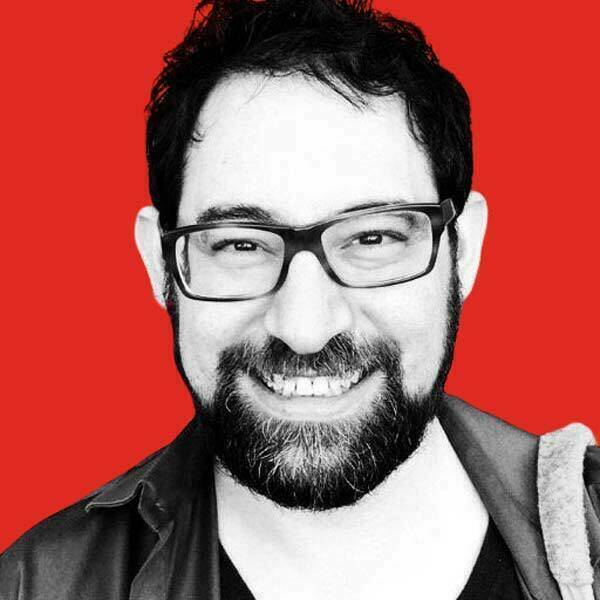 Rick Perl­stein, an In These Times board mem­ber, is the author of Rea­gan­land: Amer­i­ca's Right Turn, 1976 – 1980 (2020), The Invis­i­ble Bridge: The Fall of Nixon and the Rise of Rea­gan (2014), Nixon­land: The Rise of a Pres­i­dent and the Frac­tur­ing of Amer­i­ca (2008), a New York Times best­seller picked as one of the best non­fic­tion books of the year by over a dozen pub­li­ca­tions, and Before the Storm: Bar­ry Gold­wa­ter and the Unmak­ing of the Amer­i­can Con­sen­sus, win­ner of the 2001 Los Ange­les Times Book Award for history.