How UAW Won the Wisconsin Kohler Strike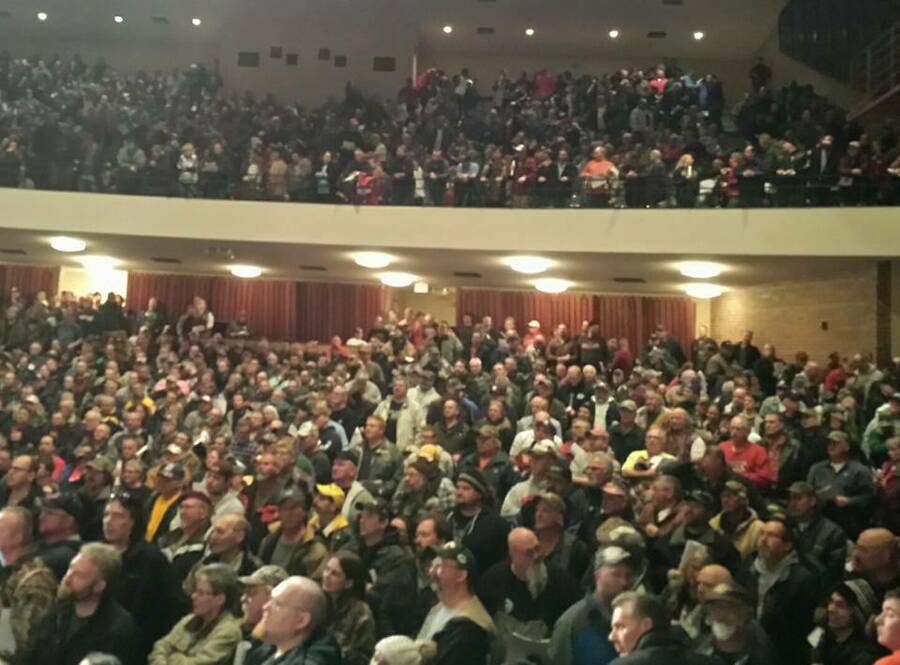 "I'm mad as hell, and I'm not gonna take it anymore!"
This excla­ma­tion of out­rage gained nation­al trac­tion when, in the icon­ic 1976 movie, ​"Net­work," a ​"mad prophet" of the air­waves induced angry Amer­i­cans to go to their win­dows and shout it out to the world. Forty years lat­er it per­fect­ly cap­tured the mood of over 2,000 pro­duc­tion work­ers in north­east Wis­con­sin who struck the mighty Kohler Com­pa­ny — a pri­vate­ly held, inter­na­tion­al man­u­fac­tur­er of lux­u­ry bath and oth­er prod­ucts — and won.
Mem­bers of Unit­ed Auto Work­ers Local 833 weren't about to set­tle for shout­ing out their win­dows or being part of that enraged work­ing class vent­ing frus­tra­tion through tough-talk­ing pun­dits or politi­cians who ulti­mate­ly fail them. They took their fate in their own hands, with stun­ning results.
"Com­mu­ni­ca­tion was num­ber one," said Local 833 pres­i­dent Tim Tay­loe. Eigh­teen months before the Novem­ber 15 strike, he was prepar­ing mem­bers for what many saw as inevitable. ​"A lot of peo­ple were pissed off. I told them to save their mon­ey and be ready for a three-month strike, just in case."
The source of agi­ta­tion was what they describe as a repug­nant 2010 con­tract nego­ti­at­ed under duress from mass lay­offs, threats of off­shoring and a shaky econ­o­my. After a five-year wage freeze, ben­e­fit con­ces­sions and a two-tier wage scheme that left new hires for­ev­er behind, con­di­tions were ripe for rebellion.
On-site vis­its, meet­ings at the hall, phone calls, plant stew­ards and a close ear to the ground kept Local offi­cers in touch with mem­bers work­ing shifts ​'round the clock at Kohler's sprawl­ing plant in the tiny town bear­ing its name. They tracked Kohler's inven­to­ry and found just about a mon­th's worth left as con­tract talks neared, Tay­loe said.
On Novem­ber 15, a 94 per­cent strike vote all but shut­tered the plant for lack of skilled work­ers. Super­vi­sors, office staff, and ​"replace­ment work­ers" could­n't sus­tain pro­duc­tion, leav­ing cus­tomers in limbo.
By strike's end, Kohler had ​"lost orders that had been there for 30-some­thing years." Tay­loe took no joy in that. It was a grim assess­ment, like casu­al­ties of war. So, too, was the deci­sion to strike. Once made, though, Local 833 was all in.
Pick­et lines went up 24⁄7. UAW Inter­na­tion­al pro­vid­ed each mem­ber $200 week­ly strike pay. The Local's web site and Face­book page were in con­stant update mode. Local offi­cers pulled dou­ble duty at the union's Emil Mazy Hall and at pick­et sites where they kept spir­its high, rumors quashed and lines of com­mu­ni­ca­tion open.
The hall, open and staffed 24 hours a day, was the heart of the oper­a­tion, pump­ing out fly­ers and mass text mes­sages, log­ging in vol­un­teers, jug­gling phone calls and accept­ing dona­tions of fire­wood, food and cash.
"It was over­whelm­ing," said Pen­ny Sawall, Local 833 record­ing sec­re­tary. ​"Peo­ple would just come in and say, ​'Where can I help?' Some could­n't phys­i­cal­ly han­dle the pick­et lines so they worked here, giv­ing peo­ple rides, run­ning cof­fee out to the lines, doing what­ev­er they could."
It was ​"hec­tic," Sawall said, but the Local held fast behind the pri­ma­ry goal of mit­i­gat­ing dis­par­i­ties between some 1,600 long-term work­ers (Tier A) and 400 new hires (Tier B). Kohler had treat­ed the lat­ter bad­ly — low pay, reduced or nonex­is­tent ben­e­fits, no job secu­ri­ty — and ​"thought they could buy off Tier A" with pay rais­es to keep it that way. ​"But it just did­n't happen."
Instead, ​"peo­ple got togeth­er to hear each oth­er's expe­ri­ence," stew­ard and edu­ca­tion com­mit­tee chair Eric Koene explained. Tier A saw Tier B work­ers ​"on food stamps and not able to make ends meet. We saw them as the next gen­er­a­tion, our kids and grand­kids, and we did­n't want them to be screwed. We band­ed togeth­er and stood up to cor­po­rate greed. Maybe some­day they'll stand up for us."
The strike, then, piv­ot­ed on a major­i­ty tak­ing a moral and prin­ci­pled stand on behalf of a minor­i­ty they out­num­bered four to one — even as the com­pa­ny threat­ened to lay them all off and move the plant elsewhere.
It was a stun­ning devel­op­ment that inspired and excit­ed a labor move­ment sore­ly in need of exact­ly that. Local 833 got cash dona­tions from unions all over the coun­try that beefed up their trea­sury to sus­tain them for the long haul.
Labor and even some main­stream media saw it as the right sto­ry at the right time: a David-and-Goliath show­down between worka­day folks bare­ly get­ting by and a large, prof­itable, and seem­ing­ly heart­less cor­po­ra­tion. It res­onat­ed, espe­cial­ly in the sur­round­ing and huge­ly work­ing-class community.
"The response was unbe­liev­able." Local 833 vice pres­i­dent Jim Brock is still blown away by the reac­tion. ​"We had the sup­port of the peo­ple to keep this going. They need­ed some­body to start tak­ing some of these bas­tards on, not just bow down and take it. And for the right rea­sons — for equality."
The Local's food pantry swelled, cash con­tri­bu­tions flowed and signs of sol­i­dar­i­ty were every­where, from honk­ing cars pass­ing by to spon­ta­neous drop-offs of snacks and sup­plies for picketers.
Finan­cial sec­re­tary Dave Bouch­er was espe­cial­ly heart­ened by Local 833's evo­lu­tion from a ​"ser­vice union" busi­ness mod­el to the kind of old-fash­ioned, sol­i­dar­i­ty union­ism that served labor so well for so long. A mem­ber­ship that had been ​"no longer involved" and most­ly ​"com­pla­cent" came togeth­er and ​"took a step for­ward for the com­mon good. We real­ized that if we turned our back on the younger work­ers, it would come back to haunt us someday."
After more than a month on strike and about 10 days before Christ­mas, Kohler relent­ed. The union secured an imper­fect but dra­mat­i­cal­ly improved con­tract, rais­ing some Tier B jobs to full wage par­i­ty and oth­ers to 85 per­cent of Tier A. They thawed the wage freeze with pay hikes over the life of the deal and got bet­ter health insur­ance and pen­sions, a $2,000 sign­ing bonus, and even hol­i­day pay for Thanks­giv­ing and the day after while they were on strike. Mem­bers rat­i­fied the deal with 91 per­cent in favor.
"It's nev­er real­ly good to be on strike," said stew­ard Roger Hoitink, but he was hap­py with the result. After 43 years, he'll be retir­ing soon, know­ing that he helped younger cowork­ers get some big pay rais­es, even though he's just get­ting 50 cents an hour for now. ​"We were hold­ing out for them, and by the end of the strike, we all drew a lot closer."
Tier B mem­ber Cindy Kuhn, who had come from a busi­ness back­ground to work at the Kohler plant, said she was ​"brought to tears" by the kind­ness and sol­i­dar­i­ty she wit­nessed dur­ing the strike. ​"What an eye-open­ing expe­ri­ence," she reflect­ed. ​"It real­ly showed me what a true union can do."
Kathy Wilkes
is an award-win­ning labor writer and edi­tor, and a for­mer union orga­niz­er, co-founder, offi­cer, nego­tia­tor, and com­mu­ni­ca­tions direc­tor. She is based in Madison.