Can Hunters and Activists Team Up to Phase Out Lead Bullets?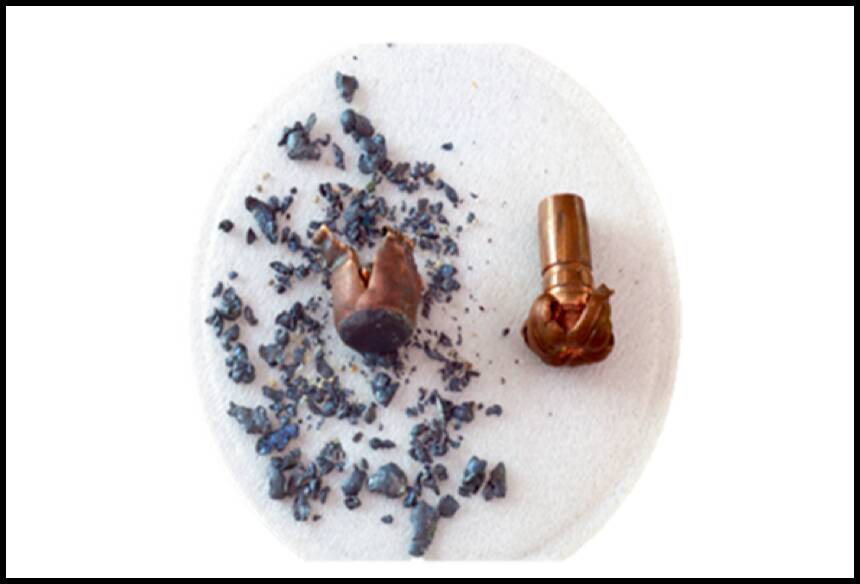 For cen­turies, hunters have relied on lead ammu­ni­tion to quick­ly and humane­ly kill game, but with each shot they release a poten­tial­ly lethal poi­son into the envi­ron­ment, threat­en­ing vul­ner­a­ble ani­mal populations.
While harm­less to humans, the gut piles and car­cass­es hunters reg­u­lar­ly leave behind often con­tain lead frag­ments, which can be dead­ly for scav­engers who eat them, par­tic­u­lar­ly rap­tors like bald and gold­en eagles, Cal­i­for­nia con­dors and turkey vultures.
Con­se­quent­ly, a seem­ing­ly unlike­ly alliance between sports­peo­ple and envi­ron­men­tal activists has formed to tack­le the issue by advo­cat­ing for cop­per and oth­er non-lead options and pro­mot­ing hunters as envi­ron­men­tal stewards.
Hunter Rus­sell Kuhlman, who serves as the Insti­tute for Wildlife Stud­ies' non-lead ammu­ni­tion out­reach coor­di­na­tor for Cal­i­for­nia, says, ​"I think there's a move­ment with­in the hunt­ing com­mu­ni­ty towards peo­ple want­i­ng to get into the con­ser­va­tion and sup­port of wildlife by hunt­ing. [It's] not so much the good old boys' club of hang­ing out with your friends and shoot­ing the biggest deer that you see."
In a time when species extinc­tion rates are 1,000 times high­er than if humans didn't exist, the recov­ery of bald eagle pop­u­la­tions has been viewed as a suc­cess­ful con­ser­va­tion effort. But the major­i­ty of injured and sick eagles and birds brought into wildlife reha­bil­i­ta­tion facil­i­ties around the coun­try test pos­i­tive for lead.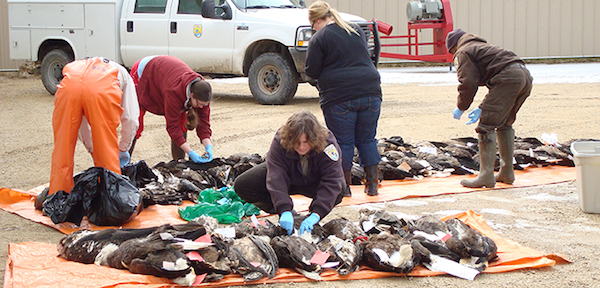 In

2012

, researchers exam­in­ing

58

dead bald eagles found that

60

per­cent had detectable con­cen­tra­tions of lead. Thir­ty-eight per­cent had lethal con­cen­tra­tions.
(Image:
fws​.gov
)
Although no fed­er­al agency keeps com­pre­hen­sive track of wildlife lead poi­son­ing, a doc­u­ment­ed 130 species, which include mam­mals, rep­tiles and amphib­ians, have been exposed or killed by ingest­ing the poi­so­nous heavy metal.
Kuhlman says bald eagles' patri­ot­ic sym­bol­ism has brought atten­tion to the issue — includ­ing a recent high-pro­file eagle death in the nation's cap­i­tal — but that only in recent years has pub­lished research focused on lead ammu­ni­tions' envi­ron­men­tal con­se­quences. He says, in the past, many avian pop­u­la­tions were too small to con­duct com­pre­hen­sive studies.
While lead remains the indus­try stan­dard because it's accu­rate and afford­able, the bul­lets are prone to shat­ter­ing on impact. When frag­ments are ingest­ed, they can not only be lethal, but also in low­er dos­es, attack an animal's brain and ner­vous system.
"

This is what lead poi­son­ing looks like."
(Video: dwick­ish / YouTube)
Impaired flight from lead leaves birds sus­cep­ti­ble to injury or death by obstruc­tions like cars and pow­er lines. Due to direct and indi­rect mor­tal­i­ty, it's dif­fi­cult to track lead deaths, espe­cial­ly because poi­soned birds often hide while dying and can be scav­enged by larg­er ani­mals. Con­se­quent­ly, Kuhlman and oth­ers across the Unit­ed States are rais­ing aware­ness with envi­ron­men­tal orga­ni­za­tions, hunt­ing asso­ci­a­tions and oth­er invest­ed parties.
Leland Brown, the non-lead hunt­ing edu­ca­tion coor­di­na­tor with the Ore­gon Zoo, talks to sports­peo­ple around the state, which is known for big game deer, elk and cougar hunting.
"We're try­ing to get some of the larg­er nation­al groups engaged in this issue and under­stand­ing that this is about how as hunters we can con­tin­ue to make sure we aren't hav­ing any unin­tend­ed con­se­quences," says Brown. ​"It's sup­posed to be a one shot, one kill. With a non-lead bul­let, I can guar­an­tee that."
Why hunters need to be at the fore­front of the non-lead effort
Although the major­i­ty of Amer­i­can hunters live in the East and Mid­west, much of the non-lead move­ment is based in the west­ern Unit­ed States, where many of the most impact­ed pop­u­la­tions live. The Kla­math Basin in south­ern Ore­gon and north­ern Cal­i­for­nia is home to the largest win­ter­ing con­cen­tra­tion of bald eagles in the low­er 48. Cal­i­for­nia con­dors, an endan­gered species, are also sus­cep­ti­ble to lead poi­son­ing, par­tic­u­lar­ly in their name­sake state and Arizona.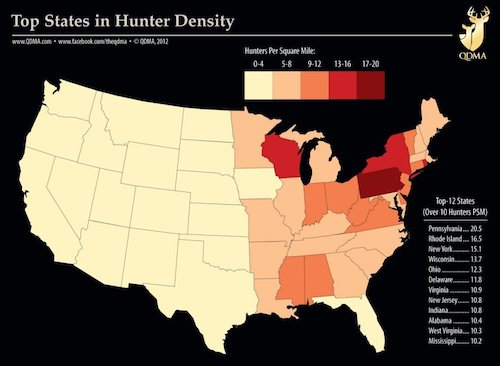 In 2013, large­ly because of the dam­age to con­dors, Cal­i­for­nia took the seem­ing­ly pro­gres­sive charge of being the first state to ban lead bul­lets — a rul­ing which is slow­ly going into affect, with com­plete pro­hi­bi­tion to be imple­ment­ed by July 2019. Although this seems like a move non-lead advo­cates would applaud, Kuhlman and Brown believe out­law­ing lead bul­lets is a step in the wrong direction.
They explain that ammu­ni­tion bans are dif­fi­cult to car­ry out because much hunt­ing occurs on pri­vate land, and it's next to impos­si­ble for a state enforcer to know what kind of ammo is loaded in a firearm. On a larg­er scale, Kuhlman says, restric­tions often pit hunters against envi­ron­men­tal­ists, with­out giv­ing either par­ty a fair say in craft­ing legislation.
As one of the Oba­ma Administration's final acts, one day before Trump's inau­gu­ra­tion, out­go­ing U.S. Fish and Wildlife Ser­vice (USFWS) Direc­tor Dan Ashe issued a ban on lead bul­let use on fed­er­al lands. But this proved short-lived. Almost imme­di­ate­ly after Ryan Zinke, Trump's pick for Inte­ri­or sec­re­tary, was sworn in last March, he over­turned the ban stat­ing that ​"affect­ed stake­hold­ers," i.e. hunters, had not been considered.
"I think the best way to do that would be to involve states and hunt­ing orga­ni­za­tions and even bring in groups like the Nation­al Audubon Soci­ety and have them all sit down at a table togeth­er and dis­cuss how to best imple­ment that," says Kuhlman. ​"And in Dan Ashe's order there was none of that. It was kind of black and white."
In some cas­es, nation­wide bans have proven effec­tive: A 1991 pro­hi­bi­tion of lead shot used for water­fowl hunt­ing helped pre­vent ​"species threat­en­ing" die-offs of aquat­ic game birds. Many states have also out­lawed or restrict­ed lead fish­ing sinkers, jigs and oth­er tack­le, which have poi­soned loons and oth­er marine life, but lead use still abounds in upland hunting.
Gor­don Batcheller, a retired for­mer chief wildlife biol­o­gist for the New York Depart­ment of Envi­ron­men­tal Con­ser­va­tion who is active in the non-lead move­ment, says it's impor­tant that gov­ern­ment agen­cies ​"respond in a reg­u­la­to­ry way when doc­u­ment­ed envi­ron­men­tal prob­lems are caus­ing pop­u­la­tion lev­el impacts."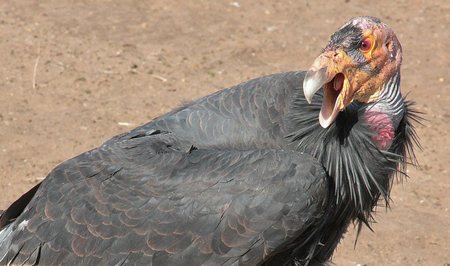 Slight­ly over

200

Cal­i­for­nia con­dors live in the wild, and the bird is con­sid­ered crit­i­cal­ly endan­gered.
(Image: Scott Fla­her­ty /
fws​.gov
)
While it's easy to view lead bul­lets as a par­ti­san issue — espe­cial­ly with groups like the Nation­al Rifle Asso­ci­a­tion (NRA) pre­sent­ing it as an attack on gun rights—Kuhlman, Brown and Batcheller agree that it's cru­cial for hunters to be at the fore­front. On a larg­er scale, through non-lead advo­ca­cy, they see hunt­ing return­ing to its roots as a way to gath­er sus­tain­able, safe food sources and to con­nect with nature.
And they have a large audi­ence: Kuhlman and Brown indi­vid­u­al­ly give pre­sen­ta­tions to thou­sands of hunters every year. Batcheller also orga­nizes work­shops in New York and around the coun­try. In addi­tion to shar­ing research on the ben­e­fits of switch­ing away from lead, they bring cop­per ammo and give hunters the oppor­tu­ni­ty to try alternatives.
"When you give some­one the infor­ma­tion, the major­i­ty of the time, they're smart enough to make the cor­rect deci­sion," says Kuhlman. ​"When you tell some­body that they have to do some­thing and don't give them any infor­ma­tion on the rea­son­ing, they tend to be a lit­tle more hos­tile towards that ban, law or rule."
Brown, who pre­vi­ous­ly worked for the Insti­tute for Wildlife Stud­ies in Cal­i­for­nia, says he was a ​"punch­ing bag" for hunters frus­trat­ed about the state ban. In Ore­gon, where some hunters fear sim­i­lar leg­is­la­tion will even­tu­al­ly go into place, Brown sees more impact in encour­ag­ing hunters to make a vol­un­tary switch.
A grass­roots approach
Last sum­mer, while work­ing at a news­pa­per in the rur­al town of Kla­math Falls, Ore., I attend­ed Brown's talk at a local hunt­ing asso­ci­a­tion meet­ing. As an August light­en­ing storm brewed out­side, Brown and mem­bers of a wildlife reha­bil­i­ta­tion cen­ter were met with open minds. While some hunters expressed con­cerns about their pas­time becom­ing a ​"rich man's game" because of non-lead ammunition's high­er price, they invit­ed Brown back for an ammo demonstration.
While this grass­roots approach will take time, the lead­ers of the non-lead move­ment have faith they can shift hunt­ing prac­tices that go back generations.
"We're deal­ing with a long-term issue that's going to take a long-term solu­tion," Brown told me after the pre­sen­ta­tion. ​"We're going up against at least 100 years of tra­di­tion, so peo­ple need an oppor­tu­ni­ty to wrap their heads around it and come to the oth­er side."
Han­nah Steinkopf-Frank
is a Chica­go-based free­lance writer and pho­tog­ra­ph­er. Her work has appeared in the Chica­go Tri­bune, Atlas Obscu­ra, Bitch Media, the Colum­bia Jour­nal­ism Review, JSTOR Dai­ly and Paper Mag­a­zine, among others.