Hunting the Hunt Commission
The private meetings that led to the creation of superdelegates have never been published or made public—until now.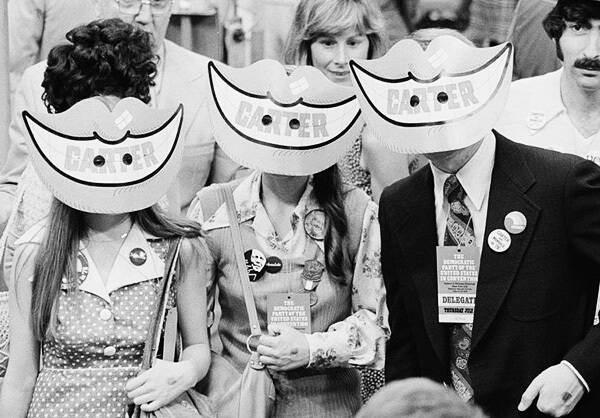 Despite hold­ing a nation­wide series of pres­i­den­tial pri­maries and cau­cus­es in which mil­lions of vot­ers par­tic­i­pate, the Demo­c­ra­t­ic Par­ty still main­tains a sys­tem of 712 par­ty insid­ers who often have the final say on who the nom­i­nee is. Why did the par­ty choose to insti­tute such a sys­tem? To answer that, you need to go back to the Hunt Com­mis­sion, which in 1982 invent­ed the ​"superdel­e­gate."
The proceedings of the Hunt Commission have never been published.
The pro­ceed­ings of the Hunt Com­mis­sion have nev­er been pub­lished. In These Times gained access to doc­u­ments housed in the Nation­al Archives, excerpts of which are repro­duced below.
The pages here rep­re­sent only a sam­ple of the total mate­r­i­al looked at by In These Times, which itself makes up a small per­cent­age of the total pro­ceed­ings of the Com­mis­sion. Nev­er­the­less, the doc­u­ments pre­sent­ed here pro­vide an exclu­sive win­dow into the delib­er­a­tion and moti­va­tions that led to the cre­ation of superdelegates.