8 Thinkers on the Left Explain What the Midterm Results Mean for Progressives
Nina Turner, Maria Svart, Rick Perlstein, Barbara Ransby, Bill Fletcher Jr., Ai-jen Poo, Larry Cohen and Keeanga-Yahmatta Taylor give their takeaways from Tuesday night.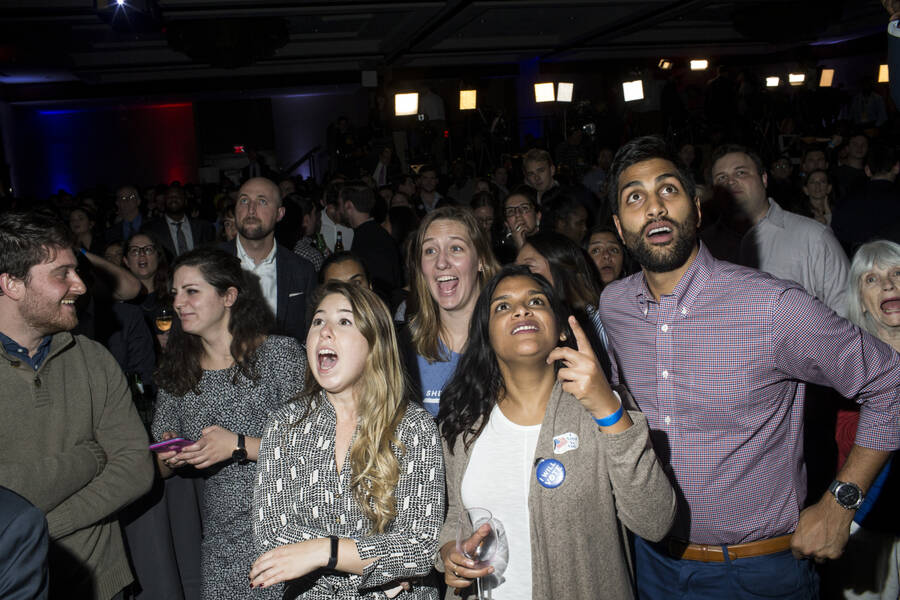 The 2018 midterm elec­tions saw mixed results for pro­gres­sives. Democ­rats took the House of Rep­re­sen­ta­tives, which will include a crop of new mem­bers who ran on issues like Medicare for All, mar­i­jua­na legal­iza­tion and urgent cli­mate action. Demo­c­ra­t­ic social­ists also had a big night, win­ning elec­tions up and down the ballot.
Yet pro­gres­sive guber­na­to­r­i­al can­di­dates Andrew Gillum and Ben Jeal­ous lost, the out­come of Stacey Abrams' his­toric bid for Geor­gia gov­er­nor remains up in the air, and Repub­li­cans increased their major­i­ty in the Sen­ate. While sev­er­al insur­gent left Democ­rats like Alexan­dria Oca­sio-Cortez, Rashi­da Tlaib and Ayan­na Press­ley cruised to vic­to­ry, oth­ers like Jess King and Randy Bryce suf­fered defeats.
So what lessons should pro­gres­sives learn from Tuesday's elec­tions? We asked eight impor­tant thinkers on the left for their strate­gic take­aways from the midterms.
Nina Turn­er, Pres­i­dent of Our Rev­o­lu­tion
The 2018 elec­tions — both pri­ma­ry and gen­er­al — mark a remark­able new begin­ning for the pro­gres­sive move­ment. Around the coun­try, we saw hun­dreds of peo­ple inspired by Sen. Bernie Sanders run for office at every lev­el. While many of them did not win this time, they soft­ened the soil for future pro­gres­sive vic­to­ries, much like Sen. Sanders' ear­ly runs.
For our part at Our Rev­o­lu­tion, we are very proud of our near­ly 200 endorsed can­di­dates and over 40 bal­lot mea­sures. Our can­di­dates reflect­ed the com­mu­ni­ties where we see a future pro­gres­sive elec­torate. Over half were women and/​or peo­ple of col­or. Many were first-time can­di­dates and one out of eight had been a Bernie Sanders 2016 del­e­gate. Nur­tur­ing and train­ing these can­di­dates for future elec­tions is a crit­i­cal role that Our Rev­o­lu­tion will con­tin­ue to under­take with our allies.
Reflect­ing on the midterms, we see that the cam­paigns we backed have already made his­to­ry and will con­tin­ue to do so. Can­di­dates like Ilhan Omar and Rashi­da Tlaib became the first Mus­lim women elect­ed to Con­gress. Deb Haa­land is one of the first Indige­nous women elect­ed to Con­gress. And in addi­tion to sweep­ing in a diverse group of can­di­dates to Con­gress, we've also helped change the elec­torate in Flori­da by expand­ing bal­lot access to 1.5 mil­lion peo­ple who have already paid their debt to society.
No mat­ter what the final elec­tion results, we believe that the can­di­dates we endorsed have helped to acti­vate mil­lions of vot­ers and advanced the inter­ests of work­ing peo­ple. As we await poten­tial recounts and runoffs in Flori­da and Geor­gia, we must take stock of the racism and vot­er sup­pres­sion sur­round­ing these elec­tions and seri­ous­ly con­sid­er who we are as a country.
Maria Svart, Nation­al Direc­tor of the Demo­c­ra­t­ic Social­ists of America
On bal­ance, we are in a slight­ly stronger posi­tion than before the elec­tion, after some great vic­to­ries and some heart­break­ing defeats. I see three key lessons.
Col­lab­o­rat­ing with white nation­al­ists and neo­fas­cists is unac­cept­able, for both moral and strate­gic rea­sons. Our work, as always, is build­ing a coali­tion of poor and work­ing class peo­ple of all col­ors, made pos­si­ble because the cap­i­tal­ists are wag­ing ever more open class war­fare. Yet this task is made dif­fi­cult in a coun­try built on stolen land and slave labor, where there is lit­tle effec­tive Demo­c­ra­t­ic response to bla­tant Repub­li­can vot­er sup­pres­sion or orga­ni­za­tion of white work­ing class women in their own eco­nom­ic interest.
Repub­li­cans read the tea leaves and under­stood that health care was the biggest issue for vot­ers, borne out by the exit polls, so they ran claim­ing they would pro­tect it. Vot­ers in Ida­ho, Mon­tana and Utah over­rode their Repub­li­can state lead­er­ship and expand­ed Medicaid
Democ­rats need to not only dou­ble down on Medicare for All, they need to make it their sig­na­ture issue and clar­i­fy that we're talk­ing about the real Medicare for All, not watered down copy­cat plans that main­tain a role for the pri­vate insur­ance and phar­ma­ceu­ti­cal indus­tries. Yet because that is pre­cise­ly who funds Wall Street Democ­rats, it will be up to the grass­roots to cre­ate the polit­i­cal con­di­tions nec­es­sary on the ground to make that hap­pen, by orga­niz­ing our neighbors.
We must lead with hope. In the now Demo­c­ra­t­ic-con­trolled House, demo­c­ra­t­ic social­ist women of col­or Alexan­dria Oca­sio-Cortez and Rashi­da Tlaib will be crit­i­cal new voic­es join­ing Bernie Sanders in the Sen­ate rais­ing a vision­ary alter­na­tive to both Trump­ism and neolib­er­al bipartisanship.
Unions, in the midst of a mas­sive strike wave, must rise to the occa­sion as the sin­gle most effec­tive mass vehi­cle for rais­ing expec­ta­tions and build­ing orga­nized mul­ti-racial work­ing-class sol­i­dar­i­ty and pow­er, in and out­side the for­mal polit­i­cal system.
And Demo­c­ra­t­ic Social­ists of Amer­i­ca chap­ters in all 50 states will sys­tem­at­i­cal­ly orga­nize their com­mu­ni­ties — rur­al, sub­ur­ban and urban. Togeth­er, we have a world to win.
Rick Perl­stein, his­to­ri­an and author of The Invis­i­ble Bridge: The Fall of Nixon and the Rise of Reagan
The report­ing of the elec­tion returns com­ing on Tues­day was sur­re­al­ly and trag­i­cal­ly incom­plete. We hung on every word in down-to-the-wire races. In Flori­da, the gov­er­nor and Sen­ate races were sup­pos­ed­ly decid­ed by some­thing like 51,000 votes and 20,000 votes out about eight mil­lion cast. In Geor­gia, Stacey Abrams is ask­ing for a recount after com­ing 1.6 per­cent­age points short.
Did you hear a sin­gle word on TV late last night, how­ev­er, about the black precincts in Geor­gia where offi­cials didn't sup­ply pow­er cords for the vot­ing machines? The bat­ter­ies died, and peo­ple had to wait for hours to vote.
You and I know that the guy run­ning the elec­tion in Geor­gia, Bri­an Kemp, was also the Repub­li­can run­ning for gov­er­nor in Geor­gia. Not includ­ing an ongo­ing tab­u­la­tion of how many votes were being sup­pressed along with how many were cast is derelict.
So what is the les­son for pro­gres­sives? The same one I pro­posed back in 2006, when it was already appar­ent that the Republican's long-term strat­e­gy was hold­ing con­trol of gov­ern­ment whether they had a major­i­ty of the vot­ers or not. That year, among the cheat­ing tac­tics were vot­ers being del­uged with fake robo­calls, home­less men hired to dis­trib­ute fly­ers intend­ed to trick black vot­ers into think­ing the Repub­li­can can­di­date was actu­al­ly the Demo­c­rat, a cam­paign office sab­o­taged by a skunk, and calls placed from the ​"Vir­ginia Elec­tions Com­mis­sion" alert­ing recip­i­ents ​"you will not be allowed to cast your vote on Tues­day. If you do show up, you will be charged criminally."
Twelve years ago, I wrote: ​"From now on there should be no excuse: antic­i­pat­ing such inevitabil­i­ties has to be made an active part of Demo­c­ra­t­ic strate­giz­ing." Start now, because we sure as hell didn't start then.
Bar­bara Rans­by, Dis­tin­guished Pro­fes­sor of African Amer­i­can Stud­ies at the Uni­ver­si­ty of Illi­nois at Chica­go and author of Mak­ing All Black Lives Mat­ter: Reimag­in­ing Free­dom in the Twen­ty-First Century
We should have gone into this elec­tion with two under­stand­ings. One is that no vic­to­ry and no defeat is ever absolute. The sec­ond is that elec­toral pol­i­tics is only one are­na of strug­gle. It mat­ters, but not as much as we often think.
Pro­gres­sives some­times move oppor­tunis­ti­cal­ly to the right once in office. And right-wingers can change their tunes if there is enough pres­sure from the street. Andrew Gillum and Stacey Abrams may not have won their elec­tions, but in try­ing to get them elect­ed hun­dreds of thou­sands of peo­ple were ener­gized and set in motion. Move­ment orga­niz­ers now need to give them some­thing to do. At the same time, pro­gres­sives and rad­i­cals need to agree on an agen­da for the new Demo­c­ra­t­ic major­i­ty in the House. That task can­not be left to the politi­cians. An anti-racist, pro-work­ing class, inter­sec­tion­al fem­i­nist analy­sis has to inform that agenda.
More­over, key bal­lot ini­tia­tives were won yes­ter­day, most sig­nif­i­cant­ly, Propo­si­tion 4 in Flori­da which enfran­chised 1.5 mil­lion for­mer­ly incar­cer­at­ed cit­i­zens with felony con­vic­tions, dis­pro­por­tion­ate­ly poor peo­ple and peo­ple of col­or. This is a poten­tial game chang­er for future elections.
Even though some of the more high pro­file pro­gres­sives run­ning for office did not win, there is much work to do to build on the momen­tum of their cam­paigns, which is what we should do after any elec­tion if we have a ​"vote PLUS" strat­e­gy: Acti­vate data­bas­es to invite vol­un­teers into a larg­er polit­i­cal con­ver­sa­tions; plan march­es, vig­ils, direct action tac­tics that keep up the pres­sure on both Democ­rats and Repub­li­cans around key issues; re-acti­vate a hearts and minds media cam­paign to win, defeat or neu­tral­ize the under­ly­ing racist, elit­ist, misog­y­nist and xeno­pho­bic ideas that feed Trumpism's reac­tionary, white nation­al­ist agenda.
The first phase of strug­gle is the bat­tle of ideas — leg­is­la­tion and elec­tions are met­rics that tell us whether we are win­ning or losing.
Bill Fletch­er Jr., racial jus­tice, labor and inter­na­tion­al activist and author of They're Bank­rupt­ing Us! And 20 Oth­er Myths about Unions & Sol­i­dar­i­ty Divided
There are five key take­aways from Tuesday's results:
1: The Repub­li­cans have con­sol­i­dat­ed as Pres­i­dent Trump's par­ty and they are not split­ting off. Pro­gres­sives should not expect any great schisms.
2: Vot­er sup­pres­sion is alive and well and appears to have played out in Texas, Geor­gia and Flori­da, along with sev­er­al oth­er states. The active vot­er sup­pres­sion was accom­pa­nied by racist and xeno­pho­bic pro­pa­gan­da at a new scale.
3: Despite the pre­dictable loss­es in the Sen­ate, Democ­rats actu­al­ly did very well, mak­ing gains among the poor, women and sub­ur­ban vot­ers. And many of the new­ly elect­ed offi­cials seem to illus­trate a tran­si­tion­ing Demo­c­ra­t­ic Party.
4: Pro­gres­sives will need to build inde­pen­dent polit­i­cal orga­ni­za­tions that func­tion inside and out­side of the Demo­c­ra­t­ic Par­ty in order to sus­tain the momen­tum gained from this elec­tion and the move­ment orga­niz­ing that made it possible.
5: Neo­fas­cists are no longer hid­ing their col­ors and have used the Trump move­ment as their ​"unit­ed front" with­in which they oper­ate and where they seek a cer­tain type of legit­i­ma­cy. We on the Left must respond with a broad front against right-wing pop­ulism that both offers a polit­i­cal and eco­nom­ic alter­na­tive while not shy­ing away from direct­ly address­ing racism, sex­ism, reli­gious intol­er­ance and xenophobia.
Ai-jen Poo, senior advi­sor to Care in Action, the pol­i­cy and advo­ca­cy home for more than two mil­lion U.S. domes­tic workers
The midterm elec­tions — and the months upon months of orga­niz­ing lead­ing up to it — have absolute­ly and unequiv­o­cal­ly trans­formed the polit­i­cal land­scape for the nation. The Democ­rats tak­ing back the House is the first step towards build­ing a mul­tira­cial democ­ra­cy that works for every­one. And in Geor­gia, domes­tic work­ers part of Care in Action sup­port­ed a bold, pro­gres­sive Black woman for gov­er­nor, Stacey Abrams, who flipped tra­di­tion­al elec­toral pol­i­tics on its head.
Regard­less of the result, what we learned is that peo­ple are not only ready for change, but that the vot­ers who are nor­mal­ly pushed to the mar­gins are fuel­ing the future of the pro­gres­sive agen­da. Black work­ing women — and Black domes­tic work­ers — are writ­ing the blue­print for our future lit­er­al­ly from the bot­tom up.
Domes­tic work­ers clocked in count­less time and miles to make sure that vot­ers of col­or were con­tact­ed and engaged. The results were incred­i­ble. At least 250,000 vot­ers were mobi­lized, and ear­ly vot­er turnout what 121.2 per­cent high­er than in 2014. With more than 578 can­vassers on the ground, Care in Action made 506,315 vot­er con­tacts up until the very last moment that polling sta­tions closed.
What hap­pened in Geor­gia is more than out­stand­ing — it's our move­men­t's roadmap for 2020. And we are still fight­ing to bring Stacey Abrams to the fin­ish line as remain­ing pro­vi­sion­al bal­lots con­tin­ue to be counted.
Low-wage women of col­or and their lead­er­ship pow­ered the blue wave that led to this incred­i­ble moment. And this elec­tion is just the beginning.
Lar­ry Cohen, Board Chair of Our Rev­o­lu­tion and past pres­i­dent of the Com­mu­ni­ca­tions Work­ers of America
First, we need to cel­e­brate the resis­tance — now a polit­i­cal move­ment — led by women and Black, Brown and White work­ing-class vot­ers, and the new House Demo­c­ra­t­ic major­i­ty. But our vision of what is pos­si­ble means gov­ern­ing more than protest­ing. We real­ize that while fight­ing to pro­tect the Afford­able Care Act is impor­tant, it is not suf­fi­cient. What we need is Medicare for All. We real­ize we need decent work for all and orga­niz­ing rights at work as well as a liv­ing wage. Over­whelm­ing ref­er­en­dum vic­to­ries in Flori­da for ​"Restora­tion of Rights" or in Mary­land for same-day vot­er reg­is­tra­tion show that we can win on issues of democ­ra­cy. And we real­ize that the rules mat­ter more than the can­di­dates if we believe that we can win and govern.
We also real­ize that ours is the only democ­ra­cy in the world where we over­whelm­ing­ly win the rep­re­sen­ta­tive Con­gress but don't gov­ern, because the Sen­ate, elect­ed by a small state minor­i­ty, can eas­i­ly block the House agen­da, and the Pres­i­dent (elect­ed by a minor­i­ty) and Supreme Court can block them both.
If we believe that we can win and gov­ern at the local, state and fed­er­al lev­els, we need to fight for a real democ­ra­cy at every lev­el of gov­ern­ment and con­tin­ue the reform efforts in the Demo­c­ra­t­ic Par­ty itself so that the pop­u­lar vote is what counts in every elec­tion. This must include off­set­ting big mon­ey in the par­ty nom­i­nat­ing process, as well as in gen­er­al elections.
Yes, today we cel­e­brate, but tomor­row we focus again on build­ing sus­tain­able polit­i­cal orga­ni­za­tion inside and out­side the Demo­c­ra­t­ic Par­ty, and step by step build­ing a 21st-cen­tu­ry democ­ra­cy that allows us to gov­ern and focus on the issues and vision that make our lives more mean­ing­ful as we move forward.
Keean­ga-Yah­mat­ta Tay­lor, assis­tant pro­fes­sor of African-Amer­i­can Stud­ies at Prince­ton Uni­ver­si­ty, and the author of From #Black­Lives­Mat­ter to Black Liberation
The elec­toral vic­to­ries that broke the Repub­li­can hold on the House of Rep­re­sen­ta­tive have pierced the per­cep­tions of Trump­ism as all pow­er­ful and impen­e­tra­ble. This includes all kinds of pro­gres­sive ref­er­en­da, left can­di­dates in state races, and most dra­mat­i­cal­ly, the restora­tion of vot­ing rights for (most of) the for­mer­ly incar­cer­at­ed in Flori­da. There were sig­nif­i­cant vic­to­ries in the Mid­west, where Trump secured his elec­toral out­come in 2016. These are impor­tant repu­di­a­tions of the white suprema­cy ema­nat­ing for the White House. It was also a con­fir­ma­tion of the audi­ence that exists for actu­al Left pol­i­tics, not watered down centrism.
Con­ser­v­a­tive and cen­trist Democ­rats found that vot­ers won't waste their time with cheap knock­offs. The only chance we have to bury the Trump night­mare is a rad­i­cal polit­i­cal agen­da that pro­vides an actu­al and real alter­na­tive to the sta­tus quo.
The pro­gres­sive cur­rent with­in the Demo­c­ra­t­ic Par­ty did not just run against Trump — they ran on Medicare for All, abo­li­tion of ICE and oth­er polit­i­cal issues seen as pro­gres­sive and not just main­te­nance of the sta­tus quo.
Where these pol­i­tics failed to win, most spec­tac­u­lar­ly in Flori­da with Andrew Gillum and pos­si­bly with Stacey Abrams in Geor­gia, the naked racism, vot­er intim­i­da­tion, vot­er sup­pres­sion and out­right theft should not be under­es­ti­mat­ed. The GOP's long game of ger­ry­man­der­ing dis­tricts and using the courts to under­mine easy access to vot­ing will con­tin­ue to come into play as their mes­sage shrinks to its big­ot­ed and mani­a­cal base.
The oth­er truth com­ing out of the elec­tions is that the need for strug­gle and orga­niz­ing remain as impor­tant as they have ever been. In the effort to gen­er­ate the mobi­liza­tion of vot­ers, that unfor­tu­nate nar­ra­tive reduc­ing near­ly all of Black strug­gle and pol­i­tics to vot­ing was revived. Of course, secur­ing the right to vote had been a cen­tral part of Black polit­i­cal move­ments since eman­ci­pa­tion, but even activists and orga­niz­ers with­in the Civ­il Rights Move­ment, under­stood their strug­gle to be about so much more.
To put it sharply, vot­ing is not enough when the first words from Nan­cy Pelosi's upon win­ning the House of Rep­re­sen­ta­tives are her inten­tions to ​"reach across the aisle" in hope of attain­ing ​"bipar­ti­san­ship." It con­firms how out of touch the exist­ing Demo­c­ra­t­ic Par­ty lead­er­ship is, how lit­tle they have learned from 2016 and that strug­gle remains absolute­ly crit­i­cal to mak­ing them take the agen­da of poor and work­ing-class peo­ple in this coun­try seri­ous­ly. They will not do it on their own.
The growth of the hard right is real. The threat of fas­cism is real. Cli­mate col­lapse is real. These all require a qual­i­ta­tive trans­for­ma­tion in our polit­i­cal expec­ta­tions and demands. We have to think big; we have to orga­nize big­ger. It requires more than get­ting out the vote. Now the hard work continues.