Why Do They Want to Do Us Harm? [Part Three]
Helen Thomas asked the question. The White House stonewalled. Here are the answers.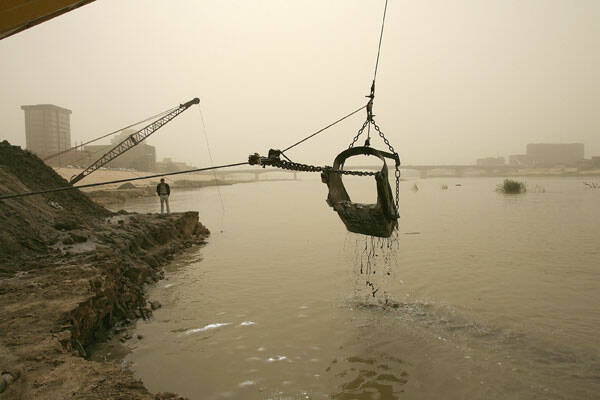 Breed­ing Violence
Noam Chom­sky
The sub­ti­tle of the ques­tion posed is ​"why do they want to do us harm?" That restricts the dis­cus­sion to a very nar­row cat­e­go­ry of ter­ror­ism, exclud­ing, for exam­ple, the cam­paign of the Kennedy broth­ers to bring ​"the ter­rors of the earth" to Cuba, that of their Rea­gan­ite suc­ces­sors to do the same in Cen­tral Amer­i­ca, and a great deal more, exten­sive­ly doc­u­ment­ed but exclud­ed from the canon because of ​"wrong agency."
'The map of terrorist sanctuaries and targets in the Middle East and Central Asia is also, to an extraordinary degree, a map of the world's principal emerging energy sources in the 21st century.'
Keep­ing to the restric­tion, the answers have nev­er been obscure. The basic rea­sons were giv­en by the Nation­al Secu­ri­ty Coun­cil in 1958, when Pres­i­dent Eisen­how­er asked why there is a ​"cam­paign of hatred against us" in the Arab world. Short­ly before, the NSC explained that ​"the major­i­ty of Arabs … believe that the Unit­ed States is seek­ing to pro­tect its inter­est in Near East oil by sup­port­ing the sta­tus quo and oppos­ing polit­i­cal or eco­nom­ic progress." And they are right: ​"our eco­nom­ic and cul­tur­al inter­ests in the area have led not unnat­u­ral­ly to close U.S. rela­tions with ele­ments in the Arab world whose pri­ma­ry inter­est lies in the main­te­nance of rela­tions with the West and the sta­tus quo in their coun­tries," block­ing democ­ra­cy and eco­nom­ic development.
After 9⁄11, the Wall Street Jour­nal car­ried out a poll among Mus­lim elites, peo­ple deeply com­mit­ted to U.S.-run neolib­er­al poli­cies. The results were much the same, though by then there were new con­cerns: deci­sive U.S. sup­port for Israeli crimes, and Clinton's mur­der­ous sanc­tions against the peo­ple of Iraq – of lit­tle inter­est here but a source of anger in the Arab world.
In Decem­ber 2004, a Pen­ta­gon advi­so­ry pan­el con­sid­ered Bush's plain­tive ques­tion ​"why do they hate us." The pan­el con­clud­ed that ​"Mus­lims do not ​'hate our free­dom,' but rather they hate our poli­cies," adding that ​"when Amer­i­can pub­lic diplo­ma­cy talks about bring­ing democ­ra­cy to Islam­ic soci­eties, this is seen as no more than self-serv­ing hypocrisy."
U.S. poli­cies are a gift to extrem­ists among jihadis, whose goal is to incite U.S. vio­lence against the pop­u­la­tions that they are seek­ing to mobilize.
With good rea­son, the hawk­ish Michael Scheuer, in charge of track­ing bin Laden for the CIA for many years, con­cludes that the Unit­ed States ​"remains bin Laden's only indis­pens­able ally."
There are rel­e­vant expe­ri­ences else­where. As long as Britain respond­ed to IRA ter­ror by force and repres­sion, the cycle of vio­lence esca­lat­ed. When Britain final­ly adopt­ed the sen­si­ble course of address­ing legit­i­mate griev­ances that were at its roots, ter­ror ended.
Vio­lence tends to incite vio­lence in response, an old les­son of his­to­ry and hard­ly a sur­pris­ing one.
Pipeline Pol­i­tics
By Car­ol Brightman
We'll nev­er get a straight answer from the U.S. gov­ern­ment, not because the al Qae­da attacks on Sep­tem­ber 11 were an admin­is­tra­tion set-up, which they weren't; or because the CIA knew some­thing was up (but not enough), which they did. Or because Bush's bud­dies were still hop­ing to get a con­tract for an oil pipeline across Afghanistan, which the Tal­iban gov­ern­ment was refus­ing to give them.
There's truth there, for the Tal­iban had been enter­tained in Hous­ton in 1997, and were in nego­ti­a­tions with Uno­cal until 1998, when Pres­i­dent Clin­ton fired cruise mis­siles at tar­gets in Afghanistan after al Qae­da bombed U.S. embassies in Kenya and Tan­za­nia. At that point Uno­cal pulled back and began to look toward a post-Tal­iban Afghanistan, as did mem­bers of the U.S. nation­al secu­ri­ty establishment.
After the arrival of Cheney and Bush in 2001, the Tal­iban dis­cus­sions were revived, until the Tal­iban began to demand ​"rent" for the roads, water sup­plies, tele­phone and pow­er lines, as well as a ​"tap" to pro­vide oil and gas for Afghanistan.
It's not hard to see how al Qaeda's attacks on the World Trade Cen­ter and the Pen­ta­gon gave the Unit­ed States a pass­port to invade Afghanistan, oust the Tal­iban, and install a pup­pet régime of for­mer Uno­cal employ­ees, like Hamid Karzai, a Pash­tun roy­al­ist, and Zal­may Kalizad, U.S. envoy. This was the ori­gin of the Karzai gov­ern­ment, Bush's first exper­i­ment with ​"régime change," fol­lowed by the over­throw of Sad­dam Hus­sein in Iraq, and the instal­la­tion of the accom­mo­dat­ing régime of Shi­ite Nouri al-Maliki.
Only the San Fran­cis­co Chron­i­cle broke the media's silence by observ­ing, as ear­ly as Sept. 26, 2001, that ​"the map of ter­ror­ist sanc­tu­ar­ies and tar­gets in the Mid­dle East and Cen­tral Asia is also, to an extra­or­di­nary degree, a map of the world's prin­ci­pal emerg­ing ener­gy sources in the 21st cen­tu­ry," adding that ​"it was inevitable that the war against ter­ror­ism will be seen…as a war on behalf of America's Chevron, Exxon, and Arco; France's Totral­Fi­nalElf; British Petro­le­um; Roy­al Dutch Shell … which have hun­dreds of bil­lions of dol­lars in the region."
But gov­ern­ment PR machines, fol­lowed by a docile media, kept oil out of the pic­ture. New U.S. bases sprang up across the region in strate­gic prox­im­i­ty to hydro­car­bon assets, but lit­tle was said.
The war against ter­ror was a fake. Osama bin Laden's moti­va­tion to do us harm was based on his inti­mate knowl­edge of the glob­al cam­paign to expand U.S. access to Mid­dle East oil. On the day he attacked the Unit­ed States, Shafiq bin Laden, Osama bin Laden's estranged broth­er, was attend­ing an invest­ment con­fer­ence in Wash­ing­ton with George Bush, Sr., and his for­mer sec­re­tary of state, James Bak­er, which was host­ed by the Car­lyle Group. Such were Carlyle's con­nec­tions that imme­di­ate­ly fol­low­ing al Qaeda's attacks, when no one was allowed in or out of the Unit­ed States, most of the extend­ed bin Laden clan were spir­it­ed home to Sau­di Arabia.
Could that date have mat­tered to Osama? It sure­ly wasn't the rea­son for the attacks, which took years to pre­pare. But Osama bin Laden's resent­ment of his family's attach­ment to Bush, Bak­er, et al., and to the enor­mous oil wealth at their fin­ger­tips in Sau­di Ara­bia, the Mid­dle East, and Cen­tral Asia, was con­sid­er­able. That is the direc­tion we must take to find the answer to Helen Thomas' question.
Dr. Phil Sitdown
By Azhar Usman
It is not easy to talk about why some peo­ple around the world want to harm the Unit­ed States. Point­ing out wrongs com­mit­ted by the Unit­ed States opens one up to charges of being ​"unpa­tri­ot­ic," or – as is the case with many Mus­lims who express views crit­i­cal of U.S. poli­cies – ​"ter­ror­ist sym­pa­thiz­ers." So let me state unequiv­o­cal­ly, up front, that I am not a ter­ror­ist sym­pa­thiz­er. In fact, it is my belief that the tak­ing of inno­cent civil­ian life is always moral­ly unjus­ti­fi­able – whether it is done by a man with dark skin, wear­ing white robes, in a dark cave, or a man with light skin, wear­ing a dark suit, in a White House. (Since Oba­ma took office, that last line doesn't work as well, but you get the point.)
The sin­gle great­est griev­ance peo­ple have about the Unit­ed States is hypocrisy. For all its talk about sup­port­ing democ­ra­cy, the Unit­ed States has a check­ered his­to­ry of sup­port­ing bru­tal dic­ta­tors when it serves U.S. strate­gic and com­mer­cial inter­ests. For all its talk of denounc­ing ter­ror­ism and want­i­ng to keep the world safe from nuclear war, the Unit­ed States remains the only nation to have dec­i­mat­ed civil­ian pop­u­la­tions with nuclear weapons. For all its talk about being a civ­i­lized nation of laws and jus­tice, the Unit­ed States has reg­u­lar­ly and repeat­ed­ly invad­ed oth­er coun­tries, in bla­tant con­tra­ven­tion of estab­lished inter­na­tion­al laws.
And despite all the jin­go­ism, war­mon­ger­ing and polit­i­cal vio­lence, Amer­i­ca has the audac­i­ty to wag its fin­ger at oth­ers, shout­ing ​"Ter­ror­ist!" It's not just ​"the pot call­ing the ket­tle black"; it's like Goliath call­ing David an unholy mon­ster. It's plain­ly ridicu­lous, and peo­ple all over the world can see this. The emper­or is naked.
Of course, the sin­gle largest ele­phant in the room is the Israel-Pales­tine prob­lem. Uni­ver­si­ty of Chica­go Pro­fes­sor Richard Pape demon­strates in Dying to Win: The Strate­gic Log­ic of Sui­cide Ter­ror­ism, that the vast major­i­ty (if not all) of the sui­cide ter­ror­ists in the world are moti­vat­ed by their desire to dri­ve for­eign invad­ing forces from their land. Many of these groups clothe their ide­o­log­i­cal agen­das in reli­gious lan­guage and ideas, but the under­ly­ing real­i­ties on the ground are almost always the same: land disputes.
Main­stream, respectable, saga­cious glob­al lead­ers, such as Nel­son Man­dela, Jim­my Carter and Desmond Tutu, even Jon Stew­art, have equat­ed the sit­u­a­tion on the ground in Israel-Pales­tine with apartheid. Unless the Unit­ed States becomes a more bal­anced bro­ker of peace in that con­flict, the ele­phant will move from the fine chi­na to the fur­ni­ture and lamps, and even­tu­al­ly knock down the walls of the room itself.
There is the prob­lem of reli­gion, or more accu­rate­ly, reli­gious fun­da­men­tal­ism. Bruce Lawrence at Duke Uni­ver­si­ty argues in Defend­ers of God: The Fun­da­men­tal­ist Revolt Against the Mod­ern Age that clas­si­cal reli­gious teach­ings are being per­vert­ed, dis­tort­ed and invert­ed across all major world reli­gions by mani­a­cal fringes and mil­lenar­i­ans from every tra­di­tion. Thought­ful peo­ple across all faiths should be talk­ing about how to con­front such forces in a uni­fied, intel­li­gent man­ner, rather than get­ting bogged down in fin­ger-point­ing, or worse, blam­ing reli­gion itself.
Per­haps the eas­i­est way for Amer­i­ca to under­stand why peo­ple want to do it harm would be for it to sit down with the tele­vi­sion per­son­al­i­ty Dr. Phil. ​"So Amer­i­ca, we all know you are rich, pow­er­ful, and beau­ti­ful, but you've also done some pret­ty hor­ri­ble things to var­i­ous peo­ple around the world for decades now – many of which have been covert oper­a­tions. And now some dis­turbed indi­vid­u­als with a polit­i­cal vendet­ta and rad­i­cal reli­gious ideas are blow­ing back like crazy chick­ens with their heads cut off, com­ing home to roost, and your pro­posed solu­tion is to invade more coun­tries, drop more bombs, kill more inno­cent civil­ians, and make more ene­mies? How's that work­ing out for you?"
The Pow­er of Memory
Gay­tari Chakra­vorty Spivak
Col­lec­tive hatred comes from nar­ra­tives of cul­tur­al memory.
In 1916, antic­i­pat­ing vic­to­ry, France, Rus­sia, and Britain cre­at­ed the ​"Mid­dle East" out of the remains of the 600-year old Ottoman Empire. Lebanon and Iraq were direct­ly con­trolled, oth­ers kept in spheres of influ­ence. Haifa, Gaza, and Jerusalem were an Allied ​"con­do­mini­um." Arms con­trol was strict­ly Euro­pean. The Arab pow­ers learned of this at war's end (1917). Agree­ments assur­ing Arab inde­pen­dence had disappeared.
Such are the ingre­di­ents for a future cul­tur­al memory.
The Ottoman Empire was cor­rupt but, except for focused exam­ples such as the Armen­ian geno­cide, gen­er­al­ly car­ried an atti­tude of con­flict­ual co-exis­tence toward reli­gious dif­fer­ence. Now arrived a mas­ter race that thought itself jus­ti­fied in con­trol­ling and sys­tem­atiz­ing the locals, with­out any social con­tract, often by remote con­trol. An inchoate resent­ment stirred in peo­ple at ground lev­el who could not com­bat this trans­for­ma­tion. Women felt it strong­ly, think­ing of men as hold­ing their dig­ni­ty. The skele­ton of a cul­tur­al mem­o­ry in the mak­ing now flesh­es out.
With the Bal­four Dec­la­ra­tion (1917), approved by the League of Nations (1922), Britain is charged to admin­is­ter parts of the defunct Ottoman Empire, ​"until such time as they are able to stand alone."
Noth­ing should be done to prej­u­dice the civ­il and reli­gious rights of exist­ing non-Jew­ish com­mu­ni­ties in Pales­tine, the dec­la­ra­tions say. Now the sense of a reli­gious as well as civ­il right is ready to form with­out inter­nal insti­tu­tion­al intel­lec­tu­al sup­port, and the nar­ra­tive of ​"cul­tur­al mem­o­ry" thick­ens fur­ther. The out­rage is strongest in those – less priv­i­leged, land­locked – who are made to feel that they do not deserve to live on their land.
After 1948, the pow­er that had passed from Ottoman to Europe, pass­es to Unit­ed States and Israel. Israel begins to jus­ti­fy itself by cul­tur­al mem­o­ry: bib­li­cal nar­ra­tive. The ques­tion of the right to reli­gion solid­i­fies, trans­formed into the new abstract idiom of the state. For Israel this is sharp­ened by past Euro­pean oppres­sion and denial of Euro­pean­ness. In Pales­tine, how­ev­er, the right to land as sacred space can­not invoke that pre-his­to­ry as jus­ti­fi­ca­tion for the dis­place­ment of orig­i­nal inhab­i­tants, who also now begin to inhab­it reli­gious rights discourse.
Islam is inter­na­tion­al. The dis­course of reli­gion per­mit­ted con­nec­tions: with the CIA-backed Tal­iban in Afghanistan, the post-inde­pen­dence recod­ing of Hin­du-Mus­lim con­flict­ual coex­is­tence upon the Indi­an sub­con­ti­nent, the emer­gence of the Wah­habis, con­se­quences of the Shah's depo­si­tion in Iran, and, after 1989, the ​"Islam­ic" post-Sovi­et bloc. Cul­tur­al mem­o­ry as ​"reli­gion" can now cre­ate an ide­ol­o­gy of just war through ear­ly child­hood edu­ca­tion of the deprived.
After World War II, the Unit­ed States picked up Europe's bur­den. And ​"Amer­i­ca" seemed to get away with every­thing – remain­ing the repos­i­to­ry of Enlight­en­ment virtues, the shin­ing land where immi­grants flock. Yet, look­ing at Haiti, the Con­go, or Chile – Aris­tide, Lumum­ba, Allende, the list goes on – it seems absurd to say that Amer­i­ca stands for jus­tice and right. And Israel is reg­u­lar­ly described as the only democ­ra­cy in the region.
That's why ​"they" want to harm ​"us" – because, for a long time, ​"we" seem to have want­ed to harm ​"them," and own ​"them," for no rea­son at all: impe­r­i­al for­eign pol­i­cy, nar­ra­tivized into cul­tur­al mem­o­ry. Yet ​"we" are the angels. As a lit­er­ary critic/​activist/​educator, I think to find such caus­es – though I applaud Helen Thomas's tenac­i­ty – is as coun­ter­pro­duc­tive as avoid­ing the ques­tion. For the point is to dis­lodge the polar­iza­tion, unmake nar­ra­tive, undo mem­o­ry. Impos­si­ble tasks.