Ikea's Race to the Bottom
Turkish workers say Ikea takes advantage of the authoritarian government's anti-union policies.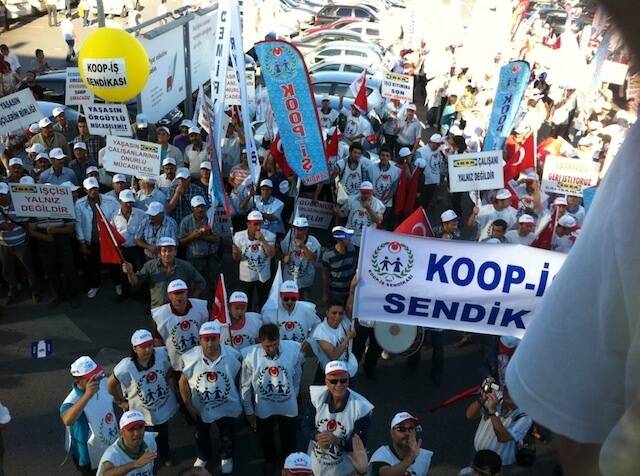 With total sales of $36 billion in 2012, Ikea is the world's largest furniture retailer, and one of the world's most recognizable retail brands. Worldwide, Ikea operates in approximately 40 countries and has more than 100,000 employees.
Ikea's labor practices in Turkey are more like those in Saudi Arabia—a country that represses independent unions—than those of Sweden, where companies generally have cooperative relationships with their unions.
On June 19, Ikea employees in a dozen different countries will take part in protests against poor labor standards and management violations of freedom of association. In the past year, Ikea has been accused of committing labor-rights violations in several countries, including the United States, Russia, Czech Republic, Ireland, Greece, Italy and France. But Turkey stands out as an exceptionally bad case.
The anti-government protests in Istanbul have brought global attention to the authoritarian tendencies of Prime Minister Erdoğan's Justice and Development party (AKP) government. In the area of labor relations, the AKP government has allowed companies to violate workers' freedom of association with virtual impunity. Some of the worst offenders in recent years have been European-based multinationals such as Ikea.
I spoke with employees at Ikea's five Turkish stores — two in Istanbul, and one each in Ankara, Izmir and Bursa — for a report on Ikea's practices in Turkey commissioned by the global union federation Union Network International (UNI). I found that management has been guilty of very un-Swedish behavior. For the past two years, employees say, Ikea Turkey has run a campaign of intimidation, interference and coercion in response to their efforts to choose a union. Anti-union tactics allegedly used by Ikea management include the following:
The misuse of performance evaluations to drive union activists out
Pressures and bribes to entice union activists to resign from their positions
Retaliation against union members in the workplace
Compulsory ​

"

captive audience" anti-union meetings

One-on-one meetings between managers and individual union members

Exclusion of any pro-union voices from the workplace

Anti-union comments discouraging employees from joining the union

Indoctrination of new employees against the union
More like Saudi Arabia than Sweden?
Ikea enjoys a cooperative relationship with unions in Sweden and is a signatory to the United Nations Global Compact (UNGC), an international effort to encourage corporations to adopt socially responsible practices that prohibits companies from interfering with workers' freedom of association. But Ikea's respect for labor rights in Northern Europe and its commitment to international standards appears not to have influenced the conduct of its senior management in Turkey.
Ikea Turkey is a legally independent franchisee of Inter-Ikea, which is based in Delft, Holland. Ikea's Turkish managers have made sure that their employees understand that the company is not bound by Ikea's more ​"pro-union practices" in Northern Europe. One worker told me that last summer, at a mandatory meeting for employees, a senior Turkish manager said, ​"Ikea doesn't have a union in Saudi Arabia and it doesn't need one in Turkey, either." As his comments suggest, Ikea's labor practices in Turkey are more like those in Saudi Arabia — a country that represses independent unions — than those of Sweden, where companies generally have cooperative relationships with their unions.
Ikea is practicing a clear double standard: It respects the rights of its workers in Northern Europe, but violates the rights of its Turkey workers. It is also guilty of hypocrisy by signing up to the UN Global Compact but failing to live up to its principles in Turkey. Ikea has steadfastly resisted signing an international framework agreement with UNI that would ensure that labor standards are upheld wherever it operates.
In response to criticism of its aggressive anti-unionism in Turkey, Inter-Ikea has hired the global consultant firm PricewaterhouseCoopers, which, like most corporate auditors, will likely conclude that management must improve specific human resource practices, but there is no evidence of systematic violations of the right to organize. But until Ikea deals with the real issue — the determination of its Turkish management to avoid unionization at all costs — no amount of whitewashing will make its labor troubles go away.
Employer violations of fundamental labor rights are widespread in Turkey. Even self-proclaimed ​"progressive" corporations such as Ikea that officially commit to international labor standards may take full advantage of the country's inadequate laws and lax enforcement to undermine workers' freedom of association. If Ikea is serious about respecting workers' rights worldwide, it must stop exploiting the loopholes in Turkey's weak laws and end its apparent campaign of intimidation, interference and coercion.
A version of this story ran on BeyondChron.
John Logan
is Professor and Director of Labor and Employment Studies at San Francisco State University and a visiting scholar at UC Berkeley. Between
2000
-
2009
he taught in the school of management at the London School of Economics and Political Science.