Right-to-Work in Michigan Is About Politics, Not Economics
Michigan's anti-union legislation will hurt the state's economy, not help it as Republicans claim.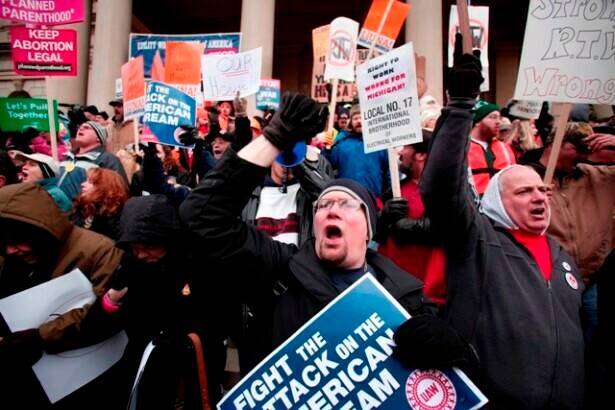 Today, Michi­gan became the nation's 24th state, and the most union­ized state, to enact right-to-work leg­is­la­tion pro­hibit­ing employ­ers and unions from nego­ti­at­ing union secu­ri­ty agree­ments. In protest, thou­sands of union mem­bers and their allies con­verged at the state Capi­tol in Lans­ing this morning.
Either through willful ignorance or deliberate misrepresentation, Snyder is professing to give employees a right that they already enjoy.
Michi­gan Repub­li­cans have done their utmost to make sure there has been no oppor­tu­ni­ty to dis­cuss the mer­its of the leg­is­la­tion and no oppor­tu­ni­ty for vot­ers to learn about the true impact of right-to-work. They have rushed right-to-work through the leg­is­la­ture in record time, over­rid­ing the attempts of Democ­rats to have the leg­is­la­tion vot­ed on in con­fer­ence com­mit­tee. Late last week, the con­tro­ver­sial mea­sure went from floor intro­duc­tion to pas­sage in 90 min­utes, with no hear­ings and no tes­ti­mo­ny. After watch­ing Ohio's anti-col­lec­tive bar­gain­ing leg­is­la­tion over­turned by a large major­i­ty in a spe­cial elec­tion last year, Repub­li­cans have tak­en mea­sures to ensure that Michigan's vot­ers can­not over­turn right-to-work. The inclu­sion of an appro­pri­a­tions pro­vi­sion means that right-to-work can only be replaced by new leg­is­la­tion, and the redraw­ing of bound­aries by Repub­li­cans after the 2010 elec­tions will make it dif­fi­cult for Democ­rats to win the seats nec­es­sary to achieve this.
Michigan's Repub­li­can gov­er­nor, Rick Sny­der, mean­while, has had a dra­mat­ic change of heart on the mer­its of right-to-work. Pri­or to the elec­tion, the Gov­er­nor stat­ed repeat­ed­ly that he con­sid­ered right-to-work as too divi­sive an issue. It was ​"not on his agen­da" and he did not want to see a bill on his desk. Instead, he want­ed to focus on what mat­ters most to Michi­gan­ders — job cre­ation. But now Sny­der has enthu­si­as­ti­cal­ly endorsed the leg­is­la­tion, appear­ing to believe that Michi­gan can com­pete domes­ti­cal­ly and inter­na­tion­al­ly on the basis of low wages and poor labor standards.
Despite the unsub­stan­ti­at­ed claims of its anti-union sup­port­ers, low­er wages and poor­er labor stan­dards — includ­ing high­er work­place fatal­i­ty rates — are the only proven results of right-to-work leg­is­la­tion. Sev­en of the ten states with low­est incomes in the nation are right-to-work states, while only three of the ten states with the fastest grow­ing economies are right-to-work states. In Michi­gan, right-to-work will also pro­duce sig­nif­i­cant uncer­tain­ty, as the leg­is­la­tion will almost cer­tain­ly face a court chal­lenge because it exempts pub­lic safe­ty employees.
After meet­ing with the Gov­er­nor on Mon­day to express their oppo­si­tion, Michigan's con­gres­sion­al Democ­rats stat­ed that Sny­der appeared not to under­stand cur­rent law. In Michi­gan, as in the rest of the Unit­ed States, no one can be forced to join a union as a con­di­tion of employ­ment. Under fed­er­al law, nei­ther the union nor the employ­er can require an employ­ee to join the union in either the pub­lic or pri­vate sec­tors. Work­ers rep­re­sent­ed by unions always have the option of becom­ing agency fee pay­ers, con­tribut­ing a fee that cov­ers only the cost of rep­re­sent­ing the employ­ee in the bar­gain­ing unit. Yet Sny­der insists on stat­ing that right-to-work laws give work­ers the ​"ulti­mate choice" on whether or not they join a union. Either through will­ful igno­rance or delib­er­ate mis­rep­re­sen­ta­tion, Sny­der is pro­fess­ing to give employ­ees a right that they already enjoy.
In fact, right-to-work laws sim­ply out­law agree­ments that pro­vide for agency fees from non-mem­bers, there­by mak­ing it much more dif­fi­cult for unions to main­tain sta­ble orga­ni­za­tions. Unions are still required by law to nego­ti­ate on behalf of all the work­ers in the bar­gain­ing unit, even though under right-to-work, non-mem­bers don't pay for the rep­re­sen­ta­tion they receive.
Right-to-work leg­is­la­tion would be a dis­as­ter for work­ers in Michi­gan. But even worse for Amer­i­can work­ers is the prospect of Repub­li­can law­mak­ers in the neigh­bor­ing states of Ohio and Penn­syl­va­nia tak­ing advan­tage of the sit­u­a­tion — argu­ing that because Indi­ana and Michi­gan have passed right-to-work, they will be at a com­pet­i­tive dis­ad­van­tage unless they fol­low suit — to launch their own ide­o­log­i­cal attacks on unions.
On a vis­it to a fac­to­ry that is cre­at­ing more union jobs, Pres­i­dent Oba­ma stat­ed in Michi­gan on Mon­day, ​"These so-called ​'right-to-work' laws, they don't have to do with eco­nom­ics; they have every­thing to do with pol­i­tics." This gets to the heart of the issue. Right-to-work won't help Michigan's econ­o­my or its work­ers, but it will low­er wages and wors­en labor stan­dards. And it will dam­age the prin­ci­pal orga­ni­za­tions in Michi­gan that give a polit­i­cal voice to work­ers, instead of to bil­lion­aires, and that, of course, is its true purpose.
Update: This piece has been updat­ed to reflect that Gov. Rick Snyfer signed the leg­is­la­tion soon after the House vot­ed it through.
John Logan
is Pro­fes­sor and Direc­tor of Labor and Employ­ment Stud­ies at San Fran­cis­co State Uni­ver­si­ty and a vis­it­ing schol­ar at UC Berke­ley.Between
2000
 – 
2009
he taught in the school of man­age­ment at the Lon­don School of Eco­nom­ics and Polit­i­cal Science.