Don't Like War? Then Don't Work! Remembering When Dockworkers Shut Down the Ports on May Day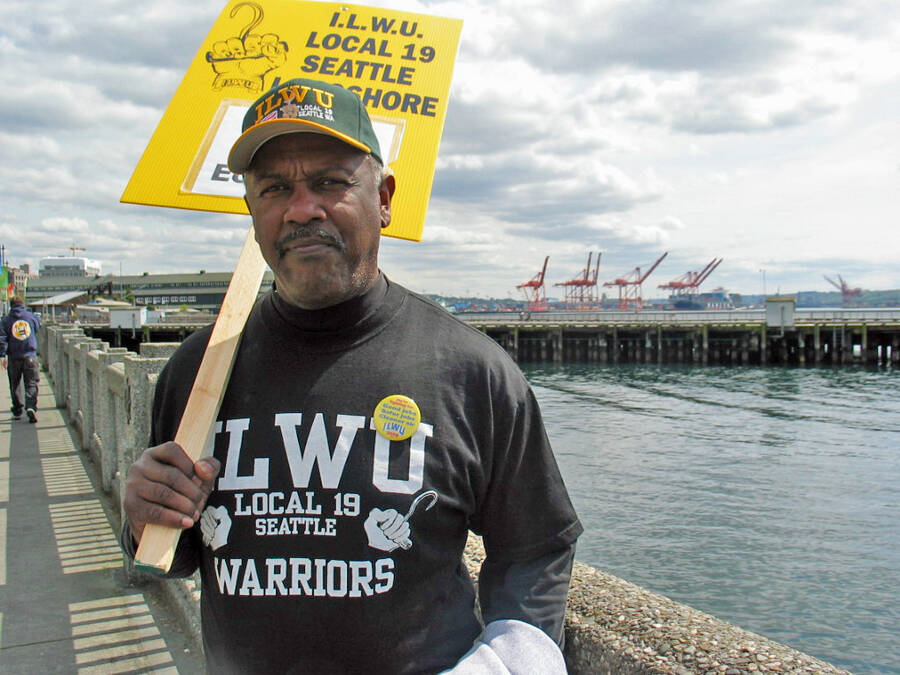 ​May Day — a legal hol­i­day for work­ers in most coun­tries — was born in Chica­go. On May 1, 1886, work­ers shut down America's great­est indus­try city, and oth­er cities too, to demand the 8‑hour work­day. In 1894, the U.S. Con­gress inten­tion­al­ly cre­at­ed a Labor Day at anoth­er time of the year, but some Amer­i­cans con­tin­ue cel­e­brat­ing the orig­i­nal, real Labor Day.
On May 1, 2008, 10,000 mem­bers of the Inter­na­tion­al Long­shore and Ware­house Union (ILWU), one of the strongest and most mil­i­tant unions in the Unit­ed States, walked in those Chicagoans' foot­steps. They did so by walk­ing off the docks at all 29 West Coast ports, com­plete­ly shut­ting down America's Pacif­ic trad­ing network.
These work­ers did so, they said, ​"to demand an imme­di­ate end to the war and occu­pa­tion in Iraq and Afghanistan and the with­draw­al of U.S. troops from the Mid­dle East." Their action revealed the pow­er of orga­nized labor as well as ongo­ing frus­tra­tion with U.S. wars that con­tin­ue to this very day.
Protest­ing impe­ri­al­ist wars
The plan for this ​"stop work" orig­i­nat­ed inside Local 10, which rep­re­sents dock­work­ers through­out the San Fran­cis­co Bay Area. Jack Hey­man, a long-time rank-and-file mil­i­tant in Local 10, played a key role in orga­niz­ing for the 2008 May Day action, along­side oth­er inter­na­tion­al­ly-mind­ed social­ists in the local. In 2007, these social­ists helped orga­nize an inter­na­tion­al labor con­fer­ence to stop the war in Iraq. Union­ists from around the world par­tic­i­pat­ed, as did British Labour MP Jere­my Cor­byn. As Hey­man tells In These Times, ​"The main res­o­lu­tion of that con­fer­ence was for trade unions to go back and orga­nize strikes at the point of production."
Sub­se­quent­ly, Local 10 offered a res­o­lu­tion at the ILWU Long­shore Cau­cus, in which work­ers elect­ed from every local meet to estab­lish union-wide pol­i­cy. They pro­posed a ​"stop work meet­ing" dur­ing the day shift on May Day to protest America's impe­ri­al­ist wars in Iraq and Afghanistan. Although with­in their con­trac­tu­al rights, rarely are such meet­ings held for an entire shift, let alone for a day shift or for a polit­i­cal reason.
The Inter­na­tion­al offi­cers and Local 13 offi­cials (Port of Los Ange­les-Long Beach) urged cau­tion, as recalled by sev­er­al work­ers present at this Cau­cus. How­ev­er, as Saman­tha Lev­ens, then a rank-and-file mem­ber of the San Fran­cis­co Region of the ILWU's Inland Boatmen's Union, recalls in an inter­view with In These Times, ​"Mem­bers from across the ILWU rose and spoke in favor of the res­o­lu­tion. I was new to the ILWU at this time, so this was the most mov­ing thing to me. Many mem­bers spoke pas­sion­ate­ly against the war, many were vet­er­ans or had chil­dren in the mil­i­tary." The res­o­lu­tion passed 97 – 3.
After much plan­ning, includ­ing the orga­niz­ing of march­es and ral­lies in con­junc­tion with the shut­downs, ILWU mem­bers stopped work in every port on May 1. As Seattle's Local 19 Pres­i­dent Her­ald Ugles said at the time, ​"Nor­mal­ly, when I see the cranes all boomed-up [long­shore par­lance for not mov­ing], it makes me sad … But today it's a great sight to see — not just here, but all up and down the West Coast!"
Hey­man recalls, ​"That was uncer­tain going into the action, because PMA [Pacif­ic Mar­itime Asso­ci­a­tion], the employ­ers' asso­ci­a­tion, was pub­li­ciz­ing that the action was ille­gal and they'd take action in courts to stop it. Besides, they arro­gant­ly stat­ed that the largest long­shore local on the Coast, L.A., would go to work. L.A. offi­cials were not com­mit­ting them­selves, but on May Day the mem­ber­ship spoke loud and clear. Noth­ing was mov­ing on the docks that day!"
Thanks poured in from around the world. As pub­lished in the June 2008 issue of the ILWU's month­ly mag­a­zine, Dis­patch­er, some­one iden­ti­fied as ​"M.J." wrote, ​"My hus­band is cur­rent­ly serv­ing his sec­ond 15-month tour in Iraq. I want to thank you for your brave, and in my view, high­ly effec­tive protest of the Iraq war. My hus­band and I are very pro-union for a lot of rea­sons, and you've giv­en us anoth­er great rea­son to proud­ly say Union YES!!!"
Per­haps the most poignant mes­sage came from the Gen­er­al Union of Port Work­ers in Iraq: ​"The coura­geous deci­sion you made to car­ry out a strike on May Day to protest against the war and occu­pa­tion of Iraq advances our strug­gle against occu­pa­tion to bring a bet­ter future for us and for the rest of the world as well."
"Long­shore work­ers tried to show the labor move­ment that the work­ing class has the pow­er to stop these impe­ri­al­ist wars," says Hey­man. ​"The chant at the start of the Iraq War in the port of Oak­land [in 2003] was ​"War is for prof­it, work­ers can stop it!"
Social jus­tice unionism
The 2008 action belongs to the ILWU's 80-year-and-count­ing his­to­ry of labor and polit­i­cal activism. From its incep­tion, the ILWU has been racial­ly inte­grat­ed, and Local 10 has proven par­tic­u­lar­ly com­mit­ted to recruit­ing African Amer­i­cans and oth­er work­ing peo­ple of col­or. In their for­ma­tive ​"Big Strike" of 1934, dock­work­ers won a coast-wide con­tract, a union-con­trolled hir­ing hall, wage increas­es and more.
Dock­work­ers refused to han­dle car­go for fas­cist Japan in the 1930s and from apartheid South Africa in the 1960s, 1970s and 1980s.
In 1999, the ILWU shut down the coast to demand the release of jour­nal­ist, for­mer Black Pan­ther and death row polit­i­cal pris­on­er Mumia Abu-Jamal. Arguably, their effort played a role in stop­ping the state of Penn­syl­va­nia from exe­cut­ing him.
On May Day 2015, to protest police killings of African Amer­i­cans, par­tic­u­lar­ly Wal­ter Scott in Charleston, South Car­oli­na, Local 10 shut down Bay Area ports. And last August, the ILWU helped lead resis­tance to a planned alt-right protest in San Francisco.
"The May Day 2008 anti-war walk-out was a clear reminder of the right and need of union mem­bers to be social activists," Todd Iver­son, a cur­rent leader in Local 23 (Taco­ma) and par­tic­i­pant in 2008, tells In These Times. ​"The ILWU has a long his­to­ry of stand­ing up for social jus­tice from apartheid to wage inequal­i­ty and more recent­ly Black Lives Mat­ter. We as ILWU mem­bers feel an oblig­a­tion to be the voice for the voiceless."
Peter Cole
is a Pro­fes­sor of His­to­ry at West­ern Illi­nois Uni­ver­si­ty and Research Asso­ciate in the Soci­ety, Work and Devel­op­ment Pro­gram at the Uni­ver­si­ty of the Wit­wa­ter­srand in Johan­nes­burg, South Africa. He is the author of Wob­blies on the Water­front: Inter­ra­cial Union­ism in Pro­gres­sive Era Philadel­phia and the award-win­ning Dock­work­er Pow­er: Race and Activism in Dur­ban and the San Fran­cis­co Bay Area. He also is the founder and co-direc­tor of the Chica­go Race Riot of
1919
Com­mem­o­ra­tion Project (CRR
19
). He tweets from @ProfPeterCole.