Unions Can Protect Workers From Deportation. This Coalition of 3.5 Million Is Showing How.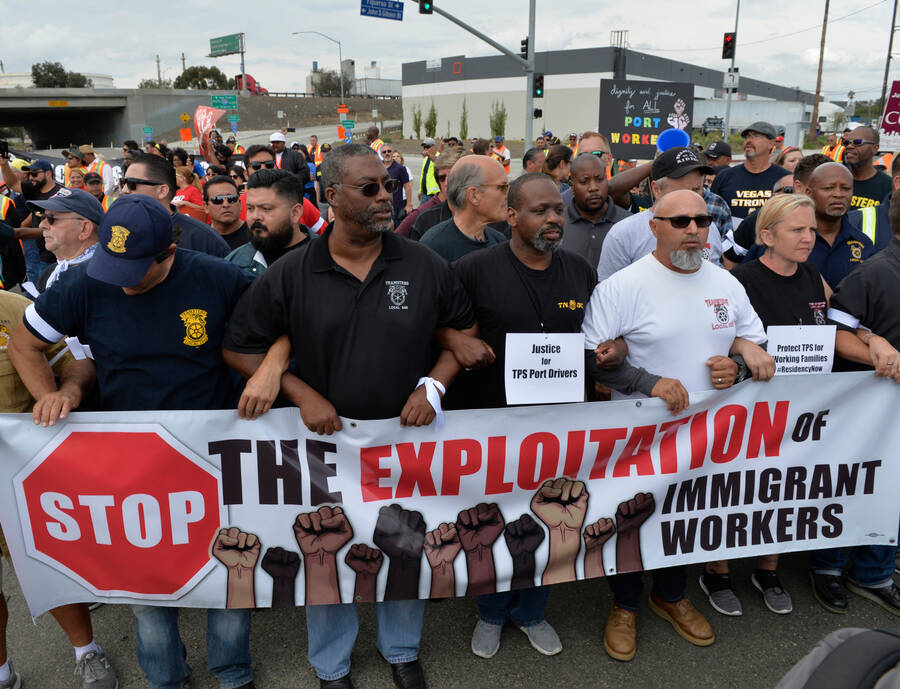 After more than two decades liv­ing, work­ing, and build­ing a fam­i­ly in the Unit­ed States, Cesar Rodriguez feels his life is in lim­bo. The dri­ver for the Ports of Los Ange­les and Long Beach from El Sal­vador is one of more than 300,000 immi­grants at risk of los­ing their tem­po­rary legal sta­tus in the U.S. after the Trump admin­is­tra­tion scrapped the pro­gram for a hand­ful of countries.
"I'm a truck­er, and I make my liv­ing with my license. With­out my license, I lose my job," Rodriguez told In These Times. ​"If I lose my job, I would lose every­thing — even my fam­i­ly, because I wouldn't have a way to sup­port them."
Rodriguez arrived in the Unit­ed States in 1996. After liv­ing undoc­u­ment­ed for five years, the gov­ern­ment extend­ed Tem­po­rary Pro­tect­ed Sta­tus (TPS) to Sal­vado­rans when a dev­as­tat­ing pair of earth­quakes rocked their home coun­try, giv­ing immi­grants like Rodriguez pro­tec­tion from depor­ta­tion and autho­riza­tion to work. Now, he's wor­ried about what the can­cel­la­tion of the pro­gram will mean for him and his wife, also a TPS hold­er from El Sal­vador, and their three U.S.-born children.
"We're fight­ing so that they don't take away our TPS," he said. ​"I don't want to be sep­a­rat­ed from my chil­dren, from my family."
Rodriguez, part of a group of port dri­vers fight­ing for rights to join a union, is relieved to have parts of the labor move­ment on his side. Although he is not union­ized, he says he already feels like part of a Team­sters local due to the union's sup­port for work­ers like him on two fronts: labor rights and immi­gra­tion justice.
The Team­sters is one of the labor unions tak­ing a stand to pro­tect TPS hold­ers with the mes­sage that immi­grant rights are work­er rights. Six unions rep­re­sent­ing 3.5 mil­lion work­ers have teamed up under the ban­ner of Work­ing Fam­i­lies Unit­ed to join the cam­paign to save TPS and demand Con­gress take bipar­ti­san action to allow TPS hold­ers to stay in the country.
"The fight to save TPS for us is very clear from both a work­er rights side and a union side. That's what brought us togeth­er," said Nei­di Dominguez, nation­al strate­gic orga­niz­ing coor­di­na­tor with the Inter­na­tion­al Union of Painters and Allied Trades (IUPAT), which is part of the Work­ing Fam­i­lies Unit­ed coalition.
Not only would the can­cel­la­tion of TPS direct­ly impact scores of union mem­bers, but it would also strip unions of mem­ber­ship, Dominguez told In These Times. This is espe­cial­ly true for the con­struc­tion and food ser­vice indus­tries, which, accord­ing to the Cen­ter for Migra­tion Stud­ies, respec­tive­ly employ 51,700 and 32,400 recip­i­ents of TPS from El Sal­vador, Hon­duras and Haiti, the three coun­tries whose immi­grants make up the vast major­i­ty of TPS holders.
"The goal is to pro­tect fam­i­lies from deportation"
Formed last year by IUPAT, the Brick­lay­ers, Iron­work­ers, Unite Here and the Unit­ed Food and Com­mer­cial Work­ers (UFCW) — and lat­er joined by the Team­sters — Work­ing Fam­i­lies Unit­ed aims to raise aware­ness about immi­grant jus­tice and echo immi­grant rights groups in demand­ing U.S. law­mak­ers cre­ate a per­ma­nent solu­tion to replace TPS.
"The goal is to pro­tect fam­i­lies from depor­ta­tion," Bethany Khan, spokesper­son for the Culi­nary Union, a Neva­da affil­i­ate of the Unite Here union and part of the Work­ing Fam­i­lies Unit­ed coali­tion, told In These Times. ​"It's about keep­ing fam­i­lies togeth­er, treat­ing work­ers with respect and dig­ni­ty, edu­cat­ing peo­ple on TPS and DACA [Deferred Action for Child­hood Arrivals], and ele­vat­ing the pro­files of these workers."
Thou­sands of TPS hold­ers set to become undoc­u­ment­ed as they lose their sta­tus over the next year won room to breath last week when a fed­er­al judge put a hold on the Trump administration's ter­mi­na­tion of TPS for El Sal­vador, Haiti, Nicaragua, and Sudan. The pause did not extend to some 57,000 Hon­duran TPS recip­i­ents whose sta­tus will expire in Jan­u­ary 2020. Regard­less, cam­paign­ers aren't skip­ping a beat in con­tin­u­ing to demand a long-term solution.
Work­ing Fam­i­lies Unit­ed has orga­nized 10 events in 10 cities across the coun­try in the lead up to the Novem­ber 6 midterm elec­tions to pres­sure con­gres­sion­al can­di­dates to sup­port ini­tia­tives that would give per­ma­nent sta­tus to TPS hold­ers, Dominguez explained.
The Team­sters kicked off the series of events ear­li­er this month in Los Ange­les. Port dri­vers, includ­ing Rodriguez, ded­i­cat­ed the last day of their three-day strike to putting the spot­light on TPS and demand­ing leg­isla­tive action for immi­grant workers.
Rodriguez said the protest showed that immi­grant work­ers are not alone and also helped spur fur­ther con­ver­sa­tions about TPS.
Ral­lies in Tuc­son, Orlan­do, and North­ern Vir­ginia, and a TPS forum in Las Vegas, fol­lowed after the L.A. action. More events are planned next week in Hous­ton and Atlanta, and orga­niz­ers are still final­iz­ing plans for protests in in New York, San Fran­cis­co and Den­ver, accord­ing to Dominguez.
"Part of the com­mu­ni­ty where we live."
For John Doher­ty, nation­al com­mu­ni­ca­tions direc­tor of IUPAT, the midterm elec­tions are key to tip the scales away from the Repub­li­can Par­ty, which he described as ​"a par­ty that has his­tor­i­cal­ly been against work­ers and work­er rights."
Elva Lan­dav­erde, a Las Vegas hotel house­keep­er and rank-and-file mem­ber of the Culi­nary Union, also sees the midterms as an impor­tant oppor­tu­ni­ty. She took a leave of absence from her job along­side some 100 oth­er union mem­bers to can­vas ahead of the elec­tion. An immi­grant from El Sal­vador who has lived in the Unit­ed States for 18 years, Lan­dav­erde doesn't have vot­ing rights in the U.S. Nev­er­the­less, she's knock­ing on doors to encour­age cit­i­zens to cast their bal­lots for can­di­dates that have com­mit­ted to pro­tect­ing immi­grant rights.
"We need immi­gra­tion reform," Lan­dav­erde told In These Times. She has a non-immi­grant sta­tus known as the U Visa, but TPS still hits close to home, as some of her fam­i­ly mem­bers are recip­i­ents. ​"Every­one has to go out to vote so that our voice matters."
The Culi­nary Union, Nevada's largest immi­grant orga­ni­za­tion with 54 per­cent Lati­no mem­ber­ship, has been orga­niz­ing for immi­grant rights since before the Work­ing Fam­i­lies Unit­ed coali­tion formed last year. One impor­tant win for the union, accord­ing to Khan, has been secur­ing immi­gra­tion lan­guage in the con­tracts of 48,000 work­ers that will strength­en job pro­tec­tions for employ­ees in the event that they lose their cur­rent immi­gra­tion status.
Along with oth­er orga­ni­za­tions, the Culi­nary Union also has orga­nized del­e­ga­tions of TPS mem­bers to share their sto­ries with elect­ed offi­cials in Wash­ing­ton and lob­by rep­re­sen­ta­tives to sup­port leg­is­la­tion to swap TPS hold­ers' tem­po­rary sta­tus for residency.
Two pieces of pro­posed leg­is­la­tion, the Safe Envi­ron­ment from Coun­tries Under Repres­sion and Emer­gency Act (SECURE) in the Sen­ate and the Amer­i­can Promise Act of 2017 in the House of Rep­re­sen­ta­tives, aim to reg­u­lar­ize TPS hold­ers' sta­tus by mak­ing them eli­gi­ble to apply for per­ma­nent res­i­den­cy, with the oppor­tu­ni­ty to even­tu­al­ly become cit­i­zens. If passed, the laws would end the uncer­tain­ty hang­ing over some 400,000 TPS recip­i­ents from 10 coun­tries.
Vic­tor Mora, a TPS hold­er from El Sal­vador who works at the Bel­la­gio casi­no in Las Vegas, is one of the peo­ple who has trav­eled to Capi­tol Hill with the Culi­nary Union to share his sto­ry and call for per­ma­nent sta­tus. He has lived in the Unit­ed States since the ear­ly 1990s and has three U.S. cit­i­zen children.
"We ask for sup­port like how we have always sup­port­ed this coun­try," Mora told In These Times, stress­ing the pos­i­tive impact immi­grant work­ers have on the U.S. economy.
Accord­ing to the Immi­grant Legal Resource Cen­ter, deport­ing TPS hold­ers from El Sal­vador, Haiti and Hon­duras would cost U.S. tax­pay­ers $3.1 bil­lion dollars.
Gio­van­ni Peri, pro­fes­sor of eco­nom­ics and direc­tor of the Tem­po­rary Migra­tion Clus­ter at Uni­ver­si­ty of Cal­i­for­nia at Davis, has con­duct­ed research that con­firms the aca­d­e­m­ic con­sen­sus that immi­gra­tion fuels job cre­ation and stim­u­lates the economy.
"Immi­gra­tion in a local econ­o­my does not depress wages or reduce the job oppor­tu­ni­ties for Amer­i­can work­ers. Instead, it allows this place to con­tin­ue to grow," Peri told In These Times. On the flip side, harsh depor­ta­tion cam­paigns can dis­rupt local economies and neg­a­tive­ly impact wages and employ­ment oppor­tu­ni­ties, he said.
"The des­tiny of for­eign work­ers and Amer­i­can work­ers are con­nect­ed," Peri added. ​"If com­pa­nies are scared by enforce­ment they move out. They also will hire few­er Amer­i­can work­ers … and when immi­grants come in the sec­tors thrive, there are more oppor­tu­ni­ties, and some of them are for Amer­i­can workers."
Jose Pal­ma, a mem­ber of the Nation­al TPS Alliance and a TPS hold­er from El Sal­vador who has lived in the U.S. for two decades, stressed that although the eco­nom­ic fac­tors are unde­ni­able, the role of immi­grants in the Unit­ed States goes much deeper.
"The TPS com­mu­ni­ty, we are more than just an eco­nom­ic con­tri­bu­tion to the Unit­ed States. We feel that we are part of the com­mu­ni­ty where we live," Pal­ma, a para­le­gal in Mass­a­chu­setts, told In These Times. He has vol­un­teered for var­i­ous non-prof­it caus­es, and he and his three U.S. chil­dren are active in their local church. ​"We are part of the com­mu­ni­ty, so we advo­cate not only for the undoc­u­ment­ed or peo­ple with TPS, but for the whole community."
More than half of Hon­duran and Sal­vado­ran TPS recip­i­ents have lived in the Unit­ed States for more than 20 years.
Pal­ma applaud­ed unions for join­ing the fight for immi­grant rights, as well as for their will­ing­ness to fol­low the lead­er­ship of TPS hold­ers. He's opti­mistic that with sup­port from unions, busi­ness­es and com­mu­ni­ties, advo­cates will be able to suc­cess­ful­ly pres­sure law­mak­ers to pass reforms.
"We need to build pow­er with our allies to con­vince leg­is­la­tors to sup­port a per­ma­nent res­i­dence cam­paign," he said, adding that he sees the midterm elec­tions as an oppor­tu­ni­ty to raise aware­ness about TPS.
Accord­ing to IUPAT's Dominguez, the aware­ness-rais­ing is pay­ing off.
"The TPS fight has been a real­ly good bridge to a lot of mem­bers that strug­gle to under­stand all the intri­ca­cies of the immi­gra­tion debate in the coun­try and has actu­al­ly opened up real­ly con­struc­tive con­ver­sa­tions," she said. ​"This debate has been a good one in our mem­ber­ship to real­ly start doing more polit­i­cal edu­ca­tion about this issue."
The IUPAT is also work­ing in four cities with high immi­grant pop­u­la­tions — Nashville, Atlanta, Hous­ton and Den­ver — to orga­nize non-union­ized work­ers, includ­ing undoc­u­ment­ed immigrants.
Dominguez believes that by lead­ing by exam­ple, unions orga­niz­ing around immi­gra­tion issues will help strength­en the foun­da­tions of a larg­er pro­gres­sive move­ment where unions can play a part in stand­ing up for immi­grant rights.
"It aches me to say that I don't think that as an entire labor move­ment we have been as strong as we could have been in respond­ing to these attacks against immi­grants, against women, against Mus­lims," she said. ​"But we have at least that frac­ture with the dom­i­nant silence that gives a bet­ter chance for the future that we can be the labor move­ment that we need to be in this coun­try to actu­al­ly build pow­er for every sin­gle worker."
For Rodriguez, the port dri­ver and TPS hold­er from Los Ange­les, the bot­tom line is sim­ple: TPS hold­ers are part of U.S. soci­ety and deserve residency.
"We don't ask that the gov­ern­ment help take care of us," he said. ​"Just give us res­i­den­cy so we can con­tin­ue to work hard with our fam­i­lies and move forward."
Heather Gies
is a free­lance jour­nal­ist who has writ­ten on human rights, social move­ments and envi­ron­men­tal issues for
Al Jazeera
,
The Guardian
,
In These Times
and
Nation­al Geo­graph­ic
. Fol­low her on twit­ter @HeatherGies.