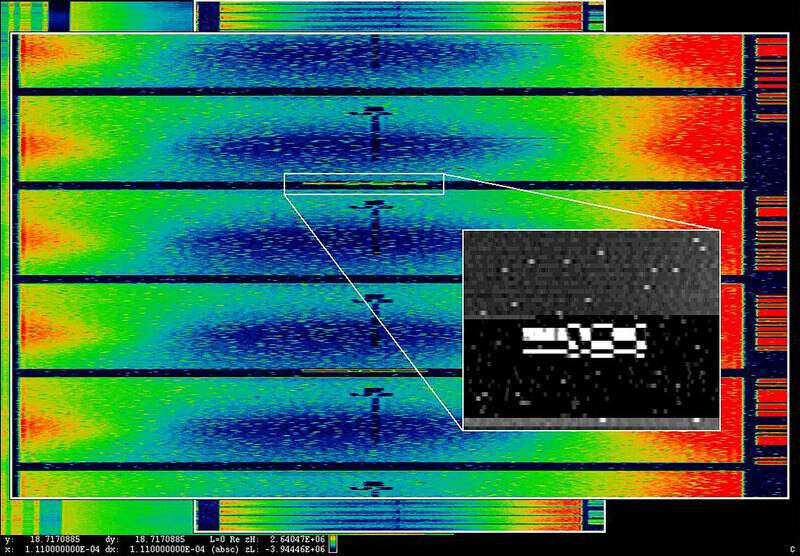 Dis­cus­sions of the sur­veil­lance state tend to be cere­bral, but in Lau­ra Poitras' new exhi­bi­tion at the Whit­ney Muse­um of Amer­i­can Art, Astro Noise, sur­veil­lance is made inti­mate, and all the more disturbing.
In a piece titled November 20, 2004, Poitras releases selections from her own FBI files, which she received via FOIA request.
Astro Noise is the first fine art project by the doc­u­men­tary film­mak­er and reporter best known for Cit­i­zen­four, her Acad­e­my Award-win­ning film depict­ing Edward Snowden's reveal of NSA secrets in a Hong Kong hotel room. The tense, claus­tro­pho­bic film was the final install­ment in Poitras' tril­o­gy on post – 9⁄11 Amer­i­ca. It fol­lowed 2006's My Coun­try, My Coun­try, doc­u­ment­ing Iraqi life under US occu­pa­tion, and 2010's The Oath, which fol­lowed two men who worked for Osama bin Laden, one as his body­guard in San'a and the oth­er as his dri­ver in Afghanistan.
The Whit­ney Muse­um is a tremen­dous plat­form, one that Poitras could have used in con­fronta­tion­al or imme­di­ate­ly thrilling ways; instead, and for the best, there are no shouts or slo­gans, just dim, unset­tling spaces for mut­ed feel­ings of anger, despair and dis­ori­en­ta­tion. These are feel­ings famil­iar from her writ­ing and films. But while news can report the facts, and films can make those facts come alive, an instal­la­tion like Astro Noise can make evoke emo­tions in rare, pow­er­ful ways.
Upon enter­ing the first dark­ened gallery, the view­er sees faces — caught at what Poitras calls ​"a moment in his­to­ry at a cross­roads": Sep­tem­ber 11, 2001. They gaze at the remains of the World Trade Cen­ter, filmed by Poitras at Ground Zero in Sep­tem­ber and Octo­ber of 2001. The remains are nev­er shown, just the onlook­ers' expres­sions, with their hints of anger, empa­thy, dis­be­lief. Tourists look on with binoc­u­lars and dis­pos­able cam­eras, shak­ing their heads and wip­ing away tears. A young girl fum­bles with an ​"I <3 NY" but­ton. A small boy in a Giants jer­sey stares on blankly.
These faces are the first half of a dou­ble-sided pro­jec­tion that com­pris­es a piece titled ​"O'Say Can You See." Walk across the gallery, and on the flip side of the screen are videos cap­tured in dark cells in Afghanistan around the same time in the fall of 2001. These clips show the U.S. mil­i­tary inter­ro­ga­tions of pris­on­ers Said Bou­jaa­dia and Sal­im Ham­dan, who were both lat­er trans­ferred to Guan­tá­namo. Ham­dan was Osama bin Laden's dri­ver, and one of the sub­jects of The Oath.
Like the rest of Astro Noise, ​"O'Say Can You See" makes com­pelling use of sound. The nation­al anthem from the Octo­ber 2001 World Series in Yan­kee Sta­di­um has been looped and lay­ered, creep­i­ly play­ing in the back­ground over the images of mourn­ful faces. As you make your way from the first video to the sec­ond, you'll momen­tar­i­ly hear those crash­ing, oper­at­ic sounds lay­ered with the clink­ing and clank­ing of the pris­on­ers' chains and the muf­fled, bark­ing voic­es of the U.S. offi­cers. This ghost­ly jux­ta­po­si­tion haunt­ed the rest of my vis­it to Astro Noise. It is a son­ic reflec­tion of this spe­cif­ic his­tor­i­cal moment in 2001 — as Poitras writes in the pro­gram notes, a moment in which many dif­fer­ent paths could have been tak­en, and ​"15 years lat­er, we're now see­ing the unin­tend­ed con­se­quences of the choic­es we made." The rest of those con­se­quences are on sub­tle dis­play as one pro­ceeds through the gallery.
Else­where, Poitras uses what the Whit­ney calls ​"archi­tec­tur­al inter­ven­tions," which con­tribute to the show's eerie inti­ma­cy. ​"Bed Down Loca­tion" encour­ages the view­er to lie on a soft, raised plat­form and stare up at pro­jec­tions of the dark night skies of Yemen, Soma­lia and Pak­istan — places where the U.S. mil­i­tary con­ducts night­time drone strikes. The piece allows for a simul­ta­ne­ous com­fort and unease, which is fur­ther com­mu­ni­cat­ed through audio: the faint dis­tor­tion of dis­tant, inaudi­ble pilot voic­es and hum­ming radio sta­t­ic are both lulling and anxiety-inducing.
Lat­er, near the exhibition's exit, a dig­i­tal screen with ther­mal imagery shows that you have been sur­veilled from above while lay­ing in this piece. It is a moment in the show that is at once sur­pris­ing and not sur­pris­ing — a pal­pa­ble moment of vul­ner­a­bil­i­ty that brings home the real­i­ty of our new cul­ture of every­day spying.
"Dis­po­si­tion Matrix" takes vis­i­tors down two long, dark hall­ways lined with thin win­dows reveal­ing NSA doc­u­ments and video clips. For­mer Guan­tá­namo pris­on­er Murat Kur­naz talks in vivid detail about endur­ing tor­ture. A child­ish, car­toon line draw­ing by an NSA employ­ee depicts an inter­net sur­veil­lance tac­tic. A 2002 memo from the CIA's direc­tor George Tenet urges increased coop­er­a­tion with the NSA. There is much to be learned from these win­dows but their news­wor­thi­ness is almost sec­ondary here — what's more vis­cer­al is the way Poitras has shaped space, light and sound, so that vis­i­tors are engaged in the act of view­ing, turn­ing the act of observ­ing her show into a per­for­mance of its own. We are spy­ing on the spies, watch­ing the NSA's inner workings.
Poitras her­self has been sub­ject to an extreme lev­el of gov­ern­ment sur­veil­lance. Last sum­mer, The Inter­cept report­ed that she had been inter­ro­gat­ed and detained over 50 times between 2006 and 2012 while trav­el­ing. In 2015, she filed a Free­dom of Infor­ma­tion Act request to find out why. In Astro Noise, a piece titled Novem­ber 20, 2004, Poitras releas­es selec­tions from her own FBI files, which she received via that FOIA request. She learned that a secret grand jury had begun inves­ti­gat­ing her in 2007. These run along­side the video she shot in Iraq in 2004 that land­ed her on watch­lists to begin with, as well as a loop­ing nar­ra­tion by Poitras:
In May 2004, I trav­eled to Bagh­dad to make a film about the U.S. occu­pa­tion of Iraq. I embed­ded with the U.S. mil­i­tary and lived inside the ​'Green Zone' in Bagh­dad. I also filmed and stayed with an Iraqi fam­i­ly. On Novem­ber 19, U.S. and Iraqi sol­diers raid­ed a mosque in the neigh­bor­hood where the fam­i­ly lived. Four civil­ians were killed. The next morn­ing, I woke up to the sound of gun­fire on the streets. The fight­ing last­ed all day. One U.S. sol­dier was killed and oth­ers injured. At one point, the fam­i­ly went to the roof to see what was hap­pen­ing. I fol­lowed with my cam­era and filmed for 8 min­utes and 16 sec­onds. These 8 min­utes changed my life, but I didn't know it at the time. After return­ing to the Unit­ed States, I was placed on a gov­ern­ment watch­list and detained and searched every time I crossed the U.S. bor­der. It took me ten years to find out why.
At a press brief­ing on Feb­ru­ary 3, Whit­ney direc­tor Adam Wein­berg intro­duced the show by ask­ing, ​"What are the exis­ten­tial reper­cus­sions of a world where it is impos­si­ble to be alone?" That's an apt point of entry for view­ing Astro Noise. And yet, while news report­ing is expect­ed to answer ques­tions, art­work often opens up more. One leaves the exhib­it ask­ing: what is this world we have cre­at­ed, and do we want to live in it?
Liz Pel­ly
is a writer and edi­tor based in Brook­lyn, NY. Her writ­ing on music, art and cul­ture has been pub­lished by The Guardian, Dazed, Rolling Stone and else­where. She co-edits an ad-free, bi-month­ly web-paper, The Media.