The Left Must Put Refugees and Migration at the Heart of Its Politics
Mathew Carr rebukes Europe's inhumane and fear-fueled response to the refugee crisis.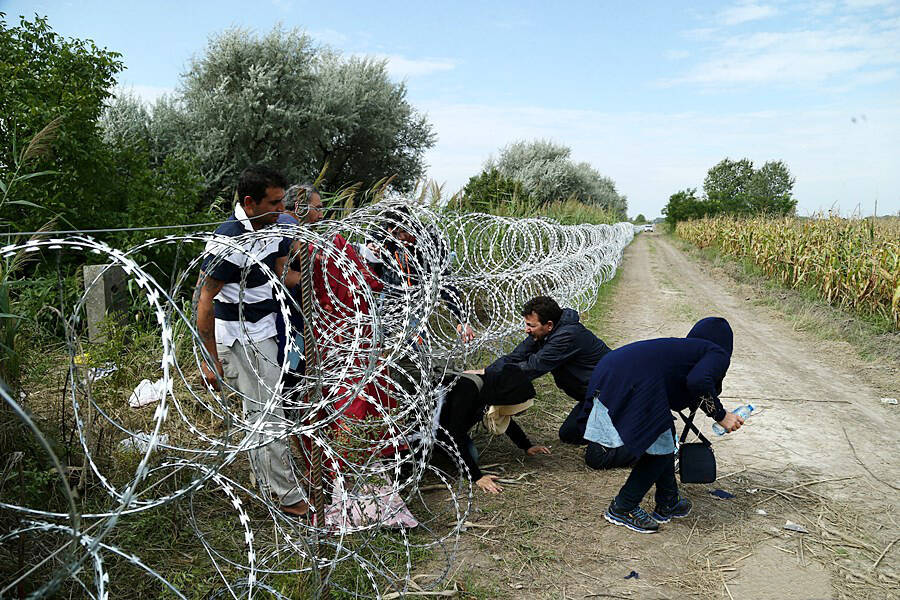 The cur­rent refugee cri­sis is the worst that Europe has seen since World War II, and in many coun­tries, it remains in the polit­i­cal cen­ter stage. As Syr­i­an and oth­er refugees con­tin­ue to flee to Europe to escape vio­lence and des­ti­tu­tion, the EU has struck a con­tro­ver­sial new deal to stem the flow of asy­lum seek­ers. Pub­lic opin­ion on the issue remains sharply divid­ed, with those express­ing sol­i­dar­i­ty with refugees fac­ing a re-ener­gized, anti-migrant far right. Mean­while, count­less refugees remain trapped in deten­tion camps or stuck behind bor­ders, liv­ing in destitution.
The idea that the refugees don't just want to escape from a bullet, or a gun pointed to the head, that they want to reconstruct their lives in some way—at least while the crisis that's driven them out is going on—that's just ignored by people who want to ignore it.
To unpack the rhetoric and pol­i­cy sur­round­ing the cri­sis, I spoke with Matthew Carr, whose book Fortress Europe: Dis­patch­es from a Gat­ed Con­ti­nent offers an in-depth look at the cri­sis as it has unfold­ed in Europe. The book, which was reis­sued with a new after­word by the New Press ear­li­er this year, pro­vides on-the-spot cov­er­age of every­thing from Europe's mil­i­ta­rized bor­ders in East­ern Europe and North Africa to the mar­gin­al­iza­tion and crim­i­nal­iza­tion of refugees with­in Europe. Through­out, he makes the case for show­ing sol­i­dar­i­ty with refugees and treat­ing migra­tion as a human­i­tar­i­an issue instead of a ques­tion of bor­der control.
Ter­ror attacks in Europe, like the Brus­sels attacks in March, sug­gest to many that secu­ri­ty is a very seri­ous con­cern when it comes to the ques­tion of accom­mo­dat­ing refugees. How do you think a humane response to the refugee cri­sis can address these concerns?
You're actu­al­ly deal­ing with a very real threat for sure, a lot of it com­ing from inside Europe. Many of the peo­ple that par­tic­i­pat­ed in the attacks that we've seen over the last few years are French, essen­tial­ly — they're not refugees. We have to sep­a­rate these issues. We ought to accept the fact that it's impos­si­ble for any coun­try in the world, and cer­tain­ly in Europe, to pro­tect them­selves entire­ly against these threats. There­fore to sug­gest that some­how, the refugee flows that we've seen increase over the last cou­ple years rep­re­sents an exis­ten­tial secu­ri­ty threat is over­done, exag­ger­at­ed, quite often delib­er­ate­ly designed to mis­rep­re­sent the issue.
What a response to the refugee cri­sis should be, as a cri­sis — a cri­sis of peo­ple seek­ing sanc­tu­ary in Europe because they're flee­ing wars, vio­lence, and so on — the solu­tion to me is to cre­ate safe routes for those peo­ple to get into Europe. And in fact, if you're talk­ing in terms of secu­ri­ty, hav­ing legal, safe routes allows you to get a far bet­ter idea of who is com­ing than if you don't have them.
In your book, you present an up-close view of the plight of refugees. The obsta­cles you dis­cuss include home­less­ness, police vio­lence, human traf­fick­ing, even inden­tured servi­tude. How are many able to ignore this harsh real­i­ty of migra­tion to the extent that some are even talk­ing of the ​"greed" of migrants?
Even in the thir­ties, when it was rec­og­nized that there was oppres­sion in Nazi Ger­many — you could not get a cat­e­go­ry of refugee with a more obvi­ous right to cross bor­ders — coun­tries invent­ed rea­sons why [refugees should­n't be allowed in]. So you've always had this sit­u­a­tion in which in cer­tain cir­cum­stances, coun­tries are not dis­posed to accept cer­tain cat­e­gories of peo­ple. They will find ways of demean­ing them, under­min­ing them and mis­rep­re­sent­ing them in a way that jus­ti­fies [their] exclusion.
You see peo­ple con­stant­ly do this, say­ing things like, ​"They're not real refugees. If they were real refugees, they'd have stopped in Turkey." There's this idea that a refugee's just some­body that has to be in a camp some­where — prefer­ably as far away from here as pos­si­ble. The idea that the refugees don't just want to escape from a bul­let, or a gun point­ed to the head, that they want to recon­struct their lives in some way — at least while the cri­sis that's dri­ven them out is going on — that's just ignored by peo­ple who want to ignore it.
The EU and Turkey recent­ly reached a new deal in which refugees trapped in Greece will be deport­ed to Turkey, in exchange for which the EU is to accept asy­lum seek­ers from Turkey. What is your view of this deal?
A sor­did deal, con­jured up out of nowhere in a des­per­ate attempt to stop peo­ple coming.
It's not going to stop the prob­lem it's sup­pos­ed­ly aimed to stop. The idea is that if you come ille­gal­ly in a boat, you'll get sent back, and then you might go to the back of the queue. So the idea is that that will dis­cour­age peo­ple traffickers.
But that rais­es the ques­tion: Why not sim­ply find mech­a­nisms that allow peo­ple to come to Europe direct­ly with­out going through this ridicu­lous pro­ce­dure? If there aren't sol­id avenues for peo­ple to come from Turkey to Europe, then smug­glers will sim­ply move some­where else. Which has been the whole sto­ry of Europe's hard­ened bor­ders over the last 20- or 30-odd years.
The far Right argues that mass immi­gra­tion is incom­pat­i­ble with the wel­fare state. But you make an eco­nom­ic argu­ment for accept­ing refugees. Can a humane approach to the refugee cri­sis be inte­grat­ed into a broad, social-demo­c­ra­t­ic eco­nom­ic program?
Yes, though the will has to be there to do it. There is an idea that the wel­fare state is a nation­al phe­nom­e­non, that it depends on famil­iar­i­ty with peo­ple who are like you. There­fore if we get too many peo­ple com­ing in who are not like you, then you lose the will to sus­tain the wel­fare state.
This argu­ment is flawed. First of all, you have a sys­tem in which you have gov­ern­ments actu­al­ly claw­ing back the wel­fare state regard­less of whether there are immi­grants or not. We have a hard-line, neolib­er­al gov­ern­ment in the UK at the moment which is hell-bent on pri­va­tiz­ing many of the insti­tu­tions that we think of as British pub­lic insti­tu­tions, that we asso­ciate with the wel­fare state. It's con­ve­nient for a gov­ern­ment like this to por­tray immi­grants as the main threat to our wel­fare state.
So it's a false dichoto­my, then, because again and again, you see sta­tis­ti­cal infor­ma­tion demon­strat­ing that immi­grants are a net boon to the British econ­o­my. That they con­tribute more than they take out. That they're not par­tic­u­lar­ly a drain on the wel­fare state. They tend to be young, they tend to be capa­ble of work, they've left in order to work, they haven't come to spend a life­time sit­ting around on wel­fare. So I think we need to unpick these argu­ments and deal with them separately.
Arguably, Ger­many's lib­er­al refugee poli­cies of the past year, which have now brought in over a mil­lion refugees, con­tributed to the recent elec­toral suc­cess­es of Alter­na­tive für Deutsch­land, which is a right-wing pop­ulist par­ty. How can the Left respond when sol­i­dar­i­ty with refugees can indi­rect­ly aid the far Right?
It's a dif­fi­cult ques­tion. The Left has to put refugees and migra­tion at the heart of its politics.
On one lev­el, we're in quite a per­ilous sit­u­a­tion polit­i­cal­ly. I some­times call it pre-fas­cist, [or] poten­tial­ly pre-fas­cist, in the sense that you've got a dan­ger­ous kind of per­fect storm of con­di­tions that can make it pos­si­ble for a fas­cist move­ment to gain cur­ren­cy. Migra­tion is one of them, but then you link that to aus­ter­i­ty [and] a gen­er­al hol­low­ing out of democ­ra­cy that we're see­ing in coun­try after coun­try. You're see­ing polit­i­cal sys­tems that have been dom­i­nant for years being regard­ed with skep­ti­cism, mis­trust and even contempt.
The only thing that can change that is [hav­ing] broad social move­ments of the Left to fight these ten­den­cies. It's not going to be easy, and at the moment, the Right is win­ning. They're not only win­ning on their own terms: They're win­ning because they're set­ting the terms of the debate.
You're get­ting cen­ter-right par­ties and even left-of-cen­ter par­ties essen­tial­ly fol­low­ing an agen­da that's been set down for them by the far Right, by the new pop­ulist par­ties. And they'll often say things like, ​"We bet­ter do this. Because if we don't do it, you'll get them. You'll get Gold­en Dawn." That's been said in Greece by some of the politi­cians there, con­ser­v­a­tive and leftist.
So it's a tough fight, but it's a fight that must be fought. And it's a fight that can't be depen­dent on say­ing, ​"Let's just sim­ply stop migrants from com­ing." That's like say­ing you would remove anti­semitism if you did­n't have Jews.
And we need to basi­cal­ly inte­grate that into our pol­i­tics and find ways to devel­op inter­na­tion­al, pan-Euro­pean move­ments that can cam­paign against it. It's not a fight that's doomed to fail. In Ger­many, we saw it hap­pen in the sum­mer. For a while, the Left were win­ning that par­tic­u­lar war — they were the ones who per­suad­ed Angela Merkel to accept large num­bers of migrants into Ger­many. So we need to keep cam­paign­ing for that.
You've got your hard­core fas­cists, racist big­ots and so on who are always going to say what they're going to say. But you have mil­lions of peo­ple around them who I call hov­er­ers. Peo­ple who might be slight­ly fright­ened, alarmed, dis­turbed by the things that are tak­ing place. And our task from the Left is to win them over to our side. If we lose this one we lose a great deal more.
Europe has a rich his­to­ry of mul­ti­cul­tur­al­ism that goes back cen­turies and which includes, for instance, Celtic speak­ers in France, Ger­mans in Bohemia and Mus­lims in Spain. How can Europe fos­ter a bet­ter under­stand­ing of this his­to­ry, which seems to under­mine argu­ments in favor of cul­tur­al homogeneity?
You're right to point that mul­ti­cul­tur­al his­to­ry out. But at the same time, one of the dri­ving forces of Euro­pean pol­i­tics for hun­dreds of years was the idea of carv­ing out homo­ge­neous spaces — either eth­ni­cal­ly, racial­ly, ide­o­log­i­cal­ly or reli­gious­ly. So in some ways the Euro­pean Union was a huge step away from that.
One of the things we've seen in the last few years is a re-emer­gence of this old dri­ve towards homo­gene­ity com­ing from the far Right in par­tic­u­lar. Let's talk about the spec­trum, real­ly, from the main­stream Right, con­ser­v­a­tive par­ties, towards the far Right, which have all placed nation­al iden­ti­ty at the heart of their politics.
It does­n't nec­es­sar­i­ly have to be overt­ly racial. Nowa­days, you get them talk­ing more and more in terms of cul­ture. I'm nev­er quite sure what they mean by cul­ture, but they're talk­ing about ​"our cul­ture" ver­sus ​"their cul­ture." For those of us who embrace this mul­ti­cul­tur­al her­itage that you're talk­ing about, who accept that diver­si­ty is a nat­ur­al part of one's indi­vid­ual expe­ri­ence, it's quite dif­fi­cult to have a decent con­ver­sa­tion with peo­ple who think, ​"No, you need to have one ter­ri­to­r­i­al space where you exclude peo­ple who threat­en that iden­ti­ty in some way."
We have to keep mak­ing the argu­ments that cul­tur­al diver­si­ty and mul­ti­cul­tur­al­ism are essen­tial parts of our expe­ri­ence as Euro­peans, as nation­al cit­i­zens and indi­vid­u­als. It's ludi­crous and ridicu­lous to try and deny it. And it's also wrong to try and por­tray cer­tain groups as a threat to it. You might have heard some of these argu­ments from the Euro­pean far Right say­ing that mul­ti­cul­tur­al­ism is a Tro­jan horse. By cel­e­brat­ing it, you're actu­al­ly allow­ing Mus­lim cul­tur­al invaders to enter your coun­try and take it over piece by piece, we'll have Sharia law in 20 years, all this kind of stuff.
These are fake argu­ments, straw­man argu­ments, and they can eas­i­ly be argued against. But they're also quite vis­cer­al, so log­ic does­n't always work with them. But once again, to go back to what I said before: Those peo­ple, you can't real­ly per­suade about any­thing. One has to actu­al­ly try and per­suade the hov­er­ers, the mil­lions and mil­lions who don't think like that, to think differently.
Tom Laden­dorf
is an Amer­i­can writer and musi­cian who lives in Cologne, Ger­many, and a for­mer In These Times edi­to­r­i­al intern.