Interviews for the Resistance: Live From the Spontaneous Protests at JFK Airport
Hundreds gather to protest Donald Trump's refugee and Muslim bans, and to demand the release of those held at the airport.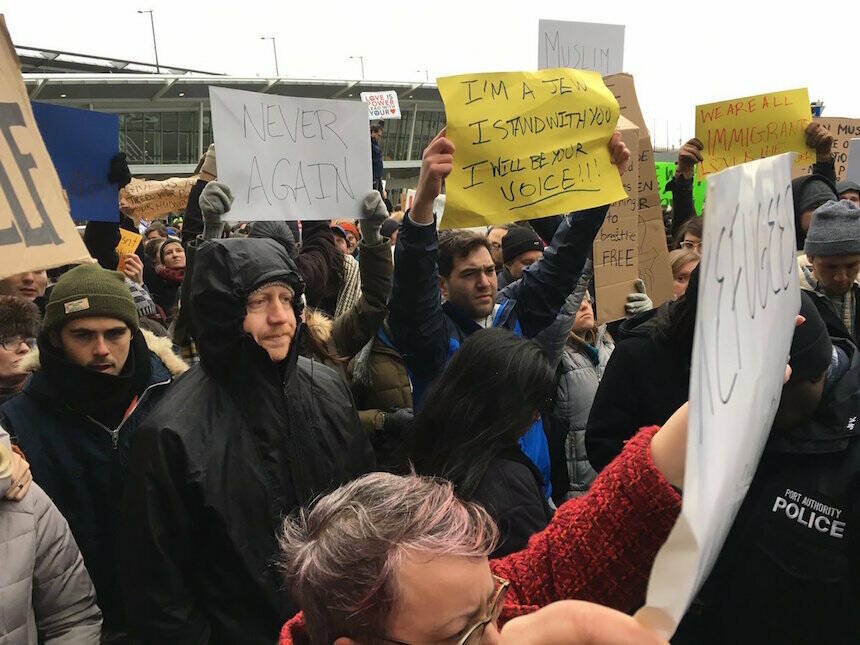 Wel­come to Inter­views for Resis­tance. In this series, we'll be talk­ing with orga­niz­ers, trou­ble­mak­ers, and thinkers who are work­ing both to chal­lenge the Trump admin­is­tra­tion and the cir­cum­stances that cre­at­ed it. It can be easy to despair, to feel like trends toward inequal­i­ty are impos­si­ble to stop, to give in to fear over increased racist, sex­ist, and xeno­pho­bic vio­lence. But around the coun­try, peo­ple are doing the hard work of fight­ing back and com­ing togeth­er to plan for what comes next. This series will intro­duce you to some of them.
Amazing people are showing up and just making their signs on the spot to say that they're going to resist, to say no Muslim ban, to say they stand with refugees.
As Don­ald Trump's exec­u­tive order ban­ning refugees and immi­grants from sev­er­al Mus­lim coun­tries took effect, refugees already on their way to the U.S. were stuck in lim­bo, some of them in the air­port. In New York, an emer­gency ral­ly was called at John F. Kennedy Air­port to demand they be freed. Daniel Altschuler, direc­tor of civic engage­ment and research at Make The Road New York, spoke with me from the ral­ly Sat­ur­day afternoon.
Sarah Jaffe: Where are you right now?
Daniel Altschuler: I'm at JFK Ter­mi­nal 4, where hun­dreds of peo­ple — and grow­ing every minute — are here to denounce the uncon­scionable and uncon­sti­tu­tion­al exec­u­tive orders that Don­ald Trump signed yes­ter­day and that are now tear­ing fam­i­lies apart. Here at JFK Air­port, we know of at least 12 peo­ple who were detained overnight. One is now free, and every­one's here to cheer the fight for the remain­ing refugees who have been detained here at JFK.
Sarah: I can hear chants in the back­ground. Don­ald Trump had been threat­en­ing to ban refugees from the begin­ning — can you tell us about the prepa­ra­tion that went into place to be able to respond to this?
Daniel: The folks who are here — immi­grant rights orga­ni­za­tions, civ­il rights orga­ni­za­tions, Mus­lim orga­ni­za­tions — stood togeth­er to say this is uncon­scionable and wrong when it was pro­posed. And orga­ni­za­tions have been try­ing to pre­pare for the worst. We heard late last night about the first two and peo­ple leapt into action.
There were amaz­ing lawyers who were here mon­i­tor­ing the air­ports, to see what was going to hap­pen and if peo­ple were going to be held. Unfor­tu­nate­ly, folks' worst fears came true. An amaz­ing, infor­mal coali­tion of orga­ni­za­tions and peo­ple heard what was hap­pen­ing, were hor­ri­fied, and decid­ed to show up at the airport.
This is one of these beau­ti­ful organ­ic move­ment moments where peo­ple show up for oth­er peo­ple's rights and for all of our rights.
Sarah: Can you tell us about the one per­son who was released?
Daniel: Mr. Dar­weesh was some­one who worked the U.S. mil­i­tary — I believe as a trans­la­tor, folks can look at the New York Times arti­cle for greater detail about his case. When Con­gress mem­bers [Nydia] Velazquez and [Jer­rold] Nadler [D‑N.Y.] arrived [at the air­port] they went in imme­di­ate­ly and demand­ed to speak to Cus­toms and Bor­der Patrol, and were able to speak to them, and after some nego­ti­a­tion were able to get him free.
He came out, he was very relieved, he was very appre­cia­tive of the folks that were here, and then he went to be with his fam­i­ly. He had been sep­a­rat­ed from his fam­i­ly since arriv­ing here yes­ter­day in the late afternoon.
Sarah: There were sev­er­al calls for ral­lies ear­li­er today and one for 6p.m. tonight. Is the plan to stay there as long as necessary?
Daniel: This crowd is going to be here for many hours. There's tremen­dous enthu­si­asm here. There's a vig­il that's called for 6p.m., there's been con­stant chant­i­ng — amaz­ing peo­ple are show­ing up and just mak­ing their signs on the spot to say that they're going to resist, to say no Mus­lim ban, to say they stand with refugees. This is not one of those times where there's a des­ig­nat­ed begin­ning point and end­point. This is a moment where peo­ple are here to fight for what they know that this coun­try can be, which is a place that wel­comes refugees, that wel­comes Mus­lims, that does not impose reli­gious dis­crim­i­na­tion. So folks are excit­ed to be here.
Sarah: Obvi­ous­ly some of the exec­u­tive orders that came out this week also have to do with immi­grants from Mex­i­co and Latin Amer­i­ca, are there sim­i­lar rapid response plans for depor­ta­tion back to that part of the world?
Daniel: Absolute­ly. And there are immi­grants here at this ral­ly right now, because folks are say­ing we stand togeth­er. So yes, immi­grant rights orga­ni­za­tions like ours are prepar­ing for what hap­pens now that Don­ald Trump has fur­ther empow­ered and is going to con­tin­ue fur­ther empow­er­ing an out-of-con­trol and rogue Immi­gra­tion and Cus­toms Enforce­ment and bor­der appa­ra­tus. Absolute­ly defend­ing fam­i­lies is going to be at the core of that.
Sarah: What can peo­ple do if they are watch­ing or lis­ten­ing from some­where that is not with­in easy get­ting-to-JFK-Air­port dis­tance? Are there oth­er actions that you know of?
Daniel: I hon­est­ly have been so ensconced in this action that I'm not sure what else is going on. I would­n't be sur­prised. I'd expect there's sol­i­dar­i­ty actions and peo­ple should look. You can get on social media, on Face­book and Twit­ter and engage there as well. I think folks most impor­tant­ly should call their mem­bers of Con­gress and denounce the mea­sures that have been tak­en this week against immi­grants, refugees, and Mus­lims and tell them that they insist that these refugees be freed and that these exec­u­tive actions be rescinded.
Sarah: And how can peo­ple keep up with you and Make the Road New York?
Saniel: You can find us on Face­book at Make the Road New York, and our Twit­ter han­dle is @MakeTheRoadNY.
Inter­views for Resis­tance is a project of Sarah Jaffe, with assis­tance from Lau­ra Feuille­bois and sup­port from the Nation Insti­tute. It is also avail­able as a podcast.
Sarah Jaffe
is a for­mer staff writer at
In These Times
and author of
Nec­es­sary Trou­ble: Amer­i­cans in Revolt
, which Robin D.G. Kel­ley called ​
"
The most com­pelling social and polit­i­cal por­trait of our age." You can fol­low her on Twit­ter
@sarahljaffe
.