Introducing: Lady Loser Comedy
A new feminist genre gives women a chance to be crass, pathetic and hilarious.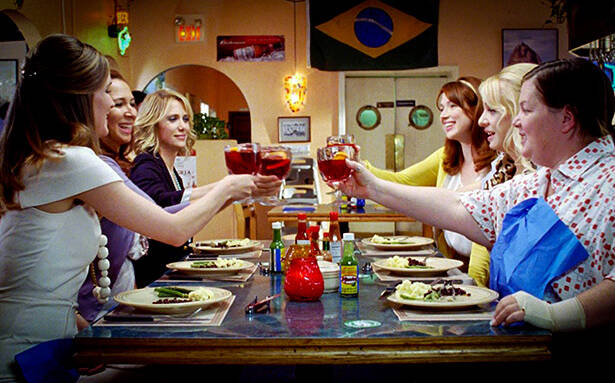 "I'd like to say good­night to my two kids, Viv and Georgie," Melis­sa McCarthy began her Sat­ur­day Night Live mono­logue on Octo­ber 1. ​"Go to sleep, because momma's about to get pret­ty inappropriate."
Comedy is not about attractive, well-behaved men--or women. Attractive people with good manners are nice to know in real life. In comedy, they're dead air.
McCarthy is the com­ic dis­cov­ery of 2011. She was a key part of Brides­maids, one of the summer's biggest hits. In a stel­lar ensem­ble – Kris­ten Wiig, Jon Hamm, Maya Rudolph – it was McCarthy, for­mer­ly known as the lead of lit­tle-dis­cussed sit­com Mike and Mol­ly, who stood out. Her role was blunt, sex­u­al and aggres­sive, with mono­logues that piled absur­di­ty on top of dead­pan absur­di­ty. When the tit­u­lar brides­maids were dis­cussing wed­ding show­er themes, McCarthy's char­ac­ter sug­gest­ed ​"Fight Club." When the pro­tag­o­nist, played by Wiig, was at her low point, McCarthy deliv­ered an inspi­ra­tional mono­logue that began with a sto­ry about high school, pro­gressed to nuclear weapons and cul­mi­nat­ed with McCarthy sit­ting on Wiig while repeat­ed­ly slap­ping her in the face. She won an Emmy for Mike and Mol­ly, prob­a­bly because of her Brides­maids role; there is now spec­u­la­tion that she will win a Best Sup­port­ing Actress Oscar, or at least a nom­i­na­tion, and that Wiig might earn anoth­er nomination.
In fact, Brides­maids was a tri­umph for a new, and star­tling­ly fem­i­nist, genre: Lady Los­er Com­e­dy. And McCarthy's char­ac­ter was the bold­est exam­ple of its aes­thet­ic. You can find the roots of the genre in Tina Fey's 30 Rock, where­in Fey plays Liz Lemon, a sex­less, awk­ward, thank­less­ly employed woman in her late 30s who dis­likes inti­ma­cy and loves off-brand cheese puffs, or in Gregg Araki's Smi­ley Face, in which Anna Faris plays an unem­ployed ston­er with a weak­ness for lasagna, soft mat­tress­es and Marx­ism. You can find an off­shoot in What's Your Num­ber, which opened in Sep­tem­ber, where­in Faris plays a woman who gets dis­as­trous­ly drunk at her sister's engage­ment par­ty, lights her own hair on fire, sleeps with her jerk boss after he's fired her and con­cludes her own inspi­ra­tional mono­logue with ​"I'm a job­less whore who's slept with twen­ty guys; I want some­one who appre­ci­ates that about me." But you can find the best – and, yes, most lib­er­at­ing – exam­ples in Brides­maids. Which is where we have to start dis­cussing how simul­ta­ne­ous­ly shock­ing and appro­pri­ate it is for that movie to have been pro­duced by Judd Apatow.
Apa­tow is respon­si­ble for some of the most suc­cess­ful come­dies of the past decade. He also orig­i­nat­ed its most obnox­ious genre: The Bro­mance. Think Knocked Up, Super­bad, I Love You Man, The Hang­over, etc., etc., ad nau­se­am. Apa­tov­ian char­ac­ters are irre­spon­si­ble, unsuc­cess­ful child-men who rely on mature and/​or uptight women to bring them kick­ing and scream­ing into adult­hood. Romance is always pre­sent­ed as threat­en­ing, some­how sac­ri­fi­cial; the real bliss, for these men, is in the bonds they have with their equal­ly child­ish male friends. This equa­tion is obvi­ous­ly sex­ist, both in terms of the rewards for male and female actors (the girls rarely get the laughs) and in its pic­ture of gen­der rela­tions: Women are pre­sent­ed as a means through which men com­plete their own per­son­al jour­neys. And the child­ish­ness, the irre­spon­si­bil­i­ty, the close friend­ships and sense of play: To be blunt, it looked more fun than grow­ing up. So why weren't women includ­ed? Why couldn't we be losers too?
Well, now we can. In Knocked Up, Seth Rogen played a broke, sin­gle, schlub­by, per­pet­u­al­ly ado­les­cent man who hooked up with a woman out of his league, ran an unsuc­cess­ful busi­ness, and was unwill­ing to let go of his close friend­ships with men in order to learn nec­es­sary lessons about respon­si­bil­i­ty. In Brides­maids, Kris­ten Wiig plays a broke, sin­gle, schlub­by, per­pet­u­al­ly ado­les­cent woman who hooks up with a man out of her league, runs an unsuc­cess­ful busi­ness, and is unwill­ing to let go of her close friend­ship with a woman in order to learn nec­es­sary lessons about respon­si­bil­i­ty. And Brides­maids is the top-gross­ing Judd Apa­tow movie of all time. In the long game of Fem­i­nists vs. Apa­tow, both sides won.
Cri­tiques of this devel­op­ment are worth­while. In her Brides­maids review, crit­ic Michelle Dean points out that ​"almost every joke was designed to rest on [McCarthy's] pre­sumed hideous­ness, and her rib­ald but unmis­tak­ably ​'butch' sex­u­al­i­ty was ground­ed pri­mar­i­ly in her body type." That's fair. But it remind­ed me, in a com­par­i­son that would hor­ri­fy Dean, of Christo­pher Hitchens' infa­mous 2007 essay in Van­i­ty Fair on women and humor, which con­clud­ed that men are fun­ny because humor makes them attrac­tive, where­as fun­ny women are… well, read for your­self: ​"There are some impres­sive [fun­ny] ladies out there. Most of them, though, when you come to review the sit­u­a­tion, are hefty or dykey or Jew­ish, or some com­bo of the three." Obvi­ous­ly, this is offen­sive. But it left me won­der­ing whether Hitchens had ever actu­al­ly seen a pho­to of Rod­ney Dan­ger­field, John Belushi, Woody Allen or Pat­ton Oswalt, or, or…
Male come­di­ans tend to be fun­ny-look­ing guys. Even the con­ven­tion­al­ly hand­some cul­ti­vate some­thing off-putting or strange about their phys­i­cal­i­ty. Zach Gal­i­fi­anakis hides a hand­some face with an unruly beard. Steve Carell can play an attrac­tive lead in roman­tic come­dies, but uses his high-pitched voice and stiff body lan­guage to make his oth­er char­ac­ters laugh­able. Women don't watch com­e­dy to get turned on. They watch it for the same rea­son men do: to laugh. Com­e­dy is most def­i­nite­ly not about attrac­tive, well-behaved men – or women. Attrac­tive peo­ple with good man­ners are nice to know, in real life. In com­e­dy, they're dead air.
And that's why – in a cul­ture that demands that women look and behave impec­ca­bly – female roles in com­e­dy are often thank­less. Women are stuck play­ing straight-men: Frus­trat­ed yet beau­ti­ful wives, uptight yet beau­ti­ful girl­friends, unat­tain­able yet beau­ti­ful objects of desire.
McCarthy is hefty, and yes, part of her per­for­mance is a cer­tain blunt prag­ma­tism that could be read as ​"butch." She's also play­ing a key Apa­tov­ian role – Jon­ah Hill's role, in fact. She's a twin sis­ter to Hill's char­ac­ters in Super­bad and For­get­ting Sarah Mar­shall: aggres­sive, hyper­sex­u­al, crude and giv­en the broad­est, most pop­u­lar bits. Hill's not con­ven­tion­al­ly sexy, or con­ven­tion­al­ly well behaved. Nei­ther is McCarthy. They're come­di­ans; being pret­ty and nice is not their job.
What makes come­di­ans trans­gres­sive, from Lucille Ball to Ken Jeong, is their will­ing­ness to look bad in pub­lic. Women have nev­er been encour­aged to cul­ti­vate this fear­less­ness. There are excep­tions – Ball or Joan Rivers come to mind – but they tend to prove the rule. Lady Los­er Com­e­dy opens up the game. Women who have the pro­fane dead­pan of McCarthy, or the cool prick­li­ness of Fey or the off-rhythm inten­si­ty of Wiig: They're not exclud­ed any more. They embar­rass them­selves, they're com­plete­ly inap­pro­pri­ate, and that's fine; it's comedy.
Of all the rights women agi­tate for, Lady Los­er Com­e­dy gives us the most joy­ful: The right to laugh at ourselves.