How an Investigative Journalism Center Helped Oust Puerto Rican Gov. Rosselló
In an interview, Carla Minet, executive director of the Centro de Periodismo Investigativo, explains how her team's work shined a light on government corruption and helped fuel mass protests.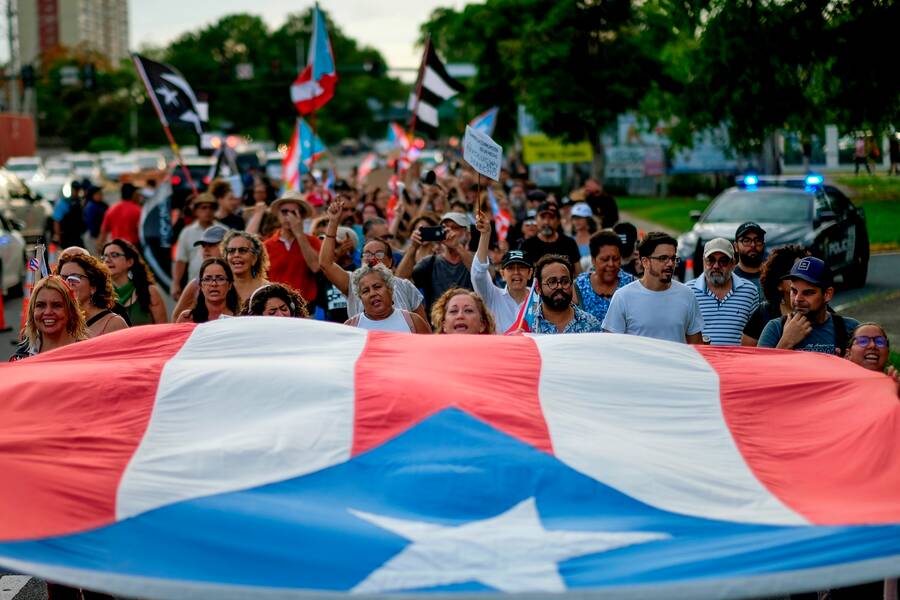 On July 24, fol­low­ing near­ly two weeks of mas­sive protests, Puer­to Rico's embat­tled Gov. Ricar­do Rossel­ló announced that he would resign. The shock­ing devel­op­ment fol­lowed the release of secret chats that showed Rossel­ló and oth­er mem­bers of the gov­ern­ment using sex­ist and homo­pho­bic lan­guage to refer to polit­i­cal rivals, and the mock­ing of vic­tims of the dead­ly Hur­ri­cane Maria. It also marked the first time in Puer­to Rico's his­to­ry that a gov­er­nor was removed from office with­out an election.
The cache of secret chats was released through Puer­to Rico's Cen­tro de Peri­odis­mo Inves­tiga­ti­vo (CPI), an orga­ni­za­tion that has long been at the fore­front of bat­tles for pub­lic infor­ma­tion. The CPI has become a safe haven for jour­nal­ists who share a com­mit­ment for gov­ern­ment trans­paren­cy or who have been pushed out of news out­lets that have either elim­i­nat­ed or sig­nif­i­cant­ly down­sized their inves­tiga­tive report­ing units.
Recent CPI reports have revealed gov­ern­ment cor­rup­tion and neglect of mar­gin­al­ized groups, as well as the real death toll of Hur­ri­cane María. These reports have chal­lenged the Rossel­ló administration's cul­ture of obscu­ri­ty, fuelling the protests against the Rossel­ló administration.
In These Times recent­ly spoke with Car­la Minet, exec­u­tive direc­tor of the CPI, about the organization's role in the protests, the impor­tance of gov­ern­ment trans­paren­cy, and what's next for Puer­to Rico.
One of the things that led to the cur­rent upris­ing in Puer­to Rico was an almost 900-page chat that was leaked, and that was admin­is­tered by Gov. Ricar­do Rossel­ló him­self, along­side some of his top aides. Your orga­ni­za­tion, CPI, was one of the out­lets that pub­lished the chats and was the first out­let to pub­lish it in its entire­ty. When did you real­ize what you had with this leak?
CM: *Laughs* As soon as we were able to scroll down the doc­u­ment, I think it took, like, maybe 10 to 15 min­utes to under­stand, you know, the impli­ca­tions of the doc­u­ments. At that point we had seen the pre­vi­ous leaked pages.
I think that small leaks that have hap­pened at points were not, they did­n't have the impact of the whole doc­u­ment. They were like pieces that did­n't com­mu­ni­cate how deep the prob­lem was, in terms of pos­si­ble offens­es, in terms of ethics and vio­la­tions of not only the law but pro­to­cols and, of course, com­mon sense.
At that point when we saw the whole doc­u­ment, we were real­ly aston­ished. We were like, ​"What is this? How this has hap­pened?" So we were in shock, let's say. And imme­di­ate­ly we knew that we had to start work­ing on a sto­ry and report on the pat­terns that we saw in the doc­u­ments. We have been already inves­ti­gat­ing some of these fig­ures who were close to the gov­er­nor, so we had a lot of back­ground on each of them. Besides the name-call­ing and the bul­ly­ing, and the insults, all of which are impor­tant, the leaks show the char­ac­ter of the offi­cials in government.
Did you expect an upris­ing to come out of this leak?
CM: No, nev­er. At the point when we pub­lished the doc­u­ments there had been protests because of the pre­vi­ous par­tial leaks, but we hadn't even thought about this, to be very frank. We only thought about the impor­tance of peo­ple know­ing how their offi­cials were behav­ing among these poten­tial con­flicts and these poten­tial breach­es. This is like the tip of the ice­berg in terms of cor­rup­tion — a very big and deep cor­rup­tion scheme with­in the government.
How do you think this will affect the ongo­ing debt nego­ti­a­tions, which you wrote about in 2017 for In These Times?
This has affect­ed the gov­er­nance of the coun­try at all lev­els. Any impor­tant offi­cials who dealt with the fis­cal con­trol board and the nego­ti­a­tion process are now out of the gov­ern­ment. And the gov­er­nor is going out. And still we don't know who will replace him. So I think this will delay the process­es. Will it be favor­able? I don't have an answer to that. I real­ly have no idea if this will ben­e­fit or make that process worse. Because things are very flu­id and it is very dif­fi­cult right now to pre­dict where things are going.
What is the mis­sion of the CPI mov­ing forward?
After these rev­e­la­tions, we've had a very heavy process in terms of not only the work­load but also the sud­den recog­ni­tion of our jour­nal­ists, and the amount of tips we are get­ting. So we have our hands full right now, try­ing to just think — what is the best way in which we can con­tribute to this stage of the process that the coun­try is going through?
We are try­ing to work hard, but I think the future is a lit­tle bit blur­ry right now. We just know that we are doing our best. We were in the right place in the right moment. We are grate­ful for that, because we think this has been an impor­tant process for our country.
How has inves­tiga­tive jour­nal­ism been sup­pressed in oth­er local news out­lets in Puer­to Rico?
There is no inves­tiga­tive news out­let in Puer­to Rico besides the CPI. Local media does very lit­tle report­ing. El Nue­vo Día news­pa­per has devel­oped an inves­tiga­tive unit, but if you see the tra­jec­to­ry of that unit, you'll see that they have pub­lished very few sto­ries. They've only had like two jour­nal­ists for that unit, who do also dai­ly cov­er­age some­times. So it's not a real effort to do inves­ti­ga­tions. In tele­vi­sion, there are a few efforts, but that's what we have.
In the after­math of Hur­ri­cane Maria, the CPI engaged in a series of inves­ti­ga­tions, many of which were sub­ject to a series of block­ages from the Puer­to Rican gov­ern­ment. The cen­ter had to sue the gov­ern­ment to gain access to pub­lic records. Can you talk to us about some of those efforts?
CM: Dur­ing the Ricar­do Rossel­ló admin­is­tra­tion, we've been to court five times. One of those occa­sions was the case of the death data­base. Fol­low­ing Hur­ri­cane Maria, we were also in court for ask­ing for the emer­gency plans of the gov­ern­ment before and after the hur­ri­cane. We were also in court for the doc­u­ments exchange between the gov­ern­ment of Puer­to Rico and the fis­cal con­trol board. We were also in court for ask­ing for lists of lob­by­ists. And most recent­ly, we were in court for the imple­men­ta­tion plans and the progress reports for all agen­cies pro­duced by the gov­ern­ment of Puer­to Rico to the fis­cal con­trol board.
All those efforts have made a point in terms of pub­lic opin­ion about how dif­fi­cult it is to get pub­lic records here, and how unfair it is that we have to go to court to get doc­u­ments which are pub­lic. We've been suc­cess­ful in all the law­suits. In the end, we've got­ten the doc­u­ments. Only one of those law­suits is still in the appeals process. But the rest have been suc­cess­ful. So I think it shows that there is a cul­ture of opac­i­ty in the gov­ern­ment and they have a cul­ture of deny­ing doc­u­ments for no reason.
They make us use our very few resources to go to court, some­times for six months. It's a waste of pub­lic mon­ey, just a waste.
Mak­ing all of this pub­lic is a way for the peo­ple to under­stand that we need poli­cies and pro­to­cols or even laws that expand and enforce the right we have to pub­lic doc­u­ments in the Puer­to Rican Constitution.
The CPI has been incred­i­bly suc­cess­ful with gain­ing access to this infor­ma­tion for the pub­lic inter­est. How has this suc­cess served as an exam­ple for oth­er states that may or may not have open records acts or sun­shine laws, among oth­er kinds of mech­a­nisms by which they can gain access to information?
CM: To be fair, in the U.S. there is no con­sti­tu­tion­al right to pub­lic infor­ma­tion as there is in Puer­to Rico, so I think that puts us in a bet­ter posi­tion to go to court. But in the U.S. cer­tain­ly there is a cul­ture in terms of open gov­ern­ment, in terms of using tech­nol­o­gy, that is not so well devel­oped in Puer­to Rico. And even this [Rossel­ló ] admin­is­tra­tion that came to pow­er with the promise of open gov­ern­ment and trans­paren­cy def­i­nite­ly has done noth­ing in that matter.
Fer­nan­do Tor­mos-Aponte
is a Schol­ars Strat­e­gy Net­work post­doc­tor­al fel­low at the Uni­ver­si­ty of Mis­souri – St Louis. He is from San Juan, Puer­to Rico.