Is Edward J. Snowden Aboard This Plane?
America's imperial power is on the decline, to the world's benefit.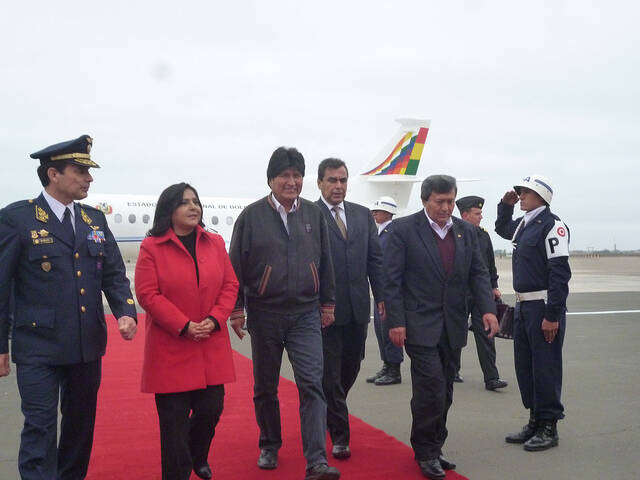 On July 9, the Orga­ni­za­tion of Amer­i­can States held a spe­cial ses­sion to dis­cuss the shock­ing behav­ior of the Euro­pean states that had refused to allow the gov­ern­ment plane car­ry­ing Boli­vian Pres­i­dent Evo Morales to enter their airspace.
Governments always plead security as an excuse—in the Snowden case, security from terrorist attack. This pretext comes from an administration carrying out a grand international terrorist campaign with drones and special operations forces that is generating potential terrorists at every step.
Morales was fly­ing home from a Moscow sum­mit on July 3. In an inter­view there he had said he was open to offer­ing polit­i­cal asy­lum to Edward J. Snow­den, the for­mer U.S. spy-agency con­trac­tor want­ed by Wash­ing­ton on espi­onage charges, who was in the Moscow airport.
The OAS expressed its sol­i­dar­i­ty with Morales, con­demned ​"actions that vio­late the basic rules and prin­ci­ples of inter­na­tion­al law such as the invi­o­la­bil­i­ty of Heads of State," and ​"firm­ly" called on the Euro­pean gov­ern­ments — France, Italy, Por­tu­gal and Spain — to explain their actions and issue apologies.
An emer­gency meet­ing of UNA­SUR — the Union of South Amer­i­can Nations — denounced ​"the fla­grant vio­la­tion of inter­na­tion­al treaties" by Euro­pean powers.
Latin Amer­i­can heads of state weighed in, too. Pres­i­dent Dil­ma Rouss­eff of Brazil expressed the coun­try's ​"indig­na­tion and con­dem­na­tion of the sit­u­a­tion imposed on Pres­i­dent Evo Morales by some Euro­pean coun­tries" and warned that this ​"seri­ous lack of respect for the law…compromises dia­logue between the two con­ti­nents and pos­si­ble nego­ti­a­tions between them."
Com­men­ta­tors were less reserved. Argen­tine polit­i­cal sci­en­tist Atilio Boron dis­missed Europe as ​"the whore of Baby­lon," cring­ing before power.
With vir­tu­al­ly iden­ti­cal reser­va­tions, two states refused to sign the OAS res­o­lu­tion: the Unit­ed States and Cana­da. Their grow­ing iso­la­tion in the hemi­sphere as Latin Amer­i­ca frees itself from the impe­r­i­al yoke after 500 years is of his­toric significance.
Morales' plane, report­ing tech­ni­cal prob­lems, was per­mit­ted to land in Aus­tria. Bolivia charges that the plane was searched to dis­cov­er whether Snow­den was on board. Aus­tria responds that ​"there was no for­mal inspec­tion." What­ev­er hap­pened fol­lowed warn­ings deliv­ered from Wash­ing­ton. Beyond that the sto­ry is murky.
Wash­ing­ton has made clear that any coun­try that refus­es to extra­dite Snow­den will face harsh pun­ish­ment. The Unit­ed States will ​"chase him to the ends of the earth," Sen. Lind­sey Gra­ham warned.
But U.S. gov­ern­ment spokesper­sons assured the world that Snow­den will be grant­ed the full pro­tec­tion of Amer­i­can law — refer­ring to those same laws that have kept U.S. Army sol­dier Bradley Man­ning (who released a vast archive of U.S. mil­i­tary and diplo­mat­ic doc­u­ments to Wik­iLeaks) in prison for three years, much of it in soli­tary con­fine­ment under humil­i­at­ing con­di­tions. Long gone is the archa­ic notion of a speedy tri­al before a jury of peers. On July 30 a mil­i­tary judge found Man­ning guilty of charges that could lead to a max­i­mum sen­tence of 136 years.
Like Snow­den, Man­ning com­mit­ted the crime of reveal­ing to Amer­i­cans—and oth­ers—what their gov­ern­ment is doing. That is a severe breach of ​"secu­ri­ty" in the oper­a­tive mean­ing of the term, famil­iar to any­one who has pored over declas­si­fied doc­u­ments. Typ­i­cal­ly ​"secu­ri­ty" means secu­ri­ty of gov­ern­ment offi­cials from the pry­ing eyes of the pub­lic to whom they are answer­able—in the­o­ry.
Gov­ern­ments always plead secu­ri­ty as an excuse—in the Snow­den case, secu­ri­ty from ter­ror­ist attack. This pre­text comes from an admin­is­tra­tion car­ry­ing out a grand inter­na­tion­al ter­ror­ist cam­paign with drones and spe­cial oper­a­tions forces that is gen­er­at­ing poten­tial ter­ror­ists at every step.
Their indig­na­tion knows no bounds at the thought that some­one want­ed by the Unit­ed States should receive asy­lum in Bolivia, which has an extra­di­tion treaty with the U.S. Odd­ly miss­ing from the tumult is the fact that extra­di­tion works both ways—again, in theory.
Last Sep­tem­ber, the Unit­ed States reject­ed Bolivi­a's 2008 peti­tion to extra­dite for­mer pres­i­dent Gon­za­lo Sánchez de Loza­da—​"Goni"—to face charges of geno­cide and crimes against human­i­ty. It would, how­ev­er, be an error to com­pare Bolivi­a's request for extra­di­tion with Wash­ing­ton's, even if we were to sup­pose that the cas­es have com­pa­ra­ble merit.
The rea­son was pro­vid­ed by St. Augus­tine in his tale about the pirate asked by Alexan­der the Great, ​"How dare you molest the sea?" The pirate replied, ​"How dare you molest the whole world? Because I do it with a lit­tle ship only, I am called a thief; you, doing it with a great navy, are called an Emperor."
St. Augus­tine calls the pirate's answer ​"ele­gant and excel­lent." But the ancient philoso­pher, a bish­op in Roman Africa, is only a voice from the glob­al South, eas­i­ly dis­missed. Mod­ern sophis­ti­cates com­pre­hend that the Emper­or has rights that lit­tle folk like Boli­vians can­not aspire to.
Goni is only one of many that the Emper­or choos­es not to extra­dite. Anoth­er case is that of Luis Posa­da Car­riles, described by Peter Korn­bluh, an ana­lyst of Latin Amer­i­can ter­ror, as ​"one of the most dan­ger­ous ter­ror­ists in recent history."
Posa­da is want­ed by Venezuela and Cuba for his role in the 1976 bomb­ing of a Cubana com­mer­cial air­lin­er, killing 73 peo­ple. The CIA and FBI iden­ti­fied him as a sus­pect. But Cubans and Venezue­lans also lack the pre­rog­a­tives of the Emper­or, who orga­nized and backed the reign of ter­ror to which Cubans have been sub­ject­ed since liberation.
The late Orlan­do Bosch, Posada's part­ner in ter­ror­ism, also ben­e­fit­ed from the Emper­or's benev­o­lence. The Jus­tice Depart­ment and FBI request­ed that he be deport­ed as a threat to U.S. secu­ri­ty, charg­ing him with dozens of ter­ror­ist acts. In 1990, after Pres­i­dent George H.W. Bush over­turned the depor­ta­tion order, Bosch lived the rest of his life hap­pi­ly in Mia­mi, undis­turbed by calls for extra­di­tion by Cuba and Cos­ta Rica, two mere pirates.
Anoth­er insignif­i­cant pirate is Italy, now seek­ing the extra­di­tion of 23 CIA oper­a­tives indict­ed for kid­nap­ping Has­san Mustafa Osama Nasr, an Egypt­ian cler­ic in Milan, whom they ren­dered to Egypt for tor­ture (he was lat­er found to be inno­cent). Good luck, Italy.
There are oth­er cas­es, but the crime of ren­di­tion returns us to the mat­ter of Latin Amer­i­can inde­pen­dence. The Open Soci­ety Insti­tute recent­ly released a study called ​"Glob­al­iz­ing Tor­ture: CIA Secret Deten­tion and Extra­or­di­nary Ren­di­tion." It reviewed glob­al par­tic­i­pa­tion in the crime, which was very broad, includ­ing among Euro­pean countries.
Latin Amer­i­can schol­ar Greg Grandin point­ed out that one region was absent from the list of shame: Latin Amer­i­ca. That is dou­bly remark­able. Latin Amer­i­ca had long been the reli­able ​"back­yard" for the Unit­ed States. If any of the locals sought to raise their heads, they would be decap­i­tat­ed by ter­ror or mil­i­tary coup. And as it was under U.S. con­trol through­out the lat­ter half of the last cen­tu­ry, Latin Amer­i­ca was one of the tor­ture cap­i­tals of the world.
That's no longer the case, as the Unit­ed States and Cana­da are being vir­tu­al­ly expelled from the hemisphere.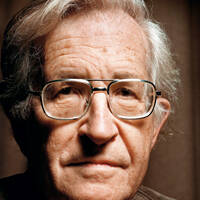 Noam Chom­sky
is Insti­tute Pro­fes­sor and Pro­fes­sor of Lin­guis­tics (Emer­i­tus) at the Mass­a­chu­setts Insti­tute of Tech­nol­o­gy, and the author of dozens of books on U.S. for­eign pol­i­cy. His most recent book is
Who Rules the World?
from Met­ro­pol­i­tan Books.