The Nanny University
Is the academy trigger-warning happy?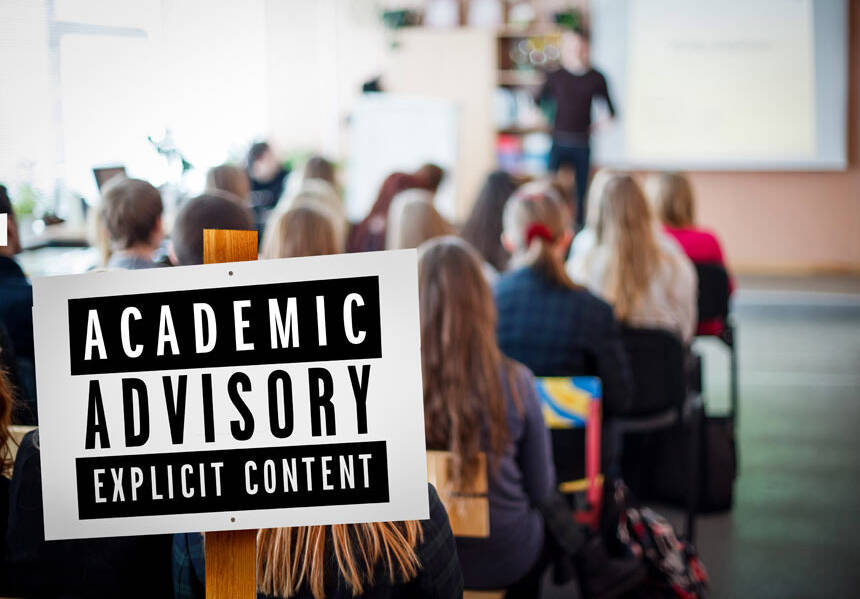 In the social-jus­tice blo­gos­phere, ​"trig­ger warn­ings" have long been stan­dard eti­quette for dis­cussing vio­lence or oppres­sion. The warn­ings pref­ace par­tic­u­lar­ly graph­ic or dis­turb­ing con­tent, cau­tion­ing read­ers with post-trau­mat­ic stress dis­or­der that the linked or dis­cussed mate­r­i­al may cause flash­backs or oth­er symp­toms of trau­ma. How­ev­er, in the past year, the trig­ger warn­ing has leapt from the Inter­net to the acad­e­my. There's been increas­ing pres­sure, par­tic­u­lar­ly from stu­dents, for pro­fes­sors to use them in class­rooms, flag­ging required course mate­r­i­al that may be dis­turb­ing. Ober­lin College's Office of Equi­ty Con­cerns, for exam­ple, sug­gest­ed that Chin­ua Achebe's Things Fall Apart receive a trig­ger warn­ing for ​"racism, colo­nial­ism, reli­gious per­se­cu­tion, vio­lence, sui­cide and more."
'My concern is whether trigger warnings can become entry points for conservative moral panic.'
There has been sub­stan­tial push­back from pro­fes­sors against manda­to­ry trig­ger warn­ings. We invit­ed a pan­el of edu­ca­tors to dis­cuss their takes: Lynn Comel­la, a sex­u­al­i­ty schol­ar and asso­ciate pro­fes­sor of women's stud­ies at Uni­ver­si­ty of Neva­da, Las Vegas; Rox­ane Gay, author of An Untamed State and asso­ciate pro­fes­sor of Eng­lish at Pur­due; and Angus John­ston, who teach­es his­to­ry at Hos­tos Com­mu­ni­ty Col­lege and runs the web­site Stu​den​tAc​tivism​.net.
Do you use trig­ger warn­ings in your classrooms?
Rox­ane: I don't use trig­ger warn­ings in my class­room, and I nev­er will.
Lynn: I don't, and I have no plans to change that.
Angus: I just start­ed using them. It's a sim­ple one-para­graph state­ment in my syl­labus. All it says is, num­ber one: Some of the mate­r­i­al that we cov­er in class may be trau­mat­ic or trou­bling. I teach world his­to­ry, so I teach a lot of very dif­fi­cult mate­r­i­al. Sec­ond­ly, I wel­come it if you want to talk about your per­son­al respons­es to the mate­r­i­al. If you need to step out of a class because the con­ver­sa­tion has got­ten over­whelm­ing, there's no penal­ty. The third thing is that, if stu­dents have par­tic­u­lar trig­gers they'd like to let me know about, they can feel free to talk to me privately.
How do we define ​"dif­fi­cult" material?
Angus: I think the stuff that is often most dif­fi­cult in my class­es per­tains to the his­to­ry of race: the his­to­ry of slav­ery, the his­to­ry of Jim Crow, specif­i­cal­ly lynch­ing and sex­u­al exploita­tion in the con­text of racism.
Lynn: I'm a women's stud­ies pro­fes­sor, and so much of what we teach is con­sid­ered ​"dif­fi­cult" mate­r­i­al. Even the his­to­ry of fem­i­nism could be con­strued as dif­fi­cult mate­r­i­al for resis­tant, con­ser­v­a­tive men in the class. I think there are ways to engage with stu­dents around dif­fi­cult mate­r­i­al with­out con­jur­ing up the lan­guage of trauma.
Rox­ane: I think that using trig­ger warn­ings in the class­room begins to sug­gest that as teach­ers, we become men­tal health pro­fes­sion­als. I have my own PTSD; there's no way in hell I can help some­one else with theirs, oth­er than to lis­ten and point them to coun­sel­ing ser­vices. My class­room is the kind of class­room where [stu­dents] know that if they need to step out, they need to step out. Also, I teach cre­ative writ­ing, so stu­dents write about trau­ma con­stant­ly. There's just no way for me to be able to pre­dict what a student's going to write about and how oth­er peo­ple are going to respond.
Trig­ger warn­ings are com­mon prac­tice in social jus­tice writ­ing and in Inter­net com­mu­ni­ties. Do their impli­ca­tions change when they're placed in an aca­d­e­m­ic context?
Rox­ane: Trig­ger warn­ings have some use in an Inter­net con­text where you are deal­ing with com­mu­ni­ties that have a very high rate of trau­ma, and you're also hav­ing an inter­ac­tion with the tech­nol­o­gy, in the sense that you can click a link and you may not know what you're going to see. But I don't think the explic­it trig­ger warn­ing real­ly trans­lates to an aca­d­e­m­ic setting.
Lynn: My con­cern about trig­ger warn­ings is that they seg­re­gate and mark par­tic­u­lar kinds of mar­gin­al­ized knowl­edge. In the con­text of teach­ing pornog­ra­phy, I don't include any trig­ger warn­ing because, right off the bat, that frames the top­ic in a very par­tic­u­lar way. Not only does it frame the top­ic as some­thing that could do you harm, it's bor­row­ing the rhetoric about harm and trau­ma that's been advanced by anti-pornog­ra­phy advo­cates, includ­ing con­ser­v­a­tive politi­cians and anti-porn feminists.
Angus: I absolute­ly agree that trig­ger warn­ings should nev­er be manda­to­ry. My deci­sion is informed by the nature of my stu­dent body. I'm teach­ing a lot of stu­dents who have lim­it­ed aca­d­e­m­ic back­grounds. And I think a lot of them have been social­ized to act in a def­er­en­tial way towards pro­fes­sors. I had a stu­dent just this spring who came to me after class and said that the dis­cus­sion of slav­ery that we were hav­ing had been emo­tion­al­ly dif­fi­cult, and that she had want­ed to step out, but that she hadn't known whether that would be inap­pro­pri­ate. I'm just giv­ing them infor­ma­tion that I want them all to have.
Rox­ane: Angus, does it make a dif­fer­ence to you whether the student's prob­lem is framed as a men­tal health issue, ver­sus somebody's per­son­al sen­si­bil­i­ties or moral revul­sion or sense of per­son­al oppres­sion? I cur­rent­ly teach at a rur­al state uni­ver­si­ty. A lot of first gen­er­a­tion stu­dents. A lot of con­ser­v­a­tive stu­dents. If they had their way, we would nev­er talk about abor­tion, or race, or gen­der. I believe that col­lege is about mak­ing you uncom­fort­able. I'm not say­ing this to trau­ma­tize you. But we're here to make peo­ple think and push them out of their com­fort zone.
Angus: When I wrote about my use of trig­ger warn­ings, the crit­ics of trig­ger warn­ings who read it said, ​"Well, you're not giv­ing these explic­it over-the-top trig­ger warn­ings, so it's not real­ly a trig­ger warn­ing at all," where­as the folks who sup­port trig­ger warn­ings were over­whelm­ing­ly sup­port­ive. I think there's a risk, when some­body says we need to do some­thing about this — par­tic­u­lar­ly if it's an activist under­grad­u­ate stu­dent — that we take their pro­pos­al as some­thing that we have to just give a thumbs up or thumbs down to, rather than as an oppor­tu­ni­ty to start a dialogue.
Lynn: I'm think­ing less about that activist stu­dent than I am about the extent to which con­ser­v­a­tive admin­is­tra­tors and even con­ser­v­a­tive state leg­is­la­tors can pick up the rhetoric around trig­ger warn­ings and run with it. I'm think­ing about the case at the Uni­ver­si­ty of South Car­oli­na Upstate where the Cen­ter for Women's and Gen­der Stud­ies pro­gram was sanc­tioned for teach­ing pro­grams that includ­ed LGBT texts. Last I heard their fund­ing had been cut. My con­cern is whether trig­ger warn­ings can become entry points for con­ser­v­a­tive moral panic.
Angus: It's impor­tant to note, though, that when we're think­ing about pow­er with­in the uni­ver­si­ty, there's a fight for fac­ul­ty auton­o­my and also for stu­dent pow­er. I think fac­ul­ty can and should do more to advo­cate for students.
Can those opposed to trig­ger warn­ings see sit­u­a­tions where they might be more welcome?
Rox­ane: As I wrote in an essay on trig­ger warn­ings for The Rum­pus, I absolute­ly see cir­cum­stances where trig­ger warn­ings are need­ed. I'm just loath to put them on my work because in some ways it feels like a form of cen­sor­ship — like okay, I need to cor­don off this dif­fi­cult thing. And for peo­ple who've been silent, that's a dif­fi­cult thing to swal­low. I should add, say­ing I don't believe in trig­ger warn­ings doesn't mean I don't believe one can't be trig­gered. I've been trig­gered; lots of things are trig­ger­ing. I just don't know if there's a pro­tec­tion from that.
Lynn: I would say the same thing: I've made a choice not to include them on my syl­labi in part because I feel it would be open­ing up a can of worms as some­one who teach­es gen­der and sex­u­al­i­ty stud­ies. But that does not negate the real­i­ty that there are top­ics that are trig­ger­ing. It cer­tain­ly hasn't emerged as a top­ic of con­ver­sa­tion in my class­es. If it did, I'd have to per­haps revis­it my stance.
Angus, I'd ask you the inverse ques­tion: Are there sit­u­a­tions where you'd feel skep­ti­cal about trig­ger warnings?
Angus: Absolute­ly. In my writ­ing I very rarely use trig­ger warn­ings. My sense is that, if mate­r­i­al may be trau­mat­ic, I should set it up in the head­line. I also wor­ry about fac­ul­ty who enjoy shock­ing their stu­dents; instead of tak­ing the demand for trig­ger warn­ings as an oppor­tu­ni­ty to rethink their behav­ior, they might just slap boil­er­plate trig­ger warn­ings into the syl­labus, and then say, any­time a stu­dent com­plains, ​"It's in the syl­labus, you should have expect­ed it." I think if trig­ger warn­ings are to be used, they should be one small piece of cre­at­ing the class­room in which stu­dents are able to step out of their com­fort zones.