The Repression of BDS Shows How the American and Israeli Ruling Classes Are Deeply Enmeshed
The latest Senate effort to crack down on peaceful protest against the Israeli occupation stems from a long-standing special relationship.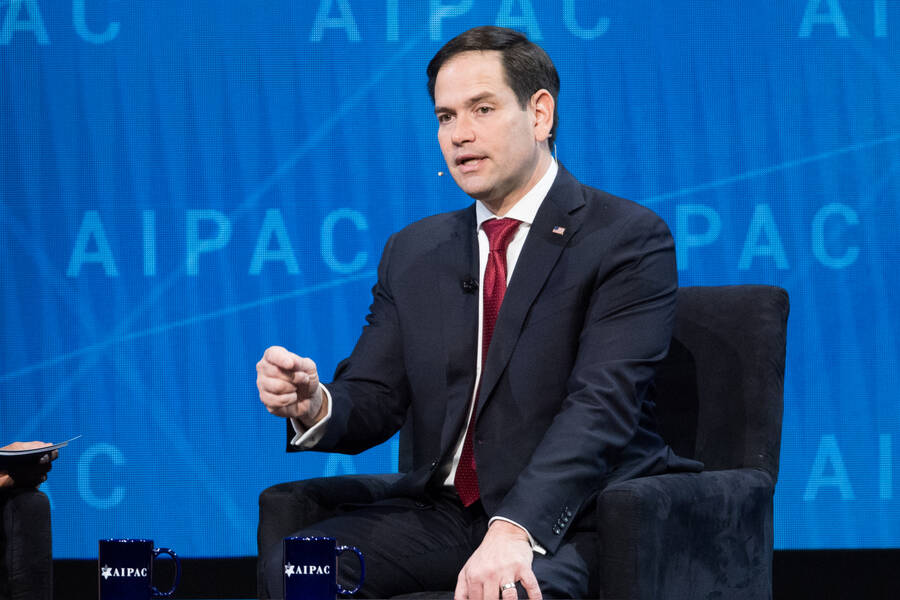 The first bill to be con­sid­ered by the 2019 U.S. Sen­ate defends Israel by giv­ing Amer­i­can state and local gov­ern­ments the legal author­i­ty to pun­ish U.S. com­pa­nies that are par­tic­i­pat­ing in the Pales­tin­ian-led boy­cott against Israel. Accord­ing to the legal advo­ca­cy orga­ni­za­tion Pales­tine Legal, 26 states have adopt­ed anti-boy­cott mea­sures. The fed­er­al bill strength­ens the legal basis to defend those Israel-pro­tect­ing laws from con­sti­tu­tion­al challenges.
U.S. support for Israel should be seen in part as a way for the United States to subsidize America's military industry.
Alarm­ing­ly, the bill could be used to pun­ish indi­vid­u­als, giv­en that, as The Inter­cept recent­ly explained, because ​"indi­vid­ual con­trac­tors often work for state or local gov­ern­ments under the aus­pices of a sole pro­pri­etor­ship or some oth­er busi­ness enti­ty." This dan­ger is not the­o­ret­i­cal: Texas ele­men­tary school speech pathol­o­gist Bahia Amawi recent­ly lost her job because she refused to promise not to boy­cott goods pro­duced in Israel or ille­gal Israeli set­tle­ments. The pur­pose of this part of the bill is to pun­ish those who wish to pres­sure Israel and its Amer­i­can patrons to stop killing, dis­pos­sess­ing and dis­crim­i­nat­ing against Palestinians.
Sen­a­tor Mar­co Rubio (R‑Fla.) is a lead spon­sor of the leg­is­la­tion, which failed to pass in an ear­li­er form intro­duced by Rubio and a bipar­ti­san coali­tion that includ­ed Democ­rats such as Bob Menen­dez of New Jer­sey, Joe Manchin of West Vir­ginia and Ben Cardin of Maryland.
The bill would also cod­i­fy a 2016 deal between the Oba­ma admin­is­tra­tion and the Netanyahu gov­ern­ment guar­an­tee­ing Israel $38 bil­lion in ​"secu­ri­ty" assis­tance over 10 years, a pro­vi­sion that would under­mine any cur­rent or future president's abil­i­ty to undo the arrange­ment. Such a move would ham­string what pass­es for Amer­i­can democ­ra­cy by obstruct­ing the population's abil­i­ty to stop par­tic­i­pat­ing in the mass mur­der of Pales­tin­ian civil­ians should it wish to do so.
Observers could be for­giv­en for won­der­ing why the U.S. gov­ern­ment goes to these lengths to sup­press sup­port for Pales­tin­ian lib­er­a­tion. In the fol­low­ing essay adapt­ed from my book, The Wrong Sto­ry: Pales­tine, Israel, & The Media, I explain why the U.S.-Israeli alliance is so deep and durable.
________________________________________________________________
The U.S.-Israeli ​"spe­cial rela­tion­ship" con­sol­i­dat­ed dur­ing Israel's 1967 war against Egypt, Jor­dan and Syr­ia though Amer­i­ca has sup­port­ed Israel for much longer. Even before the 1967 war, the Unit­ed States gave Israel more aid per capi­ta than any oth­er coun­try. In 1957, U.S. Pres­i­dent Dwight D Eisen­how­er artic­u­lat­ed the Eisen­how­er Doc­trine, a dec­la­ra­tion of U.S. sup­port for any Mid­dle East­ern gov­ern­ment that it con­sid­ered tar­get­ed by ​"overt armed aggres­sion from any nation con­trolled by Inter­na­tion­al Com­mu­nism." Eisenhower's Sec­re­tary of State John Fos­ter Dulles con­sid­ered states in the region allied with the USSR to be ​"con­trolled by Inter­na­tion­al Com­mu­nism" and this includ­ed Egypt, which was one of Israel's pri­ma­ry adver­saries at the time. By 1967, U.S. plan­ners saw Israel as use­ful for pre­vent­ing the dis­rup­tion of oil sup­plies and as a CIA proxy for car­ry­ing out Amer­i­can oper­a­tions in the Mid­dle East, such as arm­ing U.S.-allied Kur­dish forces or assist­ing the secu­ri­ty forces of Iran, which was a U.S. client at the time. The 1967 war cement­ed the U.S.-Israeli rela­tion­ship as the U.S. came to see Israel as an indis­pens­able tool against the USSR's Egypt­ian and Syr­i­an allies.
After the Shah of Iran, one of America's most use­ful prox­ies, was over­thrown in 1979, Israel became even more impor­tant to the Unit­ed States. Start­ing with the 1967 occu­pa­tion and through­out the 1970s, Israeli mil­i­tary attacks and assas­si­na­tions dec­i­mat­ed left-wing and Arab nation­al­ist move­ments across the Mid­dle East that were threats to U.S. client states. It was with full U.S. sup­port that Israel invad­ed Lebanon in 1982 and attacked the PLO, Lebanese left­ists and the Syr­i­an army, all of whom were Sovi­et allies, to say noth­ing of thou­sands of Pales­tin­ian and Lebanese civil­ians. The Unit­ed States itself bombed Lebanon from the sea and sent troops into the coun­try as part of its effort to install a gov­ern­ment in Lebanon that would be friend­ly to the Unit­ed States and Israel. In these ways, Amer­i­can elites sup­port­ed Israeli vio­lence as a means of weak­en­ing the Sovi­et Union in the Mid­dle East and beyond, and of weak­en­ing pro­gres­sive and nation­al­ist forces in the Mid­dle East.
There are pro-Israel lob­by groups in Wash­ing­ton that urge Amer­i­can plan­ners to adopt poli­cies friend­ly to Israeli elites. How­ev­er, as Chom­sky argues, it is doubt­ful they would have much influ­ence if Israel could not be used to sup­port the U.S. rul­ing class's ​"pri­ma­ry inter­est in the Mid­dle East region, which is to main­tain con­trol over its ener­gy reserves and the flow of petrodollars."
The Unit­ed States has also mil­i­ta­rized Israel because of ser­vices that Israel's rul­ing class has ren­dered beyond the Mid­dle East. Israel is one of the world's fore­most pur­vey­ors of mer­ce­nar­ies who have shared their coun­terin­sur­gency knowl­edge with secu­ri­ty forces in Tai­wan, Indone­sia, the Philip­pines and with nar­co mil­i­tants and para­mil­i­taries in Colom­bia. Israel, fur­ther­more, helped the Unit­ed States pro­vide sup­port to an assort­ment of African dic­ta­tors includ­ing Haile Selassie in Ethiopia, Idi Amin in Ugan­da, Mobu­tu Sese Seko in the Con­go (when it was still ​'Zaïre'), Jean-Bédel Bokas­sa of Cen­tral Repub­lic, and the apartheid regimes in Zim­bab­we (when it was still ​'Rhode­sia') and South Africa, despite bans against doing so in the lat­ter two cas­es. In Latin Amer­i­ca, Israel act­ed as a U.S. arms bro­ker and proxy by sell­ing weapons that, because of con­gres­sion­al leg­is­la­tion, the Unit­ed States often could not sell direct­ly to the mur­der­ous mil­i­tary regimes in Argenti­na, El Sal­vador, Guatemala, Hon­duras, and Nicaragua.
While one major goal of U.S. Cold War maneu­ver­ing was to keep the USSR from hav­ing sig­nif­i­cant influ­ence in the Mid­dle East, the end of this peri­od did not mean that the Unit­ed States changed course on Pales­tine-Israel because the Unit­ed States was in prin­ci­ple opposed to any rad­i­cal nation­al­ism, whether Sovi­et-influ­enced or not. In the post-Cold War era, Israel has remained as deeply inte­grat­ed into the U.S.-led empire as ever. Israel, for exam­ple, has observ­er sta­tus in NATO.
Elliot Sys­tems Ltd, an Israeli firm involved in build­ing the sep­a­ra­tion bar­ri­er in Pales­tine-Israel, has also con­tributed to the ​"secu­ri­ty" of the U.S.-Mexico bor­der wall. In 2002 the Unit­ed States ​"observed" the Israeli inva­sion of Jenin and ​"bor­rowed" its usage of bull­doz­ers in the U.S.-led war on Iraq. Sim­i­lar­ly, the U.S. Law Enforce­ment Exchange Pro­gram teach­es Israel's shoot-to-kill meth­ods to Amer­i­can police.
U.S. sup­port for Israel should be seen in part as a way for the Unit­ed States to sub­si­dize America's mil­i­tary indus­try. Between 1997and 2007, Israel signed agree­ments for $10.50 bil­lion worth of U.S. weapons imports, more than any coun­try oth­er than Sau­di Ara­bia. Israel is also the only coun­try allowed by Amer­i­can law to build its domes­tic mil­i­tary indus­try using a large por­tion of the mil­i­tary aid it receives from the Unit­ed States. This right extends to devel­op­ing Israeli weapons sys­tems based on U.S. designs and using Amer­i­can FMF mon­ey to pur­chase mate­ri­als and con­duct research and devel­op­ment for the pur­pose of devel­op­ing its own mil­i­tary sec­tor. Thus, Israel has per­mis­sion to man­u­fac­ture and upgrade U.S. mil­i­tary tech­nol­o­gy and, accord­ing to a 2007 Mem­o­ran­dum of Under­stand­ing, can spend 26.3 per­cent of the FMF it receives from Amer­i­ca on weapons sys­tems man­u­fac­tured in Israel. In these ways, U.S. aid to Israel sub­si­dizes both the Amer­i­can and Israeli rul­ing classes.
The fact that Israel is deeply inte­grat­ed into west­ern cap­i­tal­ism also helps explain the U.S‑Israeli spe­cial rela­tion­ship. Israel has, for instance, pref­er­en­tial trade agree­ments with both the Euro­pean Union and the Unit­ed States. Accord­ing­ly, the Amer­i­can rul­ing class, and the glob­al cap­i­tal­ist elite more gen­er­al­ly, have mate­r­i­al rea­sons to sup­port Israel and to make the state prof­itable. The U.S.-Israeli spe­cial rela­tion­ship can also be explained in part by the links between the two coun­tries' elites. As Nitzan and Bich­ler point out, ​"since the 1990s, Israel has emerged not only as a favourite des­ti­na­tion for ​'high-tech' investors, mon­ey man­agers, and ille­gal flight cap­i­tal, but also as the source of much cap­i­tal out­flow, with local­ly based cap­i­tal­ists acquir­ing assets out­side their coun­try." In 1995, Israel pri­va­tized Koor, a major hold­ing com­pa­ny with a stake in the mil­i­tary indus­try, by sell­ing it to the U.S.-based Dis­ney fam­i­ly. Two years lat­er, the Israeli gov­ern­ment sold its 43 per­cent share in Bank Hapoal­im (which in turn owned 20 per­cent of Koor) to a group head­ed by U.S. investor Ted Ari­son for over $1 bil­lion. In 2013, the Amer­i­can bil­lion­aire War­ren Buf­fet spent $2 bil­lion to take full con­trol of the Israeli com­pa­ny Iscar Met­al­work­ing. Face­book has an office in Tel Aviv as does Google, which also has a loca­tion in Haifa. HP has a lab in Israel that over­looks Haifa and Apple​'s sec­ond largest research and devel­op­ment cen­tre is in Her­zliya, Israel. IBM, Intel, and Microsoft have all made major invest­ments in Israel.
Amer­i­can sup­port for Israel also needs to be seen as part of U.S. capital's broad­er strat­e­gy for dom­i­nat­ing the Mid­dle East, which involves hav­ing as many pli­able client states as pos­si­ble. Israel is one of these and so are the unde­mo­c­ra­t­ic gov­ern­ments of coun­tries such as Egypt, Jor­dan, and the coun­tries that make up the Gulf Coop­er­a­tion Coun­cil (GCC): Bahrain, Kuwait, Oman, Qatar, Sau­di Ara­bia and the Unit­ed Arab Emi­rates (UAE). Adam Hanieh describes U.S. sup­port for Israel since the late 1980s as:
Pursu[ing] a pol­i­cy of inte­grat­ing its bases of sup­port in the region with­in a sin­gle, neolib­er­al eco­nom­ic zone tied to the U.S. through a series of bilat­er­al trade agree­ments. This vision is aimed at pro­mot­ing the free flow of cap­i­tal and goods (but not nec­es­sar­i­ly labour) through­out the Mid­dle East region. The region's mar­kets will be dom­i­nat­ed by U.S. imports, while cheap labour, con­cen­trat­ed in eco­nom­ic ​"free" zones owned by region­al and inter­na­tion­al cap­i­tal, will man­u­fac­ture low-cost exports des­tined for mar­kets in the US, the EU, Israel, and the Gulf. A cen­tral com­po­nent of this vision is the nor­mal­iza­tion and inte­gra­tion of Israel into the Mid­dle East. The U.S. envi­sions a Mid­dle East rest­ing upon Israeli cap­i­tal in the West and Gulf cap­i­tal in the East, under­pin­ning a low-wage, neolib­er­al zone that spans the region. What this means is that Israel's his­toric destruc­tion of Pales­tin­ian nation­al rights must be accept­ed and blessed by all states in the region.
An exam­ple of this process is the Qual­i­fied Indus­tri­al Zones (QIZ) in Jor­dan and Egypt, which were cre­at­ed through eco­nom­ic agree­ments between the Unit­ed States, Israel, Jor­dan, and Egypt. Most of the QIZs con­tain tex­tile fac­to­ries that act as sub­con­trac­tors for U.S. firms like Wal­mart and GAP and the fac­to­ries them­selves are owned by inter­na­tion­al cap­i­tal, main­ly from the Unit­ed Arab Emi­rates, Israel, Chi­na, Tai­wan and Korea. Most of the work­ers are migrants from South Asia who are unpro­tect­ed by labor laws, pre­vent­ed from join­ing unions, make minis­cule wages, get sex­u­al­ly assault­ed and reg­u­lar­ly beat­en, work extreme­ly long shifts, have their pass­ports con­fis­cat­ed on arrival, and are forced to live in over­crowd­ed and unclean con­di­tions. The agree­ments for build­ing the QIZs con­tain the unusu­al clause that goods pro­duced there can get duty-free sta­tus in the U.S. if a cer­tain pro­por­tion of the inputs are Israeli. The QIZs, Hanieh writes, ​"are con­struct­ed to weld Israeli and Arab cap­i­tal togeth­er, inte­grat­ing them with the U.S. mar­ket and the Amer­i­can empire, in the joint exploita­tion of cheap labour." Sim­i­lar­ly, the gigan­tic high­ways that run across the West Bank and that con­nect Israeli cities on the Mediter­ranean with set­tle­ments in the Jor­dan Val­ley are con­duits for trade between Israel and the Gulf. Nor­mal­iza­tion between Israel and the Gulf states under the aus­pices of the US
Empire has also deep­ened in the con­text of each of these states' hos­til­i­ty to Hezbol­lah, Iran and Syr­ia. Thus, the Unit­ed States sup­ports Israel because Israel has long been a valu­able proxy for U.S. ini­tia­tives in the Mid­dle East and beyond and because the rul­ing class­es of both coun­tries are deeply enmeshed.