As Temperatures Climb Across the Country, Workers Will Suffer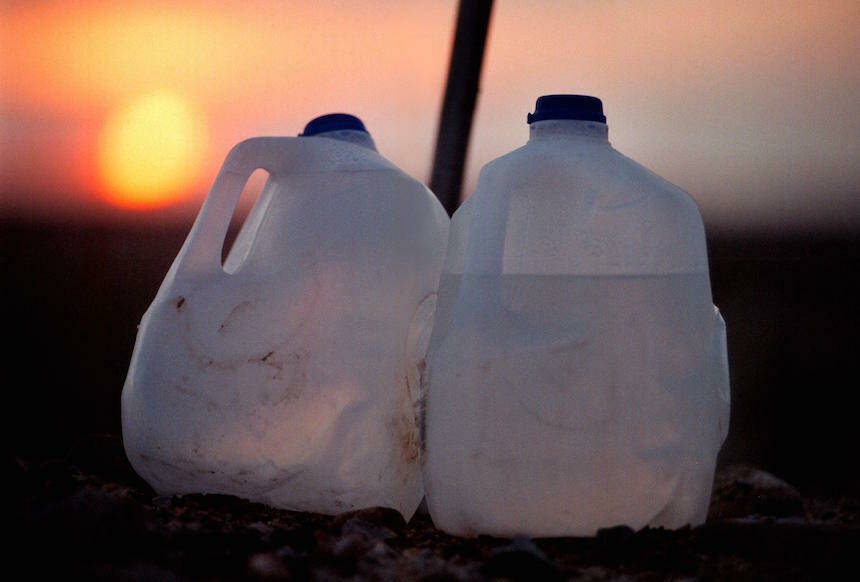 The sum­mer of 2016 is bare­ly two weeks old, but this year is already on track to break high tem­per­a­ture records in the Unit­ed States. On June 20, cities across the South­west and into Neva­da reached all-time triple-dig­it highs. Mean­while, every sin­gle state expe­ri­enced spring tem­per­a­tures above aver­age, with some in the North­west reach­ing record highs. These tem­per­a­tures have already proved dead­ly, killing five hik­ers in Ari­zona ear­li­er this month. Triple-dig­it heat ear­li­er that same week is also being blamed for the deaths of two con­struc­tion work­ers, 49-year old Dale Heit­man in St. Louis, Mis­souri, on June 15 and 55-year old Thomas F. ​"Tom­my" Barnes on June 14 at the Mon­san­to cam­pus in near­by Chester­field, Missouri.
"I've been around since 1973 and we've nev­er seen any­thing like this," David Zim­mer­mann, pres­i­dent and busi­ness man­ag­er of Sheet Met­al Work­ers Local 36, told the St. Louis-South­ern Illi­nois Labor Tri­bune. ​"With these new build­ings, once they close them in, with the guys work­ing in there, it's like work­ing in a big oven."
While 100-degree heat in June may be unusu­al, seri­ous ill­ness and deaths caused by extreme heat at U.S. job sites is not. Last year, the fed­er­al Occu­pa­tion­al Safe­ty and Health Admin­is­tra­tion (OSHA) received more than 200 reports of work­ers hos­pi­tal­ized because of heat-relat­ed ill­ness and at least eight deaths asso­ci­at­ed with heat expo­sure. Accord­ing to OSHA, since 2003, heat has killed — on aver­age—more than 30 work­ers a year. In 2014, 2,630 U.S. work­ers suf­fered from heat ill­ness and 18 died on the job from heat stroke and relat­ed causes.
Of these deaths, nine occurred in the work­ers' first three days on the job, four of them on the worker's first day — and at work­places where employ­ers had no way of allow­ing new work­ers to accli­ma­tize to the heat. These num­bers have been even worse in the past. In 2011, heat killed 61 U.S. work­ers and sick­ened 4,420. OSHA has already begun inves­ti­gat­ing sev­er­al heat-relat­ed on-the-job fatal­i­ties this year, includ­ing the two in Missouri.
"Heat can kill. And it is espe­cial­ly trag­ic when some­one dies of heat expo­sure because they're sim­ply doing their job. We see cas­es like this every year and every one of them is pre­ventable," said Assis­tant Sec­re­tary of Labor for Occu­pa­tion­al Safe­ty and Health, David Michaels on a June 27 call with reporters. ​"We also know that in this cur­rent heat wave work­ers are con­cerned about their safe­ty. In fact we've received a record num­ber of emails, com­ments and ques­tions regard­ing heat and work­er rights in recent weeks."
Michaels spoke with reporters as part of OSHA's launch of this year's ​"water-rest-shade cam­paign," the agency's ongo­ing effort to pre­vent work-relat­ed heat illness.
As part of its cam­paign, OSHA is upping its efforts to edu­cate employ­ers and work­ers on the dan­ger of heat. OSHA's Atlanta region that cov­ers eight south­ern states planned a one-hour safe­ty ​"stand down" at con­struc­tion sites and oth­er work­places. OSHA has also updat­ed its ​"heat app" for smart­phones and tablets. This uses Nation­al Weath­er Ser­vice data to cal­cu­late the heat index at work­sites and advise when the risk lev­el is high. The app, which is avail­able in Eng­lish and Span­ish, also includes infor­ma­tion about iden­ti­fy­ing and pre­vent­ing heat ill­ness. Accord­ing to OSHA the app has already been down­loaded more than 250,000 times.
No fed­er­al heat standards
Cal­i­for­nia has a ​"heat ill­ness pre­ven­tion reg­u­la­tion" that applies to all out­door work­places. The state also requires employ­ers in agri­cul­ture, con­struc­tion, land­scap­ing, trans­porta­tion and oil and gas extrac­tion to take spe­cial mea­sures when tem­per­a­tures hit 95ºF or high­er. Wash­ing­ton state also has an ​"out­door heat expo­sure rule" that includes spe­cif­ic tem­per­a­tures that trig­ger pro­tec­tive action.
But there are no spe­cif­ic fed­er­al extreme heat stan­dards — in oth­er words, no set tem­per­a­tures at which employ­ers are required to pull work­ers off the job. But under fed­er­al law, and OSHA's gen­er­al work­place safe­ty stan­dards, employ­ers are required to pro­tect work­ers from exces­sive heat and heat ill­ness at what­ev­er tem­per­a­ture that might occur. And if work­ers are going to be exposed to high tem­per­a­tures, their employ­er is sup­posed to have a heat ill­ness pre­ven­tion pro­gram. This includes pro­vid­ing work­ers with water, rest and shade. It should also allow work­ers to accli­ma­tize to the heat, and train work­ers to mon­i­tor for and pre­vent extreme heat expo­sure and illness.
Accord­ing to the U.S. Envi­ron­men­tal Pro­tec­tion Agency (EPA), sev­en of the ten warmest years on record for the 48 con­tigu­ous U.S. states have occurred since 1998, with 2012 the warmest in the U.S. — and 2014, the hottest world­wide — thus far. So extreme heat and unsea­son­ably high tem­per­a­tures are far from new. But work­ers con­tin­ue to succumb.
A search of OSHA's work­place inspec­tions and safe­ty vio­la­tions data­base shows 70 inves­ti­ga­tions relat­ed to heat stress since 2006. These include at least 20 fatal­i­ties. Of these 70 inves­ti­ga­tions, more than 20 — includ­ing at least five fatal­i­ties — occurred in a con­struc­tion-relat­ed indus­try. Nine involved deliv­ery ser­vice work­ers, among them two U.S. Postal Ser­vice work­ers who died of heat expo­sure. Eight inci­dents involved land­scap­ing work­ers, eight of whom died. Farm work has proved sim­i­lar­ly dan­ger­ous for heat expo­sure, with all four inci­dents inves­ti­gat­ed involv­ing fatal­i­ties. But work­ers also fell to heat doing work in the ener­gy extrac­tion indus­try, doing ware­house work, han­dling waste and recy­cling, and per­form­ing vehi­cle repair work. But the OSHA record of heat stress vio­la­tions also includes restau­rant and nurs­ing home work.
Per­haps not unex­pect­ed­ly, most of these inci­dents occurred in the hot and humid South and South­east, includ­ing Texas and Louisiana. The accounts, where they are avail­able, are heart­break­ing for the utter ordi­nar­i­ness of the work­days they describe:
A work­er in West Vir­ginia who'd been drag­ging tree limbs to a chip­per truck for three hours on a late August day was sent to sit in a truck when he said he didn't feel well. After a lit­tle while he left the job site to walk home, a dis­tance of four blocks. Two hours lat­er, an emer­gency ser­vice work­er found him uncon­scious by the side of the street, his body tem­per­a­ture at

107

.

4

º. He nev­er regained con­scious­ness and was pro­nounced dead of heatstroke.
A man pulling weeds in a fruit tree nurs­ery on a July day dies of hyperthermia.
Men found slumped over their con­struc­tion work, pro­nounced dead of heat exhaustion.
A migrant farm work­er who'd com­plet­ed three months in a toma­to pack­ing ware­house who vol­un­teered to stay on after the har­vest end­ed to remove stakes and strings from

300

to

400

acres of toma­to fields. After his fourth day cut­ting and remov­ing strings he went to a shad­ed area to take a break. He was found there, some time lat­er by cowork­ers, uncon­scious. After a local hos­pi­tal record­ed his

108

º body tem­per­a­ture he was air­lift­ed to a major hos­pi­tal where he died the fol­low­ing day.
Ongo­ing low OSHA penalties
As Cen­ter for Pro­gres­sive Reform (CPR) pol­i­cy ana­lyst Katie Tra­cy notes, under cur­rent rules, OSHA is lim­it­ed in what it can fine employ­ers for vio­la­tions of any kind — includ­ing those that keep work­ers on the job in dan­ger­ous heat. ​"The medi­an penal­ty for a fatal­i­ty is a lit­tle over $5,000," says Tra­cy. And under OSHA's process for work­ing with employ­ers on fix­ing haz­ards, employ­ers can — and reg­u­lar­ly do — nego­ti­ate low­er penal­ty fees than OSHA ini­tial­ly assessed. In fact, dur­ing the time that a com­pa­ny is con­test­ing these penal­ties the com­pa­ny isn't legal­ly required to cor­rect the vio­la­tions for which the employ­ers was cit­ed. In a new report exam­in­ing this prac­tice, CPR found that the medi­an penal­ty employ­ers have paid for a fatal­i­ty dur­ing the Oba­ma Admin­is­tra­tion is $5,800. This amount, says CPR, is ​"less than the cost of an aver­age funeral."
A look at the fines com­pa­nies paid in the past 10 years when work­ers died on the job from heat expo­sure reflects what CPR found. While some fines were much high­er, when a num­ber of con­struc­tion work­ers suf­fered heat-relat­ed deaths, many of their employ­ers paid fines of $7,000. When farm and land­scap­ing work­ers died, those fines were often low­er, in two cas­es: $2,000 and $2,500. OSHA is now poised to increase its penal­ties for the first time since 1990.
But when it comes to heat, ​"We want this mes­sage to get out as wide­ly as pos­si­ble," said Michael. That includes pub­li­ciz­ing what some employ­ers are doing to keep work­ers safe­ly cool on the job — with easy access to shade, cool drinks, wet cloths and oppor­tu­ni­ty for rest breaks. It also means mak­ing sure every­one is aware of the dan­gers of heat and knows what the symp­toms are so they can stop before it's too late.
Eliz­a­beth Gross­man
is the author of
Chas­ing Mol­e­cules: Poi­so­nous Prod­ucts, Human Health, and the Promise of Green Chem­istry
,
High Tech Trash: Dig­i­tal Devices, Hid­den Tox­i­cs, and Human Health
, and oth­er books. Her work has appeared in a vari­ety of pub­li­ca­tions includ­ing
Sci­en­tif­ic Amer­i­can
,
Yale e

360
,
Envi­ron­men­tal Health Per­spec­tives
,
Moth­er Jones
,
Ensia
,
Time
,
Civ­il Eats
,
The Guardian
,
The Wash­ing­ton Post
, Salon and
The Nation
.