Jeb Bush's Presidential Announcement Was Simultaneously Audacious and Underwhelming
Bush's presidential campaign announcement was high on the rhetoric. Unfortunately, it was also inconsistent with everything we already know about Jeb Bush.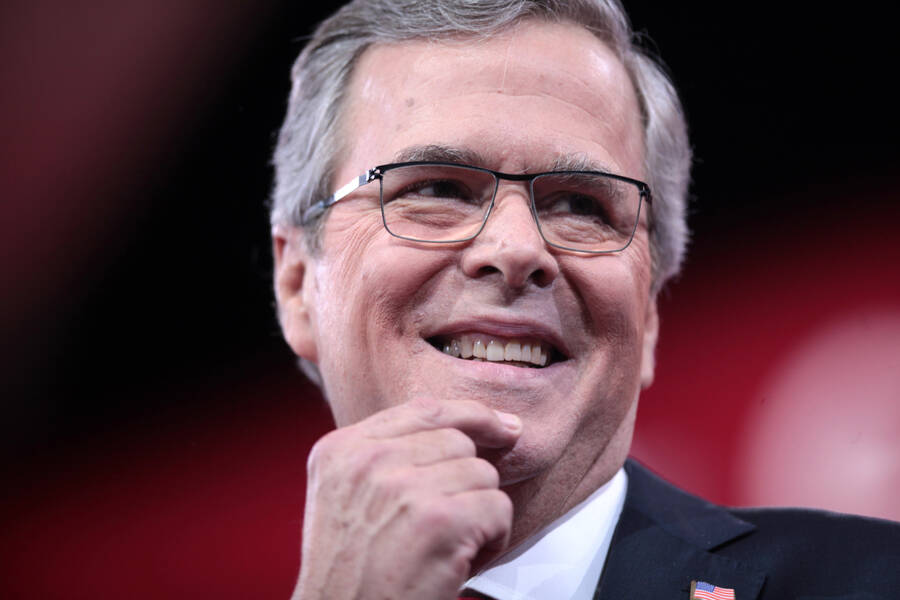 Pres­i­den­tial cam­paign announce­ment speech­es typ­i­cal­ly rehash well-worn themes politi­cians have long cham­pi­oned. They rarely include shock­ers or attempts to whol­ly rede­fine a can­di­date. Not so for for­mer Flori­da Gov. Jeb Bush — his announce­ment address at Mia­mi Dade Col­lege this week was an extreme makeover that includ­ed pas­sages that like­ly had Amer­i­ca doing a dou­ble take.
Bush also slammed "pampered elites" and insisted he is "not just another member of the club." Those lines, of course, came from the millionaire grandson of a senator, son of a president and brother of another president.
To start, Bush slammed politi­cians for being too close to what he called Washington's ​"swarms of lob­by­ists." Yet, Bush has relied on that multi­bil­lion-dol­lar influ­ence indus­try to bankroll his polit­i­cal campaigns.
The New York Times reports that dur­ing his cam­paigns for Flori­da gov­er­nor, ​"Bush received at least $237,000 from hun­dreds of lob­by­ists, lawyers, polit­i­cal con­sul­tants and oth­ers in the cap­i­tal." In his pres­i­den­tial run, the Times also notes, he has already held ​"sev­en pri­vate fundrais­ers and meet-and-greets in the Wash­ing­ton area," proof that ​"he seems to have mas­tered a skill that is cru­cial in this city: tap­ping into the mon­ey-rais­ing clout of the K Street lob­by­ists." The Wash­ing­ton Post fol­lowed up with a lengthy list of lob­by­ists now work­ing to help Bush win the Repub­li­can pres­i­den­tial nomination.
Bush also slammed ​"pam­pered elites" and insist­ed he is ​"not just anoth­er mem­ber of the club." Those lines, of course, came from the mil­lion­aire grand­son of a sen­a­tor, son of a pres­i­dent and broth­er of anoth­er pres­i­dent. Lat­er in the speech, in fact, Bush actu­al­ly high­light­ed part of that biog­ra­phy, not­ing that he is ​"a guy who met his first pres­i­dent on the day he was born and his sec­ond on the day he was brought home from the hospital."
Bush high­light­ed edu­ca­tion, which he con­sid­ers one of his sig­na­ture caus­es when he was gov­er­nor of Flori­da. But in his pres­i­den­tial cam­paign speech, he veered away from his own record, insist­ing he believes that ​"every school should have high stan­dards, and the fed­er­al gov­ern­ment should have noth­ing to do with set­ting them." That dec­la­ra­tion came from the same politi­cian who has been an out­spo­ken sup­port­er of his brother's No Child Left Behind Act, which includ­ed a host of con­tro­ver­sial fed­er­al edu­ca­tion man­dates. Addi­tion­al­ly, Bush has been a strong sup­port­er of Com­mon Core edu­ca­tion stan­dards, which have been pushed — and finan­cial­ly incen­tivized — by the fed­er­al government.
Then there was Bush's crit­i­cism of Pres­i­dent Oba­ma. He said ​"it's still a mys­tery to me why, in these vio­lent times, the pres­i­dent a few months ago thought it rel­e­vant at a prayer break­fast to bring up the Cru­sades." That seems straight­for­ward, except that Bush did not men­tion sim­i­lar con­cerns when his broth­er, George W. Bush, made head­lines for using the term ​"cru­sade" to describe his inva­sions of Mus­lim countries.
Bush also crit­i­cized the Oba­ma admin­is­tra­tion for hav­ing ​"failed to be the peace­mak­ers" in inter­na­tion­al affairs. But, of course, Bush is the broth­er of a pres­i­dent who ini­ti­at­ed two wars —includ­ing the longest in mod­ern Amer­i­can his­to­ry — and who was, in the esti­ma­tion of some crit­ics, respon­si­ble for help­ing cre­ate the Islam­ic State group. Bush has been a sup­port­er of those poli­cies, which few describe as ​"peace­mak­ing." And let's remem­ber: Bush's sup­port has­n't been tepid. Indeed, he recent­ly reit­er­at­ed that he would have autho­rized the inva­sion of Iraq, and said of his brother's war poli­cies: ​"News flash to the world: If they're try­ing to find places where there's big space between me and my broth­er, this might not be one of those."
Give Bush cred­it for one thing: He did not offer vot­ers a run-of-the-mill speech. He deliv­ered a tour de force of sheer audac­i­ty. The trou­ble is, it's the kind of audac­i­ty that assumes Amer­i­ca will nev­er both­er to con­sid­er even the most basic facts about Jeb Bush.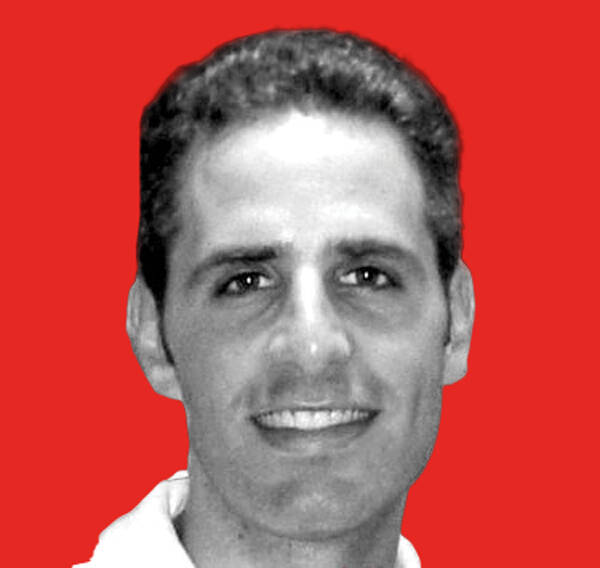 David Siro­ta
is an award­win­ning inves­tiga­tive jour­nal­ist and an
In These Times
senior edi­tor. He served as speech writer for Bernie Sanders'
2020
cam­paign. Fol­low him on Twit­ter @davidsirota.