The War on Drugs Is an Abject Failure. Jeff Sessions Just Ramped It Up.
The tide is finally turning against marijuana criminalization. But Sessions just took a giant leap backwards.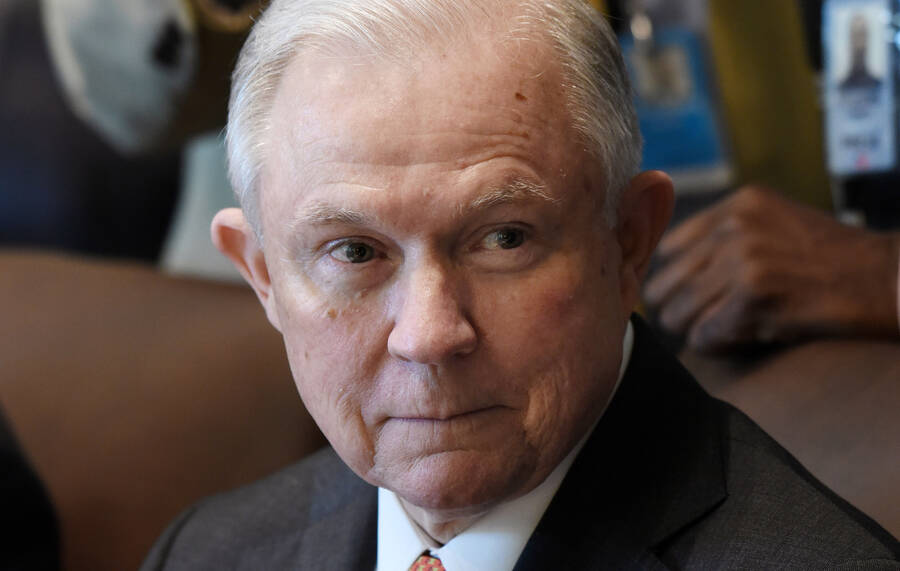 The U.S. tide is clear­ly turn­ing in favor of mar­i­jua­na decrim­i­nal­iza­tion. Twen­ty-nine states and Wash­ing­ton, D.C. have legal­ized med­ical mar­i­jua­na. On Jan­u­ary 1, Cal­i­for­nia joined Alas­ka, Col­orado, Neva­da, Ore­gon and Wash­ing­ton in legal­iz­ing the sale of recre­ation­al pot. A Gallup poll com­plet­ed in Octo­ber found that, for the first time, a major­i­ty of Repub­li­cans (51 per­cent) sup­port legal­iz­ing pot, while 64 per­cent of Amer­i­cans over­all sup­port legal­iza­tion. As Arcview Mar­ket Research not­ed, mar­i­jua­na sales rose 33 per­cent from 2016 to 2017. The trend is obvi­ous: The pro­hi­bi­tion of pot, and the dra­con­ian laws that define the war on drugs, are wild­ly unpopular.
Our criminal legal system is not equally applied; it has always targeted people of color.
How­ev­er, the shift in pub­lic opin­ion has not stopped Attor­ney Gen­er­al Jeff Ses­sions. His mis­sion to revive and pump steroids into the war on drugs has con­tin­ued unabated.
Back in May, Ses­sions released a memo direct­ing fed­er­al pros­e­cu­tors to once again seek the harsh­est sen­tences pos­si­ble under the law. The memo rescind­ed Oba­ma-era direc­tives that were designed to light­en sen­tences for low-lev­el drug crimes by step­ping away from manda­to­ry min­i­mum sen­tenc­ing. Such direc­tives com­prised a key com­po­nent of the Oba­ma admin­is­tra­tion's efforts to reverse some of the severe­ly puni­tive actions of his predecessors.
In June, Jeff Ses­sions sent a let­ter to con­gres­sion­al lead­ers stat­ing his oppo­si­tion to the Rohrabach­er-Farr amend­ment (also known as the Rohrabach­er-Blu­me­nauer amend­ment), which was imple­ment­ed to pro­tect legal­ized med­ical mar­i­jua­na programs.
On Jan­u­ary 4, Ses­sions went yet anoth­er step fur­ther by rescind­ing a series of Oba­ma-era mem­os that ush­ered in the wave of mar­i­jua­na legal­iza­tion by direct­ing fed­er­al pros­e­cu­tors not to inter­vene in states that legal­ized pot. While marijuana's fed­er­al sta­tus as an ille­gal, con­trolled sub­stance nev­er changed, these mem­os essen­tial­ly let the states gov­ern them­selves in this realm. Now, how­ev­er, the sta­tus of med­ical and recre­ation­al legal­iza­tion may be in per­il, as the fed­er­al gov­ern­ment is again free to raid state-approved clin­ics and dispensaries.
So much for states' rights.
None of these devel­op­ments should be sur­pris­ing, giv­en that Ses­sions once said that ​"good peo­ple don't smoke mar­i­jua­na," and that mar­i­jua­na was ​"only slight­ly less awful" than hero­in. He also said the relax­ing of drug laws was one of Oba­ma's ​"great fail­ures," before prais­ing Nan­cy Rea­gan's ​"Just Say No" cam­paign, which was an abject fail­ure. And Ses­sions' trou­bling his­to­ry on race can­not be ignored either, as it is part-and-par­cel to his over­all ide­ol­o­gy. He was denied a fed­er­al judge­ship in 1986 for a series of racist com­ments which includ­ing call­ing the NAACP ​"un-Amer­i­can" and call­ing a civ­il rights lawyer a ​"dis­grace to his race."
The war on drugs, any way you spin it, has been a colos­sal, tril­lion-dol­lar cat­a­stro­phe. The puni­tive mea­sures tak­en under every pres­i­dent from Nixon through George W. Bush have been entire­ly unsuc­cess­ful in curb­ing drug use and sales. They have how­ev­er been suc­cess­ful in destroy­ing com­mu­ni­ties of col­or, bol­ster­ing the cycle of pover­ty and help­ing to give the Unit­ed States the high­est incar­cer­a­tion rate in the world.
Our crim­i­nal legal sys­tem is not equal­ly applied; it has always tar­get­ed peo­ple of col­or. Research by the Her­ald Tri­bune found that Black peo­ple in Flori­da received far longer sen­tences than white peo­ple with iden­ti­cal charges and crim­i­nal records. Depart­ment of Jus­tice inves­ti­ga­tions found that the Chica­go and Bal­ti­more police depart­ments rou­tine­ly vio­lat­ed civ­il rights laws by unfair­ly tar­get­ing African Amer­i­cans and Lati­nos. And there was the obscene 100:1 crack-to-cocaine sen­tenc­ing ratio (the law until 2010; its now 18:1), which led to thou­sands of Black peo­ple being sent to prison for exor­bi­tant sen­tences, while white peo­ple con­vict­ed of cocaine pos­ses­sion enjoyed far greater lenien­cy. Crack and cocaine are the same drug, but crack was gen­er­al­ly used by poor Black peo­ple, and cocaine was gen­er­al­ly used by mid­dle to upper-class whites.
As the Prison Pol­i­cy Ini­tia­tive report­ed, of the more than 2.3 mil­lion peo­ple cur­rent­ly incar­cer­at­ed in the Unit­ed States, approx­i­mate­ly one in five is cur­rent­ly locked up for a drug offense. More­over, the drug war has served to demo­nize peo­ple with addic­tions by push­ing them to the fringes of society.
We are cur­rent­ly in the midst of a drug epi­dem­ic, with at least 66,324 peo­ple killed of drug over­dos­es between May 2016 and May 2017. The impact is so severe that it caused the life expectan­cy in the Unit­ed States to drop in 2015 and 2016. A cur­so­ry exam­i­na­tion of recent his­to­ry and data clear­ly shows that drug addi­tion will not be solved through fist-pound­ing law and order. Instead of lock­ing peo­ple up, we need to expand med­ica­tion-assist­ed treat­ment, des­tig­ma­tize addic­tion and drug use and address the high­ly decep­tive maneu­vers of big pharma.
Expand­ing access to med­ical mar­i­jua­na is a crit­i­cal part of the solu­tion. Some research has shown that mar­i­jua­na is high­ly effec­tive in com­bat­ing chron­ic pain, and it is not near­ly as addic­tive as opioids.
Attor­ney Gen­er­al Jeff Ses­sions is aggres­sive­ly send­ing the coun­try in the wrong direc­tion. If he con­tin­ues along this path, our prison pop­u­la­tion will con­tin­ue to rise, peo­ple with addic­tions will con­tin­ue to be cast out from soci­ety and the opi­oid epi­dem­ic will grow even more dead­ly. The seri­ous­ness of these actions can­not be over­stat­ed: Our prison sys­tem is an inter­na­tion­al dis­grace, and it's direct­ly tied to the drug war.
Jesse Mechan­ic
is the found­ing edi­tor of The Over­grown and has con­tributed to Truthout, Huff­Post and numer­ous oth­er pub­li­ca­tions. He's appeared on C‑Span's The Wash­ing­ton Jour­nal, Colum­bia Uni­ver­si­ty's #Dis­rup­tive, Human­i­ty in the Head­lines and This Is Hap­pen­ing. Fol­low him on Twit­ter: @Jmechanic.