Jerry Brown Lashes Out at COP23 Climate Protesters: "Let's Put You in the Ground"
Activists interrupted Brown at the UN climate conference calling to keep fossil fuels in the ground and pursue more radical solutions.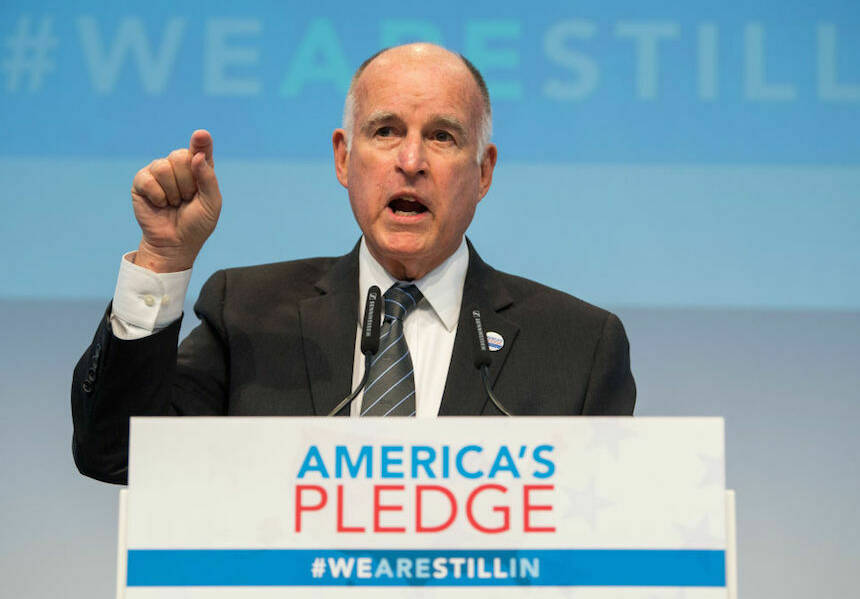 BONN, GER­MANY — Cal­i­for­nia Gov. Jer­ry Brown (D) is set to have a big week here in Bonn at the UN Frame­work Con­ven­tion on Cli­mate Change's 23rd Con­fer­ence of the Par­ties (COP23). He and for­mer New York May­or Michael Bloomberg are key fig­ures in the U.S. Cli­mate Action Cen­ter (USCAC), an unof­fi­cial voice for the Unit­ed States at the cli­mate sum­mit (the offi­cial U.S. del­e­ga­tion is keep­ing a low pro­file). With the Trump admin­is­tra­tion intend­ing to with­draw from the Paris Agree­ment, the USCAC's ral­ly­ing cry is fair­ly clear: We Are Still In.
"Some minds are not subtle enough to appreciate the paradox, the dialectic of carbon and non-carbon," Gov. Jerry Brown said.
A few min­utes into a Sat­ur­day USCAC event fea­tur­ing Wal-Mart's Senior Vice Pres­i­dent of Sus­tain­abil­i­ty, Brown was inter­rupt­ed by pro­tes­tors ask­ing, ​"Still In For Want?"
A group of Cal­i­for­ni­ans and oth­er del­e­gates to COP23 from the Unit­ed States — many involved in cli­mate jus­tice orga­ni­za­tions — stood up as Brown start­ed speak­ing, giv­ing short tes­ti­monies about Brown's close rela­tion­ship to the fos­sil fuel indus­try, a major force in California's econ­o­my. After pro­test­ers chant­ed ​"Keep It In The Ground," in oppo­si­tion to fos­sil fuel extrac­tion, Brown replied, ​"Let's put you in the ground so we can get on with the show here." Clumps of inter­rupters con­tin­ued to pop up and be escort­ed out through the rest of the pre­sen­ta­tion, prompt­ing respons­es from Brown. ​"Unfor­tu­nate­ly, in pol­i­tics," he said, ​"we don't have a mag­ic wand. … I can't say ​'Stop, there's no more coal, no more oil.' "
It's not the first time Brown has had tense inter­ac­tions with cli­mate orga­niz­ers. While Brown has tout­ed the suc­cess of California's cap and trade pro­gram at COP23, the mea­sure that passed this sum­mer extend­ing the pro­gram was opposed by a large por­tion of the state's cli­mate and envi­ron­men­tal jus­tice orga­ni­za­tions. As In These Times report­ed this sum­mer in the lead-up to the cap and trade program's exten­sion, the lat­est bill was draft­ed with heavy input from oil and gas inter­ests and com­par­a­tive­ly less from com­mu­ni­ties deal­ing first-hand with the impact of the state's extrac­tive indus­try. The final leg­is­la­tion includ­ed sev­er­al pro­vi­sions tak­en near ver­ba­tim from indus­try lob­by­ing materials.
"I firm­ly believe we're not going to see any ade­quate cli­mate action unless we cut the fos­sil fuel indus­try entire­ly out of the nego­ti­at­ing room," Dal­las Gold­tooth, an orga­niz­er with the Indige­nous Envi­ron­men­tal Net­work who par­tic­i­pat­ed in Saturday's action, tells In These Times. ​"They are the ones that cause the prob­lems, so why are we let­ting them at the table to devel­op so-called solu­tions?" Gold­tooth is also in Bonn as part of the It Takes Roots del­e­ga­tion, which orches­trat­ed the dis­rup­tion. The del­e­ga­tion is com­prised of black and brown orga­niz­ers from around the Unit­ed States, many of them from com­mu­ni­ties deal­ing with fos­sil fuel extrac­tion in their own backyards.
Anoth­er par­tic­i­pant, Eva Malis, 22, (who is not with the It Takes Roots del­e­ga­tion) has been involved in the more than a decade-long push to ban frack­ing in Cal­i­for­nia. ​"We're here as Cal­i­for­ni­ans but this doesn't only mat­ter to Cal­i­for­nia," she says. ​"If we're defin­ing frack­ing as cli­mate lead­er­ship we need to do bet­ter, and the whole world needs us to do better.
"Being here as a Cal­i­forn­ian and see­ing Jer­ry Brown ele­vat­ed and hon­ored as a cli­mate hero is real­ly frus­trat­ing, because the voic­es of the thou­sands of Cal­i­for­ni­ans who have been beg­ging Jer­ry Brown to be a real cli­mate leader are going unheard in this space," says Malis, who grew up in Valen­cia, Calif., not far from the site of the mas­sive Aliso Canyon methane leak.
Lat­er, on stage with exec­u­tives from Pacif­ic Gas & Elec­tric — among the coun­try's largest elec­tric util­i­ties — and health­care giant Kaiser Per­ma­nente, Brown took time out to respond to the ear­li­er inter­rup­tion: ​"Most of the crit­ics fly around in air­planes. … If we didn't have fos­sil fuels we'd prob­a­bly be damn cold here. We're caught up in car­bon. Some minds are not sub­tle enough to appre­ci­ate the para­dox, the dialec­tic of car­bon and non-carbon."
For those crit­ics, Brown's actions speak loud­er than his words. ​"Jer­ry Brown and his admin­is­tra­tion in Cal­i­for­nia con­tin­ue to pro­mote frack­ing in the Cen­tral Val­ley," says Gold­tooth. He's con­tin­u­ing to [pro­tect] refiner­ies in the Bay Area. The biggest issue is that he's con­tin­u­ing to pro­mote cap and trade, green cap­i­tal­ism and car­bon off­sets as a means to solve the world's problems."
In a brief post-inter­rup­tion inter­view with In These Times, Brown — asked about what role he thought the fos­sil fuel indus­try should play in craft­ing cli­mate pol­i­cy — said com­pa­nies should be ​"using a per­cent­age of their prof­its" to sup­port cli­mate action. Asked about what the role of frack­ing should be in California's ener­gy land­scape, Brown said, ​"We can't stop 32 mil­lion vehi­cles, can we? You came in a car didn't you?"
I respond­ed that I had, in fact, come to Ger­many from New York in a plane, to which he said, ​"Well that's the prob­lem. … That's the prob­lem if we don't use any oil. We have to get off oil but we'll do it step by step. Those who say we should do it overnight would put mil­lions of peo­ple out of work instant­ly, and that would cre­ate utter hor­ror and eco­nom­ic catastrophe."
Malis, Gold­tooth and oth­ers see Brown's approach as part of a larg­er, wor­ry­ing trend among some of the most vis­i­ble faces of the cli­mate fight. ​"There seems to be a lack of inter­est to engage with the qual­i­fi­ca­tions of cap­i­tal­ism to fix the prob­lem that cap­i­tal­ism has cre­at­ed," Gold­tooth says of cli­mate change. ​"What we do here, like this action you just saw, is a means for us to have pub­lic engage­ment on the issue and not accept things as the sta­tus quo just because you have a so-called cli­mate hero like Jer­ry Brown stand­ing up and say­ing it's good. I believe that any suc­cess­ful move­ment is a healthy bal­ance of polit­i­cal and pol­i­cy action and direct action."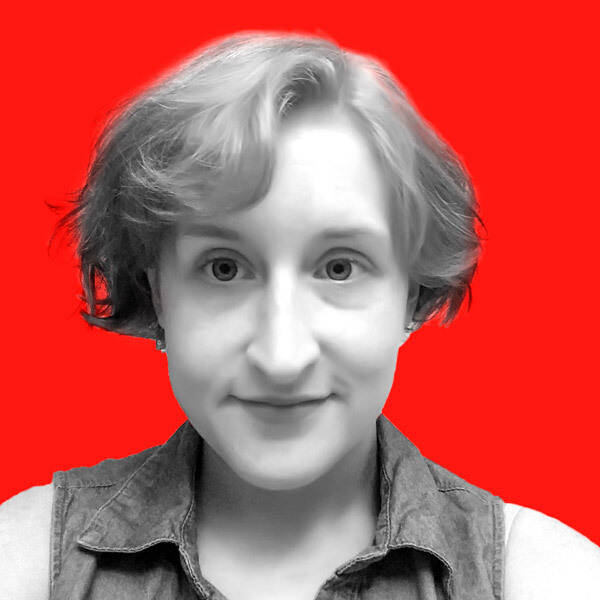 Kate Aronoff
is a Brook­lyn-based jour­nal­ist cov­er­ing cli­mate and U.S. pol­i­tics, and a con­tribut­ing writer at The Inter­cept. Fol­low her on Twit­ter @katearonoff.