The Demo­c­ra­t­ic pres­i­den­tial cam­paign play­book has, for decades, includ­ed grand promis­es to reach out to the GOP to solve the nation's ills.
In 2020, some can­di­dates are throw­ing that play­book out the window.
"If the Repub­li­cans are going to try to block us on key pieces that we're try­ing to move for­ward, then you bet­ter believe we got­ta keep all the options on the table," Sen. Eliz­a­beth War­ren (D‑Mass.) said, refer­ring to the pos­si­bil­i­ty of elim­i­nat­ing the fil­i­buster. In a speech to the 2019 Cal­i­for­nia Demo­c­ra­t­ic Con­ven­tion, Sen. Bernie Sanders (IVt.) pledged ​"no mid­dle ground" on issues dear to pro­gres­sives. Even cen­trist Michael Ben­net, at the June Demo­c­ra­t­ic debate, acknowl­edged that work­ing with Repub­li­cans would be impos­si­ble in 2021: ​"Grid­lock will not mag­i­cal­ly disappear."
Four pro­gres­sive law­mak­ers elect­ed in 2018— Reps. Alexan­dria Oca­sio-Cortez (D‑N.Y.), Ilhan Omar (D‑Minn.), Ayan­na Press­ley (D‑Mass.) and Rashi­da Tlaib (D‑Mich.) — mod­el what a rebel­lious Demo­c­ra­t­ic approach can look like. The ​"squad," as they're known, has pro­posed far-reach­ing mea­sures like Medicare for All and the Green New Deal while com­bat­ing right-wing attacks and call­ing for the impeach­ment of Pres­i­dent Don­ald Trump. While main­stream Democ­rats still pledge to build bridges, this new gen­er­a­tion is more like­ly to occu­py them.
It's a remark­able turn­around. If wor­ship of the U.S. Con­sti­tu­tion is an Amer­i­can civic reli­gion, with the Founders as prophets and Capi­tol Hill as a place of wor­ship, then bipar­ti­san­ship has become its holy sacrament.
This uncom­pro­mis­ing approach from young pro­gres­sive leg­is­la­tors and pres­i­den­tial can­di­dates like War­ren and Sanders is also an implic­it rebuke of for­mer Vice Pres­i­dent Joe Biden, who is cam­paign­ing on the promise of an out­stretched, bipar­ti­san hand.
For Biden and his gen­er­a­tion of Demo­c­ra­t­ic law­mak­ers, bipar­ti­san­ship has long been hailed as a wor­thy end in its own right, no mat­ter the result. He has pledged that a new day will dawn once Trump is removed from the White House. ​"This nation can­not func­tion with­out gen­er­at­ing con­sen­sus," Biden said in May. ​"You will see an epiphany occur among many of my Repub­li­can friends."
But as mod­er­a­tor Chuck Todd told Biden at the first Demo­c­ra­t­ic debate, ​"It does sound as if you haven't seen what's been hap­pen­ing in the Unit­ed States Sen­ate over the last 12 years."
An increas­ing­ly far-right GOP has ruth­less­ly obstruct­ed Democ­rats while dan­gling coop­er­a­tion to lure them right­ward. The out­come has been a dis­as­ter for pro­gres­sives. The par­ties have coop­er­at­ed to water down or kill left-lean­ing mea­sures and advance a right-wing agen­da, from shred­ding the New Deal to ramp­ing up depor­ta­tion, turn­ing the admin­is­tra­tions of Pres­i­dents Bill Clin­ton and Barack Oba­ma into grave­yards of pro­gres­sive poli­cies. Democ­rats increas­ing­ly under­stand that, if they want to gen­er­ate con­sen­sus, they'll have to do it some oth­er way than meet­ing a right-mov­ing GOP in the ​"mid­dle."
In the first round of the Demo­c­ra­t­ic pri­ma­ry debates, Biden was the only can­di­date (besides lit­tle-known cen­trist John Delaney) to say ​"bipar­ti­san."
Biden, how­ev­er, is not the only one cling­ing to faith in cross-par­ty cooperation.
In April 2017, New York Times colum­nist David Brooks spec­u­lat­ed that, assum­ing the depar­ture of Trump in 2020, Con­gress would again enjoy a ​"world with the pos­si­bil­i­ty of bipar­ti­san­ship." Politi­co Magazine's Michael Grun­wald explained that Biden's ​"bipar­ti­san friend­ships, Wash­ing­ton expe­ri­ence and genial Uncle Joe approach real­ly can help pro­duce results."
Indeed, ​"dis­com­fort with open divi­sion is part of the DNA of the nation," says his­to­ri­an Rick Perl­stein, author of The Invis­i­ble Bridge: The Fall of Nixon and the Rise of Rea­gan. ​"It's all about repress­ing this orig­i­nal fis­sure: Slav­ery. The entire his­to­ry, for the first half of the 19th cen­tu­ry, is this all-con­sum­ing attempt to keep this genie in the bottle."
To get slave-own­ers to at least pay lip ser­vice to ​"life, lib­er­ty and the pur­suit of hap­pi­ness," the Founders com­pro­mised that three out of every five slaves would be count­ed in a state's pop­u­la­tion when appor­tion­ing con­gres­sion­al seats. Slave states wield­ed this inflat­ed elec­toral pow­er to ensure slav­ery con­tin­ued in the new repub­lic, while the Com­pro­mise of 1850 facil­i­tat­ed slavery's west­ward spread and made the fed­er­al gov­ern­ment respon­si­ble for recov­er­ing ​"fugi­tive" slaves.
These com­pro­mis­es ​"came at a tremen­dous cost," says his­to­ri­an Man­isha Sin­ha, author of The Slave's Cause: A His­to­ry of Abo­li­tion. ​"If you think of slav­ery as a gross abuse of human rights, then com­pro­mise doesn't sound so good."
This com­pro­mis­ing dynam­ic out­lived slav­ery. The Com­pro­mise of 1877 end­ed Recon­struc­tion, made room for Jim Crow and, by pulling fed­er­al troops out of the South, gave a green light to racist ter­ror­ists like the Ku Klux Klan.
Yet Biden and oth­ers who yearn for the ​"prag­ma­tism" of days past aren't invent­ing things. Pres­i­dent Franklin D. Roosevelt's first 100 days — so con­se­quen­tial they would turn that num­ber into a mea­sure of suc­cess for every pres­i­dent there­after — like­ly would have failed had he not secured piv­otal sup­port from Repub­li­cans and even put sev­er­al in his cab­i­net. Four-fifths of Repub­li­cans in Con­gress vot­ed for the 1964 Civ­il Rights Act signed by Demo­c­ra­t­ic Pres­i­dent Lyn­don B. Johnson.
All of this was pos­si­ble, says his­to­ri­an Thomas Frank, in part because ​"there was a time when the par­ties were not divid­ed by ide­ol­o­gy or by their place on the polit­i­cal spec­trum. The par­ties were region­al and ethnic."
In the ear­ly 20th cen­tu­ry, Repub­li­cans dom­i­nat­ed pol­i­tics as a par­ty of the North­east, white Protes­tants, busi­ness own­ers, African Amer­i­cans and the mid­dle class, while Democ­rats foundered as a large­ly agrar­i­an par­ty of the South and Great Plains. Things changed when Roo­sevelt cob­bled togeth­er an ulti­mate­ly unsta­ble coali­tion of South­ern­ers, Catholic immi­grants in urban areas, blue-col­lar work­ers and, cru­cial­ly, African Amer­i­cans, who fled the GOP as they began eco­nom­i­cal­ly ben­e­fit­ing from the New Deal. In prac­tice, this meant pro­gres­sive politi­cians from both par­ties could work togeth­er to get things passed.
So what hap­pened? Com­men­ta­tors across the spec­trum name one cul­prit: Partisanship.
"Too much estrange­ment on both sides," groused Sen. Richard Shel­by (R‑Ala.) in 2018. A 2017 Atlantic Coun­cil report on U.S. polit­i­cal dys­func­tion blamed a ​"dan­ger­ous­ly code­pen­dent" par­ti­san divide birthed by ger­ry­man­der­ing that made offi­cials account­able to par­ti­san rad­i­cals. Bruce Wolpe, who worked on the Demo­c­ra­t­ic staff in Con­gress dur­ing the first Oba­ma admin­is­tra­tion, charged that Con­gress was beset by ​"hyper­par­ti­san­ship" defined by ​"no com­pro­mise, no con­sen­sus" and ​"no work­ing togeth­er in the nation­al interest."
In June, Biden echoed these sen­ti­ments, bemoan­ing the loss of ​"civil­i­ty" that marked his sal­ad days in Con­gress when he worked with seg­re­ga­tion­ists despite disagreements.
"We got things done," Biden said. ​"We got it finished."
These analy­ses omit, how­ev­er, the key agent of this grow­ing polit­i­cal polar­iza­tion: the GOP.
Soon after FDR took office in 1933, a coterie of con­ser­v­a­tive intel­lec­tu­als, promi­nent polit­i­cal fig­ures and wealthy busi­ness­men (such as the Du Pont broth­ers) began orga­niz­ing against what they saw as the ​"social­is­tic" over­reach of the New Deal. With a mes­sian­ic resolve and a seem­ing­ly bot­tom­less pit of cash, they cre­at­ed think tanks, books, peri­od­i­cals, col­leges, tele­vi­sion and radio pro­gram­ming and more. The result was an alter­na­tive intel­lec­tu­al land­scape that demo­nized gov­ern­ment and dei­fied the free market.
Elec­toral pol­i­tics fol­lowed. Frus­trat­ed with the ​"dime­store New Deal"-ism of the post­war GOP, what came to be called the ​"New Right" engi­neered a grass­roots takeover of the Repub­li­can Par­ty, result­ing in the 1964 pres­i­den­tial nom­i­na­tion of hard­line con­ser­v­a­tive Bar­ry Gold­wa­ter. While Gold­wa­ter lost spec­tac­u­lar­ly, liberalism's tri­umphs only fueled right-wing orga­niz­ing. A well-cul­ti­vat­ed con­ser­v­a­tive and evan­gel­i­cal back­lash against the civ­il rights vic­to­ries of the 1960s and the Supreme Court's Roe v. Wade deci­sion cul­mi­nat­ed in the 1980 vic­to­ry of Ronald Rea­gan, pre­vi­ous­ly viewed large­ly as an une­lec­table ide­o­logue out of step with the times.
"The elec­tion of Ronald Rea­gan was a sym­bol of the eclipse of the Rock­e­feller Repub­li­cans by the Bar­ry Gold­wa­ter wing, send­ing a sig­nal to the par­ty to get on board," says Corey Robin, pro­fes­sor of polit­i­cal sci­ence at Brook­lyn Col­lege and the City Uni­ver­si­ty of New York Grad­u­ate Center.
Rea­gan used his bul­ly pul­pit to pop­u­lar­ize the idea of get­ting ​"the gov­ern­ment off the backs of the people."
"The con­ser­v­a­tive wing of the GOP estab­lished hege­mo­ny over not just the Repub­li­can Par­ty, but the Amer­i­can polit­i­cal order," says Robin.
Tes­ti­monies from the con­ser­v­a­tive Hoover Insti­tu­tion at the close of Reagan's pres­i­den­cy attest to that fact. As his­to­ri­an Stephen Ambrose put it, while Rea­gan ​"failed to break the Demo­c­ra­t­ic hold on Con­gress, he did force the Demo­c­ra­t­ic Par­ty to move to the right." His­to­ri­an Karl O'Lessker wrote that ​"Reaganomics may well have caused a fun­da­men­tal shift in the polit­i­cal community's approach to fis­cal pol­i­cy. … There has been lit­tle if any dis­po­si­tion among con­gres­sion­al Democ­rats to advo­cate, still less vote for, big new spend­ing or tax­a­tion programs."
The GOP came to explic­it­ly align itself with the agen­da of super-rich, right-wing patrons like the Koch broth­ers, while the Democ­rats, shell-shocked from elec­toral defeats, began rely­ing on big-dol­lar fundrais­ers that has­tened a right­ward turn.
"[Repub­li­can Par­ty patrons have] turned the GOP into a kind of Lenin­ist par­ty of the Right, one in which no dis­sent is allowed after the course has been set," says his­to­ri­an Nan­cy MacLean, author of Democ­ra­cy in Chains: The Deep His­to­ry of the Rad­i­cal Right's Stealth Plan for Amer­i­ca. ​"It wants to dra­mat­i­cal­ly dimin­ish the pow­er of the fed­er­al gov­ern­ment in order to remove the reins from cap­i­tal­ists." And yet, she says, ​"We are still oper­at­ing as a nation as if there is a Repub­li­can Party."
The new­er, more stri­dent class of Repub­li­cans who entered Con­gress in 1979 ​"had not been exposed to the demor­al­iz­ing impact of Water­gate, the Agnew and Nixon res­ig­na­tions, the Ford defeat, and maneu­ver­ing in a Con­gress dom­i­nat­ed by two-to-one Democ­rats," read a 1979 – 1980 inter­nal report com­mis­sioned by GOP con­gres­sion­al lead­er­ship. ​"Where old­er mem­bers saw per­sis­tence and shrewd­ness, the fresh­men saw timid­i­ty and inde­ci­sion." Newt Gin­grich was one of them. In the 1990s, he would con­tin­ue the process that Rea­gan began by spear­head­ing the tac­tic of obstruc­tion­ism by the minority.
Gin­grich fan­cied him­self ​"the most seri­ous, sys­tem­at­ic rev­o­lu­tion­ary of mod­ern times" and called for ​"large-scale, rad­i­cal change." Work­ing to polar­ize debate between the par­ties, he pio­neered the threat of a gov­ern­ment shut­down as a polit­i­cal strat­e­gy. He cal­cu­lat­ed that obstruc­tion­ism would nur­ture pop­u­lar con­tempt toward the insti­tu­tion of Con­gress, which would serve the Right's anti-gov­ern­ment agenda.
Rep. Tom DeLay (R‑Texas), who served as House Major­i­ty Whip when Gin­grich was Speak­er, lat­er wrote about the GOP's strat­e­gy under Clin­ton. Know­ing that Clin­ton and the Sen­ate would tack to the cen­ter, he explained, the GOP would ​"start every pol­i­cy ini­tia­tive from as far to the polit­i­cal right as we could" to move ​"the cen­ter far­ther to the right" and achieve a ​"much greater suc­cess rate than we had ever known." DeLay boast­ed in his mem­oirs, ​"We moved the whole of Amer­i­can gov­er­nance to the right."
The old-guard Repub­li­cans joined in. Sen­ate Minor­i­ty Leader Bob Dole pio­neered the fil­i­buster-threat strat­e­gy now syn­ony­mous with Sen. Mitch McConnell (Ky.), mak­ing 60 votes nec­es­sary for any­thing to get done, from health­care reform to a stim­u­lus package.
This right­ward shift led schol­ars Thomas E. Mann and Nor­man J. Orn­stein — at the Brook­ings Insti­tu­tion and the con­ser­v­a­tive Amer­i­can Enter­prise Insti­tute, respec­tive­ly— to declare in 2012 that the GOP had ​"become an insur­gent out­lier." The par­ty was ​"ide­o­log­i­cal­ly extreme; con­temp­tu­ous of the inher­it­ed social and eco­nom­ic pol­i­cy régime; scorn­ful of com­pro­mise; unper­suad­ed by con­ven­tion­al under­stand­ing of facts, evi­dence and science."
Joe Biden's polit­i­cal career is an exem­plar of the price the Demo­c­ra­t­ic Par­ty paid as the Right slid into the dark reach­es of the polit­i­cal spectrum.
As overt racism fad­ed in polite soci­ety after the 1960s, those com­mit­ted to beat­ing back the advance of civ­il rights found proxy issues to dog whis­tle a racist tune: crime, drugs, wel­fare and bus­ing. They found a will­ing part­ner in a 30-year-old fresh­man sen­a­tor: Biden.
Biden hailed from Delaware, whose cul­ture and bor­ders strad­dled the Mason-Dixon line and whose polit­i­cal and eco­nom­ic life was dom­i­nat­ed for decades by the Du Pont fam­i­ly that had helped jump­start the rebel­lion against the New Deal. (As Biden would lat­er assure a Repub­li­can Rotary Club in South Car­oli­na in advance of his 2008 pres­i­den­tial run, Delaware, a slave state, had only ​"fought beside the North. … because we couldn't fig­ure out how to get to the South.")
As con­flict over court-ordered bus­ing roiled his home state, Biden led a cru­sade against the civ­il rights mea­sure, lat­er boast­ing that he made it polit­i­cal­ly accept­able for oth­er lib­er­als to oppose it. He built alliances with Repub­li­can racists like Sen. Jesse Helms (N.C.) and Sen. Strom Thur­mond (S.C.), the record-hold­er for longest fil­i­buster in his­to­ry, a 24-hour attempt to stall the Civ­il Rights Act of 1957. Dur­ing the Rea­gan admin­is­tra­tion, Biden, Helms and Thur­mond would help ush­er in an era of mass incar­cer­a­tion, work­ing togeth­er to estab­lish racist crack cocaine sen­tenc­ing guide­lines and harsh manda­to­ry min­i­mum drug sentences.
Biden also led the way on bud­get-slash­ing: In 1984, with Repub­li­can Sens. Chuck Grass­ley (Iowa) and Nan­cy Kasse­baum (Kan.), Biden put for­ward a bud­get ​"freeze" that cut deficits by $100 bil­lion more than Rea­gan pro­posed and elim­i­nat­ed sched­uled increas­es to Social Secu­ri­ty and Medicare. Biden also ranked among the siz­able num­ber of Democ­rats who gave their stamp of approval to sig­na­ture Rea­gan vic­to­ries like increased mil­i­tary spend­ing, pri­va­ti­za­tion and low­er tax­es for the rich.
Mean­while, Bill Clin­ton was cut­ting his teeth in this same pun­ish­ing era. In 1980, Clin­ton lost his bid for reelec­tion as gov­er­nor of Arkansas after rais­ing car license fees to fund high­way repairs and try­ing to rein in the tim­ber indus­try. The loss taught Clin­ton to eschew chal­leng­ing cor­po­rate pow­er and, instead, embrace what Arkansas Demo­c­rat-Gazette edi­to­r­i­al page edi­tor Paul Green­berg termed ​"the pol­i­tics of ultraconsensus."
While Clinton's pres­i­den­cy is remem­bered as a time of par­ti­san war­fare, bipar­ti­san con­sen­sus was a qui­et fix­ture through­out. Clin­ton brought in his own per­son­al Rasputin in the form of polit­i­cal oper­a­tive Dick Mor­ris, who laid his strat­e­gy out in a memo: ​"fast-for­ward the Gin­grich agen­da" to make ​"Repub­li­can issues less appeal­ing" and take the wind out of their sails. Unbe­knownst to Clin­ton, Mor­ris also cre­at­ed a back chan­nel to Sen­ate Major­i­ty Leader Trent Lott (R‑Miss.), a for­mer client, whom he gid­di­ly told: ​"We'll pass everything."
"Every­thing" meant mea­sures like wel­fare reform, a bal­anced bud­get, cuts to Medicare and an immi­gra­tion over­haul that helped cre­ate the depor­ta­tion state cur­rent­ly oper­at­ed by Trump.
Biden was an impor­tant play­er in these bipar­ti­san deals. As Sen­ate Judi­cia­ry Chair under Clin­ton, Biden led the pas­sage of the infa­mous 1994 Crime Bill and worked to make sure Clin­ton would ful­fill his promise to ​"end wel­fare as we know it." With Repub­li­can Sen. Arlen Specter (Penn.), Biden lament­ed ​"the polar­iz­ing par­ti­san­ship and pres­i­den­tial pol­i­tics that have per­me­at­ed the issue" and insist­ed that a ​"tough, bipar­ti­san wel­fare reform bill is eas­i­ly with­in reach." In 1996, the Sen­ate passed wel­fare reform (what Lott described as ​"the Holy Grail of [the GOP's] leg­isla­tive mas­ter plan") thanks to the votes of 51 Repub­li­cans and 23 Democrats.
"These were great mon­u­ments to con­sen­sus in Wash­ing­ton," says Thomas Frank, author of Lis­ten, Lib­er­al: Or, What Ever Hap­pened to the Par­ty of the Peo­ple? ​"They were just down­stream of racism."
Bipar­ti­san­ship reached its apogee after Sep­tem­ber 11, when Biden swift­ly became one of the most promi­nent Democ­rats to hitch him­self to Pres­i­dent George W. Bush's for­eign pol­i­cy. The ter­ror­ist attacks cre­at­ed a stun­ning uni­for­mi­ty of opin­ion, and Biden, up for reelec­tion in 2002, would soon be heav­i­ly crit­i­cized in the Delaware press for a speech that appeared dovish. Biden told reporters they should count him ​"in the 90%" of vot­ers who backed Bush. He stacked a hear­ing on Iraq with pro-war voic­es and made reg­u­lar TV appear­ances par­rot­ing the administration's talk­ing points about the threat posed by Sad­dam Hus­sein. And, like 28 oth­er Demo­c­ra­t­ic sen­a­tors, Biden vot­ed to autho­rize the war in Iraq.
In 2008, Vice Pres­i­dent Biden found a home with ​"post­par­ti­san" Oba­ma, who, Perl­stein says, ​"was wed­ded to the myths of con­sen­sus in a way that a lot of his sup­port­ers hadn't real­ized at the time."
Oba­ma had risen to star­dom with his 2004 con­ven­tion speech deny­ing the exis­tence of a ​"red" and ​"blue" Amer­i­ca, a feel­ing that suf­fused Demo­c­ra­t­ic pol­i­tics. Nary a 2008 pri­ma­ry debate went by with­out Sen. Hillary Clin­ton (N.Y.), for exam­ple, pledg­ing some­thing or oth­er of a bipar­ti­san nature: a ​"bipar­ti­san process" to tack­le Social Secu­ri­ty, a ​"bipar­ti­san way" on immi­gra­tion reform, even ​"bipar­ti­san diplo­ma­cy" head­ed by ​"bipar­ti­san emissaries."
But once pres­i­dent, ​"Repub­li­cans used Obama's own long­ing for con­sen­sus and bipar­ti­san­ship against him," says Frank.
Oba­ma ran aground upon a decid­ed­ly par­ti­san oppo­si­tion that took advan­tage of racist sen­ti­ments against him. He tried for months to secure min­i­mal Repub­li­can buy-in on Oba­macare so he could slap a ​"bipar­ti­san" label on it, only for ​"mod­er­ate" Repub­li­cans like Sen. Susan Collins (Maine) to use it as lever­age to end­less­ly delay and erode the bill. Oba­ma ramped up depor­ta­tions as a bipar­ti­san ges­ture, and the GOP con­tin­ued to obstruct immi­gra­tion reform.
Noth­ing spoke more to Obama's futile attempt to reach com­mon ground with Repub­li­cans than his 2011 attempt at a ​"grand bar­gain" on cut­ting the deficit. Biden was dis­patched to nego­ti­ate with a rad­i­cal­ly anti-tax, anti-gov­ern­ment GOP. He capit­u­lat­ed to every Repub­li­can demand, includ­ing cuts to food stamps, Medicare and Social Secu­ri­ty, while agree­ing to rule out new tax­es. Iron­i­cal­ly, it was only thanks to the Tea Partiers' obsti­na­cy that the deal did not pass.
The pub­lic was not so lucky in 2010, when Biden made a deal with Sen. McConnell to extend unem­ploy­ment insur­ance in exchange for extend­ing the Bush tax cuts and cut­ting the estate tax. The deal was so lop­sided that it out­raged even con­ser­v­a­tive Democ­rats like Sen. Dianne Fein­stein (Calif.) and prompt­ed an eight-hour fil­i­buster by Bernie Sanders. Two months lat­er, in the midst of affec­tion­ate­ly pay­ing trib­ute to McConnell at the Uni­ver­si­ty of Louisville's McConnell Cen­ter (named for the sen­a­tor), Biden point­ed to the deal as ​"the only tru­ly bipar­ti­san event that occurred in the first two years of our administration."
"We both got beat up, but we knew we were doing the right thing," Biden said. ​"The process worked."
He explained to the audi­ence that, whether they were lib­er­als, con­ser­v­a­tives, Tea Partiers or Blue Dogs, lit­tle actu­al­ly divid­ed mem­bers of Congress.
"We basi­cal­ly all agree on the nature of the prob­lems we face," Biden said, as McConnell, lead­ing a his­tor­i­cal­ly rad­i­cal cam­paign of obstruc­tion­ism against the Oba­ma admin­is­tra­tion, looked on.
A con­tin­u­ing faith in com­pro­mise may well be the last gasp of a dying era.
"A lot of the things that made bipar­ti­san­ship sound attrac­tive are now ves­ti­gial," Perl­stein says. ​"Like a lot of neu­roses, it was a response that was use­ful for deal­ing with trau­ma that was present and impor­tant at the time, but has out­last­ed its usefulness."
Or, as Robin says, bipar­ti­san­ship is ​"a mourn­ing for a neolib­er­al accord between Demo­c­ra­t­ic and Repub­li­can par­ty elites."
Today's Democ­rats increas­ing­ly rec­og­nize the fol­ly of seek­ing pro­gres­sive change by part­ner­ing with a GOP that's fun­da­men­tal­ly opposed to it. A new gen­er­a­tion of Demo­c­ra­t­ic law­mak­ers is tak­ing a com­bat­ive, unflinch­ing­ly pro­gres­sive approach rem­i­nis­cent of the 1979 class of fresh­men GOP leg­is­la­tors that includ­ed Gingrich.
As Oca­sio-Cortez told jour­nal­ist Ryan Grim, ​"The old­er mem­bers real­ly cling to the idea that things are going to go ​'back to nor­mal' [after Trump]. For us, it's nev­er been nor­mal, and before that, the bipar­ti­san­ship was shit­ty any­way and gave us the War on Drugs, [the Defense of Mar­riage Act] and strip­ping the leg[islative] branch of everything."
These young pro­gres­sives are backed by social move­ments whose adher­ents have no desire to coop­er­ate with nativists and cor­po­ratists. Togeth­er, they are seek­ing to remake the exist­ing gov­ern­ing con­sen­sus in their image, just as Rea­gan man­aged to do four decades pri­or. The irony is, they'd be fol­low­ing the Right's own road to success.
"The rise of the Right is the clos­est thing we have to an exam­ple of a polit­i­cal suc­cess sto­ry in our time in Amer­i­ca, and it was large­ly achieved by smash­ing con­sen­sus," Frank says.
But MacLean warns it would be a mis­take to believe that obstruc­tion­ism alone is a path to vic­to­ry. ​"The rad­i­cal Right is win­ning now because its chief archi­tects played a very sophis­ti­cat­ed, well-fund­ed, inte­grat­ed long game and built a vast infra­struc­ture that is well-aligned to achieve their agen­da," MacLean says.
For inspi­ra­tion, today's pro­gres­sives might look back to the anti-slav­ery move­ment, which went from a rel­a­tive­ly small band of uncom­pro­mis­ing, ​"rad­i­cal" activists to con­trol­ling the pres­i­den­cy and Congress.
"Abo­li­tion­ists were nev­er any­where near a major­i­ty in the North or any­where else," says Eric Fon­er, pro­fes­sor emer­i­tus of his­to­ry at Colum­bia Uni­ver­si­ty. ​"They were a vanguard."
Abo­li­tion­ists worked at both the grass­roots and offi­cial lev­els to enact change, whether through leg­is­la­tion and court deci­sions or direct action and edu­ca­tion. They made pio­neer­ing use of cut­ting-edge tech­nol­o­gy such as the print­ing press, the rail­road and the telegram to spread their mes­sage. Their efforts helped lead Abra­ham Lin­coln to dras­ti­cal­ly shift his think­ing, jet­ti­son­ing ideas like grad­ual eman­ci­pa­tion and instead embrac­ing black citizenship.
"Abo­li­tion­ists and rad­i­cals were able to shift the pen­du­lum to the left, and were able to make mod­er­ates inhab­it rad­i­cal ground," says Sin­ha. ​"In the end, it wasn't the abo­li­tion­ists who abol­ished slav­ery," Fon­er says. ​"It was more mod­er­ate peo­ple like Abra­ham Lin­coln. But with­out the abo­li­tion­ists, there's no Lin­coln. There's a sym­bi­ot­ic relationship."
Polit­i­cal shifts require years of move­ment build­ing, but change ulti­mate­ly hap­pens sud­den­ly. Thir­ty years after the abo­li­tion­ist move­ment took off, there were near­ly 2 mil­lion more slaves in the Unit­ed States. Three years lat­er, Lin­coln issued the Eman­ci­pa­tion Proclamation.
"The abo­li­tion­ist move­ment last­ed for a long, long time, and for a long time failed abysmal­ly," Fon­er says. ​"Rad­i­cals have to not give up."
The time is look­ing ripe for anoth­er hege­mon­ic shift. The Trump admin­is­tra­tion has sparked a wave of polit­i­cal activism and orga­niz­ing by Amer­i­cans pre­vi­ous­ly dis­en­gaged from pol­i­tics. A bevy of social­ist intel­lec­tu­al organs and fig­ures have risen to new­found promi­nence, their argu­ments cit­ed by main­stream news out­lets and shared quick­ly and eas­i­ly over the inter­net, much like the cheap, ephemer­al books and mag­a­zines passed around by con­ser­v­a­tives in the mid-20th Cen­tu­ry. Work­ers are show­ing a renewed mil­i­tan­cy, from the teach­ers who went on strike in red states across the coun­try to the flight atten­dants who helped end the gov­ern­ment shut­down in January.
Polls sug­gest the pub­lic has moved left, sup­port­ing every­thing from Medicare for All and the Green New Deal to a much high­er min­i­mum wage. Even as Trump stokes a racist anti-immi­grant cam­paign, polling shows a pub­lic more pro-immi­grant than ever.
Repub­li­cans will demo­nize these move­ments. The Demo­c­ra­t­ic estab­lish­ment will try to ignore them. But as the ranks of today's rad­i­cals grow, and the more a con­cert­ed move­ment to remake the coun­try expands, the hard­er it will be for even the most com­mit­ted cen­trists to hew to their vision of con­sen­sus. As Biden told the audi­ence at the McConnell Cen­ter eight years ago: ​"Real­i­ty has a way of intrud­ing on one's tight­ly held view."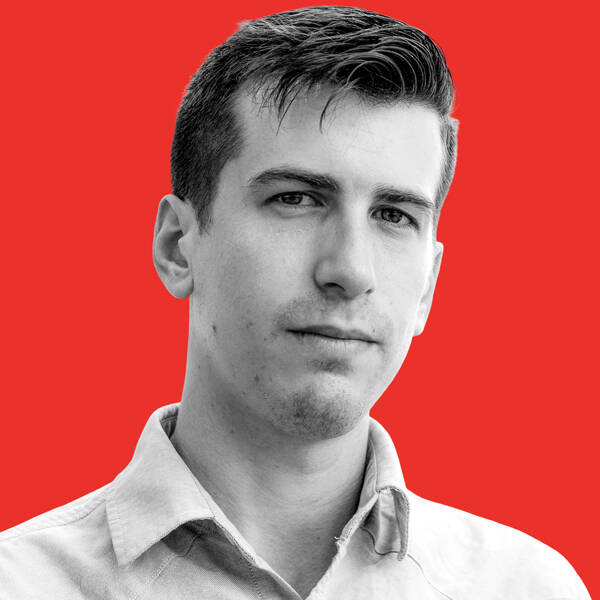 Branko Marcetic
is a staff writer at Jacobin mag­a­zine and a
2019
 – 
2020
Leonard C. Good­man Insti­tute for Inves­tiga­tive Report­ing fel­low. He is work­ing on a forth­com­ing book about Joe Biden.