Joe Biden's Cowardly Position on Iran Sanctions
The presumptive Democratic nominee is failing to call for sanctions to be lifted, even if just for the duration of the pandemic.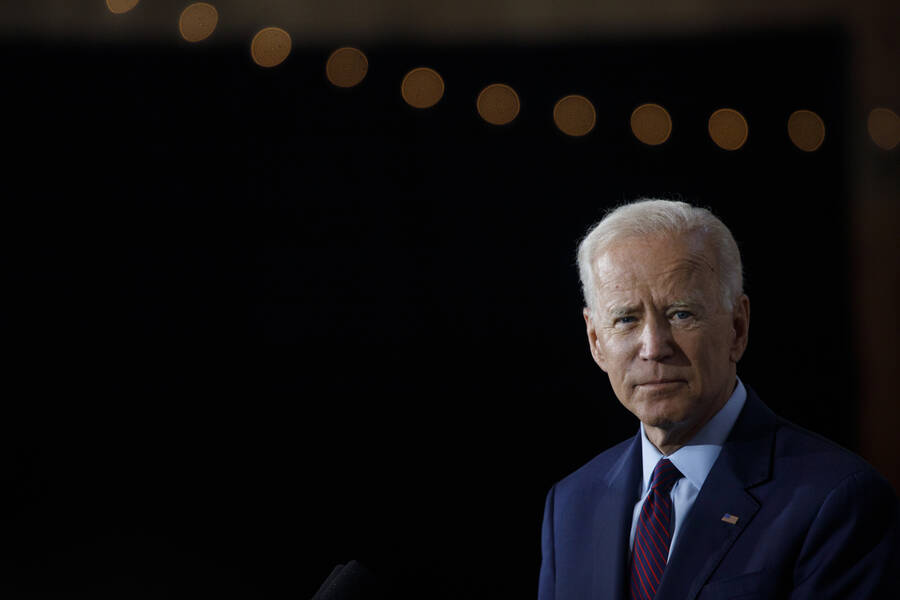 End­ing Pres­i­dent Trump's max­i­mum pres­sure cam­paign against Iran — which is spik­ing the country's COVID-19 death rate — should be low-hang­ing fruit for Joe Biden, who is now the Demo­c­ra­t­ic Party's pre­sump­tive nom­i­nee. The 2015 Joint Com­pre­hen­sive Plan of Action (JCPOA), also known as the Iran nuclear deal, was laud­ed as a cor­ner­stone of the Oba­ma-Biden admin­is­tra­tion. It gave Iran sanc­tions relief in exchange for con­straints on Iran's civ­il nuclear enrich­ment. When Trump pulled out of the JCPOA in 2018 and imposed a com­plex matrix of sanc­tions tar­get­ing indus­tries and indi­vid­u­als (unfor­tu­nate­ly fol­low­ing the lead of Democ­rats and Repub­li­cans alike), he not only unleashed col­lec­tive pun­ish­ment on the peo­ple of Iran, but also unrav­eled the flag­ship for­eign pol­i­cy achieve­ment of the Oba­ma era.
Today, people in Iran can't get basic medical supplies, like ventilators and CT scanners, as they face one of the world's worst COVID-19 outbreaks.
The JCPOA was an impor­tant act of diplo­ma­cy — far prefer­able to war — but it was also an extor­tion rack­et, premised on the notion that Iran, which had no nuclear weapons pro­gram, was a threat that had to be con­tained, while the Unit­ed States, which has a mas­sive nuclear weapons arse­nal, is not. And it was signed just months into the U.S.-Saudi‑U.A.E. war on Yemen, which was framed as an effort to counter Iran, whose role in Yemen was vast­ly over­stat­ed. How­ev­er, what is clear is that oppo­si­tion to the deal has come from the most rabid, racist and fanat­i­cal pro-war forces in U.S. pol­i­tics — think tanks and politi­cians who want war with Iran and have no qualms about sac­ri­fic­ing Iran­ian lives. And the con­tin­u­a­tion of sanc­tions, which were tight­ened in the mid­dle of a glob­al pan­dem­ic, is a stag­ger­ing crime against human­i­ty: Today, peo­ple in Iran can't get basic med­ical sup­plies, like ven­ti­la­tors and CT scan­ners, as they face one of the world's worst COVID-19 outbreaks.
Which is what makes Joe Biden's fail­ure to call for a lift­ing of sanc­tions, even if just dur­ing the pan­dem­ic, so glar­ing. Biden wait­ed until April 2 to break his silence on the issue in a state­ment that opened with the line, ​"In times of glob­al cri­sis, Amer­i­ca should lead. We should be the first to offer help to peo­ple who are hurt­ing or in dan­ger." It goes on to crit­i­cize Trump's ​"max­i­mum pres­sure" strat­e­gy, and to declare, ​"What­ev­er our pro­found dif­fer­ences with the Iran­ian gov­ern­ment, we should sup­port the Iran­ian peo­ple." Yet nowhere in the state­ment does Biden actu­al­ly call for an end to sanc­tions, even if just for a few months — a demand that should be easy for some­how who has laud­ed the JCPOA on the cam­paign trail.
Instead, Biden's pri­ma­ry demands are focused on pro­vid­ing clear­er guide­lines for human­i­tar­i­an exemp­tions and stream­lin­ing ​"chan­nels for bank­ing and pub­lic health assis­tance from oth­er coun­tries in response to the health emer­gency in Iran." Biden calls for spe­cif­ic steps:
issu­ing broad licens­es to phar­ma­ceu­ti­cal and med­ical device com­pa­nies; cre­at­ing a ded­i­cat­ed chan­nel for inter­na­tion­al banks, trans­porta­tion com­pa­nies, insur­ers, and oth­er ser­vice firms to help Ira­ni­ans access life-sav­ing med­ical treat­ment; issu­ing new sanc­tions guid­ance to these groups and inter­na­tion­al aid orga­ni­za­tions to make it clear how they can imme­di­ate­ly, direct­ly, and legal­ly respond to the tragedy in Iran, with­out fear of penal­ty; and, for enti­ties already con­duct­ing enhanced due dili­gence, it should issue com­fort let­ters to reas­sure them that they will not be sub­ject to U.S. sanc­tions if they engage in human­i­tar­i­an trade with Iran to sup­port its COVID-19 response.
Cavan Khar­raz­ian, inter­na­tion­al pro­gram researcher for the Cen­ter for Eco­nom­ic and Pol­i­cy Research, told In These Times that Biden's demands are noth­ing more than half mea­sures that allow him to rhetor­i­cal­ly dodge an actu­al call to lift sanc­tions. ​"The way I inter­pret­ed Biden's com­ments," Khar­raz­ian says, ​"he was call­ing for the Trump admin­is­tra­tion to stream­line the process and clear chan­nels for human­i­tar­i­an work. That's some­thing that is the­o­ret­i­cal­ly already sup­posed to be in effect right now. The only thing that helps is to tem­porar­i­ly waive max­i­mum pres­sure sanc­tions imposed by Trump."
Indeed, the Trump admin­is­tra­tion already claims there are human­i­tar­i­an exemp­tions. ​"The whole world should know that human­i­tar­i­an assis­tance into Iran is wide open. It's not sanc­tioned," Sec­re­tary of State Mike Pom­peo said on March 20. Yet this exemp­tion is in name only. A com­plex and dif­fi­cult-to-nav­i­gate web of sanc­tions, along­side bel­liger­ence and threats from the Trump admin­is­tra­tion, have spooked com­pa­nies from doing busi­ness with the coun­try. A 2019 report from Human Rights watch found that, even before the pan­dem­ic began, ​"these exemp­tions have failed to off­set the strong reluc­tance of US and Euro­pean com­pa­nies and banks to risk incur­ring sanc­tions and legal action by export­ing or financ­ing exempt­ed human­i­tar­i­an goods."
Accord­ing to Khar­raz­ian, ​"To sim­ply expand human­i­tar­i­an exemp­tions will take way too long. Right now, with the human­i­tar­i­an exemp­tions that exist, the process of get­ting licences for cru­cial equip­ment to fight COVID-19 can take two to three months through the Office of For­eign Assets Con­trol [the enforce­ment arm of the Trea­sury Depart­ment]. I don't see how that process can do things quick­ly enough to save lives."
Yas­mine Taeb, senior pol­i­cy coun­sel at Demand Progress, an activist orga­ni­za­tion, echoed Kharrazian's con­cerns. ​"When Biden put out his state­ment, it seemed like a real­ly nice state­ment because it is filled with fluff. But if you zoom in, all he is say­ing is we need to clear human­i­tar­i­an chan­nels to Iran and pro­vide assur­ances to enti­ties and com­pa­nies that want to do busi­ness with Iran in response to COVID-19 that they won't be sub­ject­ed to U.S. sanc­tions. But he stopped short of actu­al­ly call­ing for a waiv­ing of max­i­mum pres­sure sanctions."
"The fact that the Biden team worked on the nuclear deal, and he could­n't even call for tem­po­rary waive of sanc­tions, even though Biden has indi­cat­ed he would return to JCPOA, does­n't make sense," Taeb con­tin­ued. ​"He's not even sup­port­ing the deal his own admin­is­tra­tion drafted."
It is worth com­par­ing Biden's state­ment to an open let­ter led by Rep. Alexan­dria Oca­sio-Cortez (D‑N.Y.), Rep. Ilhan Omar (D‑Minn.) and Sen. Bernie Sanders (I‑Vt.), and signed by 34 mem­bers of Con­gress. The let­ter calls on Pom­peo and Trea­sury Sec­re­tary Steven Mnuchin to ​"sub­stan­tial­ly sus­pend sanc­tions on Iran dur­ing this glob­al pub­lic health emer­gency in a human­i­tar­i­an ges­ture to the Iran­ian peo­ple to bet­ter enable them to fight the virus." It goes on to call specif­i­cal­ly for the sus­pen­sion of eco­nom­ic sanc­tions: ​"Sanc­tions relief that should be con­sid­ered are those that encom­pass major sec­tors of the Iran­ian econ­o­my, includ­ing those impact­ing civil­ian indus­tries, Iran's bank­ing sec­tor and exports of oil, and should last for at least as long as health experts believe the cri­sis will continue."
The call for relief from eco­nom­ic sanc­tions is impor­tant because Iran, already in the grips of a reces­sion, is poised to suf­fer eco­nom­i­cal­ly from the COVID-19 cri­sis: Any ​"human­i­tar­i­an­ism" must also look at how poor and work­ing-class peo­ple are suf­fer­ing as jobs dry up and wages plummet.
The let­ter won praise from the #End­COVID­Sanc­tions cam­paign, which describes itself as ​"a nation­wide coali­tion of pro­gres­sive orga­ni­za­tions and grass­roots activists work­ing to end the U.S.'s dead­ly blan­ket sanc­tions on Iran." In a state­ment fol­low­ing the letter's release, an Iran­ian-Amer­i­can com­mu­ni­ty orga­niz­er with the ​"No War Cam­paign," said, ​"If this virus has taught us any­thing, it is that our health and lives are deeply con­nect­ed and inter­de­pen­dent on a glob­al scale. The U.S. must do its part in flat­ten­ing the glob­al curve and lift its dead­ly sanc­tions on Iran immediately."
Yet, pow­er­ful Democ­rats seem to be align­ing their talk­ing points with Biden's — not with the authors of this let­ter. On April 3, Sen. Bob Menen­dez (D‑N.J.), Rank­ing Mem­ber of the Sen­ate Com­mit­tee on For­eign Rela­tions, and Rep. Eliot L. Engel (D‑N.Y.), Chair­man of the House Com­mit­tee on For­eign Affairs, released a state­ment issu­ing sim­i­lar demands: ​"Pub­licly clar­i­fy that U.S. law does not penal­ize med­ical or human­i­tar­i­an trans­ac­tions"; ​"Address banks' reluc­tance to finance sales of med­ical goods to Iran"; ​"Work quick­ly with oth­er gov­ern­ments to set up human­i­tar­i­an chan­nels for com­pa­nies to pro­vide COVID-19 relat­ed assis­tance to Iran"; and ​"Tem­porar­i­ly raise the ceil­ing on the amount of funds per­mit­ted to be sent to Iran for human­i­tar­i­an aid." And, like Biden, they stopped short of call­ing for an end to max­i­mum pres­sure sanctions.
By fail­ing to call for an end to sanc­tions, Engel and Menen­dez are in good com­pa­ny. The most pow­er­ful Democ­rats in Con­gress — Nan­cy Pelosi (D‑Calif.), the speak­er of the House, Chuck Schumer (D‑N.Y.), Sen­ate minor­i­ty leader, and Rep. Ste­ny Hoy­er (D‑Md.), House major­i­ty leader — all declined to sign the let­ter orga­nized by Sanders, Omar and Oca­sio-Cortez. And promi­nent Biden endors­er Saman­tha Pow­er, for­mer UN ambas­sador, recent­ly pub­lished an arti­cle in the New York Times about the need for U.S. lead­er­ship amid the glob­al pan­dem­ic that doesn't even men­tion Iran sanc­tions, or numer­ous oth­er U.S. acts of aggression.
But it doesn't stop there. While declin­ing to call for an end to sanc­tions, Menendez's state­ment actu­al­ly rein­forces the basic jus­ti­fi­ca­tion for sanc­tions. ​"The Unit­ed States has imposed sanc­tions on Iran for its nefar­i­ous nuclear weapons devel­op­ment, sup­port for ter­ror­ism and human rights abus­es," he says. ​"There is no evi­dence that the régime has stopped its sanc­tion­able behav­ior. More­over, sim­ply lift­ing sanc­tions that have been imposed for ongo­ing malign behav­ior will not pro­vide imme­di­ate or mean­ing­ful relief for the Iran­ian people."
After claim­ing that lift­ing sanc­tions won't help Iran's human­i­tar­i­an cri­sis — a patent­ly untrue state­ment — Menen­dez goes on to call for a num­ber of tech­ni­cal and pro­ce­dur­al tweaks. ​"Con­gress has made clear through leg­is­la­tion that our sanc­tions régime should nev­er hin­der human­i­tar­i­an and med­ical relief. To that end, the Trump Admin­is­tra­tion has a num­ber of tech­ni­cal and pub­lic diplo­ma­cy tools it should use to ensure that the Unit­ed States does not con­tribute to the Iran­ian régime's cru­el­ty of pre­vent­ing human­i­tar­i­an relief from reach­ing those most in need."
That Biden is align­ing with a sen­a­tor who espous­es this kind of pro-war rhetoric shows that he's far from where he needs to be on end­ing Iran sanc­tions. Giv­en Biden's promi­nent posi­tion, any­thing short of call­ing for those sanc­tions to be lift­ed — a posi­tion that is hard­ly rad­i­cal, as Biden should well under­stand — amounts to com­plic­i­ty in the pre­ventable deaths of count­less Iranians.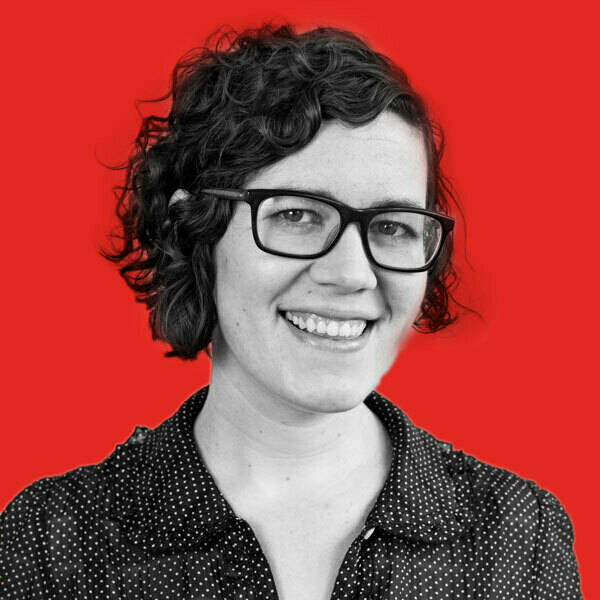 Sarah Lazare is web edi­tor at In These Times. She comes from a back­ground in inde­pen­dent jour­nal­ism for pub­li­ca­tions includ­ing The Inter­cept, The Nation, and Tom Dis­patch. She tweets at @sarahlazare.