In His Lies, Joe Biden Is Sounding a Lot Like Trump
While Joe Biden has promised a break from Trumpism, when it comes to his record, the former vice president has shown an utter disregard for the truth.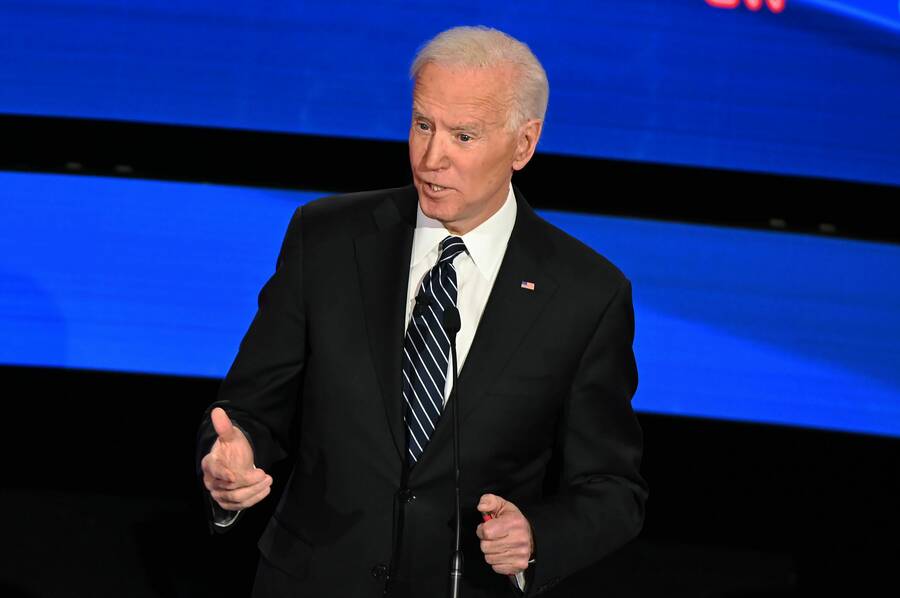 One run­ning theme of the bipar­ti­san out­rage at Don­ald Trump and his admin­is­tra­tion has been the con­stant stream of false­hoods ema­nat­ing from the White House since he took office.
Both in Tuesday's debate and beyond, Biden has exhibited the same kind of disregard for the truth as Trump.
Ever since Kellyanne Con­way defend­ed the Trump administration's use of ​"alter­na­tive facts" fol­low­ing the president's inau­gu­ra­tion, nary a week has gone by with­out a string of sto­ries crit­i­ciz­ing the pres­i­dent for his lies and mis­char­ac­ter­i­za­tions. The New York Times made a mosa­ic com­prised of them, news out­lets keep a run­ning tal­ly of them, and oth­ers rank them in end-of-year lists. The media, aca­d­e­mics, insti­tu­tions and oth­er promi­nent indi­vid­u­als have charged that this ​"post-truth" pol­i­tics is ​"dan­ger­ous," rewiring our brains, lead­ing to creep­ing fas­cism, and cor­rod­ing, sub­vert­ing, and oth­er­wise threat­en­ing democracy.
And with for­mer Vice Pres­i­dent Joe Biden remain­ing a fron­trun­ner for the Demo­c­ra­t­ic nom­i­na­tion, it's safe to say that Trump's men­dac­i­ty is a large part of the rea­son many Demo­c­ra­t­ic vot­ers are putting their faith in Biden to unseat the pres­i­dent this year. Yet as Tues­day night's debate showed, play­ing unabashed­ly fast and loose with the facts is one of the very things Biden shares with Trump.
Tuesday's debate saw yet anoth­er instance of Biden being con­front­ed about his role in lead­ing the coun­try to war in Iraq, and choos­ing to lie about it.
"It was a mis­take to trust that they weren't going to go to war," he said in rela­tion to his Octo­ber 2002 vote to autho­rize the war. ​"They said they were not going to war … The world, in fact, vot­ed to send inspec­tors in and they still went to war. From that point on, I was in the posi­tion of mak­ing the case that it was a big, big mis­take and from that point on, I moved to bring those troops home."
As fact-check­ers have point­ed out repeat­ed­ly, and as I detailed mul­ti­ple times for In These Times, almost every part of this state­ment is a lie. Biden knew George W. Bush's ulti­mate goal was régime change because he him­self spoke open­ly about the need to remove dic­ta­tor Sad­dam Hus­sein from pow­er as ear­ly as Feb­ru­ary 2002. By June of that year, when asked about a leaked White House direc­tive for the CIA to help cap­ture and kill Sad­dam, Biden gave it his nod of approval on CBS's ​"Face the Nation" and said that ​"if the covert action does­n't work, we'd bet­ter be pre­pared to move for­ward with anoth­er action, an overt action," which the Asso­ci­at­ed Press report­ed as an endorse­ment of an inva­sion. That month, Biden's aides told Roll Call that the then-sen­a­tor had told Bush he sup­port­ed régime change in Iraq.
The next month, Biden said on ​"Fox News Sun­day" that Bush would have the author­i­ty to pre-emp­tive­ly invade Iraq if it was revealed that Sad­dam was in league in al-Qae­da — ​"jus­ti­fi­ably giv­en the case being made," as he put it. And after vot­ing to autho­rize the inva­sion, Biden embarked on a world tour to drum up sup­port for the impend­ing war, trav­el­ing to neigh­bor­ing Jor­dan, Israel, Qatar and even to Kur­dish-run north­ern Iraq, speak­ing to the Kurd par­lia­ment and assur­ing them the Unit­ed States would stand with them.
Once the Iraq war began, far from ​"mak­ing the case that it was a big, big mis­take," Biden remained per­haps its most implaca­ble cheer­leader, even as the rest of the Demo­c­ra­t­ic Par­ty rapid­ly turned against it. Biden insist­ed in July 2003 that he would ​"vote to do it again," refer­ring to the inva­sion of Iraq, told the Brook­ings Insti­tu­tion that ​"Iraq was a prob­lem that had to be dealt with soon­er rather than lat­er," and flat­ly replied ​"No" when asked if Howard Dean's stead­fast­ly anti-war views should become the con­sen­sus of the Demo­c­ra­t­ic Par­ty. Instead of mov­ing to bring the troops home, in August, Biden called for an infu­sion of 20,000−50,000 more U.S. sol­diers into the country.
Indeed, Biden held his pro-war atti­tude all the way through 2004 and that year's pres­i­den­tial elec­tion. At the Demo­c­ra­t­ic con­ven­tion, he told the Penn­syl­va­nia del­e­ga­tion that Bush's only ​"mis­takes" were send­ing too few troops into Iraq and the administration's poor plan­ning for recon­struc­tion, warn­ing the del­e­ga­tion not to focus too much on Bush's blun­ders lest Democ­rats ​"begin sound­ing like we're root­ing for fail­ure." As Demo­c­ra­t­ic can­di­date John Kerry's for­eign pol­i­cy advi­sor, Biden vowed to both par­ty mem­bers and those watch­ing at home that Ker­ry would ​"not hes­i­tate to unleash the unpar­al­leled pow­er of our mil­i­tary — on any nation or group that does us harm — with­out ask­ing anyone's permission."
As Bernie Sanders' cam­paign assailed Biden for his role in the war ahead of Tuesday's debate, Ker­ry, who has endorsed Biden and is now a cam­paign sur­ro­gate, returned the favor, lying about Biden's record. Ker­ry has said that the Octo­ber 2002 vote ​"didn't mean you were in favor when the admin­is­tra­tion made the deci­sion of actu­al­ly going to war."
This state­ment doesn't square with Biden's March 2003 vote for a Sen­ate res­o­lu­tion back­ing Bush's deci­sion to go to war, or Biden's words just days before the inva­sion: ​"I sup­port the pres­i­dent. Diplo­ma­cy over avoid­ing war is dead," and ​"Let loose the dogs of war. I'm con­fi­dent we will win." Nor does it square with Biden's March 9, 2003 op-ed for the Wilm­ing­ton, Delaware News Jour­nal, which began: ​"I hap­pen to think we will go to war with Iraq. And I hap­pen to think the mil­i­tary phase will go rel­a­tive­ly well. It's a war that is jus­ti­fied." Nev­er­the­less, Ker­ry has insist­ed that ​"Bernie is regret­tably dis­tort­ing Joe's record," and that ​"Joe spoke out and crit­i­cized, Joe was against what they were doing."
This pat­tern of dis­hon­esty is noth­ing new. Biden has come under crit­i­cism dur­ing the cam­paign for repeat­ed­ly telling a mov­ing war sto­ry that nev­er actu­al­ly hap­pened, at one point telling his audi­ence it was ​"the God's truth" and they had his ​"word as a Biden." Last year, his cam­paign made head­lines when sev­er­al pas­sages from Biden's cli­mate plan turned out to be pla­gia­rized. The can­di­date has also revived an old lie for this elec­tion, telling crowds that he had ​"come out of the civ­il rights move­ment," and that he had ​"got involved in the civ­il rights move­ment as a kid."
What's notable about this par­tic­u­lar lie is that it was one of the things that had end­ed Biden's elec­tion hopes back in 1987. Though that pres­i­den­tial cam­paign had large­ly gone down in flames over a sep­a­rate pla­gia­rism scan­dal, it had also died a death by a thou­sand cuts over a series of oth­er rev­e­la­tions call­ing into ques­tion Biden's honesty.
One of these rev­e­la­tions con­cerned Biden's fre­quent allu­sions to his sup­posed civ­il rights and anti-war activism, deployed par­tic­u­lar­ly — though not exclu­sive­ly — dur­ing his years oppos­ing bus­ing. In one Sen­ate hear­ing, he told the for­mer pres­i­dent of San Fran­cis­co State Col­lege that he had been a stu­dent demon­stra­tor, and he had said dur­ing the cam­paign that ​"we marched to change atti­tudes" dur­ing the 1960s.
Reporters soon poked holes in the sto­ry, and Biden was forced to admit that ​"I was nev­er an activist," and that ​"the civ­il rights move­ment was an awak­en­ing for me, not as a con­se­quence of my par­tic­i­pa­tion but as a con­se­quence of my being made aware of what was hap­pen­ing." Bob­bie Greene McCarthy, a friend of Biden, told the media Biden had been ​"for a long time pret­ty much a sup­port­er" of the Viet­nam War, and Biden admit­ted that ​"by the time the war move­ment was at its peak, I was mar­ried. I was in law school. I wore sports coats," and so not involved in such activism. He was, he explained, ​"a mid­dle-class guy" and ​"not big on flak jack­ets and tie-dye shirts."
In oth­er words, both in Tuesday's debate and beyond, Biden has exhib­it­ed the same kind of dis­re­gard for the truth as Trump. And this is far from the only char­ac­ter­is­tic they share.
Many lib­er­als have despaired at the way Trump's insults and coarse lan­guage have dis­re­spect­ed the office of the pres­i­den­cy, and more gen­er­al­ly dragged polit­i­cal dis­course into the gut­ter. Yet in Decem­ber 2019, a crowd of Biden sup­port­ers clapped and cheered as the for­mer vice pres­i­dent respond­ed to a crit­i­cal ques­tion from a vot­er about his son's deal­ings in Ukraine by chal­leng­ing the man to a push-up con­test and an IQ test, before call­ing him fat. (The cam­paign lat­er tried to claim Biden had said, ​"Look, facts").
Democ­rats have right­ly crit­i­cized Trump's flout­ing of the rule of law, par­tic­u­lar­ly his calls for his for­mer White House coun­sel to ignore a Con­gres­sion­al sub­poe­na. Yet Biden ini­tial­ly said he would sim­i­lar­ly defy a Repub­li­can sub­poe­na to attend Trump's Sen­ate impeach­ment tri­al. Much out­rage has greet­ed the way Trump and his fam­i­ly have prof­it­ed from his pres­i­den­cy. Yet Biden's fam­i­ly has long prof­it­ed from his polit­i­cal career, from his ear­li­est days in the Sen­ate to his final days in the White House. This mix­ing of fam­i­ly busi­ness-deal­ing and pol­i­tics ulti­mate­ly helped embroil Biden in a long-run­ning scan­dal of his own.
A Biden nom­i­na­tion and (and pre­sump­tive vic­to­ry in Novem­ber) is still viewed by many Demo­c­ra­t­ic vot­ers as a way to res­cue the coun­try from the dis­hon­esty of Trump­ism. But it may be time to ask if it would instead sim­ply ush­er in anoth­er ver­sion of it.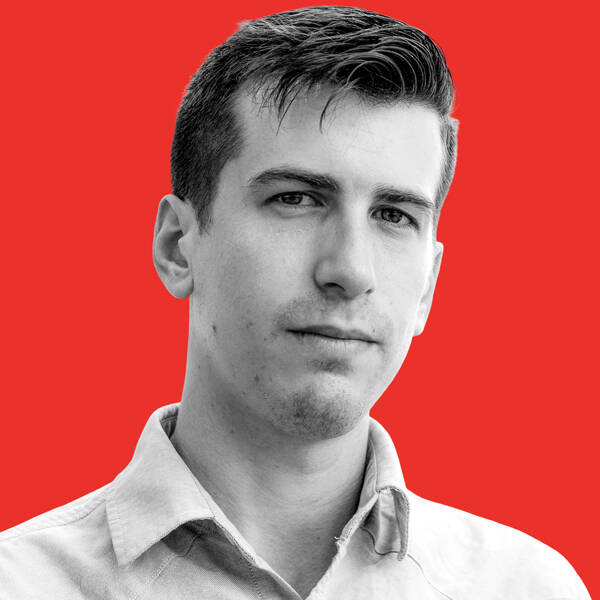 Branko Marcetic
is a staff writer at Jacobin mag­a­zine and a
2019
 – 
2020
Leonard C. Good­man Insti­tute for Inves­tiga­tive Report­ing fel­low. He is work­ing on a forth­com­ing book about Joe Biden.