As the 50th anniver­sary of the March on Wash­ing­ton for Jobs and Free­dom approach­es, the spir­it of protest seems to be rekin­dling in many parts of the coun­try. The Dream Defend­ers remain camped out in the Flori­da capi­tol, demand­ing jus­tice for Trayvon Mar­tin and an end to racial pro­fil­ing; North Car­oli­na's Moral Mon­day pro­test­ers have ral­lied and com­mit­ted civ­il dis­obe­di­ence each week, defy­ing the far-right agen­da of their state leg­is­la­tors. In New York, the coali­tion against stop and frisk won its vic­to­ry in court, but it took orga­niz­ing, ral­ly­ing, and yes, march­ing, to make it happen.
I jumped in the car with two of the young people, and I drove to Selma, late at night, got there at three or four in the morning, got our sleeping bags out, got up the next morning, got dressed, went to the church, and we lined up and we marched. The rest is history.
It's a good time, then, for a new mem­oir by con­gress­man and 1960s civ­il rights leader John Lewis. In March: Book One, out today from Top Shelf Pro­duc­tions, Lewis' his­to­ry and the highs and lows of the civ­il rights move­ment are brought to life — vivid­ly, as the mem­oir is in com­ic format.
The first of three books fol­lows a young Lewis from his fam­i­ly's farm in Alaba­ma to col­lege and to the Stu­dent Non­vi­o­lent Coor­di­nat­ing Com­mit­tee (SNCC), to lunch counter sit-ins, jail cells and a show­down with the may­or of Nashville. Co-writ­ten by Andrew Aydin, a staffer who's been with Lewis for years, and drawn by award-win­ning comics artist Nate Pow­ell, the book makes his­to­ry feel real and present in a way that few accounts of civ­il rights leg­ends have man­aged to.
Lewis and Aydin sat down with me dur­ing a vis­it to New York to dis­cuss the new com­ic, their goal of inspir­ing and instruct­ing a new gen­er­a­tion, and where they're find­ing hope these days.
Sarah Jaffe: This book is the first of three vol­umes, all with the title March. Why did you pick that title?
John Lewis: March is the spring, it's life, it's the begin­ning. So much hap­pened in March. But it's also mov­ing feet.
Andrew Aydin: There was a quote that stuck with us very ear­ly on, it was some­thing Dr. King said: ​"There's no sound more pow­er­ful than the march­ing feet of the deter­mined people."
But March is so many dif­fer­ent things. It is the need to march. It is March 7, 1965. There's so much mean­ing behind it, it seemed almost self-evident.
Book 2 con­tains a very famous march. Dur­ing the move­ment, the Con­gress­man was so com­mit­ted to action. There were so many moments where peo­ple want­ed to talk, and he want­ed to do. There's this scene in Book 2, when they're say­ing the vio­lence is get­ting to be too much, we have to work out a solu­tion, and they'd turn to John Lewis and say, ​"What do you think we should do?" And he would say, ​"We should just march."
They would ask him again and he would say, ​"We should just march." Final­ly they say, ​"John, every­thing you're say­ing is that we should march, but peo­ple are going to get hurt, peo­ple are going to get killed, it's your own fool­ish pride that's get­ting involved with that, you're just noth­ing but a sinner."
And he's like, ​"I may be a sin­ner, but we're gonna march."
It so typ­i­fies his view on how to get things done. We can sit around and talk about it, we can make speech­es, but real­ly when it comes down to it, the hard part is doing the work. Tak­ing action.
John Lewis: This may sound a lit­tle self-serv­ing here, but my own orga­ni­za­tion, the Stu­dent Non­vi­o­lent Coor­di­nat­ing Com­mit­tee, object­ed to the march in Sel­ma. We had an all-night dis­cus­sion, a debate whether we should march. It's clear to me that I should march. And I said, ​"I've been to Sel­ma many many times, I've stood in line at the cour­t­house, I've been arrest­ed, I've been to jail there. The local peo­ple want to march, and I'm going to march."
So I jumped in the car with two of the young peo­ple, and I drove to Sel­ma, late at night, got there at three or four in the morn­ing, got our sleep­ing bags out, got up the next morn­ing, got dressed, went to the church, and we lined up and we marched. The rest is history.
Some­times you just have to do what your spir­it says do. Go for it.
Why did you decide to do this as a comic?
Andrew Aydin: I was work­ing for the Con­gress­man on the 2008 cam­paign as his press sec­re­tary, and we start­ed talk­ing about what we were going to do after we had our nights and week­ends back. I admit­ted I was going to a com­ic book con­ven­tion — in pol­i­tics that gets you laughs, snick­ers, a lit­tle jeer­ing. But the Con­gress­man said, ​"You know, there was a com­ic book dur­ing the move­ment and it was incred­i­bly influ­en­tial." That com­ic book was ​"Mar­tin Luther King and the Mont­gomery Sto­ry."
I went home that night, Googled it, and read the sto­ry about how it inspired the Greens­boro 4. I came back the next day and asked him ​"Why don't you write a com­ic book?"
The Con­gress­man looked at me like I was crazy there for a sec­ond, but we talked about the com­ic from the ​'50s, and a cou­ple weeks lat­er I asked again, and the Con­gress­man said, ​"OK, but only if you write it with me."
It just seemed to make sense, the idea of a com­ic book inspir­ing young peo­ple to get involved and also teach­ing them the tactics.
The book uses Pres­i­dent Oba­ma's inau­gu­ra­tion as a fram­ing device. Can you talk about the deci­sion to do that?
John Lewis: Peo­ple ask me from time to time whether the elec­tion of Barack Oba­ma was the ful­fill­ment of Mar­tin Luther King's dream, and I say, ​"No, it's just a down payment."
Because we're not there. More and more, peo­ple are say­ing that we still have a dis­tance to trav­el, and that we can­not be at peace or be at home with our­selves in Amer­i­ca until we cre­ate a tru­ly mul­tira­cial demo­c­ra­t­ic soci­ety, where no one is left behind, and it does­n't mat­ter whether you're black or white, Lati­no or Asian-Amer­i­can or Native Amer­i­ca, whether you're straight or gay. . And there's a way to do it. If you want to change things, you got to find a way to make some noise. You can­not be quiet.
The lessons of March say, This is the way anoth­er gen­er­a­tion did it, and you, too, can fol­low that path, study­ing the way of peace, love and non­vi­o­lence, and find­ing a way to get in the way. Find­ing a way to get in trou­ble — good trou­ble, nec­es­sary trouble.
The book relates some of the expe­ri­ences you had as a young per­son that led you to civ­il rights activism. Most peo­ple prob­a­bly would­n't think of rais­ing chick­ens as a thing that would shape a civ­il rights leader.
John Lewis: It may sound sort of sil­ly, sort of strange, but I would­n't be the per­son I am today if it was not for those chickens.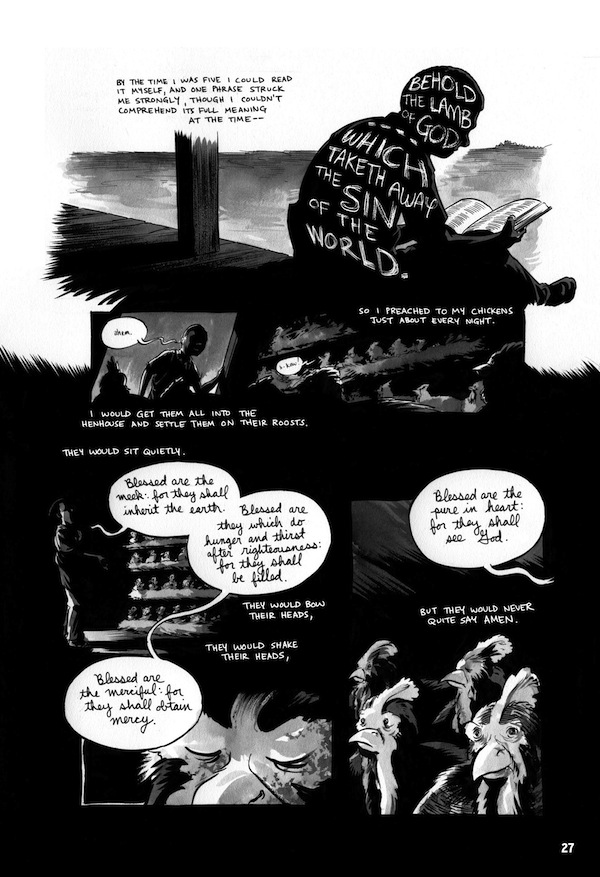 It was my call­ing to take care of these inno­cent lit­tle crea­tures. I'm con­vinced those chick­ens that I preached to in the ​'40s and the ​'50s tend­ed to lis­ten to me much bet­ter than some of my col­leagues lis­ten to me today in the Con­gress. Real­ly! Most of those chick­ens were a lit­tle more pro­duc­tive. At least they pro­duce eggs.
They taught me dis­ci­pline, they taught me patience, they taught me hard work and stick-to-it-ness.
You talk about Emmett Till's death as a piv­otal moment for you, and it seems like Trayvon Mar­t­in's death has been a touch­stone for a new gen­er­a­tion of activists. Yet both of their deaths came at a time when vio­lence against young black men was not rare. Why do you think each case hit a nerve?
John Lewis: I think there are cer­tain peri­ods in our his­to­ry — just a spark.
I was 15 years old, work­ing out in the field when I heard what hap­pened. I kept think­ing that it could hap­pen to me, but espe­cial­ly to some of my cousins who lived in Buf­fa­lo, New York, who would come South in the sum­mer to spend time with us.
A few months lat­er, when Rosa Parks refused to give up her seat, one thing she said in lat­er years was, ​"It's not just my feet that were tired, but also, I thought about Emmett Till." I remem­ber that very, very well.
One of the things that the com­ic for­mat does so well for this sto­ry is cap­ture the vio­lence and bru­tal­i­ty that prac­ti­tion­ers of non­vi­o­lence went through, both in prepa­ra­tion for and dur­ing actions. I par­tic­u­lar­ly loved the sequence where one per­son quit train­ing, say­ing it was too hard. Talk about the process of get­ting those moments on paper.
John Lewis: We pro­vid­ed the words, but [the artist] Nate Pow­ell — I love his capac­i­ty to cap­ture the dra­ma, to bring it to life, to make it real. You can see it; you can feel it. Even though I lived through it, to see it there makes the words sing.
Andrew Aydin: This is very much cen­tered around sto­ries that I've heard the Con­gress­man tell to all these peo­ple over the years. Nate lift­ed that off the paper and made it some­thing at a whole oth­er lev­el. He's very good at find­ing a nat­ur­al flow for your eye.
We tried make sure that it was­n't just accu­rate for the sake of telling the sto­ry, but accu­rate for the sake of instruct­ing, so that peo­ple who have nev­er been to a non­vi­o­lent work­shop could read and under­stand what one was. Nate real­ly cap­tured that.
Anoth­er thing I think the book did well was cap­ture the real work that went on behind the scenes. We're so rarely shown how many years of prepa­ra­tion and orga­niz­ing went into mak­ing move­ments hap­pen. I'd love to hear about the chal­lenges of show­ing that part of the story.
John Lewis: The plan­ning, the train­ing, the nit­ty-grit­ty orga­niz­ing — you may wait for days or weeks or even months before you see some­thing. But you do it. You're con­sis­tent and you're per­sis­tent, day in and day out.
Andrew Aydin: You see how this work eth­ic has just been such an omnipresent force in the Congressman's life since he was 17, 18 years old — or even before that, on the farm. I remem­ber at sev­er­al points ask­ing ​"What time did that take place?" and he'd be like ​"Oh, 5:00, 6:00 a.m." And you real­ize these are col­lege kids. How many col­lege kids today get up at 5:00 in the morn­ing, much less to go to an orga­niz­ing meet­ing before class?
John Lewis: On April the 19, 1960, the attor­ney for the Nashville move­ment who had defend­ed the stu­dents, his home was bombed around 6:00 a.m. And by 6:30 or 6:45 we were in a meet­ing. Stu­dents came from all over the city and we made a deci­sion — it was a con­sen­sus — that we would have a march from the heart of the stu­dent com­mu­ni­ty down to city hall. We sent the may­or of the city a telegram to meet us at high noon. There were more than 4,000 stu­dents say­ing, ​"Mr. May­or, do you favor deseg­re­ga­tion of the lunch coun­ters?" And the next day, the ban­ner head­line in the local paper read that the May­or said Yes to the inte­gra­tion of the lunch counters.
It was that sense that we had to act, we had to do some­thing, we could­n't wait.
Andrew Aydin: You always say, ​"You got­ta get up! You can't sleep through the revolution!"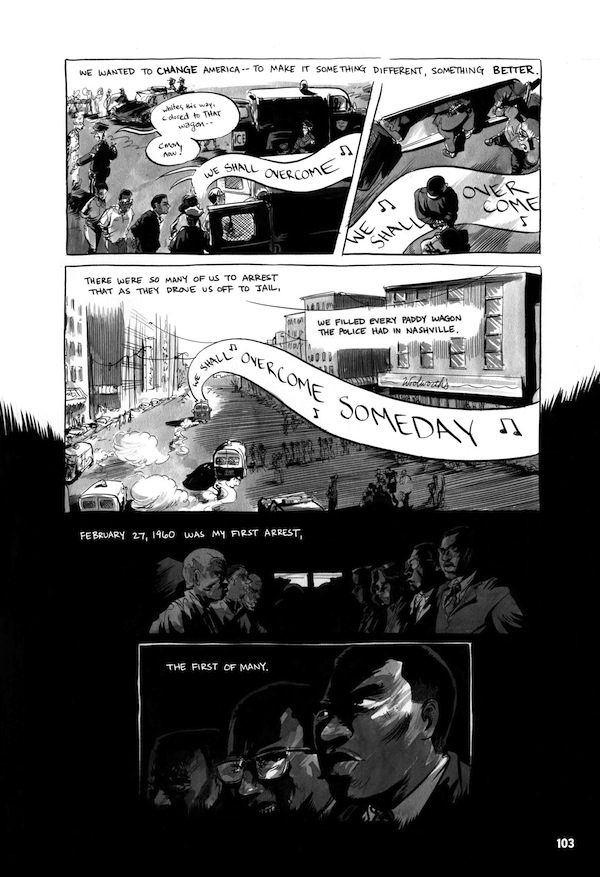 The anniver­sary of the March on Wash­ing­ton is approach­ing quick­ly, and it's nev­er seemed more rel­e­vant in my life­time. We're see­ing renewed attacks on civ­il rights and vot­ing rights, along with a renewed move­ment for racial and eco­nom­ic jus­tice. How are you feel­ing about the present day?
John Lewis: In spite of all the prob­lems and dif­fi­cul­ties, all the appar­ent set­backs, delays, I feel very hope­ful, very opti­mistic. I think we are in the process of build­ing a very pow­er­ful movement.
North Car­oli­na's gov­er­nor just yes­ter­day signed into law one of the most unbe­liev­able pieces of leg­is­la­tion that would lead to a sys­tem­at­ic, delib­er­ate effort to sup­press the votes of minori­ties, young peo­ple and the elder­ly. But in spite of that, I'm hope­ful that we're going to con­tin­ue to push, and it's going to start the fire for a real move­ment. Look at what's hap­pen­ing in North Car­oli­na now, the Moral Mon­days. It's a good sign. It'll spread around, not just the South, but around America.
What do you hope that some of those young peo­ple involved in North Car­oli­na, camp­ing out in the capi­tol in Flori­da, what do you hope that they take away from this comic?
John Lewis: It's my hope that many of the young peo­ple will have an oppor­tu­ni­ty to read March and be inspired, and see anoth­er gen­er­a­tion got out there and did what they could, and that we too must pick up and push the ball fur­ther down the road.
Andrew Aydin: Some peo­ple have start­ed get­ting advance copies, and one of them gave the book to his 9‑year-old son.
John Lewis: It's a white man, right?
Andrew Aydin: Yes. His kid read the book, enjoyed it, had a lit­tle trou­ble with Emmett Till's death, but it res­onat­ed with him, and so now he's put on a suit and is march­ing around his house demand­ing equality.
What does that say about what we have to look for­ward to?
John Lewis: They shall lead the way. Like the chil­dren in Birm­ing­ham and Sel­ma, Albany, Geor­gia and oth­er parts. They led the way.
Andrew Aydin: That's part of the big­ger mes­sage that I think we'll real­ly be able to get into after this book. Because the tac­tics that worked in Birm­ing­ham did­n't nec­es­sar­i­ly work in Albany, and they had to change. Tac­tics in one city did­n't work for every foe or every objec­tive. From that orig­i­nal idea of the Mont­gomery bus boy­cott being use­ful as an exam­ple of suc­cess­ful non­vi­o­lent direct action, the whole premise is show­ing more and more exam­ples of dif­fer­ent tac­tics used to express dif­fer­ent forms of oppo­si­tion. As activists today look for new tac­tics to address their own oppo­si­tion, they have inspi­ra­tion and they see con­crete exam­ples of how things were reimag­ined but still stuck to the basic tenets, the phi­los­o­phy and dis­ci­pline of nonviolence.
Pan­els from March: Book One cour­tesy of Top Shelf Pro­duc­tions. All rights reserved.