Justice for the Jobless
Unemployed Americans are fighting for a federal jobs program.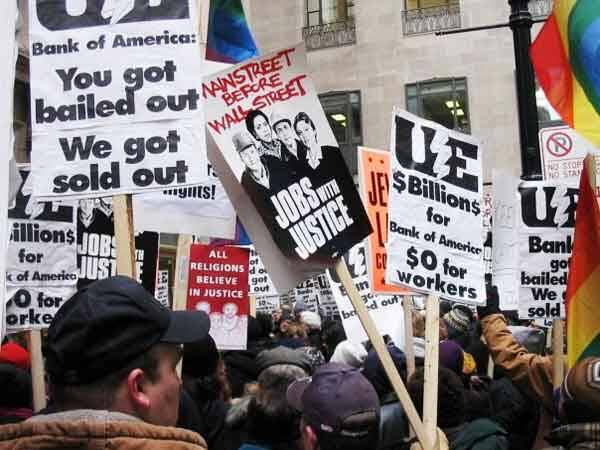 It is mid-May and the first warm day Chicago has seen in weeks, but six people have gathered in a sparsely decorated room in a union office building in the city's Near West Side. The group – an older male worker forced into retirement, a long-term unemployed female factory worker, two men who get by on part-time jobs and an unpaid intern fresh out of college – forms a demographic cross-section of the country's job crisis.
The Center's organizers hold demonstrations at the State of Illinois Building in the Loop after the monthly federal jobs report is released and regularly canvass state unemployment offices.
There's also a professional organizer – Susan Hurley, executive director of Chicago Jobs with Justice – but at this weekly meeting of the Unemployed Action Center, everyone is an organizer. The Center aims to bring together the unemployed and under-employed to fight for a federal jobs program, and to empower people while they do so.
The unemployment crisis has largely disappeared from the headlines in recent months, replaced with stories about the deficit, dubious GOP presidential candidates and, occasionally, articles focusing on job creation. According to the Bureau of Labor Statistics (BLS), April 2011 saw the biggest private-sector job growth in five years.
But for the jobless organizers at the Center and millions of other Americans, the unemployment numbers tell the real story. The BLS reports that the national unemployment rate ​"edged up" to 9 percent in April – 13.7 million unemployed people. But that rate doesn't include Americans who have given up looking for work or were stuck with part-time jobs – another 11.1 million people.
Aside from Hurley, all of the Center's organizers are volunteers. Along with providing the unemployed with access to computers, résumé-writing workshops and job interview practice sessions at its office, the Center's organizers also hold demonstrations at the State of Illinois Building in the Loop after the monthly federal jobs report is released and regularly canvass state unemployment offices.
In one hour of canvassing in May, Hurley says the Center's petition demanding that President Barack Obama and members of Congress ​"hold Wall Street accountable, tax corporations and wealthy individuals their fair share…and create a jobs program to rebuild our public infrastructure" received more than 100 signatures.
The center has also targeted banks – its May 6 action in downtown Chicago ended in a protest outside Chase's office tower. Reports that financial institutions such as Bank of America paid no federal income tax in 2010, while an ​"unemployed person on average paid about $1,500 in taxes," only further highlight the extent to which a movement for the unemployed is essential, Hurley says. But the movement for a federal jobs program has been slow, says Hurley, and some state governments that have drained unemployment insurance funds have reduced the number of weeks an unemployed person may get benefits in order to avoid raising taxes on businesses. ​"You can't improve the economy while still inflicting pain on working people," Hurley says.
Chicago Jobs with Justice is not the only organization to respond to the jobs crisis by organizing those directly affected by it. Unemployed people are building similar movements in Pennsylvania, Virginia, California, Rhode Island and other states, according to Hurley and Bill Fletcher Jr., a longtime labor activist and co-author of Solidarity Divided: The Crisis in Organized Labor and a New Path toward Social Justice. And UCubed, a project launched by the International Association of Machinists and Aerospace Workers in early 2010, also aims to organize the jobless to create a ​"union of the unemployed" and demand a real economic recovery – exclusively through the Internet.
Although Jobs with Justice is funded by unions, the Center has not partnered with any particular union to push for a federal jobs program. Instead, it has been working with other grassroots groups to protest the foreclosure crisis and its causes. ​"People are not returning to jobs as good as they had before," Hurley says. Understanding the connection between unemployment, personal bankruptcies and foreclosures is essential to fighting the domino effect (first unemployment, then foreclosure, then bankruptcy) and making sure each of these problems is not viewed in isolation. To that end, Hurley and the five volunteer organizers are planning a partnership with the Chicago Anti-Eviction Campaign to fight bank foreclosures and evictions in the city through canvassing and public pressure campaigns.
Hurley believes organizing across movements is key. ​"If we can solve smaller issues," she says, like how to keep one family in their home or one unemployed person out of bankruptcy, ​"it demonstrates the power that we can have collectively on bigger issues." Including, perhaps, the campaign's ultimate goal: a federal jobs program, which millions of Americans are still ready to join.
Yana Kunichoff
is a Chicago-based investigative journalist and documentary producer. Her work has appeared in the Guardian, Pacific Standard and the Chicago Reader, among others. She can be reached at yanakunichoff at gmail​.com.