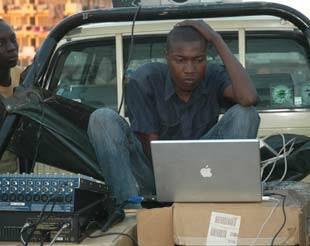 While news reports across the world have dis­played images of chaos shak­ing Kenya, an alter­na­tive media sys­tem dri­ven by ordi­nary Kenyans is emerg­ing in the East African coun­try to help raise the voic­es of the sel­dom heard. The vio­lent after­math of Pres­i­dent Mwai Kibaki's dis­put­ed elec­tion in Decem­ber has det­o­nat­ed Kenya's fes­ter­ing eth­nic, land and pow­er strug­gles, leav­ing hun­dreds dead and dis­plac­ing hun­dreds of thou­sands. But it has also ener­gized the country's inde­pen­dent media-mak­ers, many of whom see their work as key to over­com­ing the crisis.
Fus­ing mass com­mu­ni­ca­tion with polit­i­cal orga­niz­ing, the Kenya Inde­pen­dent Media Cen­ter (IMC) has aired local activists' per­spec­tives on the vio­lence and its root caus­es. Through its grow­ing net­work of inde­pen­dent reporters, IMC Kenya aims to gen­er­ate ​"infor­ma­tion for action," accord­ing to co-founder John Bwakali.
The orga­ni­za­tion also tries to lead by exam­ple through its non-hier­ar­chi­cal struc­ture as a col­lec­tive – a poten­tial mod­el of rad­i­cal self-empow­er­ment in a soci­ety besieged by polit­i­cal disillusionment.
In an IMC audio piece, Jimani, a young activist with the War­riors, a Nairo­bi-based self-help group, reflects on the des­per­a­tion that has pushed many of Kenya's youth into vio­lent clashes.
"Why has a youth gone out to fight, ready to die?" he asks on a record­ing pro­duced short­ly after the elec­tions. ​"Is it free­dom for those who are oppressed in this world? Maybe you can say so." But he con­tin­ues: ​"As a [young] man is ready to go out there and die because he wants his voice to be heard, we need to give them that chance. We need to hear what they have to say to us."
Some youth are ampli­fy­ing their voic­es through a video col­lec­tive called Slum-TV, led by Kenya-based media activists. By doc­u­ment­ing every­day strug­gles in Math­are – a dense­ly pop­u­lat­ed slum in the cap­i­tal Nairo­bi – the project enables young peo­ple to pro­duce home­grown media and, through local pub­lic screen­ings, fos­ters com­mu­ni­ty dia­logue. Fol­low­ing the out­break of the post-elec­tion vio­lence, Slum-TV has focused on cur­rent recov­ery efforts that bring togeth­er activists from dif­fer­ent eth­nic groups.
Slum-TV co-founder Sam Hop­kins not­ed the con­trast with cor­po­rate media's cov­er­age of ​"trib­al" vio­lence. ​"The idea behind focus­ing on char­ac­ters who have crossed the eth­nic divide is real­ly just to pro­vide anoth­er ver­sion of what's hap­pen­ing, to coun­ter­act the main­stream inter­na­tion­al media," he says.
As an ear to the ground in their com­mu­ni­ties, grass­roots media activists have some­times been ahead of the news.
Patrick Shom­ba and fel­low artists, who found­ed the Ghet­to Film Club media col­lec­tive in 2006, fore­shad­owed the approach­ing unrest in a screen­play titled ​"The Ghet­to Pres­i­dent." The film, cre­at­ed last year as a civic-edu­ca­tion project, explored issues of cor­rup­tion, vot­ing rights, youth rights and eth­nic con­flict. After scrap­ing togeth­er vol­un­teer help and bor­rowed equip­ment, the group com­plet­ed the film a few days before the elec­tion and held a pub­lic screen­ing in a Nairo­bi slum. Their next film, they hope, will be about reconciliation.
Since cities like Nairo­bi are eth­ni­cal­ly diverse, Shom­ba views street-lev­el art as a way to ​"main­tain the peace here in the urban sec­tor, with a mix of cul­ture and a mix of tribes."
Local youth lead the project as actors and pro­duc­ers – a rare oppor­tu­ni­ty for them to over­come mar­gin­al­iza­tion. The group aims to even­tu­al­ly turn media work into a sus­tain­able income source for young peo­ple wrestling with pover­ty, crime and lack of school­ing in their communities.
In the post-elec­tion tur­moil, Shom­ba is also work­ing with Kenya's bud­ding com­mu­ni­ty radio scene to air local news, as well as anti-vio­lence mes­sages, on three small urban sta­tions, with an esti­mat­ed reach of more than 2 mil­lion listeners.
"What our guys can do at the grass­roots," he says, ​"the main­stream media can't come and do."
Though still in its infan­cy, grass­roots report­ing is gain­ing trac­tion in Kenya. Since 2007, the Web-based Voic­es of Africa project, an ini­tia­tive of the Africa Inter­ac­tive Media Foun­da­tion, has deliv­ered field report­ing from mobile-phone-based cor­re­spon­dents in Kenya. Its cov­er­age fea­tures video com­men­tary from every­day peo­ple on pol­i­tics, under­ly­ing social prob­lems and con­cerns about the ongo­ing medi­a­tion talks.
Although Kenya's inde­pen­dent media-mak­ers gen­er­al­ly do not face out­right author­i­tar­i­an restraints, more insid­i­ous bar­ri­ers can impinge on their work.
IMC Kenya reporter Oscar Odhi­ambo recent­ly fled Kenya tem­porar­i­ly for Tan­za­nia, in part, he says, because he felt that as an inde­pen­dent jour­nal­ist, he risked being tar­get­ed by vio­lent fac­tions for speak­ing out. Mean­while, he says, Kenya's estab­lish­ment press has failed to hold pow­er­ful offi­cials and busi­ness elites account­able because it is ham­pered by cor­po­rate control.
"The media as an insti­tu­tion must be set free," he says, ​"so that we as inde­pen­dent jour­nal­ists can also use that free­dom to express an autonomous view of what we believe is true."
Yet one of the most imme­di­ate chal­lenges fac­ing inde­pen­dent media activists is sim­ply logis­tics. Reflect­ing the glob­al ​"dig­i­tal divide" between North and South, Kenya's online infra­struc­ture is thread­bare. Inter­net users make up less than 10 per­cent of Kenya's pop­u­la­tion, accord­ing to inter­na­tion­al esti­mates; both media pro­duc­ers and con­sumers typ­i­cal­ly lack con­sis­tent access. In response, media-mak­ers are repur­pos­ing old-school tech­nolo­gies to reach new audiences.
While IMC Kenya runs a web­site, co-founder Bwakali acknowl­edged that its dig­i­tal mate­r­i­al is out of reach for most Kenyans. The key is to cap­i­tal­ize on ​"good old tra­di­tion­al dis­tri­b­u­tion net­works," he says – cas­sette tapes and com­pact discs, dis­trib­uted hand to hand. The group also plans to work with mini-bus oper­a­tors to air IMC record­ings on their dai­ly routes.
For Slum-TV, just the shared expe­ri­ence of a pub­lic audi­ence has deep social res­o­nance. ​"To see the reac­tion of a crowd when we have a screen­ing is real­ly incred­i­ble," says Hop­kins. In Math­are, where hun­dreds of thou­sands strug­gle with pover­ty and polit­i­cal dis­en­fran­chise­ment, ​"the poten­tial to affect people's aspi­ra­tions is huge."
Mean­while, among the small com­mu­ni­ty of wired Kenyans, blogs chan­nel infor­ma­tion, out­rage and hope.
In Jan­u­ary, the blog Kenyan Pun­dit ran a self-penned ​"obit­u­ary" by writer Simiyu Barasa. ​"I know not my tribe," he wrote. ​"I have only known myself as Kenyan, and oth­ers as fel­low Kenyans. In these times, belong­ing or not belong­ing [to a tribe] means not being dead or being seri­ous­ly dead. What chances does a per­son like me have?"
While fos­ter­ing polit­i­cal dis­cus­sion, Kenya's blo­gos­phere has also tak­en a proac­tive role in cop­ing with the cri­sis. The Web-based map­ping project Ushahi​di​.com tracks cit­i­zen-report­ed vio­lent inci­dents, along with local peace-build­ing efforts, across the country.
Nairo­bi-based polit­i­cal car­toon­ist and blog­ger Patrick Gath­ara dis­tills point­ed dis­sent into scathing images and com­men­tary. One of his recent­ly post­ed comics shows Kiba­ki play­ing the fid­dle and singing as the city behind him blazes in flames.
To help raise con­scious­ness through art, Gath­ara has worked with the Asso­ci­a­tion of East African Car­toon­ists (KATU­NI) to launch a polit­i­cal car­toon com­pe­ti­tion, which is themed around the cur­rent con­flicts and ideas for solutions.
"Involv­ing the Kenyan peo­ple in the debate over the future of their coun­try and giv­ing them non­vi­o­lent avenues of expres­sion," he says, ​"is the way out of the cur­rent crisis."
As activists look to recast the country's polit­i­cal land­scape, IMC Kenya co-founder Bwakali says free media is a crit­i­cal tool for open­ing dia­logue: ​"You are telling each and every per­son that your voice mat­ters, that your opin­ion can play a key role toward mak­ing a difference."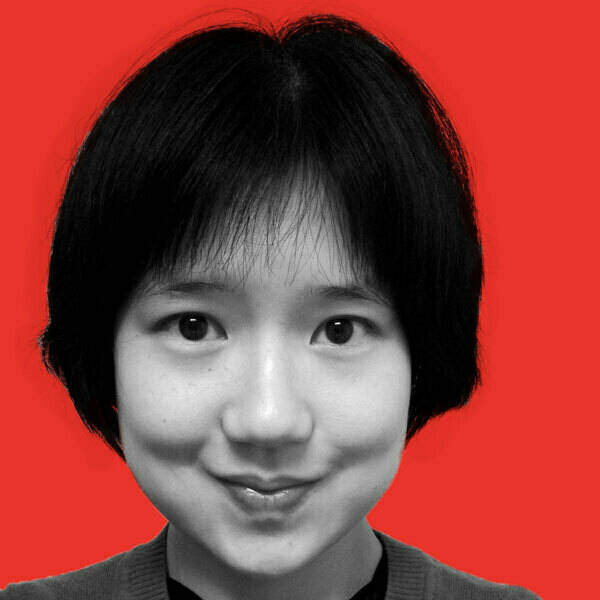 Michelle Chen is a con­tribut­ing writer at In These Times and The Nation, a con­tribut­ing edi­tor at Dis­sent and a co-pro­duc­er of the ​"Bela­bored" pod­cast. She stud­ies his­to­ry at the CUNY Grad­u­ate Cen­ter. She tweets at @meeshellchen.